Are you a Yelp user who wants to harness its power to boost your rankings?
Do you want to know all the possible ways to use Yelp in order to gain numerous benefits?
Yelp is a recommendation and social sharing app that helps its users to identify the best bars, events, clubs, restaurants, and other pop-ups. If your business relies heavily on local traffic to avail the majority of your earnings, then Yelp is an excellent tool to use. It can be an incredible asset for your business and help you out to run an effective online strategy.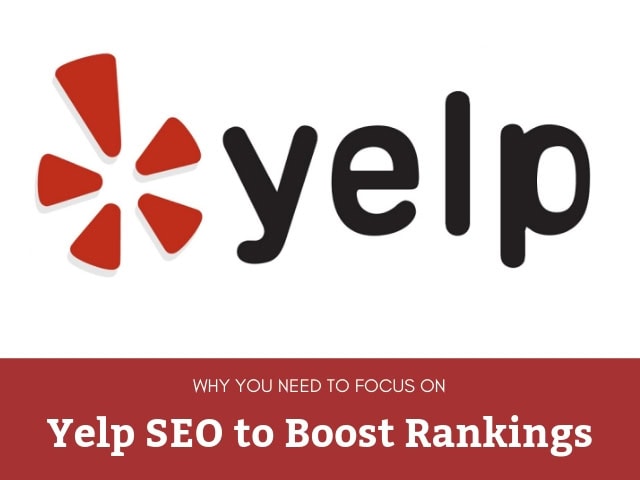 In this post, we discuss everything about Yelp SEO and will introduce you with some amazing ways to boost your online business rankings with Yelp.
Let's head forward!
Yelp – An Online Asset for Local Businesses
Yelp is a reliable go-to-source, which is used by millions of visitors to identify information and essential details about local businesses. It was introduced in 2004 and since then has become one of the finest assets for local businesses. It is because Yelp enables users to check-in at the businesses, review and rate them, post their comments, share photos, as well as engage in active discussions around the business on various forums.
No matter what kind of business you have, be it a restaurant, salon, gym, bar, club, or any other, you can use Yelp to establish a strong presence to community users who are available on the app. You are the sole controller of your business on Yelp and hence can use this awesome platform to expand your clientele base.
Now, you have a fair idea about Yelp and its usability for online businesses, next, we glance at the ways to gain mastery in Yelp.
Yelp SEO – A Systematic Approach to Using Yelp:
You might be a newly established business that does not have enough customer bases yet. Or, you might be an existing business that is competing with others in order to fetch a high volume of loyal customers. No matter what your case is, if you are still not listed on Yelp, then you are definitely losing out something really important.
Yelp is a wonderful app that has an extensive infrastructure and helps you register your business. The best part is that you have complete control of your business. So, once you have listed your business on Yelp, you can use it in order to boost your rankings and expand the customer base.
Step 1 – List Your Business
The first step is to list your business on Yelp.
Step 2 – Claiming Your Business
The finest way to manage the business on Yelp is by claiming it. For this, you have to create a business login. Creating a login is easy and free and can let you engage with millions of Yelp users.
To start the claim process, you have to click on the option 'claim your business.' Next, create a login account for your business. In order to successfully complete the verification process, you have to enter a verification code, which will be provided on the phone number mentioned by you.
There are some possibilities, which can occur while claiming your business. Let's see the correct solutions for them.
You are searching for your business but unable to find it
In this situation, you must simply click the option of 'add a business to Yelp.' This option is available at the bottom of the page.
Your business is unlocked
This situation occurs when someone has already claimed your business. In this situation, you have to contact Yelp to find out how someone else claimed your business. You have to prove that you are the real owner of your business and for this, you have to select reclaim the account option.
Your Business is Already Listed by the Users
In this situation, you can unlock the business. For this, you have to provide your first and last name, password, email address, and just like any other app have to agree with the Yelp's terms of service. It will create a new business account to begin posting.
You Experience Issues to Create a Business Account
If you find any issues to create a business account on Yelp then you must check the section of the website that includes all the information you require.
Step 3 – Establish a Strong Presence on Yelp
Having a strong business profile on Yelp is an essential step to build a strong reputation in this social sphere. It offers you the opportunities to include specific key terms that will create a huge difference to the local SEO, while simultaneously enabling you to engage with the real members of the community and maximize conversions.
Here are some tips that you can follow in order to boost your Yelp SEO.
Yelp SEO Ranking Factors:
1. Make Sure Your Business Profile on Yelp is Complete:
After registering your business on Yelp, you have to enrich complete details. You must provide all information that the users might want.
Hence, you must provide the name of your business and list it under a relevant category. Additionally, you must include important information like price range, opening hours, parking details, and other essential details such as outdoor seating.
You must also incorporate a detailed description of your business along with the address and phone number. You must also include a link to your website along with quality photos of your menu, events, venue, and other elements. Use these pictures to enhance your business visually.
2. Prepare a Photo Gallery:
Yelp offers an excellent opportunity to business to stand out. With more businesses registering on Yelp, the competition will become more intense and complex. If possible, then hire a professional photographer to capture the persona of your business.
Include two or more photos of your business, during the night and day or opening and closing times. Also, click the photo of your business from the road. This way, your customers will be able to recognize your business while they drive by.
It will make it easier for them to approach your business.
3. Incorporate Relevant Keywords:
Major search engines such as Bing, Google, and others index results extracted by Yelp. Hence, you must optimize your profile on Yelp in the same way as you would do it for other search engines. This is essential to improve your rankings and create some great opportunities for backlinks as individuals' link to your website and online Yelp's profile.
It is necessary to have high-quality backlinks as they are extremely vital for Local SEO. For this, you can consider doing some networking with the members on Yelp community and guest post on the blogs, write a press release about establishing your presence on Yelp. You must also mention about any incentives that you might be making exclusively to the Yelp users. These ways will increase natural traffic to your website.
4. Customer Reviews are the Most Important:
Reviews from your customers are social proof for your business. You will always rank your business as great, but if the same is being quoted by other people who have no personal investment in your business then this adds great value.
You can use customer reviews and feature them on your Facebook, website, and Twitter account. If your reviews include keywords then they can generate a positive impact on Google rankings for your business for such keywords.
Just like good reviews, even bad reviews have their own advantage. They can be a great tool to draw your attention to things, which you might have not considered before. These can be areas where there is scope for improvement, and improving them can strengthen your business in the long-term.
The Yelp community wants everything to be great. Rarely, you will find abusive or vindictive reviews. The best thing is that you can deal with reviews very quickly. If your business experiences negative reviews then you must handle them responsively and respectfully.
5. Actively Respond to Reviews:
It is of paramount importance to respond respectfully to the reviews. You can respond publicly to reviews, which are placed on the profile of your business.
However, responding to reviews does not imply that reverting back with a standardized thank you comment. Rather, you must respond appropriately and in a way that boosts engagement. If someone has filed a complaint and that person was not aware of certain extenuating scenarios, you can apologize and then revert back how you intend to correct the situation.
Unfailingly, you must respond to positive reviews. Thank them for reviewing your business. By being fast in responding, you illustrate customers on Yelp how hard and concerned you are about your business.
6. Use Yelp Dashboard's Metrics
There are numerous detailed metrics available on Yelp dashboard, which you can use to boost your business performance. With the help of these metrics, you can track traffic volume received by your Yelp profile, how often your business is displayed in the search results, and let you know the actions taken by the users. This way, you can have complete knowledge of how businesses are engaging with your business.
Having accurate information in hand will let you make well-informed decisions on actions related to your business. This will help you know when the business requires a boost from special menus or happy hour.
7. Keep An Eye on Your Competition:
Since a large number of businesses have a profile on Yelp, this is what that makes it an excellent source of best practice. If you are establishing a new business, then using Yelp can help you look at the various cues used by the competition in order to maximize their impact.
You must search for local businesses competing directly with you for local traffic. Read their profiles carefully and this will offer you a convenient way to contract their profiles and witness what they are doing right and what you are doing wrong.
8. Subscribe to Elite Membership of Yelp:
The Yelp community encourages engagement to a great extent. Users want Yelp to be an identity and simply not an app. By being an elite member of the Yelp will offer you special perks.
Being an elite member will offer you access to profile badges, snazzy profile, regional parties, and more, and will offer you a sense of power to influence the social media users.
Additionally, you can use this community to encourage users to come to your business and review your business.
Some of the perks that you can avail by being an Elite Member on Yelp are:
Profile Photo – You can pep up your online profile with a high-quality and engaging profile picture.
List Different Places – You can mention places you have reviewed as this enables people to see how engaged you are in a community. If they like your suggestions then they will come up to you for future recommendations.
Bookmark Establishments – You can easily store tabs on places and prove that you are in for the long wait.
Click Useful Photos for Review – Accompanying reviews with pictures is an amazing way to disclose that you have placed extra effort.
Talk – You must be engaging to the users in every possible way. Respond to their reviews, comments, post updates, and suggest events. Since it is a community you must make all efforts to establish a strong presence.
Check-ins – Elite members on Yelp can help you check-in the community and can take support from the admin team. Actively, you will be supportive to help other members.
Share Tips – Offer recommendations and suggestions to the users for various aspects of a business like the best time to visit, kid's friendly ambiance, and more.
Import Friends – Use your social media or email account to actively establish your reputation as an influencer.
Schedule Events – Use the Yelp's event calendar to schedule events.
Invite Friends – Elite members on Yelp have the benefit of inviting people to sign up to yelp using their social media or email accounts.
Summing Up:
You now know why Yelp is significant for your business and how it can benefit your business SEO. So, along with an optimized website, use Yelp to draw a high volume of attention from customers to your business.