For everyone in the digital marketing scene, they must at one point or the other heard about ClickFunnels, the landing page builder that blazed the trail for others to follow in the industry. It can rightly be termed the pioneer in the online sales funnel scene.
In this review, we're going to be taking a critical look at ClickFunnels, analyzing the different features inherent in this tool. We will present the facts and help our readers determine if this marketing software is worth the hype.
Since it first came into the market, ClickFunnels has gone ahead to become a delight of digital marketers. It has become one of the largest and influential Software as a Service (SaaS) companies around. Understandably, a lot of people have been using ClickFunnels since it's generating lots of revenue for them.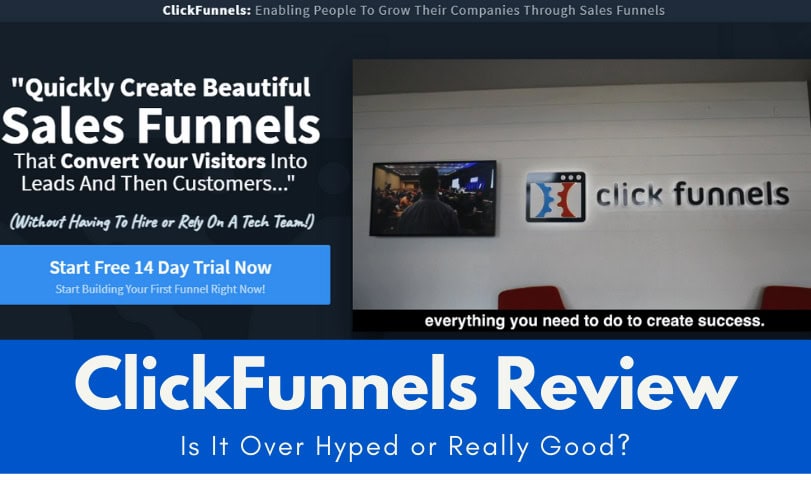 Digital marketers are happy because ClickFunnels became a software that actually helped convert their thousands of website visitors into paying customers. So, it's unsurprising that within a short time, ClickFunnels has become the go-to software for all marketing needs.
While we cannot deny the fact that ClickFunnels is an established and popular software among varied users, our question remains, is it worth it? Should we join the bandwagon and hop into the fray of users already utilizing this platform? What sets this software apart from similar tools in the market? Answers to these and more we will be finding out in this review.
What is ClickFunnels?
ClickFunnels came into the limelight as a digital marketing tool in 2014. Within a very short time, it began to make waves and win over the market. Such was the positive reviews that ClickFunnels was getting that Forbes at that time stated that this tool was changing the game in the digital marketing sphere.
ClickFunnels, as a tool, was created to enable businesses and marketers alike to build a customer base using a novel marketing technique called sales funnels. It was created by Russel Brunson. Brunson, a top digital marketer himself, had a background in email marketing. Wearied by a lack of top sales funnel builder at that time, he decided to build one himself, which turned into a success. He is the author of bestselling books such as DotCom Secrets and Expert Secrets, two books that explored the new marketing techniques for up-and-coming marketers.
As stated earlier, ClickFunnels was a way for Brunson and his team to create sales funnels for their different marketing ventures. Prior to establishing ClickFunnels, it had taken marketers a long period to design sales funnels for their campaigns. Brunson soon figured out that other marketers would need his new creation; so, he set about designing it in detail, adding more features, and monetizing his product.
What is a Sales Funnel?
It's good we define what sales funnels are in order to help others not knowledgeable on the subject further appreciate this marketing technique. It can be termed a process whereby you convert prospective customers who have never heard about your product into paying and returning customers. In the aspect of online retail, it is a process that takes your website visitors through a series of steps that finally lands them at your product page with a call-to-action for them to place that order or buy a particular product.
Imagine a brick-and-mortar store. Here, you're able to physically talk to every customer that walks in, persuading them to walk out with a few purchased items. With your online store, that's not possible. You're not with your customers to cue them into buying. Most times, you're not even aware of the customers that might have "walked" into your online, except you have the tracking tools to keep you apprised of these happenings.
So, what does a funnel do for you? It does the persuasive job of cueing your customers to buy from your store just before they walk out. They appeal to your customers' emotions and buying behaviors. It is usually a step-by-step process that happens until a customer finds themself at your order page, making payments. Cool, isn't it? It has become a buzzing trend in the online marketing scene, and everyone seems to have caught the bug. It might seem like Brunson made his money by selling his product. Well, not entirely true, because he used his creation to sell his other products too.
Reviewing ClickFunnels – The Best Features
So, let's go over the top features of this software and find out what makes it popular among users.
Page Builder:
Well, this is actually why this tool was created, and this is its main feature. So, we will be taking more time here to look at this feature in-depth. There have been many positive reviews for ClickFunels, and we think a good reason for such high ratings has to do with its page builder. Truly, ClickFunnels possess a very solid and intuitive page builder.
While it is the funnel-building capacity of this software that has become a marketing tool for its creators yet, it is the landing page builder that catches the eye of most marketers. It comes with a range of quality template designs. All template designs are organized according to the funnel type, so you won't find it difficult to seek the template that suits your needs. You can save some templates that you find outstanding, thereby making it very easy to access them when you want to.
Building up pages requires a drag and drop builder found in the editor. It may seem a little bit complicated. However, once you get the hang of things, you're good to go.
The editor comes in the form of four main components. These are the sections, rows, columns, and elements. Every one of these components relates to one another. The rows, columns, and elements can be found inside the sections. On the other hand, the columns go into rows. In this way, one can have a row made up of one or up to four columns. The elements can be found inside the columns, and they're designed to make your page user-friendly to visitors. A nice feature of the page builder is that everything comes in a color code.
When it comes to editing your page, this can be done according to sections, rows, columns, among others. There parts of your page that you can move around. For templates, there are tons of customization options to help you build your page to your taste. There is the option for mobile preview, color edits, text, settings, and other tools you will find. If you're the techy type, then you can actually code your own JavaScript, HTML, and CSS.
However, plenty a user has complained about the grid-like structure of the funnel, wherein you have to make do with the rows and columns to build your page.
In all, the page builder is one of the highlighting features of the ClickFunnels, which builds top-notch landing pages that enable your business to bring in the much-needed revenue.
Integrations:
A great feature of ClickFunnels is the many number of integrations it allows. This software is able to practically integrate with nearly every digital marketing tool and online store. The list of other tools it integrates with includes Active Campaign; Aweber; Constant Contact; Covertkit; Drip; GetResponse; GoToWebinar; GVO PureLeverage; HTML Form; HubSpot; InfusionSoft; Interspice; Mad Mimi; MailChimp; Maropost; Ontraport; SalesForce; Sendlane; ShipStation; Shopify; Twilio; Webinar Jam Studio; and YouZign.
There is an integration section where you can search for the above-mentioned third-party tools, and they would appear immediately. Managing your integrations also comes easy too. However, you would have to find out the documentation of each third-party app to catch a glimpse of what is required by ClickFunnels. While the integration process may come a bit more complicated than, say, the page builder, in all, it is a straightforward process.
Another close-related process is the payment gateway. Payment gateways, as the name suggests, allow customers to make payments for items purchased. While payment gateways on other tools are just another integration, on ClickFunnels, payment gateways have their own tag. They are called billing integrations. ClickFunnels support the following payment gateway systems: Stripe; InfusionSoft; Warriorplus; JVZoo; ClickBank; Taxamo; Ontraport; Blue Snap; Easy Pay Direct; NMI; Recurly.
It is very easy to manage the above integrations, as far as you have an account with, and you're conversant with the tools you intend to integrate into ClickFunnels. From experience, we've had trouble integrating these payment gateways into ClickFunnels.
User-Friendliness:
ClickFunnels boasts an unusual ease of use for all of its customers. So sure is the company of the user-friendliness of its product that it incorporates this theme into its ad. ClickFunnels says it offers an opportunity for non-techy users to exploit its tools to the fullest, saving time and resources in the process.
However, while the software comes with a shallow learning curve, it can present a bit of an initial challenge for beginners. For users that are new to the world of digital marketing, the initial stages might be overwhelming. All you need is the creator's books on digital marketing to get the hang of things, and you're good to good.
You can always contact a customer service representative if things prove too difficult for you to process.
So, while ClickFunnels is not all that simple for newbies and the uninitiated, it has been designed with an excellent user interface to help everyone – techy or not, with creating beautifully designed funnels without hassles. So, in the aspect of user-friendliness, we would like to give ClickFunnels a 4 out of a possible 5-star rating.
Customer Support:
ClickFunnel comes with rather great documentation. Their customer support, although accompanied by some particularities, can be said to be of the standards expected of SaaS companies. Their support page comes with content-laden articles that help users navigate their way through the software.
There is a live chat feature on the dashboard to directly access a customer rep. A chief complaint among users is that while the chat feature helps with providing answers to seemingly simple questions when it comes to complex inquiries, it becomes unhelpful.
There have been negative reviews by users on various review platforms decrying bad experiences with customer reps, especially as regards the malfunctioning of certain features on the software.
While ClickFunnels may have tried to put up a decent customer support service, there is still much to be done in this aspect. So, we will settle for a 3 out of a possible 5-star rating for its customer support.
ClickFunnel Pricing:
ClickFunnels comes with three pricing plans. The lowest plan costs $97 per month, while the Platinum plan comes at the cost of $297 per month. Its most expensive plan is the Two Comma Club X, which costs $2,497 per month.
The major differences between each of these plans are the number of landing pages, custom domain names, and other features that can be obtained in a month.
Pricing Options
The ClickFunnels Starter Plan – $97 per month
This plan is suitable for small businesses and other marketers just getting started with sales funnels for the first time. It offers a 14-day trial period. Benefits include: 20 sales funnels, 20,000 monthly visitors, 1 sub-user, 100 landing pages, unlimited leads, 3 custom domains, and 3 payment gateways.
ClickFunnels Platinum Plan
This comes with unlimited funnels, unlimited landing pages, 9 custom domains, ad 3 users.
ClickFunnels Two Comma X Plan
This plan has everything that can be found in the platinum package; however, it comes with more custom domain names and payment integrations. And again, you have the chance at VIP chat support.
The Platinum and Two Comma X plans are suitable for large businesses that offering a large volume of sales with their funnels.
Final Thoughts:
We consider ClickFunnels a great software that is worth considering and trying out. We agree that there are a few drawbacks that come with using this service which should be improved upon. But overall, it is a great tool for every serious digital marketing business out there.
So, if you're looking for a practical marketing tool for your business, ClickFunnels is worth the trial. Their self-hype and promotion may come as a turn-off to many, but in truth, they have the necessary features that allow you to turn in those high conversion rates for your business.