Imagine your customer is on your page, looking for the product that perfectly fits for him/her need.
Now the very last step is to convince the customer to tap on the "Add to cart" button. But, how?
With an effective product description.
Product descriptions have a capability of making the sales at the same time they may break the sale. These are one of the most important aspects of online shopping when it comes to conversion. Even though it has incredible power to make sales, but a good product copy can be hard to write. It can even make you feel like mind-numbing when you have a lot of items on your product page.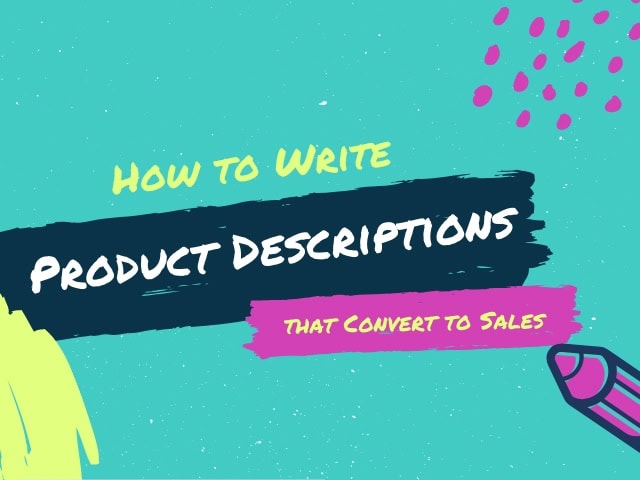 Did you know that product descriptions largely impact your sales? Yes!!! You heard it right. With a perfect product description, you can make your sales grow where it grabs the attention of the customers towards your product and convince them to buy your product.
What is product description?
A product description denotes the marketing copy which explains completely about the product such as what that is and why it is worth purchasing. It should be simple and clear so that the buyers can get an idea about what they are buying and why they are buying.
The main purpose of the product description is to supply the customers with all the details which include product features and benefits of buying the product. So product descriptions play a very important role in product sales. You need to very careful about the product descriptions about what you are writing and the keywords you are using in the description.
According to the e-commerce study, 20% of the product purchases noted as failure ones because of product details which are unclear. See how the product descriptions make an impact on your sales. If you are one who is searching for the information about "How to write product descriptions, don't worry, you landed on the right platform."
You know what; people tend to move towards particular words when they do online shopping. We can say that words are like keywords. If you insert those words in your product descriptions, you can see the change as there will be an improvement in the sales.
Here on this page, we have compiled the clear information about product descriptions and how to write them. One thing that you always have to remember is, you need to tell some of your product details for sure. It should be meaningful and should add value to your product. Simply writing product descriptions won't attract the buyers or customers, you need to follow some strategies to make it better.
By following the simple strategies, you can make your bad product description into an attractive one with minor changes.
Difference between good description and bad description:
Product descriptions really don't have to be in a big length of the text which you use. You might think that some of the aspects are important, but fortunately, they are also not important. The main important point to remember when you're writing product description is to explain what are the product benefits, how it useful in short and why people have to buy it. If your product describes like a self-explanatory, then you no need to go with the fancy work.
For example, if we take an example of a plain white T-shirt, the product description doesn't need to go much in detail or doesn't need any extra description. The product explains itself that it is very soft and lightweight and blended with a lyocell and cotton fabric. See how simple the product description explains about the product.
Many people don't concentrate on the product descriptions, they just simply skip it. In the example of a white plain T-shirt, the selling factor revolves around image quality, availability, size, cost and color range. By covering all these things, the text will consider as a bit less important. Even though your product description doesn't contain more details, it is also referred to as a good description.
Let's take another example of something like Snorkel which is a kind of mask. Most of the people know what it is just by looking at it, right. But the product is unique when compared to normal masks and here you have to add more information.
You can mention the product description something like how it helps, why it is better than the traditional snorkel and in what way it improves your swimming or diving experience. If you mention these details in your product description, buyers will get an idea about what they are buying and how it is useful to them.
Well, we can write the product descriptions for the examples discussed above by covering the details like,
Have to mention what actually the product does or its uses clearly.
Make sure to write the value-added benefits of the product.
Have to include all the relevant information compulsory.
In short, writing a product description means that you describing your product in a simple way. If you are not getting how to write product descriptions perfectly, then take a look at the strategies mentioned below or tips which are very useful for you to write a perfect product description.
Writing Effective Product Descriptions that Sell:
Define your target audience:
Every product has a target audience, but it all depends on how quickly you know, realize and target them. First of all, you need to define the people who are showing interest in your products. Now you have to write a brilliant copy of your product when you are aware of your target audience needs.
You need to be noted that a good description always starts with a solid buyer persona. If you are not sure about who is going to buy your product and don't know what information to include in the description, it will really become a mess.
Make sure to create a buyer persona first and refer it each time when you need a reference point while you're writing the product description. In order to start with the creation of buyer persona, you need to evaluate the common behavior of your audience and grab their pinpoints.
Many copywriters, marketers and business developers often look for the content which buyers are interested in. The content helps them to understand the habits, interests and complete information that furnished in different chunks of the landing page.
Highlight the key features:
We all know that every e-commerce website often faces tough competition. Moreover, the merchants have to add more and more benefits or features to keep up in the competition. The most common mistake that we find in most of the product descriptions is people aiming at the functionalities for the consumers rather than highlighting the key features.
But it is very important to discuss the key selling points about your products in the description. In this fast-paced modern world, many online buyers are in a hurry even to buy a product as they won't check the description also. They just give a scanned view of your landing page.
You have to grab their attention by listing all the key benefits or features in the description. By just glancing at the description, they need to understand what are the features of the product. So make sure to highlight the key features of your product and include them within the product description. By doing this, your buyers can check the features at a glance and know about your product.
Get product understanding for your buyers:
Without conveying a clear knowledge about your product, how can you discuss your product features? You may not able to discuss the features that a buyer is passionately looking for. Here, a copywriter has to understand about developing the product.
First, you have to know why you are manufacturing or producing the product and what are the pinpoints which have to reach the target audiences. Friendly product description needs your complete understanding of the product before discussing it. Without having proper knowledge about the product, you just write a general introduction and miss all the unique selling points.
Here are the tips to understand the product and its pinpoints.
First, know the use and purpose of the product
Must and should try a demo to know how well it works
Evaluate all its key benefits and features for the targeted people
Know the technical details from your developer or manufacturer
Conduct the research.
By following these tips, you can have a clear knowledge about your product and can be able to highlight the key features of the product. If you have a good understanding of your product means, you can easily answer the buyer queries.
Always use plain language and make it unique
Keep it simple.
Make sure to follow this whenever you are writing the product descriptions. One thing you need to remember is, the selection of words for a product description is always critical and it may completely depend on your targeted audiences. Every copywriter has his own vocabulary which may differ from others.
When it comes to writing for a common user, every description needs to be in a plain language, simple and clear. As we all know, online shopping is common practice for most of the people and they do not confront the words which they are familiar with.
Make sure to note that, for an e-commerce website whether your target audience is a professor or a student or a software engineer or whoever it be, always avoid writing adipose verbosity and just keep it simple and short. In this modern techie world, no one wants to spend extra time on the website just only to know about the product.
They always look for the simple sentences which grab their idea at a span of glance. One more thing you have to keep in mind is the uniqueness of the product page. In fact, it is the core element in SEO also.
Earlier, marketers used to copy the content from the competitor sites and make some necessary changes. But now, the search algorithms are not allowing the copied content and if they have means, it becomes spam. So make sure to have unique content within your product description and aim to write for your targeted audiences.
Conclusion:
So, guys, these are some of the tips about How to write product descriptions.
Writing a well-optimized product descriptions give you a continuous improvement experience. There are many ways of writing a product description, but all you need is to choose a friendly tone, highlight features and include relevant keywords. Follow the above tips and be realistic about your product descriptions. Feel free to drop your queries in the comment box and we will get back to you with right solutions.