Before commencing with a load of hard work, dedication and tranquil, there are few things you need to do before actually starting WordPress web design business.
There are many people who are in a state of confusion when it comes to starting up a WordPress web design business. You will find many WordPress users who are making a living through WordPress businesses.
And maybe that is the reason why you are also trying to do the same with WordPress. This is ideal for bootstrappers. Let us have a peek at the aspects and things to do before initializing a WordPress Web Design Business.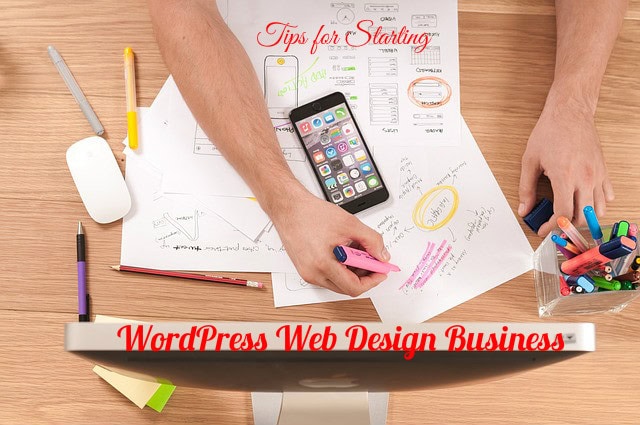 Tips for Starting a WordPress Web Design:
It is Free:
If you are going to invest your time in WordPress business, it will be beneficial if you take a look at the features of WordPress as to why it is a good choice. The self-hosted version is entirely open source. And so free to use and therefore you can download it and begin the usage without paying anything. With a PC and an internet connection, you will be able to get started with it in literally minutes.
WordPress has ideal community support:
Many people are using WordPress to generate amazing stuff online. And then because the people receive so much from this platform, they are willing to give some back. Thus, you will find many of them providing tutorials on overcoming problems that they have already passed through and help others to conquer it. In the WordPress help forum, the beginners are welcomed and are granted a lot of aid as well as support.
Extendable and Quality controlled:
WordPress can be extended by plugins and themes. There are numerous options of possibilities. Magazine looks or gallery for a portfolio all is achievable. There are very less or no chances of malware as the directory of WordPress get tested to ensure high-quality standards.
Growing Significance:
Even to the people who are not planning on starting their business with WordPress, understanding WordPress is valuable knowledge. It is because most of the large corporations are exercising it to empower their websites.
Accounting and business set up:
Maintaining a tab over all your financial transaction is imperative for the accomplishment of your business. To keep an account, you really do not want to spend time in managing a book or spreadsheet as you want to consume that time in focusing on your business. Luckily, there exist tools that will facilitate to mechanize your accounting and help you save money.
Freshbooks:
It is the most recommended accounting tool. For the non-accountants, Freshbooks has proved to be user-friendly. You can effortlessly dispatch invoices, get payments, link it to your bank's account then easily track every transaction automatically. It also allows one to record time plus bill clients for the amount of time they work. It has specific use if a client hires you on an hourly base.
Framework selection:
Preferring a theme framework to perform with facilitates to reduce your labor and accelerate your total development process. There are plenty of WordPress frameworks accessible.
Advantages of frameworks:
The best frameworks have a vast community behind which makes it simpler to obtain answers to your support questions. It makes things easier and reduces the time of development in the long run. It comes with additional functionality and built-in widgets. It has quality control and has the capability to upgrade devoid of losing any of child themes styling functionality.
Disadvantages of frameworks:
It might take time for you to grasp its lingo for optimizing its power and thus take time. Frameworks have certain limitations concerning achieving super customizations. The majority of the theme frameworks are not for free. You either get a one-time fee or a yearly fee to obtain updates or support.
WordPress plugins:
It will be helpful to get a set of WordPress plugins. Install it and maintain it as part of your plan. Specific plugins will facilitate acceleration of particular tasks.
Backup system:
It will cost you a lot if you lose data and especially more if the data belongs to the client. Thus setting up a backup system is a vital investment for your complete development surrounding. If hosting client's websites are your plan, then the client's data needs to be backed up as regularly as possible. You must also enable autosave on your entire code editing tools and software.
Backup Plugins:
There are revision control systems namely Git and alike that can rescue you from heaps of trouble in the forthcoming time. VaultPress is highly recommended for reasons like its easy usage and its offer for real-time increasing backups. BackupBuddy plugin is beneficial for small or medium sized websites. It is as they hold their own cloud storage and Stash that helps in making it easier to store backups for beginners in the cloud in a matter of some clicks.
Choosing the top hosting for your business:
A lot of times, small web design groups themselves host client websites that can grant an additional revenue flow; however, it turns up with its own hassles. It is strongly recommended to not host your client's sites on your server. As an alternative, walk into partnership with a hosting company of your choice and request for an affiliate deal. It will turn out to be money-spinning as specific WordPress hosting companies present a huge affiliate program.
InMotion Hosting:
The hosting provider InMotion Hosting will pay you up to $125 per sale. They provide managed hosting, VPS, dedicated server and business hosting.
WPEngine:
WPEngine will pay up to $200 per sale. As a specialized WordPress hosting company, they only offer managed solutions that are a tad costlier. Associating with a reliable hosting provider will allow you to allocate tasks in which you are not good and managing servers while you still earn additional money.
Strategic Partnership:
In the initial stages, you will find handling everything on your own easy and which it will be. But as your business escalates, you will end up needing more people. You can appoint somebody to work with you permanently or can develop strategic partnerships with self-employed contractors and supplementary agencies.
Choosing a strategic partner:
You need to find the people who hold the best abilities and knowledge that you do not have and allow work to them. You will learn in the long run that specialization is the key to a successful web design business. It might take time for you to discover people you can rely upon, however it will be absolutely worth your time and persistence.
Create an email list:
Email is a highly powerful plus lucrative marketing tool. Some users might be interested but cannot come to a conclusion. You can provide them with a chance to subscribe to your email list by offering them an exclusive resource that can aid them to take a decision. You can start turning your site's audience into paying customers. Following the subscription, you will have to engage with the subscribers regularly by giving them precious insights with resources.
Inform your immediate environment:
You can inform about your business to the people you meet. Friends, family, and acquaintances plus other people that you encounter for your help etc should be made noticed so that more of the people are aware of your web design business and higher will be the chances that someone will need help and remember your name.
Hunt online job boards:
You will come across numerous job boards online. Here people are keenly hunting for website design and related services. Fill them with an RSS collection and build a routine to check them frequently and then give out applications. Do not forget to add in your portfolio.
Contact potential clients directly:
Subsequent to placing your name and responding to job ads, it is time to carry on a further targeted client track. Then for this, you will be required to describe your ideal customers. Learn where you can locate clients and then recommend your services straight away. As it takes a while to conquer your reserve, it is generally the best that works in the long run.
Recurring customers:
You need to build a relationship with your clients that are on a personal level. Do not become strangers with them after the work is completed. Follow up and check how things are working out for them. Remain linked to them via social media and display genuine interest. It will bring more business to you.
Learning material:
It is natural that endeavoring to figure all of the things out by trial and error will be costing you a lot of time. Thus educating yourself through it will be advantageous. Sharpen your skills that will be required for the WordPress business. 'WordPress codex' is an example where you can learn about WordPress more deeply. Another one can be 'Getting started with WordPress' and 'WordPress Semantics'.
Running the WordPress web design business is not a trip. Commencing the business will take hard work and push. You will need to learn many things to stay on top with the business and to ensure you get enough clients. The above knowledge and the things to do before setting out for business will definitely prove of assistance to a beginner.