Hacking is a common problem that happens to most of the sites. But, when it happens to your WordPress site, it will be painful.
There are some people who want to hack sites to spread any malicious messages or disturb your site. If your WordPress Website is hacked, just don't panic. Instead, follow these steps to identify the problem behind the scenes and get your site back on.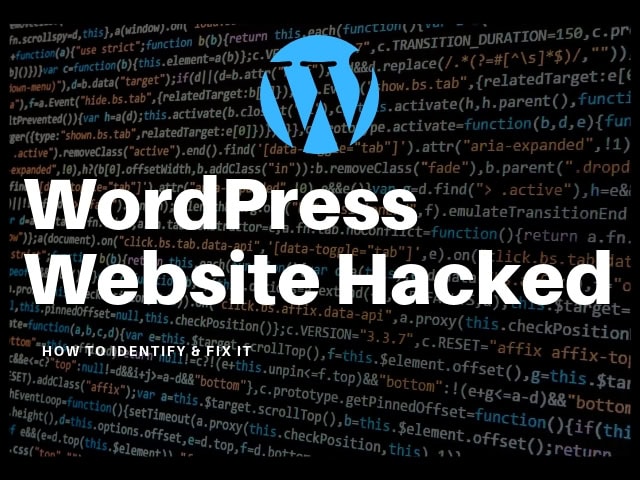 How can you identify a hacked WordPress site?
You can identify hacking by seeing some relevant changes on your site. This guide will help you to identify a hacked WordPress site easily.
There are many types of hacking that happen to WordPress.
Mainly there are white hackers and black hackers.
White hackers help to find any security holes in your site and alert you about that. Black hackers are the group that causes some security issues to your site.
Here are some common hacking types:
Man-in-the-middle (MITM) is a type of hacking that occurs through a common Wi-Fi network. Somebody can eject malicious script on your page through this.
Denial of service (DOS) crashes your site with so many requests.
Random Data query can steal or delete any content from your website
Some type of hacking can deny access to your site by gaining complete access to your site.
So, the security of your site is very important. There are many reasons for hacking a WordPress site like weak password, insecure themes or plugins, weak hosting provider, etc.
You can protect your site by ensuring two-factor authentication, SSL, good hosting provider, etc. Now we can identify various signs that show that your WordPress site is hacked
WordPress Website Hacked Signs:
When somebody hacks your site, it may not be visible easily and immediately.
You can keep a close eye to all changes to know whether your site got hacked or not. Check out the below points
1. Unusual username registering on your site:
If you shut down the registration and someone registers on your site that means somebody has got admin power of your site.
Sometimes WordPress sends you email if they found anything unusual.
Hackers can inject contents to your site if it has got weak security plugins. Check all username and remove if you found any unauthorized users.
Make sure to update your Plugins and also secure your hosting provider FTP account well.
Audit your site and check whether any unusual username is there. If you found that, you can restrict unauthorized registration.
2. Unable to log in to your Admin account:
While creating your WordPress account there are many ways through which you can protect it.
If somebody hacks to your account and delete or change your password then you cannot get access. The hacker left it open and you may lose its control.
While entering password make sure not to enter the wrong password. Check whether you lose admin control and try to get it back.
Update all your plugins and strengthen your password. As it is hacked, you cannot change the password also. You can use phpMyAdmin or FTP to add an admin account. You should try to find the way hacker got into your site.
3. A sudden drop in your site traffic:
You need to check your Analytics often to know the traffic towards your site.
Sometimes there may be a sudden fluctuation in your traffic. The reason behind it could be hacking.
Hacker injects malicious content to your site that can drive the traffic to another malicious site.
Some users may use safe browsing tools and it shows that your site is not safe. This is also a reason that reduces site traffic. This should be avoided to protect your site.
It is essential to protect it from dangerous hacking that can destroy its future. You can avoid this problem by configuring your site permission effectively.
4. Addition of spammy link:
Sometimes hackers can add a link to any spammy site on your website. That technique is known as creating a backdoor and it is one of the oldest technique most hackers use.
This is difficult to find out and they may not change the site appearance. Backdoors are the best way to get access to your site's control center. These links are usually added to the footer of your site.
You can conduct a link audit to find out the presence of any spammy link and remove them. These links can come back even though you removed it. You have to find out the source from which the link came from and destroy it.
5. Unresponsive homepage:
This is the most visible sign that lets you know that your page has got hacked.
Hackers usually prefer to be unnoticed when they come to your site. But when you notice a message like your page is hacked that means they removed the homepage and added this message there.
Their main aim will be asking for money from you. You only get your access back when you paid that money to them. This is how defacing homepage works.
When you found out that your site got hacked, you should take the required action to get back your site control. Don't pay any money they demand.
6. Spammy email to followers:
Users enter their email address when they sign up to your site. Hackers can take advantage of this and send spammy emails with malicious content to their followers.
They con your visitors and trick them into sharing more personal information. This type of hacking is called phishing. Their aim is to trap your followers by sending spammy messages.
Visitors can mark these types of mail as spam, even though you send genuine mails it can consider as a spam. The result of this is to lose trust in your email promotion and you should be more alert about this.
7. Slow loading site:
Random denial service is a type of hacking that can slow down your WordPress site.
In these, hackers use hacked computers and servers from all over the world and send too many requests from fake IPs. This is a way they can get access to your website.
If your server is not strong, this can make it slow. As the loading of the site becomes slow and unresponsive, the organic traffic to your site automatically decreases.
All you can do is to find those fake IPs and block them. That is the only way to get rid of random denial hacking.
8. Google removes your site from a search result:
Sometimes when your site got hacked Google can indicate users by flagging it as a hacked site.
When you search for something and see a message under the search result like the 'site may harm your system' that means that the site is hacked.
Some browsers show this type of warning and some others won't. Google surely shows hacked sites indication so that users can take prevention before clicking on the site.
You can try to remove this type of issues by conducting site auditing more frequently. Clicking on that site may affect user system badly and it should be avoided and protect your site from malware.
9. Change in website content:
Hackers can inject malware into your website after hacking it. It can change the whole website contents.
Some of them may be noticeable and some others could be hidden. You can check your media files because they are easy to get hacked. So, you must watch closely to your website content for any changes or use any tools to track changes.
When hackers attack, they mainly target your sites. PHP or .htaccess files or your media files. These data are very sensitive and can cause great damage to your site.
So, you must avoid it to protect your site from those hackers by implementing better security options.
10. Change in the scheduled task:
This is a slow hacking process and you cannot identify this easily. Hackers enter your site and add something to your schedule calendar for the future.
There will not be any changes initially and after a few weeks, this will lead the site to automatic injection of malicious content or anything that can harm your site. These types of scheduled tasks are known as a cron job and you must keep a close eye on your scheduled task and remove if you found any suspicious tasks.
11. Spammy pop-ups:
This is another way to hack your WordPress site. Hackers can add pop-ups that can damage the user system by clicking on it or lead them to a malicious site.
These pop-ups are very dangerous because hackers use backdoors to enter into your site.
Logged in users may not find these pop-ups but regular users who visit your site without logging in may find this.
You can check your site from various browsers which will give you more chance to find unusual popups. It is very important to remove all those pop-ups from your site to make it safe for users.
12. Change in your meta title and meta description:
Some hackers won't change anything from your website content. They just change your topic meta title or meta description. This will automatically reduce your site traffic and it also affects the ranking.
Your sites page will be fine in this type of hacking. This only aims to reduce your search engine ranking.
So, you should check your site for any uncommon changes. Search your site well and remove these hacks to save your site traffic and ranking.
These are some common changes that you see on your WordPress site that shows hacking.
Whenever you notice any of the above changes, make sure to take necessary action to protect your account. Strengthen your site security to give safe browsing to your followers. This can improve your SEO and ranking automatically.
How to keep WordPress Website away from hacking?
It is very important to prevent hacking if you found any unusual activity on your WordPress site.
Always give preference to protecting your account. Here are some techniques you can try to protect your account from hacking
Back up:
Before anything bad happens, you need to back up all your WordPress contents. You can do this manually or else by using plugins.
Set up SSL encryption:
SSL means security socket layers and these are essential security you need to implement on your site. By adding an SSL certificate to your site, you can gain users trust. There are plugins available for WordPress users to set this up on their site.
Update WordPress version:
When you use WordPress for blogging, it is essential to update the latest version available.
When they create each update, new changes will be made to protect weak security holes. You can protect your account by updating your WordPress site.
Implement 2- factor authentication:
This is an effective way to keep hackers out of your page. Strong password and implementing 2- factor authentications is the best way to prevent access through a hacking password.
Consider a better web hosting plan:
When you create a website make sure to choose a better web hosting platform to ensure maximum performance. If it is weak, hackers can easily make your site slow by sending multiple requests from hacked servers.
Install WordPress security plugins:
There are many plugins for various purpose. Security plugins are the best way to protect your account from vulnerabilities. They come with admin security and blocks all automated comments automatically.
Final Words:
Protecting your WordPress site is very essential to provide better service. Cleaning the hacked WordPress site is a tedious task. Check for any of the above sign and act immediately if you found it hacked.
Follow all the above tips so that you can protect your account from all those dangerous hackers. This is a complete guide that discusses WordPress security.
You should be more careful about your website because hackers are finding new techniques to get access to WordPress sites. Be alert and protect your WordPress site from dangers.