WordPress is the platform which is used to develop websites and blogs. The best thing about it is that it can be used by beginners. It has gone through many updates in the last few years and is very reliable and easy. It offers many advantages to the user. It is amazing for those who love to do blogging and manage websites or blogs without much technical knowledge. The topic of WordPress security is of huge importance for every website owner who wants to keep their site secure.
WordPress Security:
WordPress has proved to be a boon for many companies. The companies feel it be very friendly, simple and trustworthy. It adapts as per the needs of the user. Even beginners can develop their websites and blogs because of WordPress. But the problem with it is that there are high chances of the website getting hacked.
Being a website owner, you should be highly active. It is because hackers can try to take all the necessary details from your website. It is your responsibility to save your website from being hacked. Check out our ultimate WordPress security guide to add some extra security and firewall to your site and keep it safe always.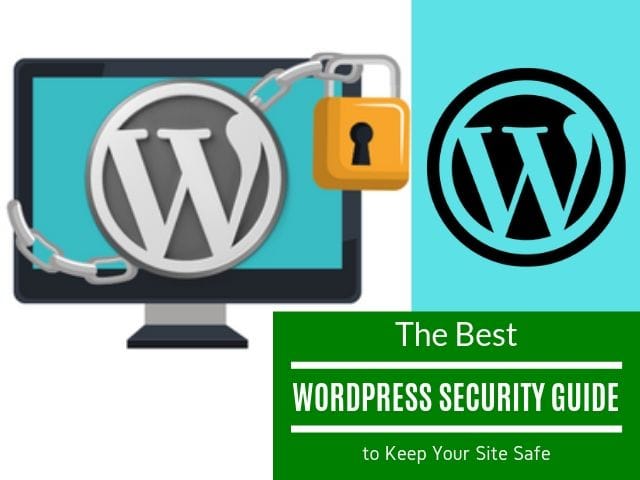 Why the Security of the Website is Important?
No one denies the fact that website security is the most important thing. A person has to be alert and active. If he ever finds that his data is lost, he will be in trouble. The reasons why website security is important are given below:
WordPress security is important for you because it protects your website from harmful software.
Your business will not lose its money. Monetary damage is very painful and harmful. Hackers generally take away all the details from the website.
Your business is likely to lose its goodwill if it gets hacked. It is obvious that people will fear to give their details to you. You may lose your trust and loyalty.
You cannot lose the details of your customers. And hackers try to hack the website to get such details. These details are then sold to other people who pay a good amount for it.
Simple WordPress Security Tricks to Save your Website:
Though there are many ways to protect the website, the best ways are given below. If you use these tricks, you will succeed in saving your website from unnecessary problems.
1. You should use the Website lockdown feature:
A lockdown feature is used when the login attempts fail. This feature prevents the website to have a continuous problem of login failures. It saves the website from being hacked. When a hacking attempt happens, the site gets locked. And also the website owner will be notified about this wrong activity.
2. You should have two-factor authentication:
Many people apply two-factor authentication to their website. It also works as an amazing security measure. A user is asked to give all the login information to different things. This freedom is given to the owner to decide what those two things will be. It can be a regular password or it can be anything else as well.
3. E-mail login will be apt for you:
WordPress requires the users to put their username. Many people get trapped in wrong activities because of it. They should use their e-mail Id. Using email-ID is assumed to be safer. Actually, it is very easy for hackers to predict the username. Trying to hack an email-Id is not at all possible. That's the best point of WordPress. Each and every account in it is created with an email-Id.
4. You should rename your login URL:
It is important in order to secure the WordPress account. And changing the URL is not that difficult. The situation becomes problematic when the hackers know your URL. It is obvious, they will try their level best to track your ID. They can succeed in hacking your ID.
5. You have to constantly change your passwords:
When you keep on changing your passwords, you actually secure your website. You should have a very strong password. Your password should be such that it is impossible to hack it. Try to have an alpha-numeric password. You can increase the strength of your password if you keep some letters in uppercase and some in lowercase.
Follow these tricks and you will be amazed. These tricks work best for beginners as well as experienced people.
Why the Website gets hacked:
Well, this is a very relevant question. There are certain personal benefits because of which hackers hack the websites. They cause too much harm to the websites. Have a look at various reasons for which the website gets hacked:
1. Search engine optimization:
Sometimes hackers try to gain access to the website to improve the SEO of any other website. Hackers can insert back-links on any other website by hacking your website.
2. Spam:
Sometimes hackers try to hack the website so that they can send spam messages from it. It's another adverse effect is that the website gets blacklisted. The website loses its value and trust among the users.
3. MALWARE:
There are times when the website gets hacked so that the likelihood of the website can be reduced. Hackers try to track the user's details by spying them. They can spread the virus as well.
4. Theft:
Some hackers hack the website so that they can steal the personal information of the user. It is the tendency of the person to keep their personal details on their computers.
5. Attack:
Sometimes the hackers hack any website so that they can make the website unavailable to the users. In this way, they make way for any other website.
There are many more reasons behind the website getting hacked. But the above-mentioned reasons are the most common ones. You should be very careful.
WordPress Security Mistakes to Avoid:
In order to run the website smoothly, the website owners go on committing some mistakes. And these mistakes end up creating problems. Some of the common mistakes are mentioned below. Have a look at them.
1. Updating the website:
If you are not updating your website from time to time, you are actually inviting problems. This is the biggest mistake many websites commit. They don't update their websites timely. Constant and proper updating of a website is very important. It is because the developers of the website keep on updating its version.
2. Attention to login details:
Many websites don't pay attention to what data they are taking from the user. They should be very conscious of their login information. If they are accepting insecure and insufficient details, they are creating problems for them. Many hackers constantly guess usernames and passwords. If they succeed in guessing the right password, they will take everything they need to take.
3. Using untrustworthy sources:
Using unreliable sources is a disadvantageous issue as it attracts hackers easily. They try their best to steal all the precious pieces of information from the website. Whenever the website takes plugins and themes from non-reliable sources, it becomes easy for hackers to hack the website.
4. Regular back-up:
It is also a blunder committed by people. Even after taking full control measures, there exist chances of the website getting hacked. So, it is not just important but necessary to have a proper back-up of the website. Having 2-3 copies of the website will be of great help.
These mistakes should not happen. You have to be careful and cautious.
Some WordPress Security Suggestions:
These are the suggestions that are given by experts. When you will apply them, you will be saved. It is a known fact that no website will be saved lifelong. But using these suggestions will definitely help you.
1. You should have a strong back-up:
You should constantly check the back-up of your website. And it should happen on a regular basis. You can't say when your website gets hacked. So, it is better to regularly update the website on a regular basis.
2. You should have a strong WordPress host:
It is one of the best security measures. You should pick any solid and reliable hosting company. This measure will save your website from being hacked. You should take safety issues very seriously. It is because once hacked, the website faces many troubles.
3. You should use proper themes and plugins:
It is very important to use reputable themes and plugins. It is known to be a very basic step in the whole process. You will be suggested to have reputed themes. It is because they differ from a well-established theme. The reputed themes are more proactive.
4. You should go for a good password and username:
Your username and password should be so strong that it cannot be traced. They should be very unique and different. It should be very hard to guess them. And you should have two-factor authentication. It will provide double security to your website.
Don't forget these suggestions. And whenever you find yourself stuck in a problem, just check out these tips. You will get a solution.
Some WordPress Security Tips at a Glance:
All the tips, suggestions and tactics have been combined below. They do not guarantee 100 % safety. But yes, they are responsible for the 80 % safety of the website.
You should update your website on a regular basis. It will not only improve your WordPress website but will also save it.
You have to use only updated themes and plugins. You have to constantly update it. It will be of great help to you. You will be provided with proper security measures.
You have to constantly check the back-up of your site. It will save your important data. Otherwise, you will have to face the unnecessary burden of data loss. Once gone, it becomes very difficult to get the lost data back.
You should keep a limit on the login attempts. Hackers will never succeed if there is a limit. Otherwise, he will keep on guessing the password. And if he succeeds, you know what will happen. Don't allow anyone to log in your website more than 3 times.
You should constantly change your passwords. And try to have a very different and unique password. But keep a password that you can remember. It is because if you keep a very confusing password, you may forget it.
Today itself go and install a firewall in your website. It will provide safety and security to you. And you have to limit the number of access as used by the users. You have to have control over everything.
Reasons:
In some way or the other, the website owner is responsible for the website getting hacked. He himself commits some mistakes that cause problems. Some of them are given below:
Some people use a password that is easily traceable. Absence of strong passwords makes it easy for hackers to hack the website.
Some people forget to update their website. This should not happen. One should be habitual of constantly updating the website, its theme and its plugins.
Using untrustworthy sources is also very harmful. Attackers misuse this act and they succeed in hacking the website.
Conclusion:
A person devotes too much time, energy and money on a website. He tries his best to make sure that the website is performing smoothly. So, it becomes his responsibility to take care of the website fully. He should make sure that the website does not get hacked. Obviously, it is not possible that the website stays safe forever. Even if he takes utmost care, chances are that the website may lose its safety. At such times, it is important to take certain precautionary measures.