Are you having a WordPress website for developing your business?
Are you maintaining it well enough?
Ever wondered about the maintenance tasks for your WordPress website?
After beginning blogs, most people tend to forget about the maintenance tasks unless some security breaks happen. Yes, website maintenance and ensuring its smooth running are extremely important for security.
Nsuke, a freelance web developer says that poor maintenance accounts for most of the hacks and security compromises that are associated with many of the Content Management Systems (CMS).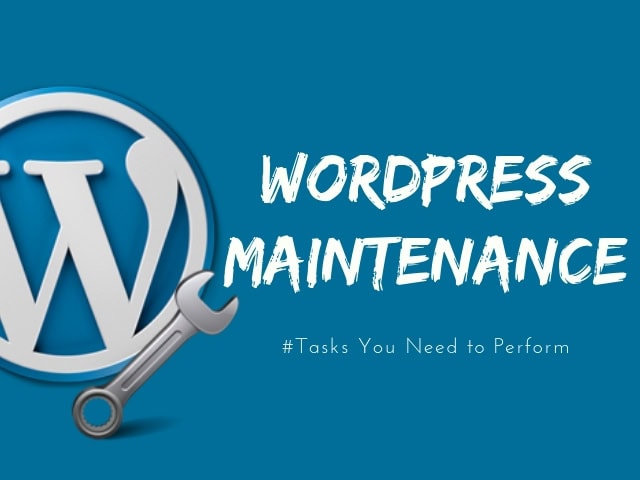 Working online, uploading documents, attracting potential customers and increasing online sales of your product can only be made possible if you are tweaking your WordPress website regularly.
Just like the way your home needs regular dusting, cleaning, interior makeovers on a regular basis, your website too needs regular checking and security proofing to ensure that it runs without any hassles.
Many people believe that setting a website is a one-time task. But, it is not.
Terms like domain, hosting, web solutions, maintenance, updates, installation, plugins, and customization become familiar once you hire an expert to build your website and safeguard it against internet security threats.
So, if you want your website to perform well, then need to maintain your website at least twice or thrice per year. Suppose, if your website receives a lot of traffic from different regions, then your website needs to be maintained 5 – 6 times per year.
Is website maintenance a difficult task?
Are WordPress websites difficult to maintain?
No, they are not. In this article, we are going to look at some of the WordPress maintenance tasks that need to be performed regularly, for ensuring that your website runs without any difficulties.
Understand the working of your WordPress website:
Your WordPress website is a powerful tool. Try to understand the various sections of the website first.
Every WordPress website is a powerful system that is made of several components. Hosting, plugins, the entire software, WordPress themes are some of the components of your WordPress website.
Above all these, you are adding your own content along with images in your website. All these components when combined lead to the creation of a beautiful website that attracts traffic globally.
However, the optimal performance of your website can only be guaranteed, if you regularly maintain your WordPress website properly.
Let us now look at some of the maintenance techniques that you must implement regularly on your WordPress website for efficient running.
WordPress Maintenance: Everything You Need to Know:
1. Frequently change your Login credentials:
Passwords are your first-range of defense mechanism against unauthorized access of your websites.
Strong, unique passwords that are a combination of upper case, lower case alphabets, and special characters will serve as a primary guard for all your online accounts (including your WordPress website and database).
Even if you use strong passwords and they are compromised, then there are fair chances that you will never notice it.
Passwords for your WordPress admin areas, FTP and SSH accounts need to be changed frequently.
This is the first step of WordPress maintenance that needs to be followed regularly.
2. Create a complete backup of your WordPress website:
Backups are one of the most important defense mechanisms that you have in your arsenal.
So, it is mandatory for you to have an entire backup of your WordPress website to prevent any unfortunate data losses.
There are many WordPress plugins available that will aid you to take a complete backup of your website.
However, there are chances that your backup process may get backfired due to a wide variety of reasons.
So, it is really recommended to run a manual backup of all your website components occasionally.
After the manual backups, please make sure that your backup files had been stored in your desired storage (say, Dropbox, Google Drive, OneDrive, etc.).
3. Update all your WordPress files:
WordPress always comes with a built-in system that provides you notifications about the latest updates for all your WordPress components.
It is recommended that you do all these updates regularly and run an updated version of your WordPress website.
This is considered as one of the best safety and maintenance measures of your WordPress website.
However, there are at times when you may miss an update.
For instance, when the license of your premium themes had got expired, you may miss the further updates of your theme.
So, in this case, you need to ensure that all your licenses remain completely active, always for receiving the updates from WordPress management.
4. Check, review and delete all your spam comments:
Review, evaluate and delete all the spam comments on your website often. Doing this step will ensure that these comments will not create problems for you in the future.
Akismet is a tool that is available that can combat spam comments on your WordPress websites. This tool will automatically review the spam comments and keep them in the queue.
However, Akismet can classify even a legitimate comment as spam. If you have a bunch of spam comments, then you can use this tool to delete all the spam comments in whole.
This approach is not necessarily a maintenance technique. But, it will certainly avoid the clogging up of comments, which can considerably reduce the running speed of your website.
5. Inspect your 'contact us' form:
Do you have a separate contact form on your website?
Do you think that such forms can increase your business?
Have you ever inspected that all messages sent by the customers via the contact form land straight in your inbox?
Yes, there are possibilities that your contact form may not be sending emails straight to your inbox for any unclassified error.
WordPress does not have a concrete mechanism for testing these kinds of contact forms.
So, it is your sole responsibility to ensure that all the messages that are sent to you via contact forms are duly received in your designated inboxes.
If not, then it is high time to reconfigure the working of such forms and rectifying the errors.
Many times, you can also receive incorrect messages or even spam messages through these forms.
Captchas, human check fields, data validation processes are some of the common techniques followed by website developers to avoid spam messages cramming your inboxes.
Bots that are qualified to send random spam messages often make errors in the human validation fields, which allows the system to automatically restrict these bots.
6. Test all your WordPress forms regularly:
There are form builder plugins like WPForms readily available in WordPress for enabling its users to create aesthetically pleasing forms on their websites.
But, there may occur small misconfigurations in the WordPress hosting servers, which may disable these forms from sending correct emails.
So, again it is your duty to manually check the running of all such forms and maintain them properly. If not, your forms may stop working and can even send you random messages, creating chaos.
If you are not aware of manually checking these forms, then a simple Google search will help you to understand the nuances in maintaining your WordPress website.
7. Optimize your database regularly:
Your WordPress website stores all its data in the WordPress main database. It contains a record of your website contents, the comments, your replies, etc.
However, at times even the main database gets loaded with unnecessary data that would severely hamper the running of your website.
This will also affect your WordPress backups along with the sizes of the files that are uploaded in your website, downloaded from your website along with the backups of your website.
Hence, one of the main maintenance technique is to optimize your WordPress database regularly and delete unnecessary files. You can also defragment the entire database to avoid the irrelevant clutters.
Freeing up the space of your database will help you to avoid the technical issues that might arise while your website is live and running.
8. Run frequent performance tests:
Many WordPress users diligently run performance tests during the initiation of their websites, but, soon forget about it.
When you are adding new contents to your websites, install new plugins or even change your themes, the functionality of your website will be affected.
Faster websites not only enhance user experience but also improve the performance and search quality of the search engines.
Therefore, it is important for you to run frequent performance tests for your websites. These tests will also allow you to know the technical glitches and will help you to overcome the same.
Do not limit your tests to the homepage alone. Run the test for all the subpages and even for your popular contents to achieve best results.
9. Fix all the 404 errors and broken links:
If a page that a user had requested for is not available in your website, then a '404: Not found' message gets displayed.
Even when a user has mistyped the URLs, this message will come and there is nothing to worry about.
However, frequent occurrence of 404 errors can cause a bad user experience and it is something that Google takes up seriously.
If you are already having some 404 issue troubles, then investigate them immediately and rectify it. Otherwise, your website may be de-indexed by Google, which would severely affect your Google rankings.
Similarly, when your website grows, you can notice that some of the external websites that you had linked with your website had become redundant. This will cause the occurrence of broken links.
Poorly formatted links, misspelled URLs, broken images can also cause broken links. This will once again cause poor user experience, affecting your site's bounce rate and gradually, the page views.
So, it is highly recommended to consider all the broken links issues and solve them on an urgent basis to avoid any further issues.
10. Troubleshoot all your maintenance tasks:
Most of the WordPress maintenance tasks are quite harmless and do not interfere with the functioning of your website.
But, some tasks like finding the cause of 404 errors, broken links will affect the running of your website.
Suppose, if you are running a staging site, then you can perform all your maintenance tasks on the staging site itself.
If not, you cannot prevent a slow loading site or 'temporarily cannot be loaded' site until your maintenance is completed.
But, you can deal with this problem by putting your WordPress website in the maintenance mode. Alternatively, you can arrange your maintenance schedule during low traffic hours.
If you encounter any issues during your maintenance, do not hesitate to refer the WordPress guides or send emails to WordPress support teams, detailing the issues you encounter.
11. Perform a high-quality SEO audit:
SEO is the core technique for reaching your target audience. So, your content plays a significant role in optimizing different website pages for a wide range of business keywords.
But, you need to compulsorily configure the SEO settings needed for your website.
So, analyze the SEO score of each of your webpages, website contents, services, and blog posts. Also, review the metadata accuracy and the relevance of all your content before auditing your SEO contents.
Do not stuff SEO keywords in your websites for indexing your pages in Google. Keyword Stuffing will show that your website is devoid of any strong content and can lead to a potential de-indexing of your website.
So, while performing an SEO audit make sure that all your website contents are meaningful, relevant to your business and carry potential SEO keywords.
These strategies only will help you to effectively complete your SEO audit and elevate your Google rankings.
12. Review all your security logs:
Yes…that is right.
You need to check all your maintenance and security logs for ensuring the safety of your website.
Some WordPress users fail to realize that their security measures had been compromised until they are met with webpage hacks and security compromises.
Changing passwords, creating manual backups are some of the security precautions.
But, proactive security measures include the reviewing of security logs, site access logs and error logs to notice the unusual activities on your website.
So, with these, we have now reached the end of the article. Do not forget that your website is your index of growth. Hence, you have to make sure that you maintain your WordPress site properly without any glitches.