Online Magazines, websites and blogs are becoming quite popular with the tech-savvy crowd of today! For this reason, we will start to have a look at some of the popular platforms, on which these online magazines or blogs are published.
For example, the Content management system software or CMS is a set of sophisticated internet tools used to help produce, upload and manage the content online. WordPress, of course, is one of the most popular platforms.
Let us have a look at some other alternatives to WordPress along with their advantages (pros) and disadvantages (cons) in detail.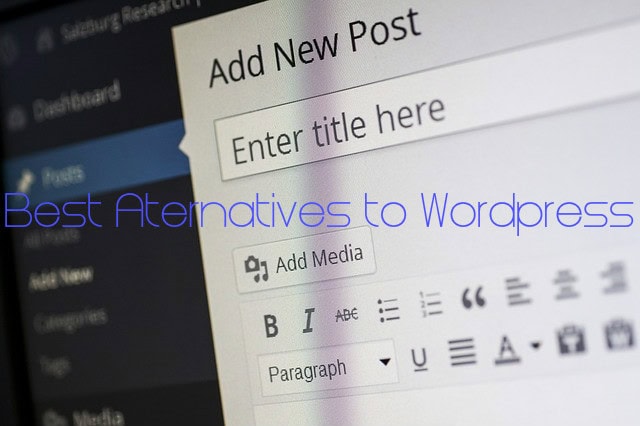 WordPress Competitors or Alternatives to WordPress:
WordPress was one of the most popular platforms used for online magazines or blogging. On the other hand, when WordPress digressed from just blogging, the platform Ghost came into being. Most of the users wanted to platform dedicated to blogging, alone.
This content management system chiefly used for only blogging is based on NodeJS. With the complete focus of this centered on blogging, it provides a good browsing experience to its users. One can also write well, with its help.
Advantages:
Very easy to use, this Content Management System supports the nice user interface.  It is built especially for the bloggers.
Disadvantages:
One main disadvantage of this Content Management System is that it does not feature rich. This CMS has the need for very fewer plugins.
With a strong user base, Drupal is another Content Management System soon becoming well-liked. Most of the websites that you can have a look at, such as the State of Georgia, The WhiteHouse, The Economist and so on is based on the Drupal platform.
This CMS makes use of the same themes and modules from WordPress. The software requirements for this resembles WordPress. For this reason, it can be operated with the help of any of the web hosts that can support WordPress.
Advantages:
The Content Management System has decent tech support and also makes use of highly developed back end. The user interface of the software will be so much better with a lot of add-ons.
Disadvantages:
However, one will find it difficult to set it up. The product also lacks inbuilt in features. It will have to rely on modules as well as other software extensions.
Launched since 2005, this open source Content Management System is strong. It can also be used for multiple purposes. This software also supports a wide variety of users and developers.  There are nearly one million users for this software.
The client list making use of this software includes corporations. Government and NGOs, as well as small businesses, spread across the globe. It also has a community support system and wide-ranging documentation, same as that of WordPress. This can be operated using most of the web hosting platforms.
Advantages:
The Content Management System has a comprehensive navigation system. It also supports easy updates and a powerful set of features.
Disadvantages:
Most of the visual themes and plugins for this CMS are paid, even as there are compatibility issues with some of the plugins. One can also not get any phone or email support.
Known as one of the most popular blogging platforms, Tumblr also makes use of social media to make it a more entertaining experience. Yahoo bought it some two years back. However, its popularity amongst its users is still on the high. It also provides its users with either free or premium themes.
At the same time, we find that the users can also make use of the custom domain names for the blogs hosted using Tumblr software. The user can make use of Tumblr to create web pages. This is a totally hosted solution and one need not be bothered about setting up or maintaining the software.
Advantages:
Useful for photographers and artists, this Content Management System has the support of a large community. It is also easy to use.
Disadvantages:
At the same time, it does not have many plugins or add-on. One also has only restricted control over formatting. The Content Management System is not professional
This open source CMS is similar to Drupal, WordPress, and Joomla. This makes use of MySQL for the database. IT is also written in PHP. The themes and module features of the software allow the users to broaden the features that have been built in.
Other than community support, this platform also makes use of the available on-screen instructions and wide-ranging document, in order to get started properly.
Advantages:
This lightweight CMS has a simple user interface. It also comes feature filled. It is also easy to set up this content management system. 
Disadvantages:
This Content Management System cannot be upgraded and has only a limited number of themes and plugins. It as well does not have any database support.
One of the open source content management system has the same server requirements as that of WordPress. Having only very little following, this CMS is very simple and clear-cut.
This CMS also has a built-in user log for statistics as well as the native commenting system. It as converts plain text into HTML with the help of the Textile.
Advantage:
Suitable for a wide range of websites it is also easy for technical end users.  The Content Management System has the support of an active community. It also has plenty of plugins.
Disadvantage:
It does not have any WYSIWYG editor. At the same time to operate it, one needs to have a working knowledge of PHP. It also has a clunky plugin manager interface.
If one has plans to set up an online store, then Shopify is the best option to WordPress. The easy tools provided with it, one can produce its own online store. One can also sell the products and accept payments. It has easy to use tools to see the websites. It makes use of ready-made templates, apps and lots  for integration options
Advantages:
The most convenient and most easy way to set up the store. One need not bother with codes for this CMS. It is more economical in the morning. This secure and reliable Content management system also provides end to end service integration. It also has good loading speed.
Disadvantages:
One would have to pay every month for all the services. More than a content management system, this is optimized more for selling items. It also has very fewer plugins.
One of the known open source Content Management System, WebGUI also is fitted with a large number of add-ons, which a range of organizations like small businesses, government agencies as well as non-government agencies have made use of to produce as well as manage the content online.
At the same time, the content management system also includes the vital commerce and business add-ons like the shopping carts, POS Systems, file distribution and so on. It also has a variety of support options.
Advantages:
This content management system is very easy to use and requires very little training or experience. GUI is generally slower and is more useful for end users. More economical to create and maintain. GUIs also offers the user less granular control over the operations
Disadvantages:
It consumes more memory than the non-graphical one. You would also need to set up additional software such as 'runtime environment' in the case of Java. You might also need more time to operate it.
One of the easiest and simplest methods to build small websites is making use of the google sites. You can use a custom domain for the site.
Advantages:
The Content Management System is ideal for an amateur who is building a website for the first time. It Is free and one need not have any programming or database skills. This is integrated with google apps.
Disadvantages:
The Content Management System has Limited functionality. It also not that good for businesses, because there is not enough customization. Only google apps are compatible.
Tips to Select the Right Content Management System:
You can find here a list of content management system as an alternative to WordPress. While some of this CMS focus on powering websites or online shops, others cater to writers and bloggers. However, how will you know which CMS should we choose?
While selecting the content management server, It is better if the user has knowledge of the program's server database. The CMS will also be compatible with programming expertise and web hosting tools. One also needs to know the server language, as well. Another thing to consider is that the content management system is as secure as possible.
Conclusion:
After having gone through all the Content Management System platform and its various features, one will come to realize that WordPress is definitely not the only platforms, on which online magazines or blogs have been published. There are a large number of platforms that have similar or even distinctive features as that of the Word Press, which can be used to address the website building solution needs.