In today's twenty-first century world where people are highly tech savvy and want to make use of responsive apps and programs, WordPress is one such content management system that has proved to be highly effective is handling when it comes to the blogging and website needs of people.
Given here is a list of why exactly you should make use of WordPress for all your blogging need, once you avail of the service of WordPress you will not be able to look beyond it.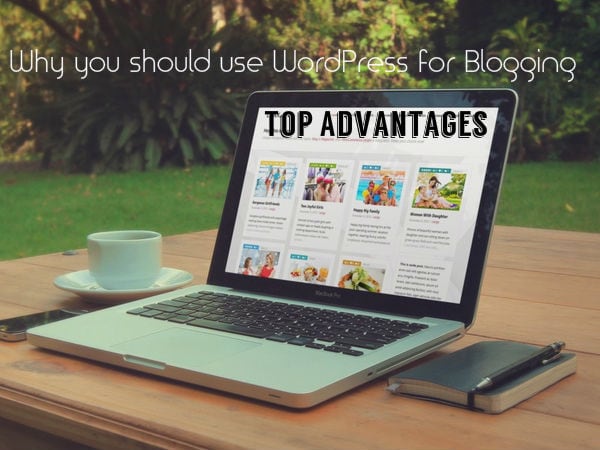 Advantages of using WordPress for Blogging:
1. It is an open source content management platform saving a lot of time:
Though often having an open source content management system is something that does come with some kinds of security threats, yet most often than not it is an incredibly positive thing where WordPress users end up saving a lot of precious time when it comes to getting their blog related work done.
This open source content management system implies that programmers freely share their codes online, without inhibitions so that other users can make use of already existing codes.
2. It is simple and quick to install and manage:
One great thing about using WordPress is that it not only saves a lot of time owing to the fact that it is an open source content management system but also because installing, configuring and managing it is extremely easy to do.
The setting up is something which you can do on your own without hiring a professional to get the job done. Not having to hire a professional is something that is most certainly going to save you a great deal of time and more importantly money.
3. It is affordable as opposed to other content management systems:
When it comes to narrowing down on the software to make use of your blogging needs, a key factor than big companies, small companies, and even Freelance users take into consideration the price.
WordPress's open content management system come at an extremely affordable price and not implying that since it is so affordable, the services and features are not good. Word is both cost-effective and reliable. So that is something you do not need to worry about.
4. It offers you a variety of templates to opt from:
When setting up a blog it is of paramount importance to ensure that the blog is visually appealing. In order to make your blog attractive and to attract a lot of customers, it should have some factor or the other that makes it stand out, apart from its others competitors.
WordPress gives its users the opportunity to choose from a mind blogging array of templates, each template it varied, to suit the needs and wants of different people. The many templates ensure that no two blogs look the same.
5. The system is frequently updated:
Unlike other systems like Feedburner which hardly ever get updated, WordPress gets updated on a frequent basis where each update makes the system even better with added features.
It is paramount importance that the system which you make use of keeps up with the changing times as if this is not the case then chances are that quality of work which you deliver will not be as good as compared to that of your adversaries. And falling behind in the business world is detrimental to any business.
6. WordPress is very portable:
If by chance you would like to change your site to a different location, then this is something which you can easily do on WordPress without experiencing any trouble at all.
In addition to changing your site location, you can make other changes in terms of the domain host, the domain name or even the domain password.
WordPress is certainly not a rigid content management system and this is one of the main reasons why people prefer to make use of it rather than any other CMS.
7. It is great for your blogging and Website needs:
If you have a blog and a website, as most people usually do, then in that case as well you need not worry as WordPress is great for not only your blogging needs but also your innumerable website needs.
The dual purpose which WordPress is able to serve is one of the chief reasons why it is so popular and you have people across the globe availing of the services. Once you place your trust in WordPress you will surely not face any kind of disappointment or regret.
8. WordPress is continuing to grow and improve itself:
Stagnation is something that is an absolute no in the business world. Unlike many other content management systems that have remained the same since the time that they have been introduced, WordPress is a system that has continued to grow and rise from strength to strength since the time it has been introduced in the year 2003 by its founders, Mike Little, and Matt Mullenweg. WordPress is certainly here to stay and it is unlikely that its popularity is likely to decrease in the years to come.
9. A number of third-party plugins can be added on:
The basic system might not have all the features you are looking for but the great thing about WordPress is that you can any number of third-party plugins so as to better the quality of work which is outputted.
There are numerous software's that you do not allow you to make use of third-party plug-ins but you will not face an issue of this kind while making use of WordPress that is bound to meet up with all your expectations.
10. WordPress is very search engine friendly:
When making use of WordPress you automatically end up solving a number of your search engine related issues that you ought to have been facing. Owing to this your very own site or blog will be much more user-friendly.
Viewership is something that all blogs and websites want. As more the viewership the more chances that you will end up making bigger profits. This is a major pro off making use of WordPress.
11. The WordPress community is a large and inclusive one:
Owing to the fact that WordPress is used by many across the globe, is a testimony to the fact that it will be having a big and powerful community.
As per recent statistics, WordPress is responsible for over twenty-five percent of the top million blogs and websites that are made use of worldwide.
The WordPress community serves as an active forum where individuals and users are allowed to air grievances seek advice about some technical trouble they are having or simply give their feedback.
12. WordPress is mobile friendly:
In this day and age, people are constantly at work even on the go owing to the fact that they have mobile phones as well as tablets to assist them.
Chances are that if your software is not user-friendly that people will not opt for it and instead they will prefer to go in for another option which they can easily make use of on their cell phones.
Doing things like constantly resizing the page or having trouble reading instructions through your phone is something that is not merely time-consuming but irritating.
13. WordPress has an app which can be downloaded on smartphones:
In addition to WordPress is very user-friendly, it can also be easily downloaded as an app on your smartphone or tablet. When doing this WordPress is silently communicating to its users across the globe that it is most certainly here to stay and it is willing to keep up with the changing times.
When a system has a mobile app it also becomes more appealing as well as user-friendly to the younger generations that prefer to get a lot of their work done through their phones.
14. It is tried, tested and popular:
WordPress is the best option for blogging as not only does it constantly make an effort to keep up with changing times but at the same time it is preferred because it has stood the test of time. That itself serves as a great testimony to the fact that it is reliable as well as trustworthy.
15. Ownership is in your hands:
Once you make use of WordPress you never have to fear that suddenly all your precious work is going to disappear into thin air. Unlike other CMS's that may be owned by say Google, In WordPress, ownership lies with you. On using WordPress you never have to worry that it will shut down or become unavailable.
So these are some of the chief ways in which WordPress is most certainly the best option for bloggers out there. No matter how new or inexperienced you are, over time, you will learn to master the nuances and intricacies of WordPress. Blogging in this day and age is an evolved art and science which many people have opted for as a career option, it is for this very reason, that they need whatever system they are making use of to be quick, user-friendly and offers many options to make the blog stand out.