Are you looking for an easy way out that can turn your business leads into sales?
Well, a white paper is the best solution!
The white paper is an effective lead generation tool as they can step in the thin line between promotion and education. It is the perfect tool to position your business as a thought leader and turn out to be the best solution for solving a problem for potential clients.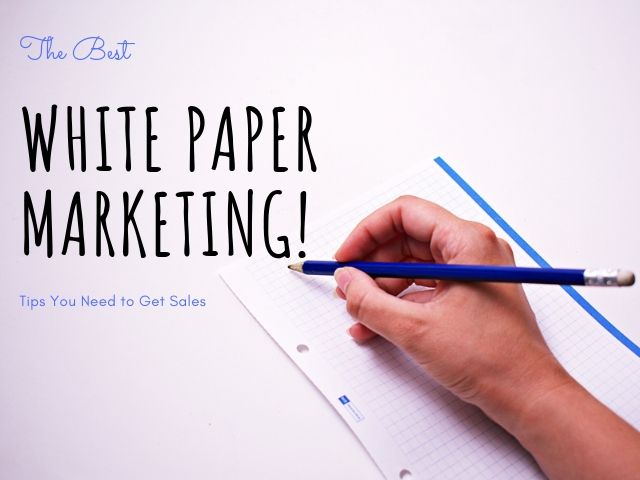 So, while this post will help you write a white paper that can help to generate sales, first have a glance at what exactly is white paper?
What are White Papers?
In brief, a white paper is an in-depth or detailed report focusing on a specific issue and bringing a solution to that problem. With a white paper, it is possible to gain trust and develop credibility in your niche market.
The white paper is slightly more technical than an e-book or blog. For this reason, it needs more in-depth research and time to create a quality white paper. You may write a blog or an e-book in just a few hours. But for completing a rewarding white paper, you have to spend weeks or even months.
Don't consider the time frame, if you are really producing a white paper that is highly valuable to your customers. It is because your efforts will pay you in the future!
Why are White Papers Beneficial?
White papers can help companies become credible. They help companies position as thought leaders. Furthermore, they support the selling process by educating and informing the prospect base.
The best part of white papers is they offer information that can help solve a problem. For this reason, they are meaningful and valuable to the reader. If it justifies a problem that must be solved, or explore numerous alternative ways to solve the issue, logically it will impress the readers.
As a result, your clients will develop trust in your business and would eventually want to buy your offerings.
But you gain from white papers, only if it is well-written. The white paper must be objective based, informative and thorough. A properly framed and rich white paper can help shift prospects through the sales funnel.
So, how do you create a white paper that can generate sales and is actually so rich?
Most of the times, white papers are written in ways that categorize them as documentation or technical papers, or under the category of data sheets and sales brochures, which greatly decrease the impact of the paper. As a result, such white papers fail to engage the clients, and this seems like a wasted opportunity.
But there are numerous methods to ensure that it is possible to write a white paper that delivers the results and outcomes, you expect. So, here are some techniques and ways that can help you turn your next white paper into a competitive and valuable piece supporting the sales process.
Ways to Write a White Paper that Generate Sales:
1. Use a Logical, Liner Approach:
Every communication you make with your clients has an objective. One major mistake that most individuals tend to make is writing a white paper that talks directly about their solution or product.
The white paper must attract the right market. A white paper contains multiple pages of researched content, and hence, it must be audience specific. Rather than using one white paper to target all the groups, it is better to write different white papers tailored towards various groups of the market.
Additionally, it must engage your readers. An engaged reader is one who gives you his or her complete attention. When such readers are willing to spend their time, then they would also be interested in buying your products.
You can engage your readers by ensuring them you understand their problem and you can provide them with the best solution. Make sure you write clearly without getting into the technical jargons.
2. Create the Hook Needed to Compel People to CTA:
Have you ever felt excited about getting something free of your preference?
Do you wish to explore something that appears rewarding or profitable to you?
Remember, your audience will feel the same as you do after reading about such offerings. Free consultations are not always a good idea. They fail to hit the mark because they do not confirm that this will solve the problem.
If you want to create real customers, you need to begin your white paper with the problem. While the bottom can always conclude with what all you have to offer. This is the finest way to begin the paper.
Your white paper's hook is the unique spin that can turn your leads into sales. In order to create that hook, you need to consider the following points.
Addressing the pain point – The main reason why people would visit your site or read your white paper is only if you understand their pain. Make sure your white paper talks about the hassle, time, concerns, and pain involved with the problem.
Overcome Objections – By offering people with alternatives, you are helping them overcome objections. They would be glad to know that actually there are options to consider.
Garner Value – This provides a utility to help clients know how to move about the process.
Present the Prettiest Alternative – While suggesting alternatives to your clients make sure you offer them the best alternatives. As otherwise, your white paper would not be that much compelling.
3. Figure Out the Topic and Title:
The topic and title of your white paper are the most important aspects to consider. These are important as they help to maximize the number of targeted customers who are willing to read it.
While the topic must address your audience's problems, the title must be meaningful, creative, and promotional.
Before you finalize the title, you can always run through some magazine articles or search online to get an idea of how to title your white paper. Emphasize the benefits and use of words that are easy and enjoyable to read together.
The title must convey the benefit you are offering to the readers. Most importantly, the benefit mentioned in your title must be appealing to the specific audience.
4. Pull in the Information:
Once you have figured out the hook, topic, and title, the next step is to pull in the information together. This is the research part, which can be highly tricky depending on your offerings and business.
Might be you are a topic expert and proficient in picking the perfect topic. But at the same time, make sure your writing is not too technical for the public. You need to research enough resources so that you can get detail information. From reviews, interviews, to book reviews, check just anything that can be a rich resource for your white paper.
Once you have researched enough about the topic, it is now time to craft a simple outline. Once a simple outline is created, you can start fleshing it out. Typically, graphics and sourcing images take most of the time. So, make sure you organize each and everything before you create a single document.
5. Write in a Language that Your Reader Would Understand:
To draft your white paper in the language of your reader, you must first identify for whom you are writing for. If there are varieties of audiences you wish to target, then make sure each paper you create has a different title, a different selection of words, different subheads, and a body copy that in lines to the pain points of your audience.
You can always discuss with your sales team to identify stakeholder groups that can be addressed in the paper. Ask the salespeople about the primary objectives of the targeted groups, information that lacks, the problems they are experiencing, solutions to consider and tailor your content accordingly.
You must write in a language that is as per the target audience. Some of the common groups that you can consider to decide for the language are:
Strategic Audience – Such individuals, are interested in implementing solutions to enhance competitive advantage, boost the financial situation of the company, enhance operational efficiency, and foster the business related objectives.
Technical Audience – Such audiences are interested in details about the product. They are focused on architectural benefits, functionalities, compatibility, and integration with current systems, scalability, security, and other vital measures to make an investment that is profitable in the present and future.
User Audiences – These are people whose regular jobs are affected by the implementation of a solution. They are interested in the usability of your offerings and their ability to streamline processes and enhance overall efficiency.
6. Be Knowledgeable:
Perhaps one important reason for the failure of most white papers is their failure to be inclusive and objective. It is essential to cover not just your alternatives, but credible alternatives. This means that if there is a need, then you even have to mention your competitor in the favorable light.
Your white paper must be well-researched and properly documented. Remember, if you are not presenting that alternative, then it would be still there in the market, and someone others will present it to the customers.
Your aim must not be to completely discount approaches but show them with all pros and cons and then conclude with your solution being the most tangible. Make sure that your white paper has a thorough and balanced content. The user must feel extremely knowledgeable after reading this.
7. Format and Design:
Precisely formatting your white paper is the next important thing to focus on.
Definitely, you would want your business to appear credible.
And the design is the important thing that creates the first impression on the customers. But this is not the only reason to format your white paper.
If you fail to format your white paper properly, this can screw up the images and layout of content in the document.
This can create huge and unappealing breaks that can push the entire content of the page down to the next one. This can make your content appear cluttered and squeezed at one page.
It is not necessary for your design to be sophisticated. Even little color and appealing typography can do the work. Besides the color and typography, your column and text layout are the final components when formatting the white paper. That way, it would be easy to read, no matter which device your clients use.
Selecting the design and format is your stylistic preference. Hence, you have to make your own wise choice in order to generate new leads through your white paper.
8. Create Numerous Opt-Ins to Generate Novel Leads:
You can create an opt-in on your website through a simple landing page.
All it needs is a simple form field, the image of what are you offering, a compelling headline, and a small copy of the same.
Do focus on the white space. Improper use of the space can negatively impact the primary decision of the visitors. You just have to balance the value you are offering with data or information present in your white paper.
Asking less personal details can help you get more leads. But asking more information can provide you with better leads.
Besides this, you can run some social components to opt-in rather than asking their email address straight away. You can also use a social authentication aspect. If your website hosts a blog, then you can add a simple opt-in at the bottom of each blog post. You can even place it in the middle of the post. This way, the readers will not miss the chance while scrolling down the post.
9. Off-Site Promotion:
You can always get people to promote your new white paper content by asking their reviews.
Obviously, you can offer them something in exchange. But even a simple review from an influential individual is enough to drive a massive amount of leads and awareness to your white paper.
Conclusion:
White papers offer the highest levels of value by inviting more reliable and trusted prospects into sales funnel. But to ensure that after drafting a rich white paper it is able to deliver effective results, you must post it on your site, industry portals, sales directory, and websites of partner companies.
You can also use it as a search engine marketing tool. And eventually, let your salespeople use it as an effective tool to educate and inform audiences or to guide discussions during meetings.