Are you thinking about writing a blog?
Have you been writing it for some time but not yet established?
Which category are you in?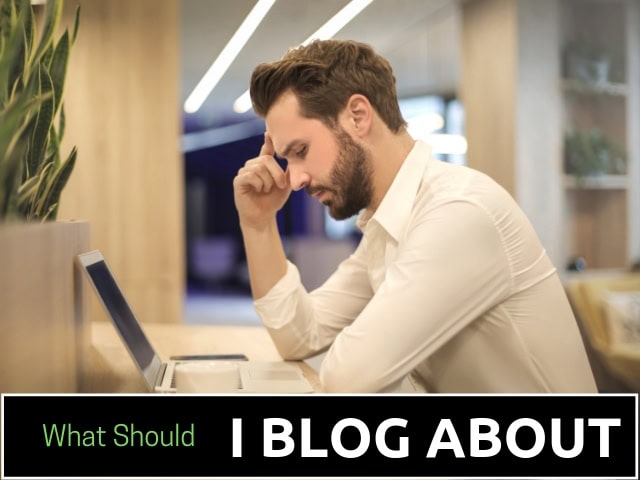 This article is for them who want to explore about in new areas of blogging.
What should I blog about?
Can I blog about everything?
What should I do, if I want to handle multiple niches?
How could I choose a blog topic?
These are some common questions people ask when they start blogging. You will get an answer to all these doubts when you read this article.
Every blogger is trying to attract their readers in different ways.
What to blog about?
Actually, this is a very useful question. If you are new to this field it takes time to understand more about the field.
When you start writing blogs and if nobody reads what you write, it is very frustrating. Then you may think of changing your niche.
Sometimes changing niche helps, if the one you chose may not interest viewers.
When you start writing topics by finding the viewer's interest, you can succeed in this field.
One important thing is that your blog is not going to be clicked just by writing about various topics. It should be interesting and entertaining too.
You can find articles on choosing the right niche. But nobody says that whether you can experiment with multiple niches.
In this article, you will see some advantages and disadvantages of experimenting with the various niche. Also, you can decide which is the better option. Single niche or multiple niches.
So, by reading this article you will get an answer to the following questions
Blogging on single niche vs multiple niches
Can I include multiple niches in a single blog or do I have to create multiple blogs to handle this?
Advantages and disadvantages of Multi niches blogs
Pros and Cons of single niche blogs
First, let's check some details about multi-niche blogs
Multi- Niche Blogs:
In Multiple -niche blogs, you have to handle different topics from many different fields. You can see some news sites handling multiple areas.
Many newbies want to experiment with multiple niches because they think that it will attract more viewers.
Handling multi-niche blogs can do wonders for a startup. It will be heavy work if a single person handles many areas.
If there is a group to handle multiple topics then workload will be less. It also gives you an opportunity to handle a vast variety of topics compared to single niche blogs.
Most common multi-niche blogs are news-related blogs. Here we can see various topics like travel, technology, food, new, entertainment and many more.
They also will get more popularity on social media. Thus, you can make a profit by creating huge publicity through social media. Here are some advantages and disadvantages of multi-niche blogs
Advantages of Multi- Niche Blogs:
1. Easy content availability:
Content is very important while blogging. If you are handling multi-niche, you won't run out of contents. Because daily you will get a new update from every field.
You can give fresh updates on every topic and readers will love it. Today's generation is more advanced and they try to update themselves.
Multi niche blogs give you an opportunity to produce quality contents on new topics. You don't have to worry about finding new topics.
Just create contents in an entertaining way and present it to your readers. Also, there is no need to spend more time on research for your articles.
2. Social media is a good promotion medium:
Social media is now a prominent platform for promoting blogs. If you use it in the right way social media helps to bring a lot of traffic to your multi-niche blog.
Share interesting post on various social media sites like Facebook, Twitter, Reddit, and Pinterest. All of these platforms help to bring good viewership.
Share your articles with your friends and relatives. This is the primary thing to do. If they like it they will promote it for you. Once you get more followers you can share any new updates with them.
This help to bring a connection between you and your follower. Use this tool in an effective way to get success.
3. Monetize your blog:
In the blogging world, you will earn money only if there is more traffic towards your site.
You can monetize your site through advertisement. There are advertising networks which you can use on your blog to generate more income. AdSense is one such tool.
The direct advertisement also works for multi-niche blogs.
For example, if you are writing technical reviews of products, you can make money by adding their links to your article.
Add links of the site from where the readers can buy that product. This is an effective method to earn money.
Disadvantages while doing multi-niche blog:
1. It will be difficult to get readers for your blog:
This is the main point to be considered if you want to handle the multiniche topic.
If you are an expert in writing about the relationship then you will get many followers. Suddenly one day when you start to write about technology and gadgets in the same blog, nobody will read your blogs.
This is the difference between handling a single topic and multiple topics.
Think of yourself as a reader. When someone suddenly changes his niche, what will you feel about that?
You will unsubscribe that blog for sure.
So, it is better to handle the topics which are interesting to you. Don't experiment with multi topics.
Then only you can focus on the topic which you can handle very well and write quality articles about it.
Only handle topics that excite you. Do thorough research on it and produce unique articles in an entertaining way.
2. SEO is a good source of income:
Search engine optimization is the main source of income for a blog. To maintain good SEO, focusing on a single topic is very useful.
Google search engine mostly prefers single niche topics. This is to give users a better experience.
Single niche topic has a better chance to create a position of authority than multiple topics.
Due to changes in Google algorithm, if you are searching for a topic, Google only gives you results with the rich keyword.
Also, it gives internal links with the same information. From the expert opinion, single niche blog gets ranking and results faster than multi-niche blogs.
3. You need to work a lot:
If you want to write about multiple niches, then you need to put a lot of hard work.
Gathering data about all those areas will take more time. You cannot handle every topic with enough efficiency.
For example, if you chose to write about pets and you don't even know anything about it. Then that's where the real issue starts.
Important points in short:
Multi- niche blogs need a team of professionals to handle. It is difficult for a single person to handle multiple niches
High operating cost
Difficult to optimize with keywords
Team effort will create magic
Can attract huge traffic through social media
Single Niche Blog:
A single niche blog is handling one topic. Single niche blogs also have got their own advantages and disadvantages.
You can manage your blog alone. You don't have to depend on anybody to operate your blog. Apply your strategies and run a successful blog
Advantages of niche blogs:
Low operating costs:
A single niche blog is managed by one or two individuals. So, you can run it with a low operating cost. If you are a starter, you don't have to spend more money on the server.
Easy to optimize:
If you can handle search engine optimization then you don't need to hire an expert. You can easily optimize your blog with keywords.
Disadvantages of niche blogs:
Require a lot of research:
When it comes to a single niche blog, thorough research is very important. Unique entertaining contents will work well. So, it will take time to establish a blog.
Difficult to promote via social media:
Unless you are some popular author, it is difficult to create an impact for your blogs on social media. So single niche bloggers depend on search engine traffic to be popular.
Revenue depends on traffic:
Your income from a blog is directly proportional to blog traffic. It is difficult to attract more traffic towards a single niche site.
Still, you want to try writing on multiple niches, here are some options for you
1. Create different domains:
You can create different domains with different niches. It is a better idea than including multiple topics in a single domain.
Promote them in various ways. It will help you to attract more readers and you can concentrate on SEO. SEO helps to get more income.
2. Different blogs with a subdomain of your real blog:
For this you need experience. For a newcomer creating subdomain is a risky option. For them, it is better to create separate blogs.
Here is how you can create multi-niche blogs
First, create a blog on a single topic
Wait for the result and check whether it is establishing or not
Check website traffic. If it is improving you can try a new blog with a different topic
Try to produce content regularly and consistently. Choose your favorite topics and write them down.
Find interesting post ideas corresponding to each topic and write about it. Try to keep a 2 weeks gap while handling each topic, it helps you to analyze the response well.
If you are new to blogging, don't pay for the domain. Try to find free platforms where you can blog.
BlogSpot, WordPress are some examples of free sites where you can create blogs with zero investment.
Some other important points you should consider before taking a decision is
why are you writing blogs?
Is writing your passion?
Do you want to make income from your blog?
Profession vs Passion
Most newbies think that writing about multiple topics may increase page viewership. They think it as a good idea to attract more viewers.
Readers will get everything they want in one place. But when it comes to making money this approach won't work.
If you are planning to create a personal blog then it is ok to include multiple niches. It is doing because of your passion for writing. You don't expect money from your blogs.
Through personal blogs, you can express your view towards many different issues. Earning money is a secondary thing.
But, when you accept blogging as a profession you expect to earn money out of it. If you want to monetize your blog then handling multiple niches is a bad idea.
You can earn money only if there is enough traffic. Consider it as your business and take the right approach. Making money from blogging is not as easy as you think. You have to do hard work to earn something out of it.
Ask these questions to yourself is
What are you expecting from your blog?
How can I achieve it?
If you are expecting fame and self- satisfaction then you can write anything under the sky. You want to earn something from your blogs then consider writing about a single niche.
Now, you got every detail about the difference between single niche and multi niche blogs.
So what have you decided?
Take your own time and analyze both methods. If you are ready to do enough hard work and face difficulties, you can write about everything.
The main thing is that it's all about multi-tasking. If you are good at handling multiple tasks at the same time then you can go for it.
Are you ready to take some risk? If yes, try your luck on multiple niche blogs.
Single niche is for them who want to earn money out of it. Anybody can try this and succeed if you can use some marketing strategies.
This is less risky with a lot of work. Consider all the pros and cons. Be ready to face hardship and go behind your dream.