You must have seen numerous image or text buttons on multiple websites inviting you for a RSS subscription. If that seems confusing to you then here check our guide to what RSS is, how you can use it, and what benefits it can provide to you.

Every day, new content is added on the web, which makes it tough for us to keep track of everything that is happening around. There are different ways that people follow in order to visit specific websites on an everyday basis, like searching Google, checking social media updates, and more. One great and easy solution in this context is – RSS Feed.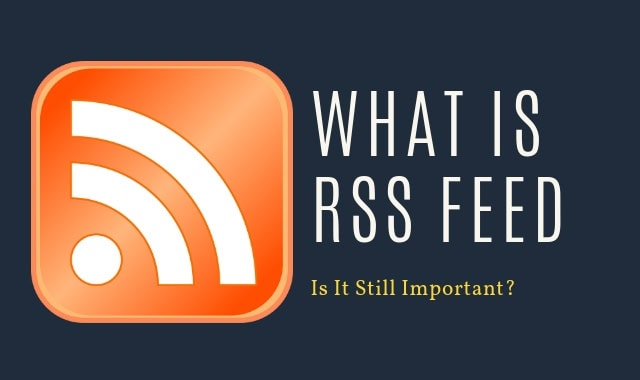 What is RSS?

Really Simple Syndication or Rich Site Summary, or popularly known as RSS, it stands for technology that automatically syndicates the updated data from your site to the users or whoever needs it.

Rather than checking every day to a specific site for an update, RSS feeds let users know about it through RSS subscription. It is more like a newspaper, where you can read every day updates without searching for them.

The recent updates are then delivered through RSS feeds, also known as 'feed reader.'

Why Having RSS Feed is Important?

RSS feed can help you save time as you can subscribe to numerous RSS feeds without the need to manually search and visit each website for updates.
You just have to subscribe to the desired RSS feed and you will be automatically notified whenever a person updates the website.

How RSS Feed Works?

These feeds are text files that have to be submitted to feed directories. Once you submit them, it will enable the subscribers to see the updated content in the shortest time span.

The updated content can be managed to be read more easily with the help of a feed reader. This feed reader is also known as a feed aggregator and offers a simple way to view your entire feeds at one point of time through a single interface.

How to Subscribe to a RSS Feed?

Most of the times, you must be visiting your favorite websites on a daily basis, expecting that it must have introduced something new for you. But if there is nothing, then you just have to come back again later, till the particular site puts up something new. Definitely, it is time-consuming and frustrating!

There is a better solution to this problem – RSS Feeds!

Here check some of the ways to subscribe to RSS feed.
The very first step is to find out a website that you would like to visit or stay updated when they publish a new content.
The orange colored feed icon is becoming the standard for feed subscription. If the site you are visiting has the same icon, click on it. This will subscribe you to the RSS feed of that particular website. The same will be shown in your feed reader.
Plenty of other websites nowadays offer other options to get you subscribed to their RSS feed. So the other option you may come across is something written like 'subscribe to this site.' Alternatively, there can be a list of icons which include the RSS icon too. You can click on the written link or on the RSS icon as this will enable you to get subscribed to the RSS feed content.
Another way to subscribe to RSS feed is through a feed reader button. A large number of feed readers have offered a convenient 'one-click' solution to subscription. For this, you have to select your preferred site and notice the icon selected by your feed reader being displayed. You need to click on the icon. This process is quite different and may vary from readers to readers. But on a whole, this process is quite simple as you can get subscribed with just a single click.
Once you have subscribed to your favorite website's feed, it is possible for you to view the updated content in feed reader. It is a super-convenient way and can help you save lots of time.
What Can You Do With a RSS Feed?

Now, you must be thinking what all you can do with the RSS feed. Once you are done with the RSS process, you will be glad to know that there are numerous things that you can do with the RSS feed.

If you are fond of Google News, but want some specialized news then it is possible to create a customized Google News alert. This special news will be delivered to you through an RSS feed.
Another great use of RSS feed is for YouTube users. For YouTube users, you can follow your preferred channel, director, or key phrase through RSS feeds. For example, if you are highly interested in latest movie clips and your feed would look like – www.youtube.com/rss/tag/latest+movies+clips.rss. You can drop this in the feed reader through the subscription tab and you are all set to go.
Moreover, if you are searching something on Craiglist then RSS feed can be of great help to you. There is a RSS feed in every category and you can also program your parameters accordingly. For instance, if you are searching for a bed between $300 and $500 then you can specify the same within the furniture category and results provided to you.
You can setup a Craiglist RSS feed in some simple steps. You just have to navigate what all you have been searching for. You can narrow down your search by adding filters so that you are able to get the desired results.
Once you have set the search parameters, you need to scroll down to the bottom of the page and there you will find a link for RSS.
Just click on that link and you have to shortlist the RSS reader you would like to have in the search results for your novel search information. So rather than checking Craiglist on a daily basis, you will get a personalized search coming directly to you.

Including any tag in the social bookmarking website Reddit, whether it may be popular, Apple, freeware, and more has an RSS feed, which you can subscribe to.
Similarly, Fans of Digg will prefer users, featured pages, or tags, like the homepage, which can be subscribed to through an RSS tag.
All the people who are fond of food will love the ease of getting recipes and tips offered to you. This is possible through the RSS feed of the Food Network labeled as 'Food Network Highlights.' This will bring the best of this website to you.
Additionally, you can create a RSS feed at Monster.com or use one of the pre-programmed RSS feeds. For this, you can do a search for your particular needs and subscribe to search results through feed reader of your preference.
What is a Feed Reader?

Now, when we are talking about RSS feed, it becomes important to have knowledge of a Feed Reader. Since, you would be using it for your RSS feed.

No matter which feed reader you select, each one of it will make it possible for you to swiftly scan headlines as well as complete stories at a glance, from a range of distinct providers, all in one place.

There are a range of feed readers available to you for free of cost on the web. These feed readers can be divided into five categories, based on the way you want to read the feeds.
1. Browser Built-In:
There are a couple of browsers available in the markets, which come with built-in feed readers. Such browsers also have multiple plug-ins and extensions that offer great functionality to the users. Some of the examples of browsers with built-in feed readers are Internet Explorer, Opera, and Firefox's Live Bookmarks. Such browsers are the easiest to use for built-in feeds.
2. Desktop Feed Readers:
Such feed readers will separate your feeds from the browser and will download the feeds to your desktop. These feed readers are incorporated with numerous powerful features and are undoubtedly most technologically advanced solutions available.
3. Web-Based Feed Readers:
If you wish to read your entire feeds from within the browser, then web-based feed readers offer an excellent choice. They are easy to set up and most convenient to use. Feedly is a great example of such feed readers.
4. Feed Readers for Mobile:
A large number of people are getting their online search content as they are out and about through a range of mobile devices. If you too want the same then you can check the feed readers designed especially for mobile devices. Twitter, Feedly, and Flipboard are some examples of the same.
5. Email-Based Feed Readers:
With such feed readers, it is possible to get all your feeds delivered to you through email. Google Alerts and Mozilla Thunderbird are some of the popular email-based feed readers. Such feed readers allow you to adjust the rate at which you receive emails.

Popular RSS Feed Readers:

There are varieties of feed readers available. Here I will talk about some of the most popular ones!

This feed reader comes in a beautiful, admiring design that looks awesome on mobile devices. It is an excellent feed reader for those who want an organic way to fetch the latest news from your preferred sources.

Another amazing feed reader that can be used for both professional and entertainment purpose is Feedly. This feed reader comes with a simple interface and include basic categories to target specific RSS feeds. It is one of the most popular feed readers available right now.

This feed reader is popular for its simplicity. Its core functionality is to bring you ease to organize news feed with support for mobile devices, desktops, and tablets.

What Else Are the Reasons You Would Enjoy RSS?

Whenever you copy any RSS URL and paste it into the RSS reader, then you are subscribing to the feed. It will offer results to the RSS reader till you unsubscribe from it. There are more other benefits you can avail from subscribing to a RSS feed.

News:
RSS feed can help you get the latest news on your favorite sports, celebrity, country, and more. You can always narrow down the search based on your interest.

Hurricane Watch:
This is of benefit to those who are staying in the hurricane alley of the USA. The RSS feed can help you get close attention to hurricane evacuation tips and warnings.

Photos:
If you are a wallpaper lover and love to change the wallpaper of your desktop on a daily basis then RSS feeds is the best way to earn latest photos from online photographers.

Hobby Interests:
Whether you are a pottery enthusiast, motorcyclist, or a dog trainer, then you can get buts of advice on the same through RSS feeds.

Inspirational Quotes and Jokes:
You can add great laugh to your everyday by receiving jokes and inspirational quotes in your email.

Politics:
The RSS feed is a valuable tool to stay in tune to the blog postings and popular opinion on your favorite politics subject.

Foreign Exchange Rates:
If you are about to go to any foreign country then you can watch the best time to purchase that country's currency.

On the Final Note:

RSS feed is slowly losing its credibility. The main reason for this is that these feeds do not offer you any ROI.

It is not possible to reach to the RSS feed subscribers as conveniently as the email list. But yes, it is a convenient way to always stay updated to the latest content on your favorite topic, subject, field, website, or any other thing online.

For instance, it can help you stay on the top of anything that you are buying. Hence, make sure that you include a RSS feed icon on the bottom-right corner or bottom of the page that enables you to subscribe to the list of classified ads, enabling you to set notifications alert when any new post is introduced in that category.