Link building is one of the most popular SEO techniques which is highly used by marketers to promote a website online.
It is an essential step to be considered when someone is planning to work on SEO of their website. It helps in achieving higher page ranking and website traffic.
SEO techniques have become crucial for any kind of web-based business as it is a step to generate better revenues.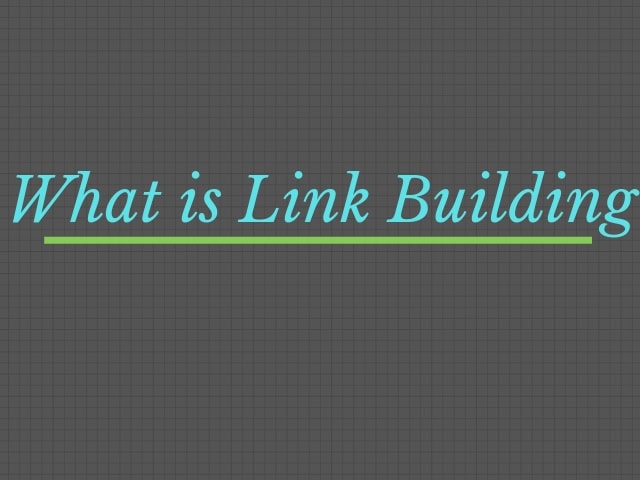 Therefore, if you are a newbie or an experienced, a thorough knowledge of SEO strategy is essential, to begin with.
Having a high-quality link to your websites is one of the best ways to keep up with your competitors in the online world.
Link building is a combination of art and science, which requires some basic skills and time to achieve the best results. One need to spend quality time to get the right results.
Definition of Link Building:
Link building is a technique to acquire hyperlinks from other website and blogs for your own website.
Search crawlers or spiders navigate through these links, which you may have got from an external website or maybe interlinked with your own web pages.
If you are planning to go ahead to use link building as a part of your online strategy, then it is essential to know that it requires effort and time.
One needs to acquire quality links to achieve better ranking. Spammy links or bad quality links reduces the ranking of your website.
Search engines do not like bad quality links which may lead to a bad user experience. Hence, these may lead to poor ranking or even be banned from your site being indexed.
Search engines also like to get good quality links as they want to give their users a good experience. If your website is spammed with links then the chances are high that search engines will not index your website or it may end up getting banned.
Link Building Types:
There are many ways to achieve good quality links for your website. Further, we will discuss the various types of links that can be considered.
1. Directory links:
Web directories are quite an old way of building links and many have thought it to be a dead practice. If done wisely, this brings lots of good traffic to your website too.
While publishing your web links in the direction, look for high-quality online directories only. If required to invest some money in it, then don't hesitate to go ahead with it as well.
Though there are a lot of free online directories, don't try to include your link everywhere in them, as it will decrease your quality.
Try to include links only in the top 10-15 of the directories rather than pushing it everywhere and make it look like a spam.
2. Authority links:
These websites are highly trusted by the search engines due to the fact that they have been there for a long time. They have good quality content and various other effective reasons to be trusted.
Generally, these websites are government or educational sites, which have relevant content for the people and don't intend to spam anyone. Getting these authority links is not an easy task but requires intense vigilance to know when an opportunity may come.
These websites are the market leaders in the online world, therefore, getting linked with these site brings a higher level of trust to the website.
To identify these authority websites, search engines have not set any specific rules as to how these sites become trustworthy over the period of time.
3. Press release links:
Press releases are generally considered for the newspapers and magazines. Nowadays almost every newspaper and magazine has an online channel, therefore, a press release is now being published online.
As a marketer, getting online press release means an opportunity to achieve substantial and trustworthy backlinks from their site.
These press release links are considered to be high quality by a search engine, hence, it adds value and gets you higher search ranking.
4. Comment links:
The comment section of a blog is another best way to create a link building opportunity for your website.
Find the blogs which have similar content to your own website, read those blogs and mention something good about their content. Further, you can ask them to come to your blog too and share their views on it.
Another way to start a conversation is the comment section of your own blog or on another. Introducing your website or blog there and insisting them to look for yours too.
While sharing your links on other blogs, you need to take effective measures to prevent from looking at them as a spam link. Try to build a relationship with the other blog owner and their readers, having a personal connection with them builds trust where you will find genuine readers for your blog.
5. Widget Links:
Widget Links also known as blog links are generally found on the right side of the blog. Where you share interesting websites or your own post by making it a hyperlink.
You can find a lot of plugins which will help you set up the widget link on your blog.
If you are using WordPress then there is an advantage with it, since WordPress has its own inbuilt system of widget links.
This form of link building is considered natural and good quality by search engines leading them to a higher ranking.
6. Asking your customers to link:
Having loyal customers for your brand or website is a blessing for any business. If you have loyal clients and customers, then insist them to share your website link on theirs in a blog or in a testimonial.
Another interesting approach will be to share a partnership badge with them, which will generate interest and enthusiasm for the same.
7. Creating viral content:
Viral content works extremely well to get natural links on the web as people share it on their timelines or blogs on their own. The topics can vary depending on the need and what the audience might be looking for. A good way to create viral content is to talk about trending topics or humor.
These content are shared by people all across the web, therefore, the search engine considers them to be highly trustworthy and brings in good quality links with it.
The first step you can take to make the content viral is by sharing it with your friends, bloggers and ask them to reshare it with others.
Link Building Examples:
There are various ways of link building strategies that we have discussed above. Further, we will discuss some interesting examples below as to how this works.
1. Reciprocal links:
Reciprocal links are the links which are shared by two different websites but have a similar content line or relevant topics in it.
Reciprocal links provide your reader to gain quick access to the relevant information about a new topic from your own site, which they maybe are searching for.
Reciprocal links between two websites is a good sign of developing a relationship between two businesses. Higher the number of good quality reciprocal link leads to a higher number of search ranking.
Example:
If your blog is a food-based blog, where you share recipes or popular food culture across the world. You can reach out to other bloggers who write on food or similar content similar to your blog.
Ask them to write a guest post for your blog and eventually, you both can share the links with each other for your website.
2. Presell page links:
Presell page links is quite an older concept in SEO strategy. It is a technique where you can purchase an advertising page which is hosted on different other sites, rather than buying various links.
Linking these advertising pages to various different pages creates a popularity flow from one domain to many others.
Example:
The web page content needs to be of high quality and relevant to your target audience. The person you will be requesting the pre-sell, make sure they don't have to work much around with your content.
3. RSS links:
The full form of RSS is " really simple syndication" or "rich site summary." RSS links are used to distribute the various type of content like headlines updates or news to the wider range of audience.
RSS is helpful for that audience who wants to keep themselves updated with the websites with frequently changing content, like news site.
RSS becomes an effective way to manage multiple such sites. It also notifies the audience of the regular changes that are happening in the multiple websites.
Example:
RSS feed keeps you updated on various news like sports, politics or films. Just click on the relevant topic of your choice at the bottom of the page, RSS feed code appears.
Then copy the URL in a feed reader and from here on you can see the regular updates as per your choice.
Functioning of Link Building for SEO:
Link building is an essential strategy to increase the rate of conversions for your website. Before we explain the importance of link building, we will discuss the general structure and work of hyperlinks as give below:
Starting a link tag:
It is also known as an anchor tag when a user clicks on this link, it reaches to the other page or website. Anchor tags give an idea to the search engine as to what is coming next.
Referral location of the link:
The hyperlinks or links on the images in which the text may be written between quotations shows the link is meant to clean up somewhere else.
Anchor text of the link:
These are the highlighted texts in a page with blue or underlined, which are meant to be clicked. Anchor texts are an indication for the user to click and find the relevant content as in the text.
Link tag closure:
Once the anchor link gets clicked, it shows that the link tag has ended for the search engine.
Benefits of Using Link Building for your Website:
If you want your website to achieve higher search engine ranking, which brings more traffic to your website, leading to a higher conversion rate, then link building is one of the best methods to implement. It offers far more benefits as mentioned previously.
Let us look at some of the benefits of using link building as given below:
Helps in building relationships:
To achieve good quality links for your website, you need to contact various other online businesses and websites. These can be those who share a similar content like yours or even maybe your competitors.
SEO is not just about getting customers and ROIs but it encourages businesses to connect and share information with each other.
Building a brand:
Good quality link building helps your website to establish an entity in an online space. To achieve this you will put an effort to write quality content, inform your customers about it and share the latest news.
When looking to get good links, you are marketing yourself in front of others about the area of expertise and knowledge you hold.
Link building is not just a tool for an effective SEO strategy but it is a major branding effort for your website or product. It doesn't matter that if you are new or old in the market, branding is an essential and rigorous effort that requires consistency.
Being a branding tool, it is essential to do link building right otherwise instead of getting the benefits, you may end up hurting your brand value.
The best advice is to do thorough research, understand how it works or hires someone with good knowledge and experience.