In this article, I am going to discuss Gravatar.
Most of you might be familiar with a grey image next to your username. That is a Gravatar image.
When you comment or post something on a site, you can see this grey mystery man image next to your username. That is a default icon of Gravatar.
A gravatar is an essential technology you need to know more about.
Today we read everything online. Human psychology works in a way such that it can easily remember an image than a name. So, you can create a brand by using Gravatar.
Self- branding is very important in this competitive world. Everyone wants to be popular nowadays. People find many ways to promote themselves.
Using a Gravatar account is the best option for that. This is a simple and free option you can try out if you genuinely want to be popular.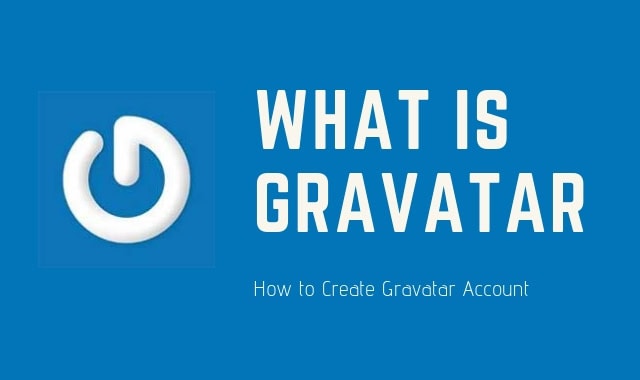 Most of us usually comment or post anything in a forum or community without creating an account.
If you create an account in Avatar, then you will be identified by everybody. Otherwise, nobody knows who you are. You can do anything online without creating an account if you don't want to make your online presence.
It's up to you!
Using gravatar not only popularize you but also works for you. Through your post, they will enter your site. Thus you will get a good number of followers just by creating a gravatar account.
Are you trying to make an online presence?
This is a good option for you. You can create a Gravatar account so that everybody identifies you. This makes people easy to remember you.
Now let's go into more details about Gravatar. Before explaining about Gravatar let's first check some history of Avatar.
What is an Avatar?
Have you heard the term Avatar before?
Most of us know it as a movie name. Actually, it is more than a movie name.
Long before people used icons for identification purpose. That is known as an avatar. It could be a person's image or any graphical representation. These images or graphical representation are just used as the identity of a person.
Avatar was most popular among the Gaming community. It is still there in this community.
Most people don't want to show their real identity sometimes. But when you use an avatar in blog discussion and forum, it helps to identify you by your image. If the same group of people uses every platform, an avatar image serves as their identity.
As blogging became popular, it is difficult to identify members or commenters by their avatar image. For many sites, you need to register first to comment on any blogs and posts.
By registering each profile, you will get an avatar image. Even now we can comment on some blogs without registering. But we cannot get any details about the commenter without registering.
Here is where we can use Gravatar.
What is Gravatar?
Gravatar means a globally recognized avatar. Most platforms use Gravatar to get the identity of a commenter automatically.
Users don't need to register on every site or blog to comment. To get the identity of a commenter is very easy by installing gravatar on their site. You will get details of a person by just clicking on his gravatar image.
So, Gravatar is a globally recognized avatar where millions of people and sites use it for identification.
Many applications like WordPress, Hootsuite, Githhub etc. uses Gravatar to make their process easy.
Gravatar helps to give you an identity when you comment or post anything on blogs and forums.
When you comment with email on a site that supports gravatar, it extracts their globally recognized Avatar from its server. You need to select a profile image to show on these platforms when you register on Gravatar first.
Thus it shows an image next to your comment and gives you an identity throughout various online platforms.
Now, that's a cool idea to get a unique identity online right?
It is better to mark your presence with identity than using anonymous icon while you comment. People will know who you are and more about your profile and works by clicking on your gravatar image.
Importance of Gravatar:
As I said earlier Gravatar is a good option to create a brand for you. If you are into online business or blogging and you want to popularize yourself, Gravatar is a must.
One important thing you should know is that don't expect fame all of a sudden. It won't give you identity immediately.
When users see your unique gravatar image on various online platforms, they will start to identify you. When they see your strong opinions or comments they will start to click on your icon and connect to your site. It is a good marketing strategy to promote yourself.
Also, through registering on gravatar you will get a good loyal user base. Many websites find their reliable user base from their Gravatar. Both users and websites will get benefits from these Gravatar widgets.
So this is how Gravatar benefits for users and websites. Here I am comparing Gravatar functions for users and websites
For User:
One time registration is enough
Can create an online identity
Don't need to update everywhere. Once updated in your Gravatar, it automatically updates everywhere else
For Websites:
Add as many user gravatar as possible
Can customize gravatar displays
No need to manage accounts separately
Easy to manage because you don't need to download any software or plugins.
How to Create a Gravatar Account?
Creating an account in Gravatar is very simple and easy. You can do it for free.
So this is how you can create a Gravatar account.
Step 1:
First, go to the Gravatar website.
On the top right corner, you will see a WordPress.com option and a sign- in button.
If you don't have a wordpress account then go to 'Create your own Gravatar account' option towards the middle of the page
Step 2:
It will ask you to enter using an email address, username and password. Be sure to enter the important email address that you handle mainly.
Enter that email address which you use when you comment on other blogs and sites.
If you are using it for business purpose then please be consistent and more professional. Click on sign up when you finish this.
Step 3:
Now you will receive an email and you need to confirm it by clicking on the link.
Click and activate your account. If you can't find the mail on your primary mails then check it on junk mails.
Step 4:
Now you can log- on to your account and choose an image you want to make it as your avatar image.
You can use an image from your computer storage or any image URL of you from the internet or take a picture from the webcam.
Step 5:
If you are creating it for your company, add your company logo as your Avatar image. After choosing a proper image click on 'Next'
Step 6:
You can crop it and adjust it, as you want. It should look appropriate as your profile picture.
Once you cropped your photo as you want to, click on 'Crop and Finish'.
Step 7:
Choose your rating from your Gravatar. There are 4 ratings for you to choose from. They are G, PG, R and X. Each rating has its own meaning.
G rated gravatar is suitable for display on any websites and all audience type
PG- rated may contain rude gestures, mild violence etc.
R rated gravatar may contain harsh violence, nudity and hard drug use
X rated gravatar contains hardcore sex imagery or extreme violence
Add a decent logo/image with a G or PG rating. Don't put some wired image on gravatar with X or R rating.
It will get blocked on quite a few sites. In my opinion, a G rated image is most preferable. It is acceptable for all sites and any audience type.
Step 8:
Now you created a Gravatar account and you can show your presence where ever you go.
Most WordPress themes already have integration of Gravatar with comments and other posts. If your theme is not supported by the site, add it to that site.
Gravatar also comes with the hovercard facility. It is one option with which you can be visible to others.
Hover card will appear when you move the mouse over Gravatar. It shows your detailed profile with your image on it. You can switch ON or Off it as you wish. It's up to your choice
Points to be remembered before creating an account:
Use the email address you use more often to comment on blogs and posts
Make sure to upload a good photo. Your profile picture represents your identity. So don't choose any unprofessional unclear images.
Gravity allows you to upload as many profile pictures as you want. But you have to choose one as your primary profile picture
Make sure to remember your username and password of our gravatar account so that you can easily change your profile picture whenever you want.
Once you created your Gravatar account you don't have to do anything. Just enter your email address in the comment box and Gravatar.com will do the job for you.
You can see your photos automatically appear if that site activated gravatar on their site.
Most usually gravatar account uses a default image like 'Mystery man'. If you want to be anonymous then there are many other options like
Mystery person
Blank
Gravatar logo
Identicon
Wavatar
Monster Id
Retro
All of them help you to hide your identity. This is optional. But, if you want to be popular among other users, it is better to use your own images or your company logo as your Gravatar profile picture.
So here are the reasons you should have a Gravatar account right now-:
From the above details, you will get all information related to the importance of using a Gravatar account. So, here are the benefits of using a Gravatar account
A gravatar account helps you in branding yourself and enables you to show your professionalism to others.
You can build your name and be popular among millions of people and get featured on various online platforms
If you are frequent and genuine in commenting you will get many followers. Many users will admire your work and profile
A gravatar account helps to build trust and credibility among others. If users think that you are genuine and sharing right thoughts, many will follow you.
You can update your profile whenever you want. One important thing is that when you update your gravatar profile picture it automatically updates your picture across various platforms you commented.
Do you want to use your brand logo as a gravatar image? If Yes, then it is a good option to promote your brand recognition.
You can crop and edit your picture using online photo editors. They will help you to add a proper picture as your Gravatar profile picture.
Using a short bio with your gravatar image will look more professional.
So, now you know the trick to make your online presence. If you are a business entrepreneur or a blogger, this is an essential thing to build credibility among followers.
You can be popular easily just by creating a Gravatar account. Unbelievable right?
Actually, it is possible. You can be popular if you post genuine comments or blogs.
Be careful to present your identity as attractive as possible. If you can follow all the above steps properly you will get an amazing result for sure.
So, without waiting, create your gravatar account and make your own identity. Be popular among millions of users with your talent. So go for it to conquer new heights.