A Sitemap! I am sure you must have heard about this before and also about its importance. But if still, you are not sure that whether your website needs a sitemap or not, then read this post.

In the midst of this post, you will definitely realize the importance of having a sitemap for your website. So, I am even sharing with you how you can create one for your website.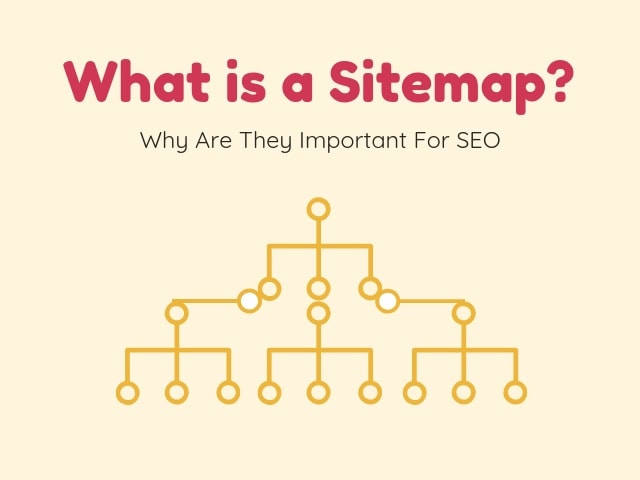 What Exactly a Sitemap Means?

If you want Google to find your website then your site needs a sitemap. It is because this sitemap is a document on the website that lists all the pages of your site and helps Google as well as other search engines better understand the site while indexing it.

It is a protocol that enables the webmasters for a specific site to inform Google as well as other search engines about pages and URLs on a site, which are available to crawl. With a sitemap, it is easier for search engines to find each page of your website, which they otherwise miss indexing. In addition to this, you can add extra information about each URL through a sitemap like:

Last date updated
Often changes in the site
Relevancy of a webpage in context to other pages of your site
With all this information available in tact in one document, it is easier for search engines to understand your site and crawl it more wisely. You cannot include robots.txt files in a sitemap.

The Two Different Types of Sitemaps:

Sitemaps are usually of two different kinds – HTML and XML.

The HTML sitemaps are those written in HTML language. These sitemaps are used for your website visitors to help them navigate through the site. It is optional to have a HTML sitemap. For this reason, mostly medium to large websites have a HTML sitemap.

The other sitemap which we are talking about in this post is one written in XML language. These sitemaps help search engines to crawl your website. Whether your site is small, big, or large, it must have a XML sitemap. If it fails to do so then you will miss potential leads.

Why Do You Need a Sitemap?

Generate Business Leads and Sales:
You see, the very first reason of having a sitemap is its significance to your online business. It can greatly impact the sales and lead generation of your business. If Google or other search engines are not able to index your website, then definitely you can miss some important business leads.

For this reason, it is of utmost importance to update your sitemap on a regular basis. If you are updating it, then you are offering search engines a clear path to all the pages on your website. If you fail to update the sitemap of your website then it can drastically reduce your search rankings. In some cases, failing to update the sitemap can also lead to 404 error pages.

Inform Search Engines More About Your Website:
Another great use of a sitemap for webmasters is to tell search engines more about your website and its content. You can always include additional information of your webpages in your sitemap. Moreover, sitemaps can include vital metadata about specific kinds of content, like images, videos, and mobile-friendly content. So, if there is any important or valuable content of your website, which don't want the search engines to miss, then include it in your sitemap.

Allow Search Engines to Crawl Each Webpage:
If you think that every page of your website is equally important then creating a sitemap is a must for you. A sitemap will help search engines to directly search for your webpage rather than waiting for the robots to find your website and index the content.

It is great for Websites with Minimum Internal Linking – Sitemap is great for websites that does not have lots of internal linking. This way, it helps the search engine bots to navigate through webpages and at the same time offer you pretty good rankings.

An XML sitemap is undoubtedly vital for any website and creating one is the first thing you must definitely do when optimizing your site for the search engines.

How Can You Create a XML Sitemap?

There are numbers of sitemap formats available that you can use to create a sitemap for your website. Many of these formats are easily recognizable by Google and other search engines.

But the standard format to use to create a sitemap is XML. With XML commands, it is possible for you to create an official sitemap protocol.

It is possible to create a sitemap manually, but only for smaller websites. For larger websites it will take a very long time. At the same time, in order to create a sitemap manually, you must possess expert knowledge of the XML markup language and sitemaps protocol.

The best thing is that there are countless third-party tools and sitemap generators, which you can use to create a sitemap for your website in very less time. This includes plug-ins for the most popular content management system, like WordPress. It is possible to use WordPress to generate XML sitemap automatically in just a few seconds.

If you prefer to create a sitemap in WordPress, then here are some simple steps that you need to follow.

How to Create an XML Sitemap in WordPress:
Select a plugin that you want to use.
Install the plugin and then check the 'features' tab. Change the 'advanced setting pages' to 'enabled' and save changes done.
Once you will enable the plugin, you will see some additional options appearing on the SEO sidebar to the left. Select 'XML sitemap.'
Cross check that the XML sitemap functionality is set to enabled.
You now have a unique sitemap for your website.
You can click on the 'XML sitemap' link and see how your sitemap looks.
But this is not it! Once your sitemap is created, the next step is to submit it to Google. The same is explained in our next section.
Hence, it is possible to generate an XML sitemap easily. All you require is a suitable tool for the job like xml-sitemaps.com.

With the help of automated tools, it is possible to enter your website address so that the same can index your site and create a sitemap.

Once it is created the next step is to submit the sitemap to Google and upload the same to the root directory of your site. It is a good idea to update your sitemap whenever you modify or add any content on your website.

How to Upload or Submit Your XML Sitemap to Google:

Submitting your sitemap to Google is very easy. You just have to upload it with the help of Google Webmaster tools. This will allow Google to crawl through the content and latest updates of your webpages. At the same time, it provides you valuable statistical information, which can be of great use.

Before you start, you will require an account in Google Webmaster Tools. Along with this, you will need a verified listing of your site.

Further, you need to follow these steps to submit your sitemap to Google.
Upload the newly created sitemap to your website's root directory using an FTP client like Filezilla.
In the next step, you need to log in to your account in Google Webmaster Tools. Now, click on the site you wish to upload the sitemap for in the homepage.
From the left-side menu bar, click the 'crawl' option. Next, click the 'sitemaps' option.
Now, click 'add/test sitemap' and enter the complete URL of the sitemap location. It must look almost like – http://www.yourwebsitename.com/sitemap.xml.
Now, click on 'submit sitemap.'
If you want to resubmit the updated sitemap, then you need to return to this page and click 'resubmit.'
You are done.
What Kind of Websites Require a Sitemap?

As per the Google's documentation, XML sitemap is of benefit to really big websites or websites having large archives. Also, it is great for new sites with limited external links to it and for websites including high-quality content.

But as per the expert Webmaster, an XML sitemap is of benefit to all types and sizes of websites. Every website wants Google to know about it. If you want Google to find the relevant pages of your website easily as well as to identify when the pages or site was last update, then you need a sitemap. Moreover, if you want to generate good business online, then a sitemap can be highly useful to you.

Which Pages are relevant for Your XML Sitemap?

It might be confusing for you to decide the pages you need to include in the XML sitemap. It is best to begin by considering the relevancy of a URL, which is marked by number of times visitors visit that particular URL.

Do you wish your audience to land on that specific URL? If you don't want to then you must not include it. But if you really want that the URL must appear in the search results then you are required to add a follow tag. If you fail to include it in the sitemap then this does not confirm that it won't be indexed by Google. Since Google can easily find following links, so it can also index the URL.

For example, consider the case when you start a blog. You would want Google to identify your new products fast so that it is possible for your site to target the audience. In this case, it is best to create a sitemap right before you start with the blog. Though there won't be much content to include in the sitemap or to fill the tag pages, but you can leave the URL out of sitemap for now. Later on, you can establish tag pages so that searchers are not able to find out then in the search results.

Another possibility could be when you include media content and images in your sitemap. For most of the websites, this kind of content is unwanted. It is because the pages use images, which are already there in the sitemap. Hence, rather than going for a separate image or media sitemap, it is better to showcase important media and images of your website within the sitemap.

Create Your Own XML Sitemap:

Now you have read the entire article, you are now aware of the importance of having an XML sitemap for the website. It is because having a sitemap can help with your website's SEO. It allows Google to conveniently access the important posts and pages if you add the correct URLs to the sitemap. Also, it becomes easier for Google to identify updated content easily. In the last, you can add the sitemap to the search console of Google in order to ensure that your sitemap is indexed fast. This also helps you to check all kinds of errors in the sitemap.

On a Concluding Note:

The XML sitemap is situated at the high level directory of your website. Also, it is suggested to submit it to the Bing and Google Webmaster Tools. If you have an account already, sign into it. Click on the website you are managing. On the left drop down, you need to click on sitemaps. Here you can witness the current sitemap as well as any errors that Bing and Google will be able to see with it.
So, create a sitemap for your website either manually or by using an automated tool. Make sure you follow each step and include all the vital content of your website within the sitemap structure. If still, you have any doubt then it is better, you contact an expert who can help you to create an efficient sitemap for your website.