This is a very important question every marketer should know about. It is very hard to know what customers want if you haven't done proper research. Customers nowadays expect a lot from a brand. Brands need to provide what their customers want to stay long in the business.
Trial and error were the only options to know what customers want for long years. But now customers are very smart, and they only choose brands that provide better service and features that they want. Marketing process was very simple before as the business will be local and with advertisement and word of mouth marketing, businesses can increase their visibility.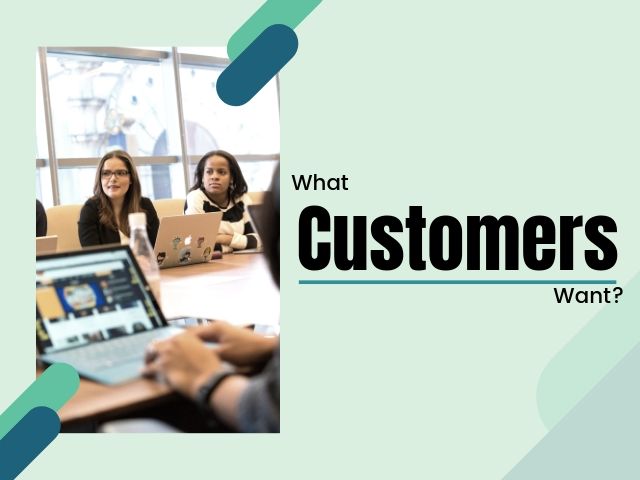 Online shopping changed some of these perspectives. Though all of them are still needed for business even nowadays there are some additional features they need, when it comes to online marketing. The best thing about online marketing is the extra comfort it offers to customers. They can buy what they want from anywhere, anytime. These changes in marketing also demand some more features from the business.
How can you know what your customers want? This is the most popular question every marketer will have when they want to improve their business. This article will answer your questions regarding the customer's need. You can just give the best features they want and improve your business.
What Customers Want Really?
The first thing you need to ask yourself is what customers don't want nowadays. They want a better-quality product that offers the best features such as
Better shipping option
Easy check out
Easy return process
1. Better shipping option:
If you ask a customer about the most demanding feature from an online business, they will only tell you about shipping options. Most customers prefer free shipping and businesses which can offer free shipping are very less. They cannot offer free shipping on every purchase of yours. Some businesses offer free shipping over certain dollar amount and that is also a good option.
The main reason for bouncing off from a shopping website which offers quality product will the shipping option. They need different shipping options with speed. 80% of American customers prefer a business which can offer them free shipping and fast delivery. This can affect your business a lot.
Free shipping is very hard to provide. Even Amazon, one of the largest retail chains is not providing free shipping for every purchase. They offer free shipping over a certain amount like $30. It makes more convenient for customers to choose the things they want to purchase within the desired amount. It will also help to increase the sale. Most customers try to buy things to get free shipping option.
If you are someone who likes to give a better choice to customers give better shipping options to them and improve your conversion rate.
2. Easy check out:
Next thing most customers care about is the checkout options from a website. Many people leave without buying things they want because of the bad experience when they get from check out page. Most businesses try to provide a safe and secure check out options nowadays.
Customers are making their purchases from their mobile devices also. So, you should make sure the mobile optimization of your website is also done. Also, try to provide various checkout options such as credit cards, debit cards, PayPal and various e-payment options.
3. Easy return process:
This is something every customer look when they shop something online. Some online shopping site provides free return option for their customers. This makes them comfortable in buying a product. Unlike buying a product by seeing it directly, online shopping is very different.
We cannot expect that the product we get will exactly match with the picture they give. If it is not matching with the picture online, it will give a bad experience to their customers.  They might have to return the product due to various reasons. It is a better idea to provide free return option to your customers than anything else.
Flexible return options will change the conversion rate of your business.
Factors Influencing Online Shopping Behavior:
These are the three main factors customers look in a business when they buy something. There are more factors that can affect your business growth. See the below options that can also affect your online business
1. Discounts and offers:
Many customers want discounts and offer to purchase anything. If you want to attract your customers try to provide better discounts and offer to them as per their need. Customization of offers is highly important. Customers nowadays give extra preference to brands which offers them better-customized offers and discounts.
You can send them personalized emails with good discount offers which make them come back to your site and make a shopping.
2. Quality products:
Quality and variety of the stock is something every shopper will look in business. They need to see a variety of shopping options when they buy something online. If you can provide this, it is less likely to leave your website for any other site.
They will try to buy something they like from the set of choices you provide. Also, if you can give them a price range of the product to choose from, it is very useful for your customers.
3. Price of products:
Price of products you sell is a very important factor to consider. Customers will try to compare the item price with another website before buying.  So, it is better to have consistent pricing for the product compared to other websites. You can check on various websites before putting the price for each product. If they think that your website is very expensive, they are going to leave your website for a lower price option.
4. Better reviews:
Reviews can control the buying decision of customers nowadays. If you want to make your customers buy something from your website, you should try to get some good reviews. There are genuine as well as paid reviews and today's' customers can easily identify the difference between both of them.
Paid reviews are useless. You can ask your existing customers to write their reviews about their experience and include them online. This can help to attract more customers to your website.
5. Brand Reputation:
Online brand reputation is very important for the successful running of a business. It can depend on many factors such as customer reviews, word of mouth marketing, better quality customer service and many more. If you are trying to sell something, match up the price and quality of your product with other websites.
Social media is a good tool to get a good review of your business. Share as many good reviews as possible through social media platforms and try to get more new customers to your business.
6. Better site navigation:
Customers prefer a website that is easy to browse. They need to go to any webpage they want without any issues. You need to make the website simple to browse with a better UI. Better user experience is very important for conversion. Mobile optimization and site loading speed are also important for e-commerce websites. These are some factors that decide the success of a website. If a website can provide these qualities, it can be more successful and last longer in the competition.
By reading these points you might have got an idea about today's customer's expectation. Can you match up with their expectation? If not, it is the high time for you to think about better customer-oriented business. You might have been thinking about providing these features to your customers now. This is how you can provide what customers want through your website.
How to provide better features to your customers?
1. Provide third-party validation:
You can try to provide better quality service to your customers and get good reviews from them. It is very easy to advertise your business, but it cannot promise a better conversion.
If you are running a business and want to expand your business, it is a better option to get online reviews and testimonials from real customers. You can include these responses from your customers online.
Consumers believe in real reviews and testimonials nowadays and more than 80% of consumers buy a product by reading reviews about it.  Social media promotions and reviews are good for the growth of business also.
2. Be Genuine about pricing:
If you want to get as many customers as possible, you should consider the pricing option of products. Try to sell products with genuine prices.
Customers always support a website which sells products at a genuine price. They won't even buy products from sites which tries to make a good profit by increasing the price of the products. Make sure to avoid any hidden fees when they check out from your website. This makes them uncomfortable to buy something from your website.
Give them a better option to check the price by location before checking out which can help them to estimate the price. You can also show the product price, shipping, and taxes before they check out.
3. Upgrade your shipping options:
If you haven't thought about giving different shipping options, it is the high time for it. You can provide customized shipping options with the shipping speed. Customers always want to get products as fast as they could, and they will go for a fast shipping option. If your business cannot provide that they are most likely to buy it from another website which offers that option.
Also, change the return policy if it is a complex one. You can provide a simple return policy and help your customers to make their return easy. This is a good option to stand out from your competitors nowadays
4. Better user experience:
Optimize user experience for your customers and give them a better service. When you create a website for online shopping, make sure to check every aspect of it which can affect the buying decision of your customers. Make it optimized for the mobile device with faster loading speed.
Give better navigation with menus and filtering options. If it is hard for them to find what they want customers are more likely to go for other options. Give them an organized menu where they can find everything easily. Also, make your home page attractive and avoid any unnecessary pop-ups that can irritate your customers. Add contact us, about us and search bar options on your home page for easy navigation.
You can also take extra attention to give an easy check out option with various payment methods. Try to give all possible payment options which can help to improve your sale.
5. Try to recreate the in-store shopping experience:
Customers always like to buy something after experiencing it. This is what makes online and in-store shopping difference. You can give genuine details about the products in the description part to make it easily identifiable. Just by seeing images one cannot buy a product.
Give more photos of products with more details which can help your customers to know more about the product. They should also need to know more about the product from the description. If you can provide a better online experience with infographics, videos and better description it is more than enough for your customers.
If you can also give better customer support through various options, it will be more useful for your customers.
Conclusion:
Despite the changes in customer shopping behavior they are expecting similar features from a business. But the technology and competition made businesses to stand out online. They need to make extra effort to make their customers happy. Brands that value their customers can always be successful.
Customization is also important nowadays and brands can provide better-customized solutions for their customers to retain their old customers and also get new ones. Give more reviews and testimonials to attract more customers.  Tell us more about the strategies that you use to provide better features to your customers in the comment section below.