Website color is a very important factor which helps to attract shoppers. More than 85% of people prefer a site based on its look. Color is not only important to make a website attractive, but it is also essential to increases the conversion rate.
Most of the popular brands are color conscious and when they design a logo or website for their product, they will choose colors carefully. There is a theory behind it. Colors can build trust among people and make them comfortable with your brand.
Color psychology says that colors can influence emotions or influence people to take action. People make a judgment in 90 secs by just seeing the appearance of a product. From this theory now, you know the importance of colors while you design a website or a brand logo.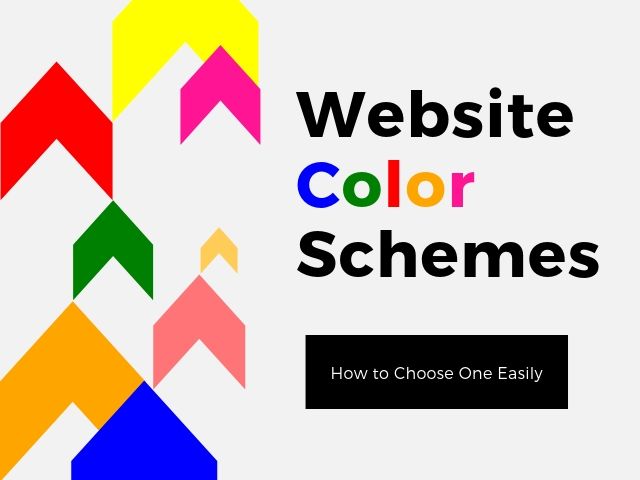 Have you noticed the sale button before?
It will be in red color always to gain attention from people. Like this, all environmental organizations and brands use green as their brand logo. The main reason for using green is that it represents peace, wealth, growth, etc.
Like this, in color psychology each color has its own significance and before you design your product or brand know what each color represents. It will help you to choose the appropriate color for your website or brand logo. All popular brands care about the color scheme.
Here are examples of popular brands who succeeded by choosing a particular color. Have you noticed the brand logo of Mc Donald? It is a combination of red and yellow which makes it as much attractive as possible. Like that Coco-cola uses red and white in their brand logo.
Website Color Schemes:
Like choosing a proper color for the brand logo it is also important to design your website with a proper color scheme. People will be judgmental and just in the first 90 seconds itself, they make an assessment of a website by seeing the color itself. So, how can you find out the best color for your website?
The best way to do this is by defining your target audience. If you can do that and then choose a color that they like more half of the design part is done. Here are some tips for choosing a better website color scheme.
Best Tips for Choosing Website Color Schemes:
Know the color psychology:
By choosing an appropriate color for your brand, you are ensuring a good projection to your brand.
You need to know more about colors and what each of them represents. This will help you to choose the proper colors for each section. This is what American shoppers think about each color
Green: This is the color used in the store as a part of relaxation. This is associated with wealth, growth and it is very easy to identify too.
Red: Red color is used in sale and clearance purposes. This represents energy. Youth and courage
Yellow: Yellow represents friendliness and youth. Mostly this color can be seen on shop windows to grab attention from people.
Blue: Represents trust and security. This is used by businesses and brands to attract people
Orange: Orange represents courage, aggressive, action, passion, etc. This is mainly used to create buttons for call-to-action, buy, sell, etc.
Pink: This is used to market feminine products
Black: Black is a very powerful color and mainly used to market luxury products
Purple: Purple is a color which represents emotions like calm, imaginative, wealth, etc. Usually used in marketing anti-aging products.
These emotions vary according to demographics you choose. This is the interpretation based on the emotions of the American market. This may change when it comes to the Indian market. Choose color after researching the emotion you want to project your brand.
Define demographics:
As I said above, before you choose a particular color for your website, define your target demographics.
According to it, you can decide on your color. Think about the emotions you are going to define with your product and find color appropriate to that emotion.
Many brands like Coca Cola, Netflix, CVS, McDonald, etc. chose the red color as their primary color to create an urgency emotion in marketing.
Brands like Nikon, Hertz, DHL, IKEA, etc. comes with Yellow color to grab attention from people
Social media site like Facebook, Twitter, and brands like Samsung, Dell, American Express, etc. chose blue to create a sense of security and trust in people about them
Hooters, Mozilla Firefox, Fanta, Bing comes in Orange color to represents a friendly brand
Tropicana, Spotify, Animal Planet, Whole foods, etc. chose green to impress people and to show it as a natural and wealthy brand
Brands like Taco Bel, Yahoo Craigslist, etc. are using purple color to show that they are the wise imaginative brand.
Now you got an idea of why all those brands chose that particular color. Connect with people's emotion by choosing a proper primary color. This will help you to easily market your product to the right audience in the right way.
Age group and gender:
There are colors for each gender. While choosing a color first decide with the gender you concentrate on. Know colors favorite for each gender and assign accordingly.
You can find gender charts for each gender. Blue is the most favorite color for men and women like blue and purple more.
Men dislike brown and purple and women dislike orange and brown. Consider the age group, the brand is targeting.
Don't choose your favorite colors:
Sometimes if you have a favorite color there will be a tendency to choose that as your website or brand color. Please stay away from it. Here, your preference is not important.
Customers are important to a business. So, you need to choose colors appropriate for them. Don't lose your potential customers by implementing your own preference for your website and brand logo.
Choose the number of colors you want to use:
It is not compulsory that you should use a single color for your website. You can use any number of colors to make it attractive.
Many websites or brands use multiple colors for their website. Instagram uses more than one color, unlike all other social media icons. This made it versatile than other apps.
You can wisely break down it into the 60-30-10 ratio. Primary color should be 60%, secondary color 30%, and 10% accent color.
Choose the best color combinations:
While designing your website choose colors you want to include and arrange it well. Colors should be contrasting. Bright colors in the light background will give your website an attractive look.
Some bright color background will also work if you can pull up with appropriate colors. Make it more aesthetic by giving a good view of your visitor's eyes. This can make your website a huge hit.
Check your competition:
Check your website competitors and see the design. There will be a trend in every field. You will get an idea of the latest designing trends from your competitor sites. You can follow them or think differently and stand out among all other websites of the same field.
Check different color schemes:
Before finalizing with a design, you can try some designs and check how it will look like. You can take help from your friend and family before deciding on something finally.
Choose the best color that suits your brand and website to get a good response from the audience.
Try various tools:
There are many tools online which you can use to combine your color combinations. Try out various color combinations and check how your site looks like.
It can save a lot of time and effort on yours while designing a website. Here are the top 5 tools you can choose.
1. Abode Color CC:
This is suitable for advanced users and many professionals use this tool while designing their website. This tool comes with many high-quality features for you so that it is easy to generate a high-quality color scheme for a website with it. Web designers can customize the tool as they like
2. Coolers:
This tool is suitable for beginners. Anyone can create a beautiful color scheme without any technical knowledge. There is also a provision of using color combination done by other designers
3. Colormind:
This is an advanced tool which can take you to the next level of web designing. You can do so many changes than from the basic versions using this tool.
After creating the final design, you can even check the user interface of your design by implementing buttons or tabs in it.
4. Material color tool:
Mainly UI designers use this to choose a proper color scheme. After choosing a proper color scheme, watch how it will look like by previewing the page.
5. Color safe:
This is another tool for beginners to use. They can design a website easily by following WCAG (Web Content Accessibility Guideline). Use this tool to design a perfect background for your website that matches your criteria.
If you are not an expert, use tools like Coolers, color safe, etc to easily make this happen. Choosing a perfect color is very important to create trust in your brand among the audience. Only by doing this properly, you can get success.
These are tips to follow when you choose a perfect color scheme or design for your website. It is very important to keep in mind that you cannot take any biased decision here.
Consider your targeted audience and create an appropriate design for them. Colors should be as per their wish. There are websites where you can take a color quiz to know which colors to choose for a website or a brand logo. You can see this in the Grasshopper site.
One more suggestion is to consider the color wheel to choose the website color schemes. It will show you complimentary and analog colors. Choose from it according to your plan.
There are various methods you can try if you don't have a proper design in your mind.
Method 1:
You can start with a blank canvas and use tools like color mind, color safe, etc. to choose a proper color scheme for your site. Then choose the number of colors of need and make the design as you wish and try various designs.
A blank canvas will be better if you want to express what you want through color schemes. All those tools are good for beginners and if you want to try some advanced tools, then try that too.
Method 2:
Take inspiration from an image or website while designing. You can include images on your website and design the background well.
Many websites come with a photograph in it. That makes it more appealing than creating other types of website designs. Incorporate suitable colors to image and make the website more appealing.
Method 3:
State your business goal through website design by properly choosing appropriate colors. Each business has its own motto. So, they can choose colors as per their choice.
Final Words:
Like choosing a proper brand logo color, choosing the right website color schemes is also very important. It doesn't matter even if you don't have any artistic talent, you can take help from a web designer and design it as you want.
He knows how to project your website if you can define your business goals well.
Each brand has its own unique identity and people will get it from the appearance of the website itself. So, choose colors carefully by considering your targeted audience in mind. No one can do it in a single trial. Experiment with colors and come up with the best website color scheme for your brand.