When mobile SEO started becoming a thing, a lot of people predicted that it is going to be very different from desktop or laptop.
But today we can safely say that they are quite similar.
One of the most important aspects of mobile SEO is voice search. It is easier and more convenient for anyone to just speak instead of typing. And the results are pretty prompt too.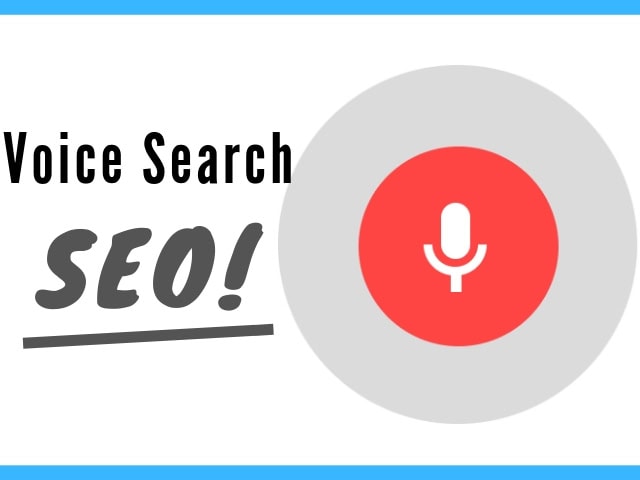 The research found that there are 33 million active voice-first devices in circulation today. For you as a business owner, your target should be to optimize your SEO so that you can reach these 33 million users too. But how will you do that?
We are here to tell you everything you need to know about voice search SEO.
Voice Search SEO – How Voice Search Will Affect SEO?
Since voice search is already so popular and is on its way to becoming the next big thing, it is better to know how it is going to change SEO in the coming years.
Here's a prediction by marketing experts and geniuses about how voice search is going to affect SEO in the near future.
1. Semantic search will hold more importance now:
In order to give accurate search results, Google depends on a lot of factors, apart from keywords.
Factors like a user's search history or search patterns also matter a lot when Google is showing results.
These factors are known as semantic search. In other words, you can say that Google is now starting to understand better what people are looking for.
For example, if you are searching for something from your laptop in New Delhi, Google will show you specific results in that city.
Like, if you have searched for 'movies New Delhi', Google will show you the movie timings in New Delhi and not movies about New Delhi.
Before semantic search took over, even if Google would show you movies about New Delhi, it would have made sense because that is what the keywords are indicating. But due to semantic search, Google will now understand your preferences better.
Since with voice searches people have a more conversational tone, your brand content should be updated according to that. You can experiment with a lot of long tail keywords for maximum results.
2. Content has to cater to readers both in context and tone:
In the time of the voice-based search, your content should cater to the audience and not to the search engines anymore.
Notice the tonality of your customers when they write reviews about you or engage on your social media pages.
When they are asking questions, look for the word and phrases they sue and try to include them in your blogs.
Stick to using normal language and not use marketing jargons in your articles. Also, voice searches on mobiles are more likely to be local, so your content should be optimized that way.
3. You cannot afford not having a mobile-first site:
If you still haven't optimized your site to run on mobiles, you immediately should.
Search engines are moving to a mobile-first web world. If your website does not load quickly enough on mobiles, people are going to leave your site and that will ultimately hamper your rankings.
Especially when voice search is taking over, it just makes more sense to have a mobile-friendly site.
4. For local businesses, directories will become more important than ever before:
For local searches, consumers do not look up for your business online.
Instead, they search for the best of something and that is when your listing shows up.
Various review websites and directories determine the search results for local searches, hence they are like search engines for local businesses.
With the advent of voice search, it will become a necessity to have an optimized Google My Business listing if you want to survive the voice search SEO.
If your listing is heavy with photos and positive reviews and your replies to comments and feedbacks, your business is more likely to feature in the local 3-pack search results.
Importance of Voice Search in Search Engine Optimization:
Voice search has come so far over the years and it looks like it is here to stay. That is why Google has invested so much in voice search.
Since most mobile-based searches are voice searches, so websites are understanding the importance of creating content for voice-based searches.
Voice assistants like Siri of Apple, Google Now, Cortana in Microsoft, Alexa in Amazon are some of the results of more advanced voice searches.
As technology is evolving, the error rate of these voice assistance is almost zero which enhances user experience. As a marketer, you have to notice the increasing number of people who are using voice-based searches.
With the help of voice search, bloggers and website owners can now easily answer questions that users need to know, and this increases traffic to their websites.
A user is really impatient and wants faster results, so voice search is a perfect way for them. And Google is now giving a lot of importance to UI for a website's ranking.
When your user will get the search results faster, it will reduce the chances of them bouncing away from your site.
With voice search, there are no issues of wrong spellings either. The highly developed algorithms of Google will also make possible to get answers according to your previous search queries.
As a website owner, you have to identify these trends and optimize your website according to them. Start working on it before your competitors go ahead of you!
How to Optimize for Voice Search:
By now we can understand that the future of SEO is going to be voice search.
It will play a very important role in not only how users are searching for information but also how Google is ranking it.
Talking about Google rankings, that is the ultimate goal for any online business, right?
So how would you optimize voice search for your website?
Let's have a look!
1. Page speed:
SEO experts believe that for voice search optimization, the page speed might not be as important.
They believe that page speed might not be a direct factor in voice search, but websites that are optimized for the best user experience will always rank higher, and voice-based search results mostly come from the top-ranking websites.
SEO experts are doing further research to find whether the faster loading website which has a higher ranking based on voice search rankings, also have higher is SERP rankings in general.
2. Get your Google My Business listing optimized:
You might already have claimed your Google My Business listing. If you haven't, do it now.
Make sure you fill all the information related to your business. Optimizing your Google My Business page is actually a great way in which Google finds out more information about your business.
Since voice searches are mostly local, having a properly optimized and updated Google My Business page will increase your chances of showing up at the top when there is a voice search looking for your business category.
3. Look for conversational and long-tail keywords:
While voice searching for anything, a user's tone is generally conversational and keywords are longer.
So you need to try out various permutations and combinations with conversational keywords that will optimize your site for voice search.
You have to update your keywords strategy and have to pick up words that people would use normally in conversations.
As we have already mentioned above, you need to pay more attention to how your customers talk, either on phone or on your social media pages.
Use those exact same words or phrases that they use and build content around it.
4. Having language simplicity:
When a user is voice searching something, he does not want to read a literature novel in the results.
Which is why Google often reads excerpts to summarize the answer and then gives you the link to that page.
In that Google selects the easiest and concise answers that are easy for the eyes and the ears.
This is why the content that you create should be simple and easy to read. The tone of the content should be similar to how people normally talk.
Tips to Better Voice Search Optimization:
Since voice search is relatively new to the SEO scenario, a lot of websites and SEO experts are still in the research phase as to how to optimize with voice search.
Here are a few tips to help you do that:
1. Start on a local scale:
We already discussed how voice searches are mostly for local businesses.
People will ask questions like which is the nearest medical shop. If you have an office where you operate from, claim your Google My Business listing.
That helps voice assistants to rank your business higher. Also, users will get to see your listing faster. Curate deeper on your local rankings.
2. Have your own voice-enabled app:
That is the most convenient thing to do if you want to be an authority in voice searches.
Amazon Echo is a great example that connects to third-party services or other apps to give you the desired results. The Echo works as a great medium between brands and their consumers.
3. Write content for humans:
Search Engine Optimisation generally involves using keywords that helps Google find out your website.
You generally use keywords that people search for mostly on search engines so that your website shows up when they have asked for something.
But when you are writing for voice-based searches, you have to make sure that it should have a conversational tone.
So, now you cannot just type articles, you have to speak them out. You will notice that there is a difference in the keywords that you are typing in the Google search bar and the keywords that you are speaking while searching for the same thing.
So, the solution to this is that you have to write for your human readers and not for the search engines.
This will not only improve your overall SEO, but the voice assistant will be able to pick up more efficiently on the long-tail keywords that you used to describe your product or service.
Brands need to understand the fact that when a consumer is talking to Google Assistant or Siri, they talk like they are talking to a friend. So, when you are writing content, write it in a way as to how a human would ask a question to his friend.
Voice Search SEO: How To Optimize Your WordPress Site for It:
1. The focus should be on long-tail keywords:
We have already told you that multiple times. Experiment with long tail keywords and phrases that your customers generally use while talking.
2. Your content should be optimized for position zero:
For voice search since Google itself starts answering the queries that are searched for, you have to aim to become the website that should answer those instead. This is how your content gets more exposure and this also optimizes your site.
3. Readability should be your primary concern:
Keep the language as simple as you can. The content of voice search-based results should be readable to a ninth grader. That is how simplified it should be.
4. Your WordPress site should give a great mobile experience:
Since voice searches mostly happen on mobile phones, your WordPress site should be a mobile-friendly site.
5. Local SEO should be your goal:
Again, as mentioned above, voice searches are mostly for local queries. So your aim should be to optimize the local SEO. so that your site is visible to voice searches.
Wrapping Up:
So, as we can see, voice search is the latest trend in Search Engine Optimisation.
Remember how we used to be amazed as a kid when we would see in movies where people would be talking to devices to get the work done?
Who thought that would be happening in real? But it is here now and it is here to stay!