Content marketing is the best way to reach to your prospective customers.
There are many types of content marketing options such as blogs, webinars, videos, infographics, etc.
Visual content marketing is one of them and has become an integral part of marketing your content.
When you want to market your content effectively this is one of the best options to do that. Before going into more details, you should know,
What the term visual content marketing represents?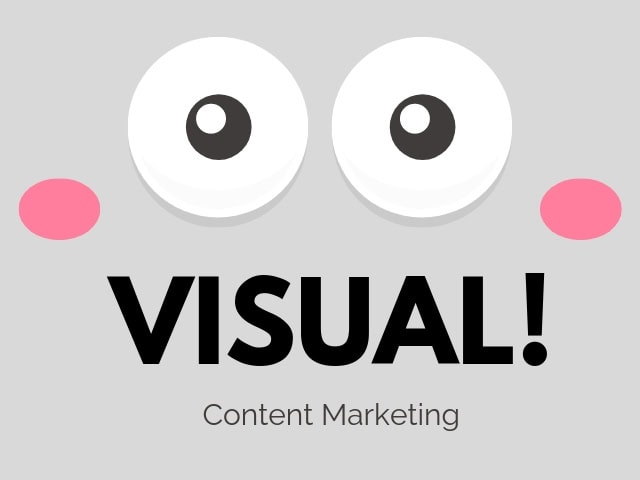 This is a complete guide that will give you all information related to visual content marketing.
Here are the main topics we are going to discuss here:
What is visual content marketing and its importance?
Various types of visual content marketing
Best examples of visual content marketing
Visual content marketing statistics
How can Visual content marketing change your content marketing strategy?
Visual content marketing was not there long before. But, when the marketing strategies changed, everyone understood the power of visuals and they developed these new strategies to market contents.
By doing this, webmasters can attract huge traffic towards their site and thereby SERPs improves.
Are you ready to apply this strategy to see the amazing result?
Follow this guide and apply appropriate changes to your site. You can see the change immediately.
What is Visual Content Marketing?
Most of you know the term content marketing. When we market the contents by including visual elements like images, infographics, etc it can be called as visual content marketing.
When you include visual to your content it should have the power to convey valuable information to the audience.
Visual elements can be anything from an informative image or valuable text, infographics, branded images that can promote your content, etc.
It is common human psychology that human brain love visuals. Visuals have the power to attract the human brain and remember it easily.
Your next doubt will be what is so special about visuals? Here is the answer to it
What is so special about visual contents?
Colorful visuals are appealing to the human brain because of its creativity. It makes them easy to understand the concept
Our human brain has got the power to interpret visual information easily compared to other contents.
According to the latest research, it says that the human brain can interpret a visual in 13 milliseconds. That's all it takes and also brain can process visuals 6000x times faster than processing text.
Visuals are also easy to remember: We connect most of the information with visuals related to it. So, visual will be there in our memory for long and we can easily remember the visual and information related to it easily.
Visuals can trigger a reaction: When we post content with good visual elements, it has got the power to produce a stronger reaction among users.
Visual can increase social media engagement: When you need to promote content, it is much better to add relevant visuals to it to make it more shareable.
Everyone likes to share good visual informative contents.
So, the 3 points related to visual content marketing are appeal, comprehensive and retention.
That's why it says that there should be good visuals in every content to attract viewers attention.
Importance of visual content in content marketing:
According to experts, every user consumes various contents from blogs and social media platforms.
When the use of mobile also increased most of the users read contents from a mobile device.
Thus, to attract more viewers everyone now uses visuals in their content. It can bring a lot of benefits to any site like
Lead generation-: Most of the users give importance to a brand than the product. So, when you want to sell some products you can include good visual that can showcase your company's creativity, culture and personality.
It can be anything like an annual report to an Instagram post
Customer participation:
When it comes to promoting content, shareability is very important.
By including relevant visuals if you can attract users they will share your content with their contacts and hence more participation occurs
Creates brand awareness:
Visuals have the power to create more brand awareness among users.
If you can generate your contents with more visuals, users can easily identify your content and popularity of your product increases
SEO/Traffic:
The prime aim of content marketing is to get more traffic.
If you can summarize your content using good visual then that is the best thing with which you can attract more traffic.
Various visual content types
There are various types of visual contents available to try. Each of them has its own purposes.
You need to choose appropriate contents that can serve your purpose. Various types of visual contents are
Annual reports:
This is a type of visual content you can use to market a product.
While including this, make sure to make it engaging to users. The main purpose of including the annual report of your company is to create an awareness of your brand popularity among users.
It should be informative simple and engaging to the audience. This type of visuals are useful for contents that promote a product/ service
Infographics:
Infographics are well-designed visuals with relevant data. They have got the power to improve the shareability of your content.
It can be shared on various platforms. You can include good infographics with your content to improve its reachability.
Infographics help to make complex data simple. This is one of the best user-friendly material you can use to engage your users.
Data-driven visuals:
When we want to represent data visually it has a great impact on your content. A well-represented data-driven visual can help to bring life to your content. They can be charts, tables, graphs, etc.
Other than infographics, if you want to present something large then this one is the best options and also it can bring more conversion.
Videos and animations:
This is another option for visual marketing. Videos have got more power than images and they are easy to create.
You can include videos and animations in your blog and improve shareability. If you can include videos related to your product on your landing page it can increase the conversion rate by 86%.
So, this is one of the best content marketing strategies you can try.
Presentation:
You can integrate all visual contents and make it a strong presentation. It has got the power to communicate with your audience.
You can give an intro video also integrate all graphics and data visualization and create a product awareness presentation to your audience.
eBooks:
eBooks are also good to convey your knowledge to the audience. You can offer eBooks to help them solve their issues when they sign up to your site.
Don't make the eBook full of text but try to include more visuals in it. This will help the audience to understand the concept easily.
White papers:
These are another option where you can present all your data in details.
White papers are more like visual representations and it is a detailed guide based on a topic. It is very long and you need more time and experience to prepare a good one.
Some good examples of visual content marketing:
There are many examples of this in front of us. When you see a site or content sometimes you cannot relate to it actually.
But, there are many sites who succeeded by applying this strategy.
If you are more into content marketing, you might be familiar with the name Neil Patel. He is one of the most popular content marketers.
All his contents come with good visual elements and they are highly shareable too. He includes almost all visual elements in his blogs to explain a concept.
After that, a detailed video will be there that explains the concept clearly. If you are not familiar, you can check his sites
Grammarly is another site which implanted visual content marketing concept. They created 'Grammarly card' with funny and engaging visual content that can please the audience. The concept is simple.
The main aim of them is to create an awareness of the importance of grammar in a sentence. So, the visual content should have the power to engage their audience.
Another great example is of Coca-Cola. To create their brand awareness, they created a visual content marketing strategy called 'The video itself'.
Another one is their Tumblr account with beautiful images, animations, and videos. All of them helps Coca-Cola to interact with their customers and promote their brand popularity.
These are some great examples of visual content marketing you can see around us.
Visual content marketing statistics:
You will get to know more details about the change that visuals can bring in content.
Here are some important points from the latest statistical report that shows the impact of visuals in content marketing.
From 2015 to 2016, the content published with visuals increased by 130%
65% of marketers use stock photos and graphics in their content
According to 41.5% of marketers, original graphics, infographics, etc perform well
More than 70% of marketers spend less than 5 hours to make visual
32% of marketers use online tools to design visuals
21.5% of marketers use says that they spend 0-10% of their entire budget to make visuals.
60.8% of marketers believe that visual contents are essential for content marketing strategy.
Content Marketing Strategies:
Now you know the importance of visual content marketing strategies. Before applying visual you should note these important points
1. Define your target audience:
Before implementing any visuals on your content, first, you need to know your audience. After that select appropriate images for them and try to include it in your content.
The main marketing strategy here is to get into their mind. If you can do that well then that's the best thing.
Define your targeted audience and design contents and visuals for them.
2. Use your creativity:
It is better to post visuals available from the web. You can use your own creativity to bring something fresh.
Users will get bored if they see the same images everywhere. Spend some time to create attractive visual elements for your contents.
Choose good color patterns and make them look fresh. Visual contents have more power to attract users than plain content.
3. Use different types of images:
There are various types of contents as I mentioned above. You can try different options from infographics, charts, graphs, screenshots, videos, memes, cartoons, etc.
They have the power to reach to your users easily. Also, you can create brand awareness also.
4. Implement your plan:
After finding out suitable visuals, the next step is to implement them. Make sure to use quality images or visuals in suitable places.
When you apply visuals, keep in mind that just to get noticed don't include so many visuals on your page. There should be relevant content with those images. Images should be properly placed and should entertain users.
5. Check your result:
After applying this strategy, you should surely see the result. A single piece of visual content can create great change in your content reachability. So, if you can analyze your content performance and the conversion rate you can work accordingly.
You can interact with them to know about their opinions and also check the bounce rate of your site. If many audiences leave your site without checking your content then there is some problem with your content.
You can design your site appearance that can attract the audience. To know all this data is very important while implementing a visual content strategy.
Final words:
Now you got a complete idea of visual content marketing strategy. This is an important thing every webmaster should know when they want to market their content.
It's not only about marketing contents but about effective marketing. Improve your content reachability and SEO by implementing this simple technique.
You don't have to spend so much of your budget for visual content marketing. It only consumes a small percentage of your entire marketing budget. So, try new experiments with your content and get the expected result.