If you are looking for a better way to market your contents, video marketing is the best choice.
This is getting popular as a recent survey says that every day more than 500 million people watch videos on Facebook and 10 billion on Snapchat.
So, these visual elements have got the power to consume the viewers' attention.
Most marketers now consider this as the best way to improve their campaign reach.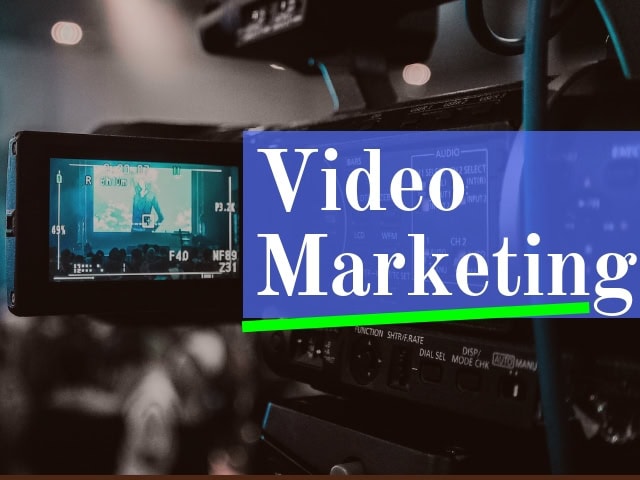 Like every visual element, videos have the power to convey better things about a brand. That's why this has become a popular marketing option nowadays.
As the popularity of this increased, there is a tight competition between marketers on making the best videos as part of marketing campaigns. This is one of the important challenges most marketers face now.
If you want to get noticed among all other outstanding videos, it has to be unique. This is not easy to create unique videos.
You must work very hard and know what your audience wants to watch or know about your product so that they get impressed with your brand.
This guide will help newbies in this field to know more about video marketing and important information related to it.
Let us begin with the word 'video marketing'.
What is Video Marketing?
This is a type of marketing where videos are involved as part of a campaign to promote a brand.
It could be anything like testimonials of customers, live event videos, videos based on how to do something, training videos, entertainment videos, etc.
There are basically 12 types of videos used for marketing. They are
Demo videos
Brand videos
Event videos
Expert interviews
Educational videos
Explainer videos
Animated videos
Customer testimonial videos
Live videos
Virtual reality videos
Augmented reality videos
Personalized messages.
Video Marketing Benefits:
Video marketing has got many benefits and is conserved as one of the most effective marketing strategies.
A powerful video about your brand can create a good impact on your customers. Here are some benefits of video marketing
Connect with the audience:
Every marketing strategy should be designed to connect with customers.
A video can help them to identify the real you and this can help to create a connection between you and your customers.
If they can connect with a brand, then there you can achieve great success.
Improves SEO:
A good video can help to improve your website SEO. There are many like getting quality backlinks, more site traffic, boost your reach, etc.
If you can upload your video to YouTube and link it with your website, more users who watch the video will surely check your website.
Easy to remember:
There is a special quality to the human brain that, it can remember a visual element more compared to something they read.
So, marketers took it as a very good advantage and use video marketing as their strategy.
Improve your follower base:
If you can create a good video that can entertain your existing followers, you can surely attract new people with it.
Share it across various social media platforms and this will help to get more viewers to your videos.
Entertain users:
According to researchers' people prefers to watch videos about a product than reading those long boring product description.
Improves sales:
As the number of followers increases, product sale will also be higher
All the above benefits can achieve if you produce a video that engages users and entertains them.
Now, are you ready to go further?
Here you need to know about some important steps to follow if you want to create a successful video for marketing
Video Marketing Strategies:
1. Planning:
Every business marketing campaign needs good planning to be successful. This is the step everyone knows about when they are into business.
When it comes to a video marketing campaign some important points to be noted is about the future of a video.
If you created a good video, it should last longer among the customers. You need to create videos that work well even after 3-4 years.
To do this, good planning is necessary. The goal should be creating a memorable video that lasts forever.
If you cannot succeed in your first attempt find out your mistakes and create a new one by clearing those mistakes.
After creating a video with better quality, you need to promote it. Otherwise, nobody will watch your video and you cannot get the benefit from it. There are various social media platforms.
Use them as your promotional tool and post your video in all accounts. This can help you to reach so many followers and can get genuine feedback from them.
You can check the comment section of videos to see the participation of your audience. To engage the audience is the main aim of every marketer and this is the main path to success.
2. Find out what works:
There are various types of video contents for you to select from. It is a very tough task to know which one works and which one doesn't.
Experimenting with new content is the only way to find out the best type that suits you. If you are handling the educational type of content on your website, then try educational videos.
Explain about new things that audience want to in your topic. See the response from your followers. If it is not working, then try something new.
Some people can entertain the audience well. They can create entertaining videos and be popular.
You can see many examples on YouTube where videos created magic. Experience can teach you what works and what don't.
Keep trying new things and watch the response from your audience. If they like it, you can continue to produce contents in the same category.
Check the comment section and see what your audience feel about your videos. Feedback from your followers can help you to decide what you are good at.
3. Create videos:
After planning and deciding what to do, the next step is creation.
Create videos that you want and promote it. The first video will not be perfect. But you will learn new things from previous mistakes.
Viewers will guide you to a perfect video making through comments. Don't take their comments as criticism. They are feedback and you can take them positively and try to avoid previous mistakes again.
Like this, you can create perfect videos to engage your audience after some time.
Initially, you don't need to invest so much money in video marketing. First, try using your mobile device.
The video will not be perfect but if you can entertain users with it, then after some time create videos professionally.
Get a professional who can help you to create videos and post them. This is how most of the video marketing campaigns came. Starting from basic is the best way to understand the process well.
4. Optimize your video:
Only by creating videos and posting it, you cannot reach to more viewers.
Like optimizing contents for search engine, you can optimize videos also.
To get listed under top results on YouTube, you need to find out keywords that are popular, related to each of your video topic.
Below the videos, there will be a small description section that explains the video.
You can include some popular keywords there to get it listed. Overstuffing of keywords should be avoided and also when you include a keyword, make sure to pick relevant ones.
When it comes to YouTube videos, the description part plays a very important role in getting more viewers.
So, make sure to tell about your video content in a simple and informative way with some keywords in it.
5. Influencer marketing:
This is the main way most of the marketers promote their video content.
Influencers are people who have the power to create an impact on a product or service among users.
They must have so many followers and people will follow their opinions when they buy or do something.
After you posted your video across various social media platform you may get some followers from it.
But some videos won't get the result as they expect. For them, Influencer marketing is the best strategy to use.
You need to find somebody in your niche who is very popular and can influence people.
If you can convince him to promote your videos that will be the stepping stone to your success.
They can also help you to create valuable content and advice you. Find someone famous in your niche and work with him to get popular.
After users start to identify you, then you don't need their help to promote your content. So, what influencers do is to help to create an identity for you and your product.
6. Advertise your videos:
Advertisement is another option to reach to a large audience. Even though you promote your content with the help of influencers, it will reach to their followers only.
If you want to introduce your product to a wider audience, you can advertise it on any platform.
When you follow the result of your content you will understand where it gets more popularity. Find out that platform and advertise your videos.
There is a Facebook advertisement where you can customize your Ads for a particular audience. When you create a video, it should be aimed at a group of audience. The same thing you can do with advertisement.
Other than Facebook you can also use Snapchat, YouTube, Instagram, etc. to advertise your content. So, your success is all about picking the right medium and reaching the right audience.
Video Marketing Examples:
There are many examples where a small video created about something has created a great impact on the business.
When it comes to real life, visual elements have the power to influence human attention. Here are some examples to prove the strength of video content marketing
Dancing Gorilla maniac:
This is a viral video created by the supervisor of Dallas zoo. He shot the video of Zola, a free foot Gorilla who danced in a kiddies pool.
When Star-Telegram Producer Bob Hagh gave background music with the famous song maniac to gorilla's dance, it became interested.
This video became a very popular one with so many viewers. Sometimes silly things like this can be viral by implementing something interesting
Skip this ad of Hotel.com:
This is another example of great video content. Hotels.com is a popular site who creates funny ads. They created an unskippable ad on YouTube and added skip this Ad button.
When a user tries to skip the Ad, they will see the complete Ad of Hotels.com.
Video Marketing tips:
Create short videos of less than 1-minute length and convey your message in it.
Interactive videos will work better than others. You can add a call to action button to ensure audience participation
Promote your videos across various platforms to improve its reach
Track your previous results before producing the next videos
Connect with people through your videos
Organize your videos well on YouTube so that it makes easy for your viewers to check all your videos.
Optimize videos on YouTube before posting them to ensure maximum reach.
Final Words:
Video marketing is not a small task. Just by creating some videos you cannot gain anything. Decide your goal and work to achieve it.
Anyone can be popular by creating entertaining videos. Know your targeted audience and create videos for them. Follow all actions which help you to get maximum reach.
Videos are the best way to connect with your audience. So, don't take it lightly. Don't just think about your business and create videos as an ad to promote your product.
Make it informative and meaningful. The audience should feel that you are helping them to find a solution. Create your own strategy and make viral videos.