Looks and popularity of a website are two important factors everyone will focus on. But there is a popular saying that the appearance of a website has nothing to do with its content quality. Many marketers believe that they can only be successful if the design of their website is good. But this is actually a wrong concept.
The appearance of a website has nothing to do with the acceptance of it among the audience. There are many examples in front of us who proved that the appearance of a website is not a big factor for its success.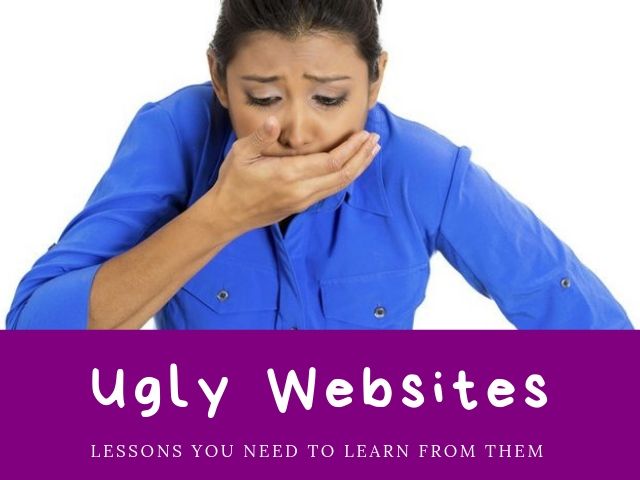 We can say that the design of a website attracts the audience to a website to some extent. But every time it is not about the design. The quality of contents and ease of use is equally important than the appearance.
If you open some websites, you won't even like, how they designed it. But it is not always about the design, the audience looks for a website which provides the ease of use with tons of informative contents. Even if the design looks very old or bad they won't even care about it, if they can find what they want easily.
The reason for not updating the design could be many as they believe that making it fancier is not important at that point in time. You will get to know more about such websites while seeing these examples. Here I am going to list some websites that are popular even without a good design
Important Factors that Decide the Value of a Website:
You might have read somewhere that the design of a website is more important to get it popular. It is the wrong concept because there are many examples of websites which are successfully running with a good follower base without an attractive design.
3 factors that decide the value of a website:
Value propositions:
A website can be successful if it can provide a better value proposition to its users. The content they provide is very important than anything else. They should get something useful from the website which makes it more popular among the audience.
Relevance:
Just by creating content, a website cannot be successful. You should always focus on providing relevant contents. You should see whether your website gives relevant content for your audience or not. If it is not, then it is high time for you to think about the type of contents you offer through your website
Clarity:
There should be a clear plan of action. As a website which aims for better acceptance among the audience, you can have a clear plan on how to present your website among the audience. The clarity in your plan should be essential to be successful in creating a demanding website.
List of Ugly Websites that are Popular:
Craigslist is a very popular website all of us know. It mainly helps you to sell and buy everything you want. You can check back their website design which is the same since they started their website in 1995. They haven't changed much as they expanded their business. They added a few new locations to their website, that's it.
The main reason for the website's success is the simplicity in its design. Someone who wants to find a job or apartment can easily find out the available option by searching based on their location.
There is no irritating ads and banners on the website. No pop-ups will ask your email address or ask you to sign up to their newsletter. This is what the audience likes the most about the website. You can learn to provide all the features to the audience as simple as possible. One can easily select an option from the website without any confusion which makes the website more acceptable.
So, when you want to provide a better user-experience make your website design as simple as possible and don't interrupt user-experience by providing unwanted ads and banners. All they are doing is just adding new features on the website with the existing design. As long as nothing is breaking, it is fine for smooth running.
This is a website which deals with tunnels and infrastructure. The brain behind Tesla, PayPal, boring company and SpaceX businesses are the same, the famous Elon Musk. While he started this company to solve traffic issues of cities, he created this dull website with just the logo of a stark.
You cannot find much on this website. Just the company logo, a photo, and a few YouTube videos. There is nothing else you can find other than some explanatory videos or blogs related to solutions to traffic problems. This information is more than enough for a company which is not expecting an external funding
When a business needs to impress a lot of people to grow then good design is essential. For this case, you don't have to worry about designs and stuff. All you have to do is to create a website with only the required information for the audience. He could have created a lush website to impress people because he is a very popular personality. But there is no need to waste money on such things when you can give quality content to the audience.
The audience who visits this website only comes to know more about solutions to reduce traffic problems. The website offers you a good collection of materials with a detail explanation to the audience questions.
Wisegeek is a very popular website with a simple design. It is a website which deals with answers to common questions. You can check the website for all the popular categories. The design is simple, and you can see the main categories available for you to check from the home page itself.
Click on a category to see popular questions related to that topic and you will get answers to all your questions related to the topic. When you click on the question, you will see answers to those questions and ads related to that topic.
There are a lot of ads you can find on a page which itself help them to earn money. There is no need to design the website well if you can provide useful information. They don't have to spend money on designing when they get enough money from advertising.
There is nothing to do with the beauty of a website if the website provides quality contents. You can take this as an example while creating your own website.
This is another website you need to take a look for the design. The founder of this website is a multi-millionaire, Peter Theil, co-founder of PayPal. You will see a simple design without even a logo in it. The foundation is designed for young people who excel in technology.
They offer fellowships and scholarship for those who excel in their academics. You will see all the programs they offer to young people in the home page itself. When you go further you will some more details about the team and forms with which you can apply.
Such websites don't need to spend money on design. It is very important to save money without spending money on unnecessary things. When it comes to website functionality, it is important that it should be easily usable. If you can provide enough information about your business features and motives it is enough for your audience.
Peter Theil know that his reputation is more than enough than the looks of his website. When you build a website that solves audience problems you don't have to waste time on designing a fancy website. The quality of the website speaks about it than the appearance of a website.
Seth Godin is a thought leader in the industry, and you should see how he designed his website. Most people come to his website to get his insights and not to see the fancy design of his website. That is the success of this blog since it started.
He has not done any significant change to look of the website to please his audience. As he is very popular and writes blogs about popular topics about marketing many people visits his website to get information about the topic, they want.
This website is the best example which shows you the importance of the content of a website than the appearance of it. Design and looks of a website are not the primary factors that help you to get more audience. It is the quality of the contents that you are writing about and how useful it is for your audience.
Provide value upfront and leave everything else to your audience. When the audience gets what they are looking for, the design won't even matter for them.
This is a website created by popular billionaire Warren Buffet. His investment company Berkshire Hathaway is an old-fashioned website without any fancy elements. You cannot find many designs on their home page. There is not even a logo for the company.
All you can find are the categories you can see on the website. The website is just like that from the day it started in 1995. They have only added some new updates to the website. Nothing else matters here than the function of the website. If you run a business that doesn't have to do anything online, no need to spend your money on designing the website.
Google is one of the most important examples you can see with a simple design. They have not spent much on designing the website yet. There is nothing much on the website if you see. But they are constantly earning more revenue every year even though the design is simple. Most internet users depend on this search engine to get the information they want. Users only visit websites to get the information they want not to see the design.
Google has not changed its design since 1998. Even after successful completion of 20 years, they have not changed much on their website. There is no need to add new features and design to impress your audience.
Design won't help you much in impressing your audience, but the content of the website is what matters more. Keep everything simple and focus on giving a better user-experience like Google does to be successful.
You might have seen Reddit website design before. It has a bad design but full of information. They have not invested in creating a beautiful website. Their main aim is to create an informative website for its users. This made the makes of Reddit to decide with a simple website design without many fancy elements.
There are 79 million people who use this website monthly. This huge community makes the website popular not the website design. Mainly Reddit aggregates all social media news, discussion website, etc and encourages people to publish their own contents.
The main aim of this website is to provide better information. There is nothing important than the usability of a website. So, you should also focus on creating a usable website than a beautiful website.
Conclusion:
Now you know some important factors that can affect your website's reputation. Also, about how the quality of content outstands the design of it. You got some popular websites who believe in the quality of contents they provide than creating a fancy website.
Your website will always be in demand if it can give the audience what they want. Create a website focusing on your business goals. Nothing else matters if it can convey your message properly.