If you think that writing and publishing content is enough for content marketing, you are sorely mistaken!
There are various kinds of content published and read online. Adding varieties of content in your content marketing campaign increases its chances of success and gaining more volume of traffic. Adding different kinds of content also surprises the audience and is a perfect way to grab their attention.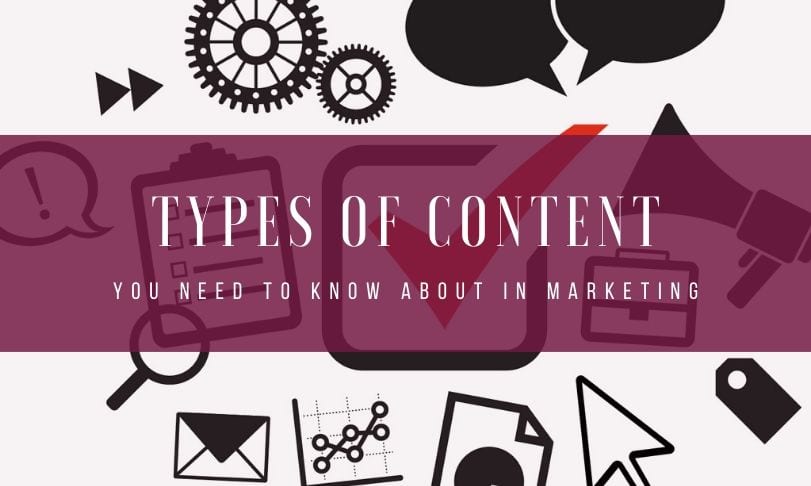 Definitely, you want to win over your competitors and so you must always practice exciting and innovative ways of content marketing that will keep them engaging and involved.
Different Types of Content to Boost Audience Engagement:
To make content marketing easier for you, here we list the various kinds of content marketing ideas that you must implement right away!
1. eBooks:
You can combine your little pieces of works into a comprehensive eBook, which is an excellent way to educate the audience about a specific topic, which is relevant to your niche. EBooks written by you can be offered for free on an initial basis and once you feel that they are turning out to be rewarding, these eBooks can be sold at competitive prices.
EBooks with rich and valuable information lend a reliable way to enhance your relationship with the target audience. Your eBooks must be stored in PDF documents and must be shareable.
2. Blogs:
No matter what brand or business you run, blogs are great performers. They are useful not only for effective SEO, but also to build thought leadership status, build robust networking opportunities, and generate a good number of leads for the business.
Blog posts are useful to boost brand awareness, inform the audience, present industry news and knowledge, offer valuable content, and build a long-term record of offering support to your business.
3. White Papers:
Another great type of content marketing is a white paper, which is effective for brands that intend to showcase their industry expertise. White papers can be offered as free downloads in digital formats and can be published over the net as PDFs for enhanced search engine optimization.
White papers are highly useful to enhance your business reputation as subject matter experts or when you wish to offer a particular opinion in a long format. Just make sure white papers are educational and supported by genuine statistics and evidence.
4. Infographics:
This is one of the most impressive and attention-grabbing formats of visual content that makes your content highly appealing. Infographics can be used to create graphics, facts, data-related content, and present information to your audience at a glance.
You must design Infographics in shareable format and help you gain high-quality backlinks for your website.
5. Podcasts:
Another great type of content marketing is podcasts, which are simple to create and audiences enjoy. Podcasts are the radio of new age. It is possible to listen to podcasts designed by others and you can even design your own podcasts.
The best thing is that they are highly useful to develop a wide audience base for your business. There are various online podcasts creating tools such as Garageband, Audacity, SoundCloud, Libsyn, and more, which can be used to design impressive Podcast content.
6. Video Content:
Video content is one of the most trending forms of content marketing offering more detail in less time. Videos are loved by all and most watched by people to get information of all sorts.
Videos can be created using different tools such as YouTube video editor, PowToons, Animaker, and more. There are various sorts of videos, which can be explored such as testimonial videos, educational videos, entertainment videos, corporate videos, and more.
There is no fixed format to create videos. The only thing you need to remember is that your videos must offer a rich experience to the audience and must be highly engaging.
7. Case Studies:
It feels great when customers get to know that your products or services can solve their problems. The problems solved by you for signed up customers can ultimately be transformed into stories to share with your prospects.
One of the best ways is through case studies, which can convince your prospects about the merit of your products and services. These case studies can be published on your site and include a Call-to-action button to gain more conversions for the business.
8. Testimonials:
It is always a great choice to offer your audience with social proof of the benefits of your offerings. Testimonials are an important form of content marketing, which can help you gain a bulk audience and convert them into customers.
It is easy to place testimonials in any area of your website as video or text content. A large number of website owners even publish testimonials on the home page of their website as well.
9. Success Stories of Customers:
Customers are more likely to make a purchase when they know that other real customers have also experienced similar challenges and benefitted from their service or product. The success stories of your previous and existing customers are a great way to know the way your company performs in the actual world.
You can ask for feedback from your customers and how your offerings have helped them. Check MailChimp to know some good examples of success stories of customers.
10. Presentations:
Designing and publishing presentations on power-point is an excellent way to exhibit the expertise of your business. Such presentations can be uploaded on platforms such as Slideshare and then can be embedded in blog posts. Presentations are great to showcase the offerings and services of your business in a professional manner.
11. Resource Centers:
In order to address particular concerns of your potential customers, it is best to create and use a resource center page on your website.
There is live website software offered website such as Olark, which helps center page holding a clear link from the homepage, showcasing prospects to set up their offerings. Your posts can cover details about product features, company policies, and account management. Such guides are great for SEO as they target specific keywords.
12. FAQs:
You can design an FAQ page on your website, which can be influential in advancing the potential sales volume on your website. With the FAQ page on your website, it is possible to answer questions about your products, industry, services, and more.
Remember, FAQs are not helpful to buyers but can also help your staff save a lot of time by answering routine or regular questions asked by your customers.
13. Guides and Content on Products or Services:
By creating guides for products or your offerings, it is possible to address the particular concerns of your users. It is a great way to grab bulk leads. These guides can feature keywords or phrases with less competition and are also helpful for SEO.
On-site demos and guides show prospects of what can be done and help them to think about using your products. You can set product guides on your site, which is free of salesmanship and jargon.
14. Comparison Sheet:
It is great to make comparisons of your offerings. This is easy for potential buyers and is an excellent way to win over the customer's trust. Also, it makes the decision of buying simpler.
Sometimes, a chart is the finest way to present valuable information about your offerings among your audience. These charts can be used to compare the products among one another or those offered by other companies.
While comparing, make sure you limit features or products and separate distinct entries with clear spacing and contrasting colors.
15. Webinars:
There are various online tools available such as Google Hangouts, Skype, GoToMeeting, and more that can be used to conduct expert webinars for the target audience. Webinars are excellent to educate the audience and gather qualified leads.
16. Memes:
Another form of content marketing is memes, which can be used to add humor to the content marketing campaign. It is very easy and fast to design memes. There are various tools available for free, which can be used to create memes for business.
17. Data Collected from Surveys:
There is a lot of intrinsic value attached to the original data. Such a form of data is a greatly shareable kind of content and can be used to generate multiple high-quality backlinks.
It is possible to publish original data and perform surveys to gain more traction on the site.
18. Content Generated for Users:
This is another form of great content that offers a rich social proof to potential clients. This tool is available for free and can be used to engage followers and customers on different social media platforms.
You can use this form of content to show off customers adorning your products or collecting success stories of customers to share content on the website. Make sure you integrate some user-generate content into the content strategy.
19. Awards:
One best way to keep your audience engaged and involved in your business is creating content for awards. This form of content reminds the audience of your expertise and credibility. You can showcase your achievements and awards and display proof of achievements and trust badges at the bottom of the content or at the end of purchase pages.
20. Images:
Images are the most preferred and frequently used form of visual content. There are chances that a lot of people may overlook text, but it is difficult to overlook images.
Images can communicate the message of your brand to your audience in just a few seconds. It is possible to identify free stock images on various websites such as Photobucket and Flickr. These images are great to be used on blog posts and social media platforms and can help them become more memorable. The only thing you need to remember is to create original images.
21. Screenshots:
You can click screenshots of your offerings and can show the same to your audience how your service or product works. It is possible to incorporate a marketing copy or even a testimonial to your screenshot to gain more credibility.
If you have reviewed or read the industry forum about your product, it is best to take a screenshot and mention the same in your content.
22. GIFs:
It is perfect to share GIFs with your audience for fun. GIFs are a form of light-hearted content, which makes it easy to incorporate GIFs into tweets. It comes with an integrated option that allows you to link a GIF based on the selected phrase.
It is possible to design own GIFs with the help of an online tool using a GIF maker. This tool can help you alter the webcam video into one shareable GIF.
23. 360-Degree Videos:
You can tailor-made every video to a suitable 360-degree format. But this form of video is useful to highlight the brand in an appealing way. You can try this form of content to engage the audience.
The 360-degree format is useful to offer viewers a great virtual experience of what you offer or serve.
24. Contest:
A lot of readers prefer entering contests, particularly if they win a valuable prize. Contests are excellent to encourage user-generated content and enhance brand engagement. You can also ask for an email address from your customers, which can be used for further use.
Contests can be designed for various purposes and ask customers to write reviews and details about your content on a blog or social media.
25. Polls:
Polls are useful to not only collect deep insights about the audience but also offer fast read and is difficult to ignore. Polls are simple to create and are highly engaging. You can customize them and incorporate them into your site.
26. Quizzes:
A lot of users prefer to engage in quizzes. These quizzes can be used to ask customers about their preferred animal or their favorite product or service. Quizzes can help to generate bulk leads and can help them convert into potential customers.
27. Vlog:
You can create high-quality video content to engage a wider audience. It is the simplest type of video to produce and they tend to increase engagement. A vlog can help to hold the attention of wide audiences.
Summing Up:
These are some of the best types of content. These kinds of content marketing are useful for all sorts of businesses and are proven to deliver great results. Just use them to bring immense online success to your business