When it comes to content marketing, blogging is the most popular option.
Most of us think that it is the only available option. But that's not true.
There are many other types of contents that you can use to attract more traffic to your site.
Are you a successful blogger and want to try something new?
Try some different content types that may attract your readers. You can see fresh traffic, better SEO and good responses.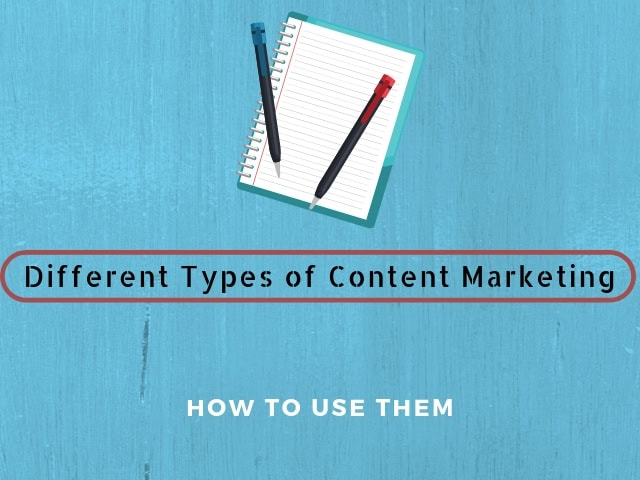 Content is anything that adds value to the reader's life. So, include various type of contents that attract readers.
According to experts, a website can contain the following types of content.
Different Types of Content marketing:
Entertaining Contents:
When creating content on any topic, try to present it in an entertaining way. This will engage viewers and they will easily connect with you.
Most of the contents are trying to teach us something. But a blogger should not forget to connect with your readers emotionally through his content.
Educating Contents:
This type of contents gives the readers more knowledge about known and unknown topics.
So, to connect with them rationally you should include educating topics on your site.
Persuasive Contents:
If you want to create a successful website, you must include contents that will inspire your readers. You should include the success and failure of real-life people.
This helps to attract your readers and they share it on various social media platforms. It makes your site popular.
Marketing Contents:
This type of contents pushes readers to do something. For example, newsletter sign up, free courses, ordering product etc.
Now let's take a look at various content types that helps to drive more traffic.
1. Pictorial Representation:
Infographics are a popular way of expressing information in a pictorial way.
A recent study shows that the human brain has got the ability to store more visual information.
The brain can retain more visuals than written or spoken information. Infographics are more popular than other types of contents.
Readers enjoy infographics and they share it with others. They are much easier to remember and entertaining. Infographics are shared on social media more than written contents.
Creating Infographics is a costly method. So, while doing this be specific on quality.
Nowadays everybody knows to make infographics. Try to represent your idea through visual images and it should be simple and easy to understand.
You can also try gifographic; an animated gif expression of motionless images.
How to do it:
You can hire a graphic designer to help you with it.
Good professional graphic designers can make catchy infographics for you.
There are graphic tools where you can create infographics.
But you should have an artistic talent and technical knowledge about it.
It may be costly to hire a professional graphic designer but will be beneficial to your site.
2. Blogging is More than Sharing Knowledge:
Blogs are the main marketing strategy for most companies. It's is one of the most economical and reliable types of marketing.
Also, it creates a bond between a writer and a reader. If you do this consistently, it is an effective type of marketing.
Post blogs constantly. Try to optimize your content using keywords. Otherwise, nobody can find your blogs.
Optimizing your blogs using keywords helps to improve your website ranking. Present topics in an entertaining manner, so that you can attract many readers.
How to do it:
Choose any of the blogging sites and present your opinions on the most popular topic.
If your post is as strong to change the system, everyone will become a fan of your writing.
Post blogs consistently.
You can create a blog post calendar for consistent posting.
3. Grab the reader's attention using Whitepapers:
Writing white papers takes a lot of effort and time. White papers are contents with solid information where statistics and metrics hold a lot of value.
You can share your findings with others using whitepapers. This helps to bring trust and you can establish your authority.
For that, you have to pick an interesting topic and do research on that. Write it in an engaging way to grab the attention of readers. They must get a solution for that particular problem after reading your content.
Most whitepapers offer an apt solution for many problems. So, this type of content will help to improve your business.
How to do it:
First, find a good topic and do research on that before writing anything.
Try to include professional research data in it.
Present all the numbers and statistics in an attractive way to entertain readers.
If you can use infographics, it will be more beneficial.
4. Make persuasive videos:
People love to watch videos than reading content. A video can be used in content marketing. Be sure to make engaging videos and include them in your blogs.
You can share them on YouTube and other social media platforms. YouTube is one of the popular search engines after Google.
Make entertaining videos that are reliable to content and present it in a valuable way to attract viewers.
Videos also help to understand your product or service well. Most of the internet users recall ads, they watch online. But to achieve a good place in the viewer's mind, make a quality video that attracts viewers.
How to do it:
First, do proper scripting.
Include everything in your script like dialogues, facial expression etc.
A video is not about the picture; make an impact among viewers using strong words.
Upload it on YouTube and other platforms. You will see great results.
5. Lists are always in demand:
Listing is one of the popular content types. Nowadays most of the contents are this type. It gives a good idea about the content. Your list helps a lot of people to know more about the product.
While creating a list, don't forget to add a deep explanation about that topic. It helps the readers to understand more about the topic.
How to do it:
First, pick a popular topic and pick a favorite number.
You can pick any number like an odd number, round number etc.
Give a catchy headline for it.
When you write, give an introduction, list points with visual effect and a good conclusion.
The content should be persuasive.
It should make the readers believe that your list is genuine.
A list should help readers to fulfill their needs. So, don't make a list without proper research.
Long lists work better than short lists.
6. A detailed guide works well:
A guide means detailed content. It is more than a blog. A blog may contain 1000-1500 words. But when it comes to a guide there will be more than 10,000 words.
You need an experienced writer to write a good guide. It has many chapters and a different URL for each chapter. Users don't have to go anywhere else to get more information.
When writing a guide, be careful to create a good one. A good designer can help you with design, layout and other factors.
The language should be simple and easy to understand. Break each chapter into many small sections. It helps readers to find the topic they want easily.
How to do it
To write a good guide you need a writer, a designer, and a topic.
You have to select a topic that your onlookers want to read.
Choose a good writer who can produce quality content.
A designer helps to create an attractive guide.
After making a good guide you can upload it on net as a pdf.
7. Ebook:
Ebook is a different format. It is a long content with every detail.
Writing an engaging ebook is not an easy task. It needs patience, time and talent.
Usually, ebooks are available in pdf format. It is a good marketing strategy to giveaway an ebook as a reward for joining the mailing list.
You can share your knowledge with others with an ebook. One other idea is, you can sell them on websites.
Do proper marketing so that people can buy it. It is a good strategy to be popular and you can make some money too.
Pick an attractive title and design a good outlook for the book. A book without any graphics or details is not at all interesting.
If you cannot write, hire some freelancer who can do that job. You can create both PDF and HDML versions of the book. In HDML version you can add video, audio and more.
How to do it
Create engaging long content.
Try to write at least 10000 words.
Subdivide content into small chapters.
It makes readers easy to find the topic they are looking for.
8. Do a detailed case study:
A detailed case study includes a deep examination of a case. It should produce a genuine result. Not as advertising a product or service.
Try to include real life scenarios to explain in detail. Tell a story in which your product is a minor factor.
A case study is not about who you are or what the product is. It is about how your service or product aided in a person's journey.
How to do it
For a case study, there is a particular format.
First, you have to write an overview, explain the problem, give a solution and analysis.
Don't just give a result that cannot interpret.
Treat it as a blog and include stories and real- life incidents to explain it well.
Explain the solution easy to make it clear.
Discuss your result in detail and provide a good solution.
It helps the readers to use this solution in their life.
This makes them trust you and your results.
9. Try to create link roundup:
Link roundups give you details of various links on the web. You can combine it with the listing.
Creating a link page with the help of SEO optimization takes your page to a high ranking.
You can give an introduction on product list links related to it. It is best to give a small explanation related to each link.
It gives value to your post. Basically, it reveals your opinion and helps others in deciding the quality.
How to do it
A link page contains links related to your topic.
Number the links and give a small explanation about each link.
Express your opinions genuinely.
Finally, give a good conclusion to it.
A link roundup helps your readers to get a second opinion on a topic.
10. Writing reviews really help:
In my opinion, this is one of the easiest types of content marketing you can try out. Writing reviews on other people's content is a great option.
The main advantage is you don't have to spend so much time to do it.
For that closely follow your industry. Write a summary of good contents in your own words. You can do this weekly or monthly as per your availability. Don't pressurize yourself by doing too much.
How to do it
Choose some exciting topic instead of the old usual topic
Make a note on what you think about it
Now you can add the review to your post. Describe the contents and evaluate them from your point of view
Those are some different types of content marketing other than blogging.
Now, Are you thinking about your next step after blogging?
Try any of these content types which you can do well. All of these contents will help you to increase your website ranking. When you do something, give your best. We can't achieve anything without hard work.
You can earn popularity and money through content marketing. If you cannot handle all of them, you can hire freelancers to help you.
Good professionals are out there who can handle them well. Don't compromise on content quality. Create simple, relevant, unique contents and be popular.