An online brand or business can succeed only if it considers various kinds of digital marketing for its marketing campaign. Adding a variety of digital marketing elements to your campaign is overwhelming.
But before you use them, you must have a better understanding of all types of digital marketing. Only then it can help your business or brand win online.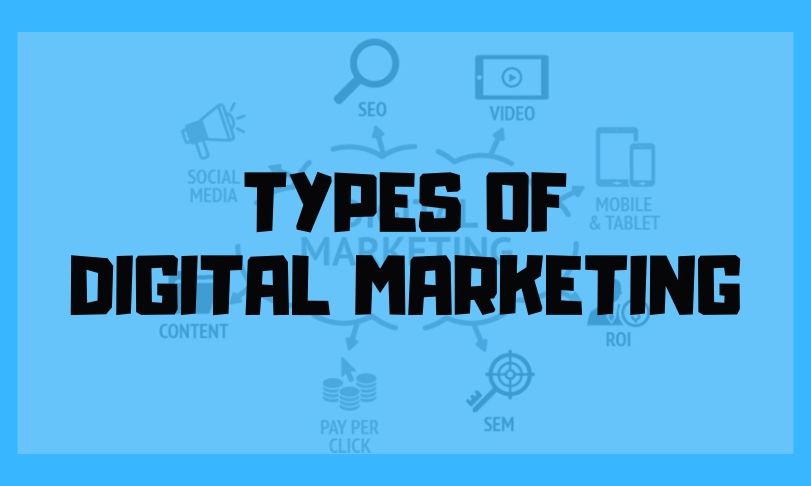 So, check the various kinds of digital marketing that can be promising for your brand and must not be missed at all!
Types of Digital Marketing:
There are various kinds of digital marketing techniques, which you can include in your online marketing strategy to optimize efforts.
1. SEO or Search Engine Optimization:
It is an important and most common form of digital marketing that ensures your content and webpages rank high on relevant searches.
It is a form of organic advertising, implying you don't have to compete for the position. Rather, you can optimize the articles, pages, and websites using different techniques to make sure your website ranks top when those keywords or phrases are searched.
For instance, if you are selling clothes online, you would want to rank for searches like best bottom wears, best jackets, and more. In addition to this, you may run a blog that talks about particular clothes, which can be used for various occasions. For this, you need to make sure that your content includes words and phrases for which you want to rank.
Also, you can add these keywords into images so that they too can rank high on search engines.
However, placing keywords forcefully just for the sake of high ranking will not offer you adequate results. Using keywords naturally can help search engines pick your content and would make it easy for your post to interact with the business.
2. Social Media Marketing:
SMM or Social Media Marketing is the procedure of working on marketing through different social media platforms. There are various social platforms available i.e., Twitter, Facebook, Instagram, and more that are highly promising for your ever-growing business. Investing in social media is a great chance to boost your following and extend your reach to a pool of customers.
There is a social network for each business type. For example, if you specialize in B2B marketing, LinkedIn is a great social platform for you. Similarly, if your business involves visual elements, Instagram is an ideal platform. So, based on your business, you can select one or more social media platforms to market your business.
Marketing on social platforms involves using targeted ads and campaigns. The aim is to expand the number of your followers with an intention to gain more business through such platforms. Websites such as Facebook gather data about your interests and likes and other personal factors such as location, age, and more.
All information stored on Facebook is available to business users to design targeted ads and appear on the demographic news feed. Such ads are great to promote products, services, or encourage users to like the page and keeping them updated with your content.
3. PPC or Pay-per-Click Advertising:
Commonly known as PPC, it is a kind of advertising on various search engines such as Bing and Google. It is a form of advertising to rank top in search engine results through paid measures. PPC charges your account with monetary benefits when your advertisements are clicked.
The CPC or cost of each ad depends on the overall quality score of your website and the competition for selected keywords. However, it can bring only short-term benefits to your business and is used by most of the businesses to shift seasonal deals or products and boost revenue.
Google offers various ad platforms, and hence, it can be challenging to rank your ad for a specific keyword. SEO work is about earning ranks but the PPC ranking can bring you on the first page.
You need to bid on selected search terms or keywords in order to get through these 4 ad spaces offered by Google. There are various tools you can use such as Google AdWords to find keywords for which your website can perform well depending on the CPC and competition.
When you bid on keywords, your ads can appear in the relevant search results and will let you earn money when your users click on the ad.
4. Email Marketing:
Presently, email is the most efficient and proven form of communication used for communicating with your audience and customers. An excellent way to practice email marketing is through newsletters. For this, you must have an attractive and clear sign-up form for the newsletter on your site, which your visitors can fill. This way, you get access to all their details and streamline the process of email marketing to inform them about your services, products, and special deals.
Email marketing offers a host of intuitive features like sending personalized messages, stipulating messages that are of interest to your audience, and more. Such features streamline the communication process and ensure it is a perfect fit for your customer's needs. Almost every individual has an email ID today, so this kind of marketing is full of high potentials.
5. Content for Public Relations:
Public Relations or PR is an excellent digital marketing technique for small brands and businesses who wish to build a strong reputation for themselves. When such businesses are endorsed by a reputed source, it can power a great growth.
One of the best ways to boost PR strength is to ask individuals who convert it to offer your business a review on platforms such as Facebook. Also, you can offer them value in exchange for review like a free sample.
However, it is critical to remember that you cannot directly ask them for a particular rating. Just ask them to give an honest review to get the bonus.
6. Influencer Marketing:
Another great way to boost your audience is to partner with someone who already has a huge fan following. It is an efficient form of marketing where brands can sponsor sports stars, celebrities, and famous personalities belonging to different fields or their industry.
When a famous person endorses your brand on the internet, it creates a pathway between you and your audience and encourages your audience to investigate more about your service or product.
Influencer marketing is of great benefit to smaller brands and it is not essential that your influencer has millions of followers to promote your products. Even if your influencer has a decent fan following of loyal customers, it can be of great value to your business.
Such influencers can help build a personal relationship between the influencers and their fan base and can offer you increased click-through rates.
7. Video Marketing:
One of the most promising forms of online marketing is video marketing, which combines words with images into an intuitive package. Videos are of great benefit as they can grab the attention of online users in a few seconds. It is a powerful form of digital marketing and video content can be posted on your social media accounts and websites or by advertising videos on sharing websites like YouTube.
A large number of people share mobile videos with other people, which offers them a great opportunity to extend your brand reach to new prospective customers. When video content is published on various websites, make sure it is captioned in a way, which makes people want to watch the videos.
8. Brand Journalism:
The modern consumers are highly conscious of being advertised to. Cheesy grins and catchy phrases no longer function properly as the used to work in the past. It is important for online marketers to search for ways to convince clients to buy their services and products.
One of the promising ways to convince buyers is brand journalism. It is a highly popular form of marketing that involves creating content, which is interesting to your audience. In this form of marketing, your content is supplemented with less aggressive calls.
It is a great process creating mutual transactions between parties and offer consumers with interesting content, while the brand or business is promoted at the same time. Usually, it covers content that targets your brand or business's audience and covers their interests.
9. Mobile Marketing:
There is a prolific use of mobile devices for almost 45% of shopping interactions. You can take benefit of this practice for your business by creating marketing campaigns specifically for mobile users ensuring excellent experience, which encourages them to take desired actions.
One great tool to create marketing campaigns specifically for mobile users is Google AdWords, which perform potentially better than other general campaigns. Also, mobile apps are highly popular among mobile users and if you offer your customers an intuitive app experience, it can drive additional sales. Just make sure your app is simply structured and makes it easy for your customers to search for relevant products and services.
10. Affiliate Marketing:
This is another efficient form of digital marketing where affiliate marketers can sell the products and services of other people to their audience. When somebody buys anything from you through the affiliate's website, you have to pay the affiliate for the reference. It is a mutually binding agreement where you can secure a sale and earn money.
When you work with an affiliate, you can expand your reach on a substantial basis. Affiliates can bring large audiences to you and can make your marketing efforts appear more organic.
11. Live Chat:
With the Live Chat functionality, you can talk directly with your users in real-time. It is a great way to address the various concerns of the users. This form of marketing ensures a purchase can take place.
Live Chat can bring you to benefit if you respond to requests on an immediate basis. Based on the resources, it is possible to design a live chatbot that works great and tries to answer queries efficiently. If the chatbots are not efficient it can lead to a frustrating experience to customers.
Alternatively, you can create a platform for live chat, which connects real humans to your users. But make sure your live chat platform is always attended by your experts so that all queries can be answered on an immediate basis.
12. FAQs or Frequently Asked Questions:
People wish to access simple and quick answers to their searches. FAQs are great to answer the queries and get people onto your website. This tells people about how well people want your product to get them along the path. If your business can answer all their queries they will trust you for your requirements.
One best way is to use PPC and SEO in conjunction with FAQs to make sure that FAQs feature adequate searches.
13. Native Advertising:
Native advertising is a form of marketing involving advertisements, which are placed organically within websites and articles. It directly pulls the customers on the content of your webpage.
Customers will love to see your advertisements when you are presenting good stuff to them. Avoid showcasing pop-up advertisements as they have become less acceptable online.
14. Instant Messaging:
Instant messaging apps like Facebook Messenger and WhatsApp are highly popular. Even WhatsApp is developing a platform to test product known as WhatsApp Enterprise.
This service allows businesses to communicate details like new products and special deals directly to their clients. It is used to send direct messages like newsletter to the customers. In order to boost your reputation on such platforms, you can make quick responses.
15. Virtual Reality or Augmented Marketing:
VR and AR are the latest advancements in digital marketing. They are highly powerful and offer the ability to intrinsically immerse with the media you are consuming. Using this technology, you can show your customers the best way to use your products or services.
It is quite expensive to use these technologies, and hence, they are ideally used by big brands. However, with further advancements even small businesses can employ them within a budget.
Wrapping Up:
In addition to the above-mentioned forms of digital marketing, you can practice content marketing, radio advertising, television advertising, and other forms of marketing to exhibit your service precisely and target the right customers. By inculcating these marketing techniques in your digital marketing campaigns, you can definitely devise a winning strategy that can help you achieve all your business goals.