Content marketing is a constantly changing industry. Bloggers and marketers are the ones who would know the real importance of content marketing. They provide quality and useful posts to their audience through their blog and this helps them gain a good amount of traffic.
There are also many people who depend on blogs to get answers to their queries. The search engine is also working on providing a better result to their users. So, it is very important to stay at the top of the trend to be popular online. Marketers are trying new ways to attract their audience attention and build trust.
Just like different types of content, there are also some types of blogs. If you are not familiar with popular types of blogs, this article will help you.
Know more about the types of blog and publish a variety of contents so that your audience will start to follow your blog or website. Without their support, it is very hard to be successful online. Check out some most popular types of blogs for your website.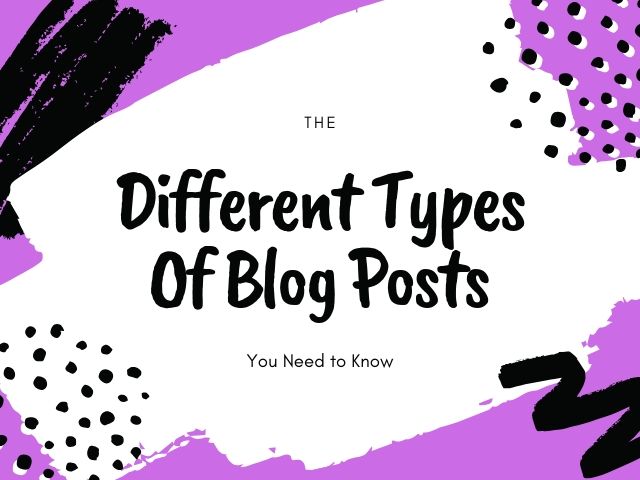 Types Of Blog Posts You Can Write About:
1. Guides and tutorials:
Guides and tutorial have great demand online. You can help your audience to find answers to their question through Guides or tutorials. 'How to' guides tutorials are very popular nowadays and many people exclusively search for such blogs to get an answer to their question. You can make it very simple with important points and give your audience a better idea about the topic you are handling.  To establish your name and thought leadership 'how to' posts will surely help you. Once people find your blogs interesting, they will follow it without any doubt.
2. News blogs:
Many people nowadays don't even have time to read the news on paper. They depend on their mobile devices to know the latest news and trends. You can try creating a blog that publishes all the latest news around you. Or else you can post industry-specific news and updates. People will come to your website to know all updates in your niche once they find it interesting. The only thing about such blogs is that you always should know what is happening around you or in the industry.
3. Listicles:
The audience will always accept blogs that can make their research easy. Listicles plays a very important job when it comes to providing a list of results. If you are searching for top 10 tourist places, you will get a lot of website with many options. It can help the audience to shortlist the best destinations. The individual search takes a lot of time. To avoid this, you can search for listicles with a brief explanation about each point. You should also know this fact that listicles are known as one of the most shared types of contents on the internet as of now.
4. Checklists:
Checklists will help the audience to get every important information in brief. Some people don't even want to waste their time reading the whole blog, they want some shortcut to what they are looking for. This is where checklists can help them. Checklists are those type of content which provides a list of important points regarding topics. You will make at least one list a day. To make a perfect checklist you can break down the complex article to simple important points and list it. This can be helpful for your audience and will get more popularity online too.
5. Controversial topics:
Controversial topics are very popular online. People always want to read something controversial. If you are writing niche-specific blog writing controversial topic can be very helpful in getting attention from the audience. Controversial topics are always interesting, and anyone can be successful by trying that niche.
6. Infographics:
This is a kind of blog post that can help to visualize any complex information simply. Images are very powerful, and they can help the audience to remember any complex concept. To know more about infographics, you can check your competitors' site. With your blog, you can add an infographic which covers all your important points. So, we can say that infographics are a very powerful part which you can use on your website to make your contents more shareable and popular online.
7. Case studies:
Case studies represent a huge article with more genuine facts about a particular topic. To get case studies, you have work on real-life scenarios and write a whole story about your research. It is a time-consuming process, and anyone can be popular by writing case studies. When you write real-life scenarios it can ensure more reach and followers. It can also help to improve business, create credibility and better social proof for your website.
8. Interviews:
Interviews are very useful to make your website popular. If you can publish interviews of experts in your niche it can be very useful. You can publish videos or even write-ups about popular topics, interviews with someone who is very popular in that area. It can help you to create a special interest in your readers and they will start to follow you to know more interesting facts. You can include anyone who can be influential in the video and publish it within your website.
9. Profiles of industry experts:
You can write a good profile of people who are rising in your niche or industry. It can help to give popularity to that person and for you at the same time.  You can include biographical information of that person and links to their profiles. By this, you are giving an easy way to identify them online and at the same time your contents will also get popular online
10. Expert Advises:
We can also call it thought leadership. It is not easy to give advice to people if you don't have enough experience in the industry. Expert advises are in demand and if it is someone who achieved something great, the response of such a blog will increase automatically. When you discuss a topic, you can consolidate all the advises and make it in a single article. We can say this type as a combination of listicles and interviews. To be popular online, it is one of the interesting ways you can try on your website.
11. Reviews:
Reviews are a very popular type of content online. Many people first search for reviews before they buy a product. So, you can try to review the products in your niche. It should be genuine and the people who use your product should feel the same.  You can include the pros and cons of products with its features. Also, give the number of stars or point based on its performance.
12. Mp3:
If you are not a camera person, podcast shows will help you a lot. There are sources where the audience can listen to Mp3s. By doing this you are helping them out with your voice. Sometimes it is easy to explain a concept than writing it down. You can add a link to your podcast within your blogs to let the audience know about it. They will visit your page and listen to your shows if they are interested. Podcasts shows are a very popular type of blog that one can try to get more audience.
13. Podcast show notes:
Podcast shows are great to grow as a thought leader. You can also do shows based on popular personalities in your niche. With podcast show, you can also release podcast notes with important points. Highlight all the main points you discussed in podcast show so that the reader will get a different experience by reading the full show and hearing it at the same time. Full transcript of the show or highlighting the main themes will work equally. But by doing this, you are giving additional information to your audience.
14. Comparisons:
Comparisons have a great future. You might think that how can we use this as a content type. Actually, it is possible for anyone to try. The audience would love to know the difference between two things, and they want the comparison part also. If you can provide comparisons in an article, it will be easy for them to distinguish two things. It is kind of a review in more detail. When you compare two products it will be easy for anyone who read to find out the best one among those two.
15. Vlogging:
Vlogging is very popular and many people do it on YouTube nowadays. Videos are more powerful than written articles. People can see you and understand the concept you are saying with the help of simple graphics or images. The human brain can easily remember visual contents than written contents. If you are confident in front of the camera, video contents are a very good option. Include good visualization and make your video HD quality so that you can easily attract more audience towards your videos
16. Resources:
Everyone wants to know the best way to do something complicated in an easy manner. Resources can help your audience to do whatever they want simply. You can give a better solution to your niche-specific problems.  This is different from How to type of articles. Here you are providing eBooks, websites or even toolset to do something. More than explaining about everything you are recommending them to your audience which is a great thing to do. There are many examples where resources pages changed into Call to action pages.
17. Problem-solving:
You might have read many articles which primarily concentrate on solving a complex problem. Here you can give a solution for questions which your audience search more about your niche. This can be very useful for people who are searching for better answers. There are many articles which answer questions. Being niche-specific is the best option you can do and also if you want, you can do better research to know what your audience wants. There is a better way to know what they want, you can tell them to ask questions in the comment section of an article. When they comment their question create an article with a solution to that particular question.
18. Inspirational stories:
Everyone loves to read the story of a successful person. Inspirational stories mainly deal with that kind of stories. You can give the breakthrough point of your life and how you became successful in what you do. This story can be an inspiration to many people who want to be like you. If you think your story can influence others, then no need to think twice. Start to write stories that can help others to reach a position that you reached. You can also get famous by writing interesting inspirational stories.
19. Quizzes and surveys:
Quizzes and surveys are also good to try. If you want to make interacting posts, try this type of content. You can search for popular topics in your niche and prepare a quiz based on it. The audience can use these quizzes to know their knowledge on that topic. There are mock exams and quizzes on popular topics and those who want to try them will click on your webpage. So, try this type of blogs to get more followers and incoming traffic. It can also help you get links which are very important for your website ranking.
Conclusion:
It is very hard to beat the competition that exists online. You can only do this by creating better blog posts with quality content. Whatever blog type you are trying to do make sure to excel in that type.
Search engine likes to provide various content to its audience. You can give a variety of good contents so that it will be easy for you to stand out. What are the different blog types you tried to publish online? Share your experience with us so that people who want to try something new will get the inspiration from you.