Twitter plays a major role when social media marketing is discussed. When a project for social media marketing approach is made, twitter is the first social media site that comes to mind. It is mandatory to dedicate time to research about the competitors and audiences behavior. It is mandatory to monitor twitter analytics.
Twitter analytics are mentioned to be the insights about the conditions of marketing messages. The user can obtain and access information about the statistics, insights into social media marketing and its performance.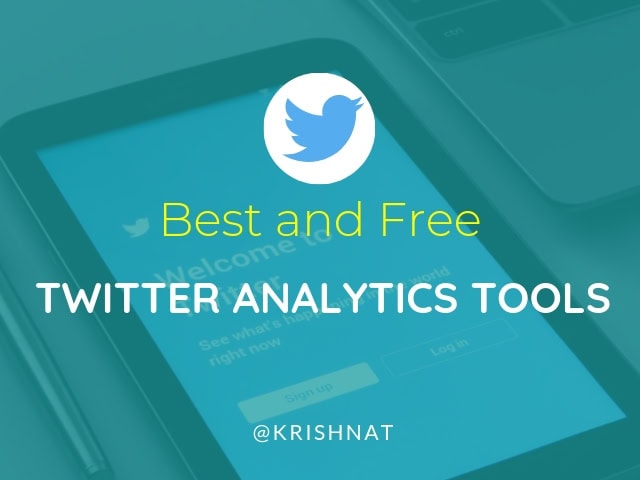 Benefits of Twitter Analytics Tools:
With the help of social analytics tool, the user can analyze the account or even the competitor's Twitter account. They can also get to know the key area which shows the followers count. The main benefit of Twitter analytics tool is that the user can get to know their audience and plan to engage them. Demographics are released with a Twitter analytics tool.
With this tool, it is easy to find out languages, gender, top interests, locations, and follower details. With such details the user can decide and frame the type of content to be released and when to share on Twitter. Time zones are another benefit which lets the user post when followers are online. By this way, you can research all data and can develop more interesting content which leads to more traffic, enhance engagement, and lure in more followers.
Mentioned below are a few free and easy to use Twitter analytics tool which assists you to track twitter profile in an effective manner.
Free Twitter Analytics Tools to Improve Marketing:
Released as a free analytics tool from the Twitter company itself, this is considered a simple and perfect tool which performs the following.
Audiences:
Gets a collective summary of followers and their growth. This result can be used to compare with other Twitter users in order to get an idea about their interest, demographics, buying behavior and income.
Tweets:
This tool helps in engagement, tracking impressions, the engagement rate obtained for each tweet and top performed tweets. Also, the user can check out replies, likes in tweets, link clicks and retweets.
More:
By making use of this tool tracking code can be added to the website and conversation from Twitter can be tracked. Mobile apps can also be promoted and conversation tracked.
Events:
Recurring trends, as well as events, can be browsed on twitter. This section is mandatory as it provides you an idea about events, holidays, sports and the category of audience these events reach. The user would also get an idea about the hot trends in each country so that appropriate hashtags can be used.
In order to visualize and analyze twitter network, an awesome tool called tweetsmap can be utilized. as it bears in its name, it shows the followers who are distributed all over. Data for a specific province or state can also be viewed. There are many other analytical options with tweetsmap, such as finding out inactive people being followed and who have not retweeted for about six months. Tweetmap has few features which are powerful such as
Mapping:
This is to map followers worldwide, to a city level. Influencers and followers per location can be discovered for easy campaigning.
Intelligent publishing:
Publishing is made straight forward specific to the followers' interest, at best time and more.
Analyze influencers and competitors:
This tool assists in the comprehensive analysis of accounts even your competitors.
Best time to tweet:
This is an important feature in tweetsmap as it shows the best time to be tweeted when the followers are online and also on amplification potential for tweets.
Tweets to be sent automatically:
This feature helps to send tweets on a specific day, the number of tweets at fixed frequencies. Tweets can also be edited.
Growth and decline:
The decline and growth by region can be known. It could be monthly, weekly, or customized too.
Another interesting platform is the audiense which assists in analyzing and visualizing the network in a number of ways. Apart from analysis, audiense assists in the growth of the network and make your schedule for Hootsuite with the platform. Few important features of audiense are, it finds out influencers, explores the community of Twitter, aims at the audience, fixes the best time to tweet, identifies and follows targeted twitter followers.
This twitter analytical tool is exceptional as it has the capacity to tap into Instagram data. A Keyhole is a tool with which one can track influencers, hashtags, enhanced impact data and more.
Another power packed twitter analytics platform is the twitonomy which is a free service and a robust one. It has many varied methods of analysis. This tool shows many kinds of statistics such as the number of likes shared, hashtags which are mostly used, most favorited tweets, most retweeted posts, tweets per day and many more.
6. Twenty feet is now SumAll:
Another powerful analytical platform is twenty feet which graph and tracks statistics such as followers twitters mentions, retweets and lot more. The best part of twenty feet is that it associates with other services such as bit.ly, Facebook, YouTube, Google analytics and more. This is a free tool with which you can track facebook and twitter.
7. Twitter counter – Ceased operations:
In order to track and visualize the growth of your own followers, twitter counter can be utilized. This tool can also be utilized to compare growth with the growth of other users. The growth is presented in the form of a graph which is easy to understand and simple too.
Depending upon the username or keyword tweets are viewed which is made possible with the help of visible tweets. This is actually a screen saver which features your tweets. For many businesses, visible tweets can be considered as a great tool as twitter messages are displayed in public. By this way, it points out ones who are active and offers a chance for customers to interact.
Tweetstats, as the name mentioned, presents the statistics for twitter. This twitter analytic tool assists you in finding the number of tweets sent per hour, per day or per month. Also, the user is provided with data to find out their tweet, other people's tweet about you, and your tweets status. The user just needs to enter their Twitter user name and password into this tool and all data are presented in a clear graph.
10. Twistori – Ceased operations:
This tool is used to view scrolling stream of tweets which contains emotive words such as I believe, I hate, I love, I think, I wish and more. The list moves a bit quicker and this is a beneficial tool.
One another free tool which helps in getting a view about twitter account is social bearing. With social bearing, one can obtain geolocated tweets for hashtags/keywords, twitter analytics for the account, and also sentimental analysis. With social bearing, the account holder can
Check sentimental analysis, home feed, retweets, mentions as well as hashtag clouds for tweets.
Users are assisted in tracking hashtags, keywords, website and public Twitter profile and obtain a comprehensive analysis.
Followers can be viewed, filtered, sorted by TUQI tweets, lists, rating, followers along with follower's summary.
Keywords and hashtags geolocated tweets can be obtained.
To say in a simple social bearing is a tool which lets you know the reaction of the audience for competitors tweets, for your tweets, to monitor hashtags, keywords, followers and also obtains a geographic investigation of keywords.
Once read, users can identify the aim of the tool. The tool is used to fetch the exposure, estimated reach, top contributors, activity, most retweeted tweets for any account or hashtags. With the help of this tool, users can gain a clear idea about the competitors in the same space and keep an eye on the most retweeted tweets. With this, you can create your tweets based on the exploration.
This tool makes use of social rank with which followers and the following can be tracked. Filters can be applied by location, hashtags, activity, followers, keywords, company and more. Sorting can also be based on most engaged, most valuable and download lists.
Tweriod is a Twitter analytics tool which analyzes the perfect time to post a tweet. Though scheduling a tweet cannot be accomplished, it requests you to move tweets to buffer. With tweroid followers and tweets are scanned so that the most optimal time for posting in a day. Hourly and daily optimal time graphs can be obtained by this tool.
A Social alert is a beneficial twitter analytical tool which investigates trending hashtag campaigns, keywords, and influencer mentions at a time. For every search term, a quick review is provided by this tool. It offers you sentiment, count for the day, major influencers, main active users, country wise distribution, and URL shared keywords. They provide user-friendly graphic reports, analysis of over 300 tweets per day, for each hashtag or keyword a real-time stream is created.
Also mentioned as twtrland, klear is one which offers a number of free tools for finding and listening to social media influencers. The main intention of the tool is to analyze the influencers twitter account. Their social media profiles are identified so that their total reach can be identified. With this tool audience demographics is determined, the engagement level for every social media profile is found out, also provides the website links most used they used.
17. Twitaholic acquired by Twitter Counter:
The most influential users on Twitter can be identified with this tool and also a deep insight can be obtained. This tool is completely free and users need not have to sign up for the same. This tool helps in finding out if any users have won followers. With this tool, the major Twitter users can be identified. The analysis of Instagram and Facebook following is investigated and complete influencer score is mentioned.
18. Klout is now kaput:
The influence and creditability of any twitter account can be checked with Klout tool. For every profile, a score out of hundred is provided by Klout. The score is said to be active, more credible and influencing if it has a higher score. Klout has been identified as the most credible and influential score as many famed brands make use of Klout score to find out influencers.
Though Kred is a newcomer, its main aim is to provide points to the user who communicates with the content. The more influential the association the more the users are rewarded with points.
Another complete twitter analytical tool is Manage flitter which permits you to collect insights and manage followers. Posts can be scheduled and trending contents can be posted. This tool assists the user to de-clutter the follower list in an easy way and develops interesting content.
In order to stay at the peak of the twitter conversation commun.it tool is utilized. This is done without using much of Twitter. The tool works in a unique way. It collects the complete users and parts them into two as supporters and influencers. Tweets from main followers who have been missed can be viewed.
Tweepi is an important way to know about the followers, hunt their interest and know about their personal information. With this tool, new users are tracked based on keyword. With this tool, users can find out ones who followed or unfollowed. Other user's followers can be copied and followed. Within the tool, lists can be developed.
Followerwonk is a beneficial tool which assists you in investigating about a twitter account. This tool assists in broadening the audience and also finds out trending topics. By making use of Followerwonk the user can hunt through bios and filter based on location and makes a simple way to find potential competitors.
These are few easy and free tools which are suggested for users who are to start their new business or for ones who are to initiate their online business. It is important to understand every tool either if you're using it for free or cost. Depending on the user's requirement twitter analytics tools can be used and later upgraded if required.