Many content creators or YouTubers who are just starting out face similar changes. It can be the challenge of getting traffic to their channels, knowing the profitable keywords to use as part of their SEO campaign, struggling to obtain more views and subscribers to their channel, and many more issues that do crop up. You are not alone. These are similar challenges that others have faced, and they found a way around them.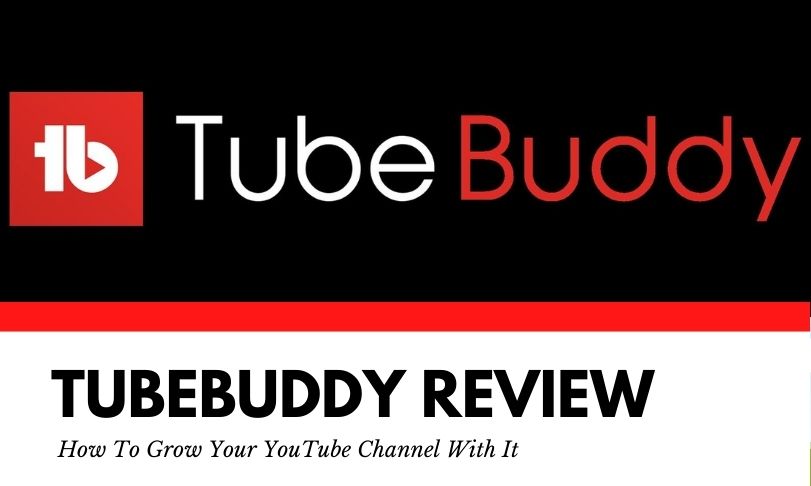 In this comprehensive review, we will be offering you one of the best YouTube helping tools to help you grow your channel in a very short time. This tool can be rightly termed one of the most trusted and reliable software used by YouTubers to take their channels to enviable heights. So, it doesn't matter whether you're a veteran in YouTubing or just a newbie; with TubeBuddy, your success in content marketing via YouTube is assured.
One of the most key features of TubeBuddy is that it is a browser extension that allows you to manage and optimize your channel within the YouTube interface.
So, let's get on with the review proper of this must-have tool for YouTube.
What Is TubeBuddy?
TubeBuddy is a free browser extension and channel management tool dedicated to YouTube. With this tool, you're able to achieve a comprehensive audit and management of your YouTube channel, even for YouTubers who started their channel from scratch. And what's a fun fact about this tool? It is used by over 1 million YouTubers who want to improve and grow their channels. So, there's no need to get worried if this tool does what it is designed for because it surely does.
What are the supporting browsers for TubeBuddy? TubeBuddy will work on Chrome browser, Firefox browser, Safari browser, Microsoft Edge, and on the iPhone and Android platform.
Key Features of TubeBuddy:
Let's not kid ourselves; TubeBuddy presents many key features and benefits that taking our time to list all of these benefits can be time-consuming. Yes, this tool is awesome. However, let's start by noting the key features of TubeBuddy that is sure to wow newcomers and make them choose this tool over any other in the market.
1. Competitor Keyword Finder:
This feature allows you a glimpse into the keywords used by your competitors.
2. COPPA Center:
YouTube recently keyed into the Children's Online Privacy Protection Act that changes the way it approaches kids' content on the platform. So, these changes affected every creator. This has made the kids' content channel come under a lot of restrictions. So, if you do not specify what age bracket your videos fall under, you would have to face the penalties brought on by YouTube. This is where TubeBuddy comes in – it helps you to evaluate your content and determine if they are suitable for kids or not. That way, you are protected from going against the guidelines by YouTube, saving yourself unnecessary hassles.
3. Keyword Explorer:
A lot of creators consider this feature one of the best on TubeBuddy. It helps you find keywords with high search volume and also the ones with low competition.
4. SEO Studio:
You will come to find that it is a bit challenging ranking high on YouTube's organic search engine. Heck, there are billions of contents on YouTube. However, SEO Studio allows you to perform a comprehensive SEO audit of your channel, including titles, descriptions, meta tags, among others.
5. Rank Tracking:
Here, you're able to analyze and track your SEO campaign efforts. This feature helps you to know where you stand in regards to specific keywords compared to your competitors.
6. Video A/B Testing:
A/B Testing, also known as split testing, is the process of displaying two different versions of the same web page to different website visitors simultaneously and comparing which of the versions drives more traffic and conversions to your website. TubeBuddy will help you find the best version of your channel that brings in the much-required clicks and subscriptions. Therefore, when you are aware of what draws traffic to your channel, you would be able to secure more subscribers and viewers.
7. Bulk Processing:
Bulk Processing allows you to find and replace, append or remove video titles and descriptions and end screen templates across the whole of your channel within few minutes.
8. Tag List:
It can be tiring storing the same keywords in a note application and having to miss them while uploading content. TubeBuddy's Tag List feature allows you to manage and save your keywords within a marked list.
9. End Screen Template:
Continuous addition of end screens to all of your videos can also be tiring. TubeBuddy allows you to create a template and then add all of your videos to this template in a snap.
10. Publish to Facebook:
Using TubeBuddy, you can directly upload your YouTube videos to Facebook. In other words, TubeBuddy allows seamless integration of popular social networks.
11. Arrange Content:
You can arrange your video playlists according to the number of engagements each video has. When you do this, the most popular videos will stay at the apex of your playlist, increasing more views for such content.
12. Privacy Change:
You can change the security settings for your videos, opting for either "Private" or "Unlisted."
13. Custom Thumbnail:
You can never underestimate the power of a great thumbnail to draw in more clicks for your videos. So, instead of using other apps to design your thumbnails, you can use that TubeBuddy's in-built thumbnail templates to build attractive thumbnails for your video content.
14. Video Topic Planner:
There comes a time when you are stuck on ideas for your videos. TubeBuddy can help you move past this challenge by giving you suggestions for your next video content using your existing videos as a guide.
15. Card Templates:
Just as you did with the end screen template, the card templates allow you to handle cards on your videos smoothly.
16. Custom-made responses:
To drive more interactions and engagements with visitors on your channel, you will need to respond to their comments. TubeBuddy gives you the leverage to respond to every comment on your channel using canned responses with preinstalled templates.
17. Demonetization Check:
This feature will analyze and bring out for you all the demonetization words on the title, description, and tags found on your channel. The result is an improved revenue source.
18. Translation Services:
It can be expensive securing the services of a voice-over artist or paying language experts to help you translate your video titles and their descriptions into several languages. TubeBuddy does an excellent job of translating content on your channel.
19. Video Analytics:
With TubeBuddy, you're able to obtain key analytics of every type of video content that you seek, more especially that of your competitors.
20. Backup Services:
To keep all of your content safe, TubeBuddy will collate your channel's metadata and create a CSV file for them.
21. Social Media Shares:
You can keep your Twitter followers updated with your content by sharing your videos directly on Twitter.
How to Install TubeBuddy?
It is very easy installing the TubeBuddy extension to your device's browser. The good thing is that the entire process would not last more than five minutes.
Firstly, visit the TubeBuddy website. Once you are there, click on the "INSTALL FREE NOW" button. You would be redirected to a Google Chrome Extension page. Click on the "ADD TO CHROME" button. That is all you need to do to have the TubeBuddy Chrome extension added to your Chrome browser. The extension icon can be found on the top right-hand side of your Chrome browser.
Reviewing Some Critical Features of TubeBuddy:
Let's take you through some key features of TubeBuddy that you would appreciate. Here we try to explain in detail the topnotch features and how you can utilize them to grow your YouTube channel.
1. Keyword Explorer:
Keywords are one of the ranking factors that YouTube uses to decide where you stand in terms of rankings. When done right, keywords would allow you to gain more organic views to your channel. With TubeBuddy, you're able to obtain both high search volume and low competition keywords. When you select these rich keywords, you can expect to drive exponential growth of your channel in a short amount of time.
To obtain these rich keywords, go to the "Keyword Explorer" option, launch your channel, and then click on the TubeBuddy icon. Choose the "Launch Keyword Explorer" option, and a dialogue box would appear. Type your targeted keyword into the box and proceed to explore.
Next would be the display of detailed information concerning your keyword of choice. Herein, you would be displayed information such as Overall Score, Score Analysis, Related, Most Used Tags, and much other information that pops up.
TubeBuddy will rate your keywords as poor, fair, average, or excellent. It also provides related keywords that you can try out.
2. Competitor Keyword's Finder:
It is always recommended that you keep track of the activities of your key competitors. It is a good step towards learning what works for them and applying them to your channel. With TubeBuddy, you can have accurate details of keywords that your competitors are using.
To do this, visit your competitor's channel and play any video content. TubeBuddy will bring up detailed information about that particular video, including the keywords used, the number of social media shares, analytics, and a brief bio about the channel.
In the 'TAGS' section located at the bottom of the TubeBuddy analytics page, you would find the keywords utilized by your competitors. In this way, you're able to gain more insights into the keywords used on any video content.
3. Custom Thumbnail:
When you are just starting out as a newbie content creator on YouTube, you will need viewers to click through your videos to gain a steady inflow of subscribers and views. An eye-catching thumbnail is one of the ways to get those much-needed click-throughs by viewers. So, capturing the essence of your video content through an attractive thumbnail is very important. TubeBuddy's Thumbnail Generator helps you create impressive thumbnails for your video content. So, there is no need for employing third party apps for your custom thumbnails.
4. Video A/B Testing:
It's actually great when you test templates to see what works best for your channel, and this is what TubeBuddy does for you. It helps you try all of your titles, descriptions, tags, and even thumbnails to verify the best template to go with for your channel. This feature will enable you to decide what type of styles for your title, description, or thumbnail is bringing more user engagement.
5. Social Media Publishing:
Social media is one of the best ways to get traffic to your channel. TubeBuddy enables you to publish directly to Facebook and Twitter. So, using social media marketing, you can build up your channel to enviable heights.
6. Custom Response:
Engaging with your channel visitors is one of the fastest ways to build rapport and a loyal subscriber and viewership base for your channel. It is necessary to that respond to comments on your content. Most importantly, it should not just be monotonous responses, but personalized replies that would make your audiences feel valued. Again, YouTube tracks how often you engage with your audience and uses this factor as part of their SEO ranking criteria. TubeBuddy provides custom-made comment templates to help you respond to as many comments as dropped by users.
TubeBuddy Pricing:
TubeBuddy has both paid and free versions. Some of the features we listed can be used in the free mode, while others require that you subscribe to the premium plan. TubeBuddy has three different premium plans, each offering unique features.
There is the Pro Plan, which costs $9 per month; Star Plan costs $19 per month, and the Legend plan costs $49 per month.
The Pro Plan suitable for newbie YouTubers with less than 1000 subscribers.
The Star Plan is very much recommended, even if one is just getting started. It is suitable for YouTubers with more than 1,000 subscribers but less than 5,000 subscribers. This plan is recommended because of the positive reviews it has received from numerous YouTubers, who admit that this plan helped them to increase their traffic by tens of thousands in just a month. Moreover, it has most of the features in the Legend plan.
The Legend Plan is designed for professional YouTubers with more than 5,000 subscribers. It helps these group of YouTubers achieve more milestones for their channels.
Final Thoughts:
For YouTubers still concerned about whether TubeBuddy is right for them, they can use the free trial version for 30 days to assess this tool. We recommend TubeBuddy for every YouTuber out there.