Today people making the most use of internet savvy devices and smartphones is very common. There are many online sources and people rely on them even for travel and booking necessities. In order to boost the online travel business and battle in the market, new strategies have been adopted by the travel industry.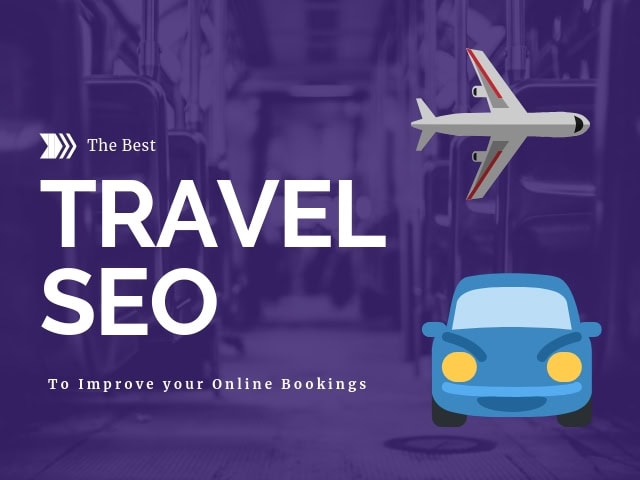 When travel companies are marketed in the right manner, they gain in new customers and also get enhanced profits. Let's discuss a few points about travel SEO, why a travel SEO is necessary.
Travel SEO – How To Get More Bookings From Google?
1. Optimization and keyword placement:
When a person decides to travel, the first thing they do is Google the places. Hence travel business should bear in mind about the phrases and keywords used by people for searching.
For ones who desire their travel business to drive towards success, constant keyword research is necessary. The famed keywords are to be included in the content. It is also important to remember that Google would penalize for unwanted data and over-stuffing of keywords. Let's glimpse through a few tips for researching keywords.
The headline of the page should have the keyword.
Website URL should hold the keyword too (not mandatory)
Title tags, alt tags as well as Meta description should have keywords.
Per page, there should be at least two to three keywords.
There shouldn't be over-stuffing of keywords, hence keyword density should be optimum.
In order to find the right keyword, employ the usage of the tool called Google keyword planner. With this tool, the choice of words typed in Google can be found.
The home page, as well as destination page, should be optimized with keywords.
2. Search engines offer you leads:
A website can stand in the top position in the results provided by the search engine for keywords that are associated with the business. When any website is optimized for SEO, they are sure to stand on the top in search engine result. By this way, the website gains good leads.
There are many research studies which open up that many individuals start their booking and traveling process by means of search engines. Business would lose customers when their website does not have an enhanced ranking for their appropriate keywords.
3. The site should be mobile friendly:
The growth of mobile internet users has enhanced and have been confident that many travel websites would be visited through mobiles too. A number of people book tickets through mobile by visiting the sites. Mobiles are far more convenient than laptops. There are a few mobile ranking factors to be considered.
Images in the pages must be optimized. There will be a faster page load when file sizes are less. There should always be a balance between quality, dimensions and image size.
Responsive web designs must be employed. The look of the website must be good and user-friendly on any device.
Small touch elements can be avoided. If your page has check boxes and buttons to be pressed, avoid making them small.
It would be good to avoid using small texts. When the text is small, it would be difficult for the user to enlarge it all the time for reading.
When flash animation is considered, it is actually considered unwanted in SEO manner. In order to enhance your SEO performances go for an alternative one.
Page download must be limited as waiting should not be a phrase in your travel page. Users would lose patience and leave the page if download time is more. Hence for faster download make sure to employ AMP format for mobiles.
4. Cost-effective:
The result for travel websites that do not employ SEO practices is that they aren't presented in the top of the search results. Google Adwords and few PPC can still help them earn traffic. An ad word is a perfect way to drive in more traffic for the website and is also not costly when compared with SEO.
As you get visits by means of Adwords, there are few dollars that are to be paid per click. This can also rely on your day to day budget and decline your traffic as well as conversation rates. SEO isn't less expensive; it involves cost but is the best option for the long term.
5. Voice search along with query search:
Google statistics mention that there are 20% of voice queries during the search. With smart devices voice, queries are easy as the interaction is hands-free. When any voice query is made, the results are displayed and the user clicks on the first two or three links for information. The top ranking is obtained because the first few links would have head to toe details about the keyword given invoice query.
6. Business growth assured with SEO
When there is a regular flow of particular traffic your travel business would be transformed and has chances to elevate to great heights. In order to optimize your travel website, there are a few aspects that need to be followed.
SEO for the home page:
When travel websites are considered, home pages are considered very important. The home page for any travel website should have special deals and offers, pictures of properties, familiar properties, people's experience, and happy moment's photos, familiar content, easy guide for people, and a few words about how different is your site from the rest.
The home page should be one that reflects the properties and the villas available. For this, the SEO title should be perfect. The description on the home page is also important. This is because they can be opened up in Google results as the domain is typed. The page should be SEO friendly and also attractive. There should also be schema information in the page apart from description and title.
Local SEO:
Local SEO is the major priority in the list. Your website can be optimized by means of Local SEO. This will assist people near your area and guide them as they search. To be present in the list of local SEO business, there are few aspects to be done.
Google my business account must be created and business address needs to be verified.
The home page should possess schema information
There should be apt photos, accurate description, contact details, and other data required for business.
The local address is mandatory to be added on the home page.
High-quality links from trusted websites and local websites should be obtained.
Verify if your phone number, business, address are all same across all channels.
Property pages SEO:
The main intention of any property is to provide the customers with more details of the property and convince them. A property page is complete when it has the following details.
Contact details
Live Chat
A complete description of the property
Services and facilities offered
High-quality image gallery
Availability and rates calendar
Exact location with map
User reviews
Call to action
Apart from all these, a property page should possess
Breadcrumb: This is usually at the top of the page. This offers search engines and uses a simple way to get back to areas pages.
Page content: Must be unique. Content duplication is a major issue and caused due to the listing of the property in many other sites. In many varied websites, the property owners publish their properties bearing the same content. The bigger websites may face a problem. Hence the content needs to be differentiated to a great extent.
Informative as well as exceptional titles: The title for the property page must be crafted in a manner keeping in mind the characteristics of the specific property and should also be varied from the rest. The title should hold more specific locations instead of general ones.
7. Link building:
In order to gain enhanced ranking in SERP, Link building is a main off page SEO method. There are many ways by which links can be obtained.
Links from travel review portals and websites can be mentioned and connections can be made on Facebook and Twitter. They can be associated with journalists and travel bloggers.
Travel industry needs press releases and is beneficial. When your site has great travel offers, bloggers, as well as influencers, would suggest your website to more people. Your website has opportunities to be listed in the biggest travel portals when your business reputation is established.
8. Information architecture and SEO can work together:
For higher organic SEO ranking, information architecture is mandatory. The content and data of your website should be kept organized which leads to elevated website design. Though you work towards raising high in the ranking, it is equally important for your website to be user-friendly. The information architecture should be crafted in a perfect way as per the user's query.
9. SEO for tag pages and categories:
The following characteristics are important for travel websites perfect structure. Every city should possess a landing page, every area should also have a landing page and there should be an optimized page for every property. For users making use of the word, the press would have categories for 'specific area' and 'city/state' pages.
Irrespective of the platform, these destination pages should be SEO optimized. To achieve this, you need a unique title, perfect H1 tags, and exceptional content, along with properties for a specific area. The page URL must also be focused on. The URL should also hold the destination for maximum optimization.
10. Social media optimization:
The social media channels have about 2.31 billion users active. Thus social media plays a great role in content promotion and indexing in a quicker way. If your content is informative, engaging, and new, there would be a number of likes, re-tweets, and shares. These aspects would get you bonus points. By this way, your domain authority is increased along with inbound links. Compelling content is the major driving forces that assist you in gaining traffic. The result is a good ranking.
Triggering process with Facebook can help travel agents to generate a number of fans. The present email list can be entered in Facebook and a page promotion ad can be focused. Develop a community of twitter with people on the same wavelength for travel and engage with them regularly. Travel industry should never leave out Instagram as it is a great platform. This social media is perfect to promote and boost visuals. In the same manner, Pinterest can also be considered.
11. Video marketing:
A travel video can be the video of the travel destination and the experiences. There is an impact after watching the video. When travelers or users watch a travel video, it is sure that they are six times more interested to confirm for the destination city. Hence posting traveling videos can have a great impact on the viewer's mind.
12. Positive online customers:
Your brand would gain confidence, by having positive customer reviews online. Your goodwill in the market is represented by positive reviews from customers. It is likely suggested to earn positive customer reviews in order to manage reputation online. This can be accomplished by requesting customers to leave positive reviews on the various forums online. It is important that the reviews are truthful and obtained from sincere people.
SEO is the basic requirement any travel business requires to be successful. Almost all individuals across the globe depend on the interest in their travel and booking needs. Since the internet is the main source for booking the majority of the people, research before booking. This is hence an opportunity for travel business to use SEO and stand out of the rest.
Run through the various strategies and it would be great if they are executed in a perfect manner. Push your travel website to the top of Google's search result by employing all the SEO techniques discussed above.