Are you confused between Genesis and Thrive Theme Framework? Are you looking a genuine comparison between these two?
I have used both Genesis and Thrive themes, and hence, decided to write down this post offering you a clear comparison between them. I am sure by the end of this post, you will be able to understand the difference between these two and make a clear comparison.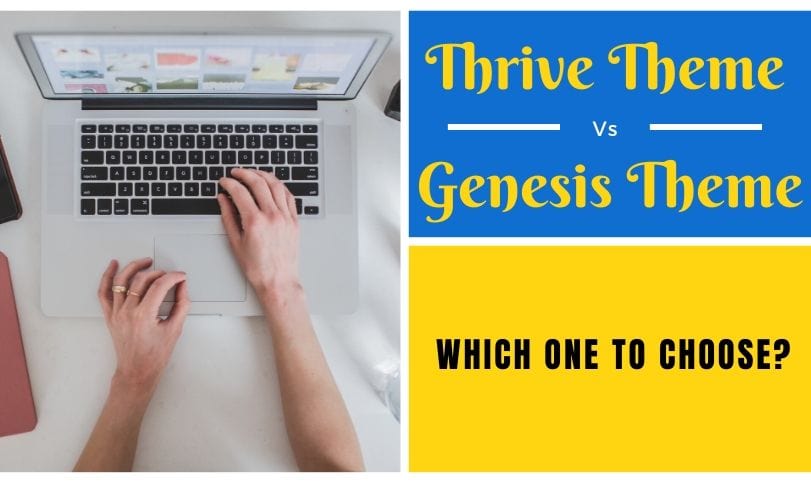 I initially started with Genesis and then switched to Thrive Themes. Presently, I use both these theme frameworks and have a rich experience using these themes.
Thrive Theme vs Genesis Theme:
So, here I would compare the two frameworks on the following parameters:
Features
Customization
Ease of Use
Performance
Installation
Pricing
Genesis Themes – Introduction
Genesis is created by StudioPress and is a remarkable name in the industry for making rich WordPress themes of high-quality standards. It is a core product from the developers and comes with a comprehensive library of vast themes from third-party developers and StudioPress.
I found it an excellent framework for developing and designing websites. It is also a brilliant framework for SEO. However, this framework holds limited features. Hence, you need to install individual plugins to show related posts, social sharing plugins, table of the content plugin, testimonials plugin, landing pages, a plugin for image compression, email opt-in, and others.
Thrive Themes – Introduction
Before I introduce to you Thrive Themes, I would first like to tell you that it no more create or design premium WordPress themes. You can register the Thrive Themes Membership for accessing its theme designing software.
Presently, it is building a drag-and-drop and new theme builder tool, which is accessible by those who already have an account with this framework. Also, the Thrive Theme team has launched a new tool for building themes and it is an excellent solution to create more than only premium themes. It is popular for its various tools for conversion optimization such as Thrive Leads, Optimize, Headline Optimizer, Architect, and more.
Genesis Themes – Features:
Custom widgets
Brilliant security
Super-fast performance
Exceptional SEO tools and amazing options
Flexible foundation codes
Responsive designs for mobile platforms
Clean child themes
Automatically sized feature images
Ready to use tool for blog promotion and monetization
WordPress themes and tutorials
Turnkey designs created on HTML5
Infinite updates for a lifetime
Thrive Themes – Features:
Great support
Exceptional tutorials and training support
Regular updates
Responsive designs
Customizable elements, layout, and fonts
Convenient page generator
Enhanced readability
Boosts user engagement
Elements for conversion optimization
Great themes designed for speed and exclusivity
Automated image compression
Templates for landing page
Regular updates of new features
Load comments
Related posts
Support for different themes
Genesis Themes – Customization:
It is very easy to customize the different child themes offered by Genesis. It comes with various customization features, which make the entire process simple and efficient.
Not only child themes, but you can also customize WordPress themes within the Genesis framework. However, if you compare Genesis with the increasing use of drag-and-drop themes, you may find it lacking behind.
You can make the most of child themes within Genesis if you possess basic knowledge of CSS and HTML. If in case you don't possess such knowledge, it would be quite challenging to begin using this tool.
There is a great alternative to non-tech users, which makes customizing Genesis themes a lot easier. This solution comes from a third-party plugin known as Genesis Design Palette Pro.
Hence, in order to avail of precise customization, you need to install this plugin, which is possible in just a few simple steps. By installing this plugin, it is very simple and fast to customize various aspects of a theme such as typography, paddings, background colors, margins, and more.
It is an all-in-one customization tool but can be challenging to use on an initial basis, particularly for those coming from a non-technical background. So, I would suggest spending a little time to learn a few codes and overcome challenges related to customizing Genesis themes.
Moreover, you can purchase a separate third-party plugin known as Dynamik site builder, which is available at a price of $199 and is useful for numerous websites. You can also hire a web developer that possesses the desired knowledge and skill you are looking for.
Thrive Themes – Customization:
Though Thrive Themes offer a limited number of themes to choose from, it is less challenging to customize themes in Thrive than in Genesis. It is because this tool offers various customization options.
But you can make the most of the customization features only if you possess some standard knowledge of CSS.
No matter which theme you pick, there are a lot of options available to disable features and elements. Also, there is a custom CSS box that lets you add CSS rules and make customization as per your preferences.
You can easily make numerous changes in a theme such as adding a unique logo, changing the footer credits, altering various styles of typography, uploading the custom Favicon, altering font sizes, changing background colors, and more. These changes can be done easily with the built-in layout and style settings. The best part is that you don't have to install additional plugins or write novel codes.
Clearly, customization in Genesis Themes is absolutely different than those offered by Thrive Themes. But having some knowledge of CSS will make the process of customization easier for both these frameworks.
Genesis Themes – Ease of Use:
It is very convenient to install and manage the Genesis themes. Though it can be tricky to carry customization, still Genesis comes with numerous options for widgets and options for layout themes.
Having some knowledge of CSS and HTML will support you gain most from this theme, but this not essential.
There are a plethora of resources offered by StudioPress along with documentation, code snippets, and more to enhance the development of child theme.
Furthermore, you can run themes on Genesis only when you install the child theme and its framework. Hence, you have to upload the theme files as well as activate them. If you don't possess any knowledge of CSS and HTML, you can utilize external plugins to make necessary changes.
Thrive Themes – Ease of Use:
When it comes to Thrive Themes, it is very easy to manage and install. It comes with simple options for layout and custom CSS box offered for website customization. There are multiple built-in features as well that ensures you don't have to make additional plugin installations.
But it can be quite challenging to perform customization to the next level. Hence, to use Thrive Themes, you have to install only a single theme as the support for child themes is available and the theme also comes with important customization options.
Genesis Themes – Performance:
This framework is designed on lightweight code. Hence, it is not only smooth and fast to download but also great to use.
The parent file of this framework is lightweight as compared to the parent themes of Thrive Themes, which are bulky. Additionally, it comes with various options such as comment functionality, theme layout, and more.
Thrive Themes – Performance:
Undoubtedly, Thrive Themes is designed to offer great speed. Hence, you must take into account the size of various theme files and the volume of code for each specific theme. You need to run the page speed test to run the theme.
Genesis Themes – Installation:
It is very simple and convenient to install the child and parent theme of Genesis Themes for the first time.
You have to follow only a few simple steps to successfully install this theme.
Thrive Themes – Installation:
It is very convenient to install the Thrive themes. You can install the bulk WordPress themes. You can activate the theme and add the license key and you are good to go.
Genesis Themes – Pricing:
Now when it comes to the expense of using this framework, you will be glad to know that you only have to spend an amount of $59.95 in order to use this theme. The price is maintained for a long time.
Alternatively, you can purchase a theme package at a cost of $99.95 and more. This theme package includes the genesis parent theme and a child theme of your preference. If you want to get access to all the features of this theme framework, you can use the Pro-Plus package, which is available at a price of $499.95.
One great thing about the Genesis theme is that it gives you unlimited access to what you pay, support, and updates.
You don't have to purchase a developer license or pay any membership fee. All you need to do is purchase the Genesis theme package to get access to unlimited websites, your clients, and you.
There are numerous other theme builders that let you pay for a different developer license. This is a great bonus and is definitely worth purchasing.
Thrive Themes – Pricing:
For using the Genesis Theme you need to pay for the child theme and parent theme separately. Thrive Themes lets you purchase a single website license at a price of $49 for one theme. Also, you can purchase an unlimited personal website license at a price of $67 per the theme.
You can also signup for the annual membership for Thrive Themes at a price of $228 per year. Also, you can sign up for the Agency license for $588 on an annual basis.
When you are a Thrive Themes member, it gives you complete access to the current themes and also future themes along with the marketing tools and focused plugins of Thrive.
Final Verdict:
The Thrive and Genesis Themes framework comes with a license that offers unlimited websites including unlimited lifetime updates and customer's websites. You need to use the Genesis themes framework with the child theme at a cost of $100.
When using Thrive Themes, you have to bear the price of a single website at $49 and a cost of $67 for each theme. You cannot use such themes on customer's websites.
Hence, I believe that Thrive Themes is an affordable solution.
Genesis requires some additional plugins and offers limited functionality. On the other hand, Thrive themes come with numerous rich elements and features, all of which are optimized for conversions and speed.
So, if you are looking for a fully-functional site, Thrive Themes is a better solution.
In order to run your website on Genesis, you have to install the child theme and framework. In brief, you have to upload the theme files on the server and activate the same. Most importantly, you must possess CSS and HTML knowledge to make minor changes in the theme. Also, you can use external plugins to gain features in the case of Genesis.
But when it comes to Thrive, you only have to install a single theme and the same is uploaded with numerous customization options.
Offering great ease of use and integrated with numerous rich features, I would suggest Thrive Themes a better deal for those who are willing to spend more money and looking for a simple to customize and optimized features and functionalities. This is, in fact, a major reason why a large number of developers switch to Thrive Themes from Genesis Themes.
Most importantly, the team of Thrive Themes is regularly updating the products with incredible novel features. On the other hand, Genesis Themes updates are introduced on a less frequent basis and lack no considerable features. There have been no new updates introduced in Genesis from the last couple of years.
No matter which Thrives Theme you purchase, it gives you access to unlimited updates along with varieties of new features for a lifetime. You can design innumerable themes and pages for your blog and website using Thrive Themes without spending additional money. It also comes with a rich content builder and hence lets you design awesome and exclusive pages.
But just to mention, there are a few unique features offered by Genesis Themes for its premium users. Already, Genesis has helped to build more than 50,000 websites and is a great platform for small business owners.
If you want more conversions you must switch to Thrive, but if you want a more professional and minimal look for your website, I would suggest using Genesis Themes