Are you looking for a content editor, which is efficient, impressive and works for most of the websites? Thrive Architect is definitely the best.
This superior content structuring tool is an excellent alternative to most of the expensive tools available online.
But is it really worth investing in Thrive Architect?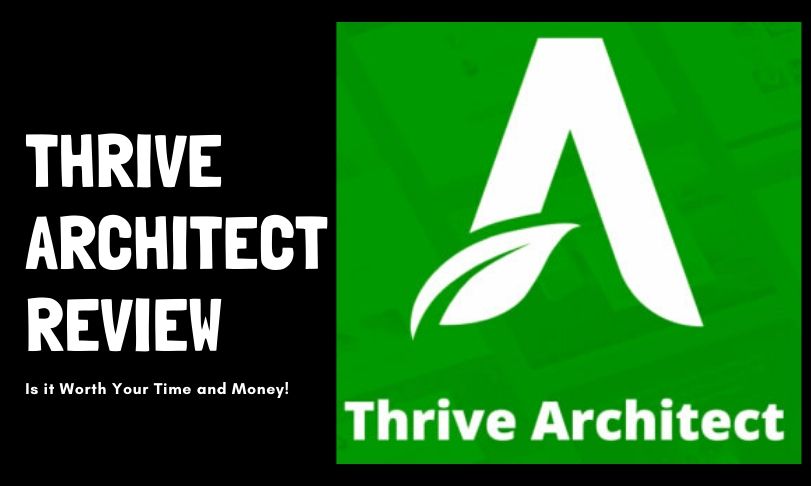 Here, read my complete review on this tool!
About Thrive Architect:
Thrive Architect is an excellent tool or editor for WordPress websites. It not only helps users to create awesome content but also allows them to increase engagement with their customers.
The best thing about this software is not only its features and functionalities but its interface, which is quite similar to Elementor. So, if you are one of those who love using Elementor, it is a great tool that puts the interface as a major key driver for success. It is clean, intuitive, and works flawlessly.
It brings great experience to the users and comes with pleasing aesthetics that brings high usability to the users. You can easily get all elements onto a single page. Either you can drag and drop to a particular location or simply click to add the same to the page end.
The Thrive Architect interface also allows controlling numerous properties for different elements and it also offers advanced properties that are rarely available in other builders.
However, there are numerous options stacked above one another. It might not be a big deal, but when a few features or tabs are expanded, the scenario appears cluttered. The good thing is that not every aspect is handled from the sidebar.
Using Thrive Architect, it is possible to edit the text inline. Also, it offers some basic options for formatting. The good thing is that the element selection has been enhanced in Thrive Architect. It fixes the same with the inclusion of the feature 'elements breadcrumb navigation.'
Hence, if you wish to select any box for content and not the box contents you can simply choose it from breadcrumb trail.
The New Options and Settings in Thrive Architect:
There are numerous novel settings introduced for individual elements in Thrive Architect. It comes with a number of upgrades to the page-level and also allows configurations at the builder level.
Moreover, you can select the side for displaying the sidebar. Also, you can easily edit page in CSS and HTML, except the editors have been lifted into the modern century.
It comes with a good color option. It offers a refresh of the manager of page events enabling you to design page-level events more conveniently and faster than its previous versions. Right now, you can utilize this for triggering popups designed using Thrive Lightboxes.
Also, there is a secondary menu option available as Template Setup, which means page settings include numerous novel settings for things such as custom scripts, content width, and fonts.
Furthermore, it comes with redo and undoes functions, which can be done easily using the respective hotkeys to trigger such actions. It makes a great difference in the overall productivity output. Also, it is satisfying for us. Eventually, you can click on the little arrow option available on the sidebar panel for collapsing the same, which enables you to view a complete preview of the page.
The best part is that it allows editing the page even under the preview version. The edits you can make are removing, editing and adding text, reorganizing and moving elements, deleting and duplicating elements, and formatting text like including headings, hyperlinks, and lists.
Thrive Architect Responsiveness:
One great thing about Thrive Architect is that it handles responsiveness in an efficient manner. It is not only responsive by default but also gives a rich responsive view on the mobile platforms.
It lets you view the responsive design in the builder itself, whether it is a mobile display or tablet display.
Moreover, you can continue building and editing the design in your preferred view. But there are a few styling alterations that apply only to mobile platforms, leaving the desktop platforms unaffected by any vital tweaks. It adjusts to changes on tablet, mobile, and desktop.
You can also add a color overlay to any image on the mobile and it will not affect your desktop design. However, there can be times when you don't want to display every design element on a smaller display as it may appear slightly crowded.
Earlier, it was a CSS ninja that sorts out that issue, but Thrive Architect takes a lead out of the Elementor's book. It is now possible to hide elements on distinct devices with only a click of a button. The good thing is that it offers you the ability to hide some elements while keeping a few of them visible as per your choice.
Creating Various Layouts Using Thrive Architect
The layout is a foundation for any design and if the page builder falls short in this consideration, it is going to be a tough time performing anything useful with the same.
Thrive Architect is a fluid and flexible tool and you can drag elements onto the page. For those who require a simple layout for the column, it can be done by adding the column element. You only have to drag something into one position; it automatically creates a column layout for the same.
This tool is highly accommodating and lets you design complex layouts in just a few seconds by simply drag and drop feature. While you can space columns by default, you can conveniently bring your cursor there and make necessary changes.
There are a few sections in Thrive Architect that let you leverage sections when important. Such sections are known as background sections. The prominent advantage of using the background section is to conveniently contain numerous smaller elements in one row.
There are also other layout-oriented advantages, which make the background sections highly useful. It is because they come with additional properties for a layout like content maximum width, stretching to complete screen width, matching height to screen, and sectioning minimum height.
Also, it is worth noticing that some of such properties are available in other elements such as columns and content boxes. When you use one of such properties with the columns element, it allows creating an efficient layout.
Using Thrive Architect for Individual Elements:
The Thrive Architect works well not only on a fundamental level but also on the individual level.
It comes with numerous elements such as heading, paragraph, button, image, columns, content box, and click to Tweet, countdown, content reveal, content template, background selection, columns, heading, and more.
While a few elements are not available the elements that are present are massively overhauled. Additionally, there are some important elements.
Unlimited Icons – With Thrive Architect, you can access hundreds of icons for free. You can even import icons to this page builder. Also, the icons come with great properties such as background patterns and shadows.
Styled Lists – There is a vast icon library in Thrive Architect and you can use your preferred icon from there to display the style list as per your choice. It is possible to alter the color and icon for each list as per your requirement. Moreover, you can drag to reorder list items the way you want.
Buttons – There have been new elements tweaked to the button to make it easily customizable and convenient to incorporate. It comes with a slider control that presets the size and enables individual styling of different button icons. Also, it gives you access to panel options such as rounded corners, gradient backgrounds, line height, shadows, and letter spacing.
Tables – It is very easy to integrate tables into your content or page using Thrive Architect. Every single element of the table is better and it comes with a side panel that gives you great control over styling.
Well, these are only some of the new elements in Thrive Architect and this tool has a lot more to offer.
Thrive Architect Compatibility:
It is a great tool that holds great compatibility with other software. It works with anything that has been created using other builders.
It allows easy transition of elements but it is completely seamless. You will witness a shift in the elements positioning after migrating. But there is the limitation to pre-styled elements such as pricing tables and guarantee boxes.
Lock-In Content:
There is another feature in Thrive Architect as content lock-in, which refers to the issue experienced by most page builders when you remove or deactivate them. It is related to pages created using that tool where pages promptly fall apart. You will never face such a problem with this builder. It fully preserves the content as WordPress editor cannot handle anything remotely intricate. Hence, it mitigates all the damage.
It comes with precise styling and layout settings that maintain a usable and clean layout within the default editor. It is much safer and a good idea is to edit your website slightly after deactivating the builder.
Page and Content Templates
It is easy to categorize content and pages into different sections in Thrive Architect. Whenever you add a new template, it is possible to use the element for the content template to incorporate it back into the desired layout.
It gives you access to an extensive template library dedicated to this tool. It is available on your website's backend and let you organize and preview content templates.
Moreover, it is possible to include global elements in the content, which is not supported by many other page builders. There have been a number of novel and better templates added to this tool.
WordPress Content:
Its default editor called WordPress content allows us to easily edit the content. You can open this default editor using the page builder. Moreover, you can move the content block freely between the various elements of Thrive Architect. This makes it extremely easy to edit the existing pages, which have not been touched using this page builder.
Building the Trello's Homepage:
The Thrive Architect lets you build a flawless Trello homepage that lets you save colors to the color palette that ended up saving a lot of time and effort. It comes with the functionality of inline editing, which makes it easy to add and alter the text on a page. This feature also leads to a slight boost in overall productivity.
The button shadows is another great feature that makes it easy to apply the drop shadow to the buttons. Having such an effect makes your page more appealing.
Moving one section over the other is also very easy with this tool. It adjusts the opacity of the top layer and can control the layer order using Z-index. It gives complete control over the width of individual elements without a dedicated container becoming handy. It is possible to reduce the text width within a wide container, saving on complexity and time.
Finally, the rich gradient background lets you apply a dual-color gradient with ease.
Pros of Thrive Architect:
Excellent user interface
Better CSS and HTML editors
Inline text formatting and editing
Responsive view
Unique styling for different device
Flexible layout
Improved multiple elements
Hotkeys for swift management
Backward compatible
Content Lock-in
Editable WordPress Content
Cons of Thrive Architect:
List Element
No freely drag elements
A crowded panel of properties
Cannot use or save global content templates
Might result in some bugs
Who Must Go for Thrive Architect?
Just like any other tool Thrive Architect is not an adequate choice for all. As far as I believe, it is an excellent choice for budget bloggers who want to deliver high-quality content at reasonable prices. Aside from a one-time fee, it comes with a membership fee of $228 each year that gives access to all plugins and themes.
Remember, this tool does not offer any free plan. But despite that, it is a great option for budget-conscious minds as it offers numerous features and functionalities within an affordable range.
Moreover, it is very easy to use, and hence, it is a great choice for beginner bloggers. Most importantly, if you are focusing on Return on Investment, Thrive Architect is a great choice. It is an exceptional solution for high-level marketers that want to create a comprehensive bunch of marketing tools.