Over a couple of years, influencers are being the hot talk in the marketing industry. It is Twitter that has been playing a key role in almost all campaigns for influencer marketing.
Twitter has also released a study stating that brands can elevate their customer purchase by 88% by having the appropriate link with Twitter influencers. There are about 326 million active users in twitter for a month and for a day there are about 500 million tweets.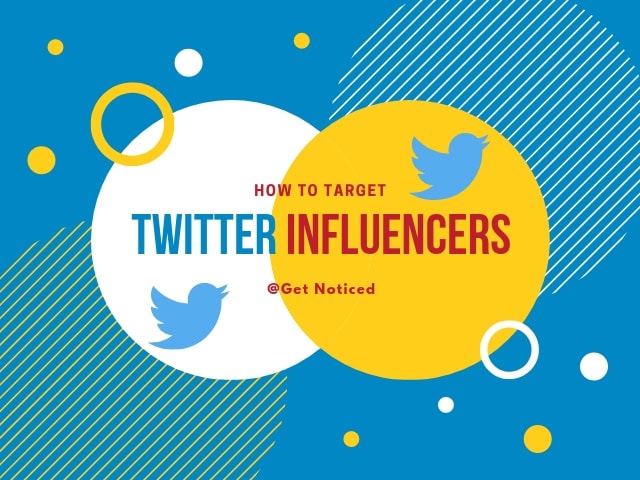 There are reasons to get to know about the key influencers and the benefits to be enjoyed. With influencers, your contents get shared, partnerships are formed, new audiences are obtained, business gets generated etc. There are also a few tools that help you get the right influencers on Twitter.
In order to target twitter influencers, the following steps are to be followed.
Steps to Target Twitter Influencers:
1. Mention your niche and hunt for influencers:
For influencer marketing to obtain maximum results, picking the right influencer is mandatory. For example, if your niche is lifestyle and beauty products, then the similar niche related influencer is to be picked. There should be a similarity between the influencer's audience and your audience.
Hence your domain should be clear and the type of audience to target should also be clear. The Twitter advanced search can be utilized to find influencers. You can also filter the results by employing the right keywords based on accounts or location. This idea would be beneficial in this process.
2. Developing a relationship with influencers:
It would be advisable to avoid being direct and very blunt while communicating with influencers on Twitter.
Also being very professional with influencers may not help you build a strong bond with the influencers. It would be if you are social and offer more time so that the relationship is everlasting. It would be great if you re-tweet any content of theirs, leave a message or have a conversation.
3. Mentioning the benefits of relationship:
Your first step would be to familiarize your brand to the influencer. At this moment the influencer should know the benefit gained due to this association.
Almost all influencers know the benefits they gain and hence there is nothing wrong in discussing benefits. It would be advisable to be polite and calm while mentioning their part in this association. Avoid overselling or making promises that are tough to execute.
4. Finding the right influencer by means of a campaign:
Remember, your influencer should be able to help you accomplish your campaign goals. For ones who desire to elevate brand awareness, should get associated with influencers who have the best reach. And later to elevate the image of the brand, the influencers need to represent your brand in limelight.
When there needs to be a conversation regarding your brand, then the engagement rates of the influencer should be high enough. There are many tools that can be used to find the ideal influencer with the right characteristics. These tools make work easier and save time too.
To find the right influencer who influences your brand, the following twitter influencer tools can be found.
HYPR:
For ones who are looking for influencers based on the type of audience, they can connect to HYPR. The right influencers for your brand can be found with this tool. This tool provides you with crucial data such as level of engagement and number of followers. Also, the demographics of influencer's audience can also be found with this tool. This tool would be helpful to find out if the influencer's audience would work well for your brand. Also, details such as gender, age, and race of the influencer's audience can be found.
Onalytica:
It would be a good suggestion to opt for Onalytica influencer development software as it offers abundant search options and best results. For ones looking for a variety of search, based on content, demographics, category, as well as topic, can choose this tool. Also, results can be filtered based on the location, country, and influencer type. Individuals who are looking for twitter influencers can filter results through the social channel.
Buzzsumo:
The next best tool to find twitter influencers is by using Buzzsumo. To implement a search, this tool offers a variety of options. Any keyword or topic can be entered in the search area and results can be filtered byways of companies, bloggers, journalists, influencers or regular people. Results can also be filtered by means of content type, language, country etc. These search results help you gain an idea about follower count, page authority, re-tweet ratio etc.
Neoreach:
The next best influencer tool to discover influencer is the Neoreach. To maintain an easier and appropriate search, there are about 40 filters in this tool. Keywords such as competitor and brand mentions can be used to pick highly appropriate influencers for the brand.
Social performances such as follower count and engagement rate can be used. Searches can also be filtered by making use of audience demographics that take into account language, brand affinity, gender, location, age etc. This is mentioned as a beneficial tool because apart from finding influencers it also assists in managing and tracking campaigns with a single dashboard.
Mention:
Best influencers are ones who are always associated with conversations related to the products. Such category of influencers can be found with this Mention tool. The beneficial aspect of this tool is that the tool helps to keep track of conversations on Instagram and Twitter. This helps to find the twitter influencers where the appropriate keywords are used in their tweets.
You can also get to know influencers on Twitter who discuss your product. Your main chore would be to include the brand name amidst the keyword list to search. Also, this tool possesses an in-built influencer tool by which important influencers for the tool can be identified.
5. Communication with influencers:
Once the right influencer is found, the next step would be to initiate communication with them. This leads to a professional link and a long term relation is maintained.
Use Twitter lists:
By employing twitter lists, other user's activities can be followed. Varied lists for same influencers can be created. A twitter list is simple to create, the user just needs to get to twitter profile and develop the list. The list can be private or public and members can be added by supplying the right keywords. By this way, the influencer's idea can be known.
Developing a relationship with influencers:
Building a long lasting relationship with influencers is necessary. The following suggestions would be helpful for the same.
It is good to share other influencers content:
For this, it would be great if you share the contents of other influencers. If you come across blog posts written by influencers that would resonate the audience, then you can always share them too. By this way, your gesture can be understood in a perfect way.
Appreciate them by re-tweeting:
There are times where a single tweet can mean a lot to them. Apart from being a follower, it is always good to re-tweet contents. Their quotes can be tweeted and also thoughts can be added to them. It is a good feel to appreciate one's content and make them feel high.
Go beyond Twitter:
Make use of blog post option and mention them. This can help you to get in touch with influencers in cross-platform. By this way, conversations can be taken beyond twitter. By getting to work in a new blog post, fresh leading influencers can be mentioned.
Always remember to inform them that you have mentioned them on Twitter, by sending a message or a tweet. There are many chances to share your content and also appreciate your gesture. By this way the blog posts reach would be high.
Hosting Twitter chats:
If you wish to enlarge your circle, the best way is to join Twitter chats. The very basic step is to take part in a few chats that are associated with your domain. By this way, you can get in touch with a number of influencers and industry experts. This helps you to host a number of chats frequently and invite many influencers to take part in it.
For example, ones who are linked with social media marketing can make use of buffer chat. Once conversations are established, you can gain a constructive relationship with many great influencers.
6. Offers to be provided:
Once communication is established make sure to provide them with a variety of offers. Present some exciting offers so that they are pleased. Provide them with a win-win offer so that influencers do not say 'no' to your offers. You can also go a step higher and provide them with a few free samples and impress them.
Dedicated services can also be provided and they can post a review too. Influencers would appreciate your product for its quality. The other idea would be to come up with hash tag campaigns along with influencers. By this way, they would get to know the importance you give them and would start with interest.
7. More of interaction:
The next important thing is that the influencer must not feel that conversations are made just for one's benefit. Hence conversations are to be made often and it should be two way and open. It is good to think of a long term relationship with the influencers.
Look for social media influencers:
There are types of influencers based on social media and its followers.
So basically, there are three types of influencers,
Mega influencer who possess more than a million followers
Macro-influencers who has about 100,000 to 1,000,000 followers
Micro-influencers who possess about less than 100,000 followers.
It is hence good to look for social media influencers.
9. Collaborate with influencers of your niche:
Get to know about your influencers by running through their channels. By reading through their content you can get to know if they are perfect for your brand and what they represent to the audience.
By getting to know about them, their target market can be understood and you can also find out if they are your target demographic. Once all these analyses are done, contact can be made. Influencers can be contacted in a number of ways such as social media or email, and also by the means of developing the relationship.
10. Benefits:
There are many benefits by holding hands with influencers. Influencers can help you reach particular heights. They help in avoiding ad blockers. They assist you to make a close and deep bonding with the consumers. They also assist you in building brand awareness with the best influential platform.
It is always good to bear in mind about federal trade commission policy regarding the content to be sponsored. There are few guidelines and rules to be followed regarding marketing and allowing the viewers and marketing about sponsoring content. This is to be considered so that the influencer and associated ones aren't in trouble.
Conclusion:
These are a few hints and tips that can be followed and understood before targeting twitter influencers. These ways can be used in order to get to know and understand about finding an influencer. Also, there are ample tools that can be followed in order to get associated with the best influencers. There are many twitter influencers of your brand and finding the right influencer needs time.
By reading through the above details, you can get to know the way to approach influencers before starting a campaign.
Your chore would be to define goals and start with a few tips provided in the guide. Make a search online too, to get to know more ideas and tips regarding twitter influencers. There are ample tools available online too. Run through the sites and make a detailed plan of how to target twitter influencer.