Everyone wants to start their own side business. But it is very hard to be successful in this competitive world. There are so many start-ups evolving every day. But how many of them became successful?
Most people think about leaving their job and start their own business. But some of them are afraid to take risks in life. You need to have enough money to invest in business before starting one.
Is it very easy to have that money? The answer is no. You need to work very hard to get that money.
So, many people do their job and start a side business. Initially, they want to make some extra income by running a business.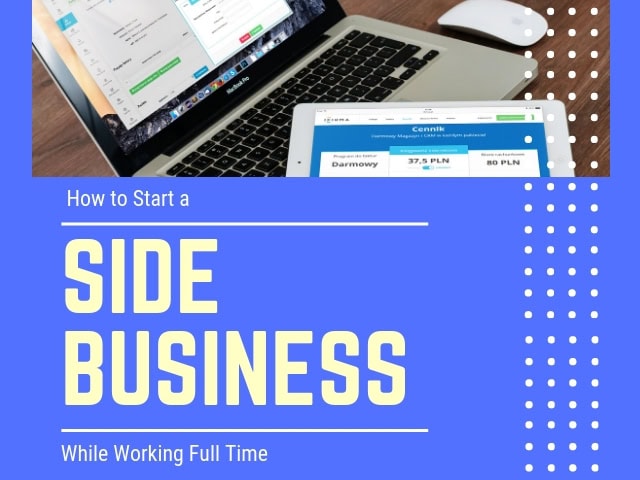 Starting a business while working on a job is not a simple task. You need to invest your time and money on the business. But with self-confidence and a strong will to be successful, can take you to new heights. Every successful businessman might have encountered so many problems while starting their business.
Take that opportunity to learn new things. No need to lose your hope on anything. Follow your passion and work for it. Now you will get so many resources to do research and learn new things about a business.
Take that opportunity to learn every aspect of a business and implement it in your plan. This article will help you to start a side business with a clear strategy. Here are the 12 steps you can follow while starting a side business
12 Steps to Follow to Start a Side Business
Are you going to start a side business while working on a full-time job? These steps can help you to make a clear business plan.
1. Create your own business plan:
This is the first and foremost step every aspirant will do while starting a business. A business plan is a document which describes various aspects of business such as goal, budget, unique value proposition, etc. But now this is outdated, and many start-ups don't even create such business plan nowadays.
What they do is to create a single page business plan with important details regarding your business. No need to spend your entire time on creating a detailed business plan which is not so useful. It will always change according to the change in marketing conditions.
There are various templates where you can create such documents. All you have to do is to answer certain questions and they will prepare your business plan based on your answers. Business Model Canvas, Lean Canvas are some popular templates you can use. Just make sure to know the answers to the following questions
What is the specialty of your product?
Who is your targeted customer?
What is your product?
How will you distribute your products?
How will you get profit?
What is the unique value proposition of your product?
What is your budget?
The old type of business plan will take a lot of time to create. If you don't have that much time after doing a full-time job it is better to follow this easy business plan.
2. Have a clear idea about the legality of starting a business:
Before starting your business, you need to know whether there are any legal issues in the future.
Many companies make their employees sign an agreement which prevents them from starting any other business on their own. It can lead to legal issues in the future if the company comes to know about your side business. They can claim that it can affect your concentration and dedication towards the work and sometimes they can fire you from the job.
It is very important to go through a non-disclosure agreement or any other employment agreement to see about your company policy. You can consult a lawyer before starting your business to make sure everything is fine.
After getting started it will create so many problems if you have already signed any such agreement with your company. Be careful while you take any decision because a small ignorance can lead to a big problem in the future. So, it is better to be safe than sorry.
3. Look for a skilled business partner:
If you want to start your business alone then it is fine. But, when you start a side business it is always good to have a good business partner who can support. Partnership business is more successful than doing it alone. The main reason is that you can divide the responsibility among the partners. No need to take all the workload alone. Even if your work gets busy your partner can help you with your business. You can find a co-founder with experience in the business.
It is always best to choose someone you know well as your business partner. Many people suggest that when you start a side business it is better to have 2 or 3 people in the group. You can increase productivity and also, they can add more skill to your business. Another option is to start your business and find a partner after running it sometime. The benefit is that you can show your business progress to your partner and impress them towards it easily then.
4. Test your business ideas:
You cannot start the business overnight after getting an idea. The best way to be successful is to have clear marketing research and willingness to know what customers want. You can get it in so many ways such as through customer interviews, surveys, etc. You must know the feedbacks from your targeted audience to make your product better. Feedbacks and surveys are very useful in creating excellent products with great quality.
You need to have a connection with customers in order to get feedback from them. Use these feedbacks to improve your product quality. You can ask relevant questions regarding your product through surveys also. There are tools like SurveyMonkey which can be used to conduct effective surveys. Using tools like Google Analytics you will also get a clear idea about the type of products your customers search the most.
5. Outsource your weak areas:
Even if you know to run the business effectively you can outsource some areas of it to manage it effectively, you may have the skill to do multi-tasking. But sometimes you may not get time to concentrate on multiple areas of your business. This can lead to many problems also. To avoid such issues, you can try to find a good company that can manage the departments of your business that need to be outsourced, Many start-ups try to outsource their customer support section to other companies which you can also try. The real point you need to understand is you need to focus more on the area which you can do the best. It can save your business to a great extent.
6. Get feedback:
Be active on social media and connect with people. Feedbacks are important for business growth. You can ask for feedback to your targeted audience through the platforms where they are active. Constant communication with the audience can help to grow your business and it can also improve the business quality. Incorporate Facebook groups, LinkedIn groups, ProductHunt, Growth hackers, etc to get clear feedback about your business.
7. Start generating profit:
After doing all the research and data collection you can start to make revenue. When you implement all these plans you can see how customers are going to pay you for your product or service. Once customers like your product or service they will buy it again or recommend it to their contacts. This can help to grow your business well. You can also include satisfied customer's testimonials in your business website which can be an inspiration for others to try your product. After a certain period, you will have enough customer base to support your business.
8. Do networking:
Having strong relations is very important for a business. If you want to spread your business well and make it a huge success, you need to do networking. It could be anywhere inside your company or outside. You need to create a strong connection with customers, prospective employees, contractors, partner, etc. These connections can help you to take your business forward. You can use these connections at some point in time of your business. So, keep in mind this fact to make new relations wherever you go. Keep in touch with people you know, so that you can use them for business growth.
9. Work hard:
When you work full time and run a business parallelly it can be very hard to manage. You need to concentrate on your work and find some time for your business. While doing fulltime work you can't find much time to do side-business. The only time you will get is night time or weekends. Use this time effectively to concentrate on your business and work hard to get what you want. With a strong business goal and willingness to succeed, anyone can be a successful business owner. Work hard and save more time to create new business strategies and plan that can save your business.
10. Don't lose your attention to your business due to work:
Because of working on a full-time job, it is very easy to lose attention towards business. You can refrain from making this happen. This is where the use of a partner comes up. We are all human beings and can get tired after continues hectic work. To avoid this, you could find sometime after work every day to concentrate on your business. Don't try to use your working time and resources to do your business. It may lead to further problems in your job. You could think your business as some out of the office stuff. Don't bring your business tension to your office and vice versa.
11. Act as a company:
Even if you don't have so many employees you are running a company. It is important to have a large company image among customers to create an impression among the audience. Nobody is going to know the process that happens in your business. Customers only care about your products and services. If you can offer better quality products and services, they are going to trust you. Use outside service to manage other processes that need to take care of, while running your business.
12. Quit your job:
As you know it is very hard to do multi-tasking. You cannot concentrate equally on your job and business at the same time. After getting enough customer base, you can think about quitting the job. You may have to know the profit you can make if you fully concentrate on your business which can help you to take a final decision on your job. You cannot go just like this throughout your whole life. At some point, you have to think about quitting your job and concentrating fully on your business. Think about the positivity it can bring to your business and life. The right time is when you can provide the product and services based on customer requirement.
Conclusion:
Starting a business is not a simple decision. You have to think about a lot of things before going for it. It is very easy when you read about it. But actually, it takes more courage and time to start a business. You can take your time and think about it again and again. Do good research about the business you are going to start knowing about various possibilities associated with it.
Start your planning for the future and find enough fund for it. Many online websites are there to read some tips entrepreneurs can use while starting their own business. You can be your own boss one day after starting a business. Have you thought about starting a side business while doing a full-time job? Tell us more about your future business plans below in the comment section.