Do you have a better style sense? Then you can be a fashion blogger.
Anyone with a good sense of fashion and the latest styles can create a fashion blog.
Sometimes a better platform can help you to express your fashion sense and help many people out there without any idea on what to wear or how to wear.
There are many fashion blogs as of now, but to get succeed among these competitors is a very hard task.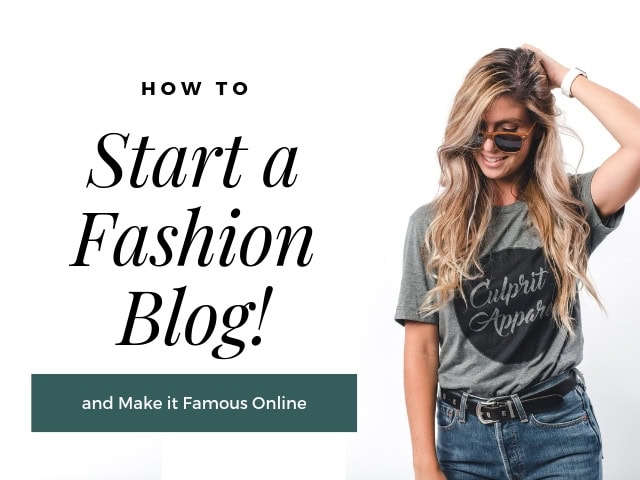 Blogging is not an easy profession. Starters have to work a lot to establish their name and get more followers.
Creating a fashion blog is the same as creating any website. The only difference is that anyone can create a blog but to create a fashion blog, you need to have some special talent.
You can engage users using your styling sense and create an awareness of new fashions and trends that are happening around the world.
Good observation and research are essential to be a good blogger.
Are you looking for a perfect guide to create your own fashion blog?
Here I am including some steps you can follow, to create a fashion blog.
Before going to create a blog, you must answer the following questions
Who are your blog readers?
What do you want to achieve?
How can you reach your goal?
While writing, every blogger first needs to find their targeted audience.
When it comes to a fashion blog, there should be a group you need to target and write fashion tips for them.
If you are targeting teenagers, write compelling blogs to attract their attention. Also, set an intention before doing anything and work hard to achieve it.
Steps to Start a Fashion Blog:
Creating a fashion blog is very easy if you follow all the steps properly.
After you decided on creating a blog to help users, know about the latest fashion trends and your fashion concepts, follow the steps given below to create a blog of your own
1. Choose the right platform:
The first step to create a fashion blog is to choose the right platform. There are many platforms like Instagram, WordPress, Tumblr, Blogger, etc to create a blog.
Most of them are free platforms also.
How will you select the best from them?
For that, research about its advantages and disadvantages. By knowing Pros and Cons you can decide a better platform to publish your blog.
Blogging with Instagram:
Instagram is also a large platform you can use to create more followers to your posts.
Instagram is mainly an image posting platform and you can also put small videos here.
If you want to create a good name among users, post better clicks and reveal your style sense through your image.
Thematic posts are always hit on Instagram. Many big brands use this platform to promote their product.
The only problem with this platform is, there are many terms and conditions for you to follow. Use Instagram by following those conditions and create your own identity in this field.
Use proper hashtags to reach the right people. If you cannot spend money to create a site, Instagram will work for you.
Blogging with Tumblr:
Tumblr is also a good platform where you can start blogging.
You can see by logging into Tumblr because most of the displays on newsfeed will be blogs.
So, this is a hybrid blogging platform you can use where they give more importance to visual elements. This is a free platform anyone can use but the problem with this is that you cannot optimize your content for search engine here.
Traffic generation will be very less and if you want to look more professional, writing on your own domain is the best choice. WordPress is the popular option for that
Blogging with WordPress:
WordPress is one of the most popular and trusted platforms many bloggers choose to blog.
The main reason behind it is the popularity it gained and there are millions of users to this platform.
The best thing about creating blogs on WordPress is the plugins they offer. WordPress comes with many plugins that can help you with your blog optimization.
There are free as well as paid tools available for bloggers that can help to produce a better blog to its users.
In short blogging in WordPress is easier than blogging with any other platform.
The flexibility and customization options are exclusively for WordPress and cannot find it anywhere else.
Anyone can create their blog on this platform without much technical knowledge. This is also available worldwide in many languages.
Create a WordPress account by going into wordpress.org
Choose Domain name:
The domain name is the address of your website you can choose.
Choose a name suitable for your blog and get it registered.
While choosing a domain name, make sure to select a memorable name relevant to your blog. The name should be short and sweet.
Web hosting:
Next step is to get a good hosting provider to host your site.
While selecting a hosting provider, be sure about what you want. The main function of web hosting is to store your website files in a place and support your site.
You need to pay for hosting your site. You can get a domain name and host from the same provider if you want.
After completing these steps, you can create your own website easily.
2. Create a stylish outlook for your blog:
After creating your own site next step is to give it a better look. Better website design is essential as you are dealing with fashion.
Your site design should represent your style sense and creativity. Sometimes bloggers cannot design a page themselves.
To help them WordPress offers plugins for fashion blogs. There will some interesting images you can choose from while designing your site.
You can check available plugins and choose the design according to your need. Some of the plugins are free, but some others are paid one.
The choice is yours. Most plugins are mobile friendly and responsive also. You can check them and they are easy to customize too.
There are setting option on which you can add your blog name, logo, small description about you, change colors of the image, etc. Choose a simple design for your page and customize it according to your taste.
3. Add contents:
The next step is to add your contents to your own webpage.
You can add all your contact information and terms and conditions or privacy policy first.
There will be static page builder on your plugin which you can use to create your landing page.
Then start adding your articles to your webpage. Create entertaining contents that can attract more followers to your website.
Adding blogs is very simple and this is one of the easier platforms which offers you instructions for uploading your blog.
Follow them and create your own site. While creating content make sure to follow these points
Be versatile in what you do. Choose an interesting topic and write about them in an entertaining manner
Create your own writing style. No need to copy other bloggers while writing your blogs
Be consistent and post articles regularly to keep your site busy. This can help to increase your site ranking and thereby traffic also improves
Check your competitor and get influence from their blog. Find out top blogs from other site and write about it in your own way and concept. Fashion concept varies from person to person.
4. Optimize your blog:
After completing the process of creating a WordPress site and publishing your contents the next step is this.
You need to come under search result to let users know about your blog. For that optimize your blog to attract search engine attention. This will help to improve your search engine ranking.
Include keywords in your blog by finding it using any keyword searching tool. Use them properly in your content to get it listed under the top search result.
Other than including just keywords, there are more tasks you need to do. Plugins are available for you to optimize your site.
Improve website speed:
Website loading speed is very important if you want to make it top. Users only go to a site that loads faster. You can arrange your site and check its speed.
Try to make the loading time less than 3 secs. Google also consider this as an important ranking factor.
You can improve the site speed to engage your users.
Track analytics:
After publishing your site, you need to check the acceptance of your blog.
Content quality and optimization can help to improve your site reach. Check Google Analytics and evaluate your content performance. This will help you to understand what users expect from your blogs.
You can follow them to make users come back to your blogs. Without their support, you cannot succeed in this field.
Tips to know before you Start a Fashion Blog:
There are thousands of fashion blogs and your content quality is the only way to stand out in the crowd.
You can get attention by creating variety type of contents. Don't follow other blogs and choose the same writing style.
Think something different and implement it in your writing. Here are some useful tips for a beginner in fashion blogging
Start with celebrity dressing style:
When you start a blog, it is always best to write about celebrity styles.
Many people want to look like celebrities and follow their dressing style. If you can help users, you can get many followers.
Write about moderate clothing:
When you write about dresses, make sure that it should be approachable.
Normal people always enjoy watching expensive dresses but how many people can buy them?
So, when you write about dresses make sure to add dresses that everyone can get. People always look for fashion by spending less.
Quality and consistency:
When you write contents, you should make sure not to compromise with your content quality.
If you want to be followed by many, user's consistency in writing is also important. Post blogs regularly and make your site active
Variety topics:
When you want to find topics for your blogs you should pick a variety of topics. Pick a common interest and write blogs about it.
If you can give them some extra tips to make their look more stylish, that can also include in your blog.
Sometimes your tips can attract many users and increase your site traffic as a result.
Don't copy:
While writing blogs especially fashion blogs, don't copy from anywhere and write.
Produce 100% original contents on your own language. You want to showcase your opinion about each style and that should be completely genuine.
Don't make it as a shopping guide:
The ultimate aim of every blogger is to get more links and increase raking.
But when you optimize your blog one thing to keep in your mind is that, don't make it as an advertisement blog.
Present your blog well:
The appearance of your blog is very important to attract search engine and users.
When you present a blog about a topic you need to arrange it well, to make user hooked on it. Give an introduction and conclusion to your topic also.
Promote your content:
You cannot succeed only by writing well. Promoting contents is also very important as writing.
Share your blogs on all social media accounts and improve its reach. This can help to get attention from more users and can increase site traffic.
Final words:
Fashion blogging is a promising career you can choose. If you can get more followers then take it as a profession and you can do many interesting things with your blog to make money.
The journey to a successful fashion blogger is very hard. You need to research well about each and every aspect to make your blog outstanding.
Promotion is very important if you want to improve your blog reach. Use all marketing options to promote your blog. Express your own ideas and enjoy blogging.