Starting a lucrative e-commerce business is gaining momentum by every passing day.
It is completely rewarding to start a new business right from scratch and build it into a profitable running agency than slaving away making others rich.
You are the one who solely built it up, and no one is going to snatch your business from your hands.
Wait!! Is building an e-commerce business that easier?
Can I start earning a handsome profit soon after its launch?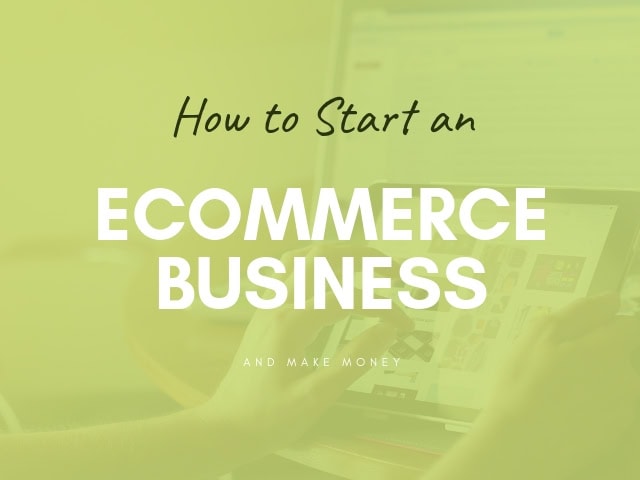 No, it is not. Starting an eCommerce business is a gargantuan task that should be backed up by many right decisions taken at correct times.
I agree E-commerce is a booming business.
But, remember there are many online businesses that struggle to have a foothold and still there are many other businesses that have lost their traction.
Running an online store can get complicated since there are many factors that need to be tackled with.
It takes more than choosing a brand name, writing product listings and starting to sell products online. Even your best ideas may take a hit when your website is not generating adequate site traffic.
There is no dearth of information about starting an eCommerce business. A quick Google search will provide you with tons of sites that seem to provide information about beginning an e-commerce business.
Starting an online business is not about knowing all the information that is available on the internet. It is about knowing the right information at the right time.
Without such information, there are possibilities that your product may not be loved by people who visit your site.
So, in this article, we shall look at the ways to begin an e-commerce business and run it successfully.
Use these tips provided here to successfully set up your budding e-commerce store, learn the ropes for legally protecting yourself, arrange your finances, develop, market and sell your products and multiply your profits.
Your eCommerce business blueprint:
Before beginning an eCommerce business, decide the list of products that you want to sell.
In other words, select your e-commerce niche. Choosing your niche is perhaps the first important step in opening your online business.
Identify the successful companies in your niche and begin by researching the list of products they sell. Unless you have a massive amount in your hands, you cannot become the next eBay or Amazon.
So, you clearly need to decide the niche in which you are going to begin your business.
Do remember to analyze the extent of competition that exists in your niche – an absence of competition implies that there is no market for your niche, either.
After identifying the competitors (and of course selecting the niche), start pitching business ideas to your competitors. That is, invite them for cross-promotion of your (and their) products, become an affiliate and start improving your customer base.
Here, one quick tip is to ensure that both your niche and your products are well-received in various social media platforms.
Social media like Instagram, Facebook, and Twitter help you tremendously to increase your online presence.
Select one of your products, describe it in, say, 1000 words or less with strong SEO keywords and publish it in all your social media handles.
Well…, Is your a shelf or a store?
After finding out your niche and successfully gaining a basic foothold to do an online business, the next important step is to use the Internet's version of our traditional market known as the MARKETPLACE.
Oh yes, we are talking about sites like eBay, Amazon, Flipkart, Walmart, etc.
eBay may be regarded as one of the original start-ups that solely focussed on selling things online.
You can virtually list any product that is for sale, either in the auction mode or the standard 'buy this product' mode. But, online marketing does not end with eBay and Amazon alone.
Right from specialty marketing like Etsy (Etsy focuses on handmade products) to crowd-funding sites like Kickstarter, there are numerous ways to sell your product online. So, the decision lies in your hands. It is up to you, to develop your niche into a full-fledged market.
If you do not want to sell your products in the above-said sites, you can always keep your product in a shelf in your own home, wait for the customers to peruse your products on sites like Amazon and sell it to them.
Since Amazon is the site where many people tend to search for, becoming a seller in Amazon can be a profitable idea.
You can even request Amazon to ship your products and let them do all the order processing work while earning a profit.
Checklist to start an e-commerce business:
Okay, by now, you would have decided the niche of your business, selected a name, picked up a business model to sell your products and finally strengthened your online base to make your cash registers ringing.
With these, have we completed setting up our online business?
No, we are not.
We are now going to look at a 10-point checklist that will ensure that your online business formation is on the right track.
At this stage, the first step is to register your business name. You can make a simple corporate business name search to confirm that, no other businesses are using your official name. Then register it in the form of an LLC or an individual corporation or whichever you feel would do justice to your business.
Choose a URL that is simple yet lucid and conveys the nature of your business. Suppose if your business is to sell craft items, then try domain names that end with crafts.com or creations.com, so that people can easily identify your stream whenever they visit your website.
Fill out all the appropriate business structure framework properly. You can either do it yourself or hire a business filling agency to do the paperwork for you. You can also opt for a lawyer, but make sure that the charges are bearable.
Get proper Employer Identification Number (EIN) or an equivalent work permit to open a business account in any bank and secure your transactions.
EIN helps you to identify the nature of your business and helps you to file all your paperwork without any hassles.
If you are based in countries like India, get proper Permanent Account Number (PAN) along with Business registration certificates to ensure that there are no legal risks.
Furthermore, starting an eCommerce business does not give you the privilege of running a business without a license. Check with your country, state, city and understand the processes of sales tax licenses or small business licenses.
Get proper approval from the concerned authorities before developing a website for your product.
5. Since the online market is becoming popular every day, there obviously will be many competitors who are already selling a plethora of products in your niche.
So, you must be very careful in selecting the right vendors and fixing the right price for your products. Browse through as many sites as you can, ensure their credibility and start selling your products.
6. The most important aspect of making your business profitable is online marketing. Start blogs and link them to your social media profiles to increase site traffic.
Post-business-related content in your blogs regularly. A safe tip here is to leave some pages in your blog as 'coming soon' or 'will be updated' so that interested and intrigued users can sign up for your blog.
You can use tools like LaunchRock to make the visitors sign up for your website.
7. It does not matter whether your inventory is full, or your own room in your inventory. However, remember that it is always safe to stock your inventory.
Pay close attention to the sales figures of your products and start stocking up your inventory. It is not wise to prop up a 'stock over' board at the rudimentary stages of your business.
8. Before beginning to sell your products in different e-commerce sites, invest in an email marketing software to increase your rapport with the customers.
Invest in accounting software to take care of your sales and expenditures. Proper email marketing and customer relationship management will help you to integrate your business launches in different platforms with ease.
It will also make sure that your customers are aware of your other product launches.
9. Develop a proper business plan. A business plan will always serve as the road map, that will help you to tie your ideas and plans together.
These plans will also help you to determine the ways in which you can elevate the growth of your business.
10. Make sure that your business always seems relevant. You can run out of steam a few days after beginning your online business. It is completely okay as starting a new business can be quite exhausting.
However, ensure that your business is always on the right track and customers show adequate interest in your products.
Best Way to Start an Ecommerce Business:
We have now successfully arrived at the final section of beginning a new e-commerce business.
In the real world, if we want a store, we will decide what kind of store would ours be and based on our decisions, we look for areas in a mall or at a commercial complex to begin.
In an online world, you cannot quite build your stores in malls, but you can build a store that has umpteen products of various shapes and sizes.
The pre-existing traffic that a well-established marketplace can provide for your products will surely be valuable. However, you really cannot earn a maximum profit if you keep on selling your products on these sites.
Tools such as Storenvy will help you to build the outlook of your store. It is more like a portable marketplace something that resembles as a cross between Amazon and Etsy, but the advantage is that this store is all yours and no one can get a share of your profit.
While this is the most profitable way to begin your online business, you have the added responsibility of taking care of the shipping and delivering of the products without any damage.
If you want a standalone store, more on the lines of Amazon, then tools like Shopify lets you have a solid eCommerce platform for a certain fee.
Most new online stores prefer to use platforms like Shopify to start selling their products single-handedly. Furthermore, you can get to develop an app by choosing various shades and themes and develop it, the way you want to.
All your worries do not end up as soon as your online store is set up. Receiving payments is a major hurdle that needs to be crossed without any glitch. PayPal, the oldest and most known always works.
Your customers can pay you using their debit/credit cards or do Internet Banking and the money gets deposited in your PayPal account.
Other payment processing gateways like Payoneer, Dwolla or even Amazon Payments can let your customers select their preferred way of payment.
You can also develop an option for 'Cash on Delivery' so that customers can also pay for your products in cash.
Also, it is encouraged, if you can set up international payment gateway options for your international customers.
These gateways will take care of the currency conversion issues and can allow you to cash, different currencies at the same time. You can also develop your own payment interface for instant payments.
A stripe is a tool that aids you to develop a payment interface and integrate into your lists of payment options.
Tools like Adyen integrates with localized payment resources so that anyone can shop in your store without worrying about the modes of payment.
So, we have now reached the end of our step-by-step guide to help you in starting your own e-commerce business. These ideas will help you to gather some insights about how these e-commerce businesses work and what it takes to start one successfully.