The very common talk in the technology world is social media as it has the capability to reach almost all people across the globe. Social sharing buttons are mandatory to be integrated into blogs.
When these sharing buttons or social bookmarking are employed, readers find it easy to share something they read interesting. By this way, the social media sites drive in more traffic and search engine ranking is also enhanced. It is mandatory and there are a number of WordPress social media plugins which should be known.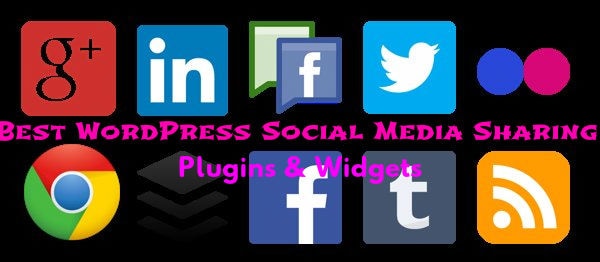 Best WordPress Social Media Sharing Plugins:
In this floating, social media sharing buttons along with counters can be added. This plugin enables to add social media sharing buttons on both your mobile as well as desktop. This category of plugin supports almost all social media buttons along with counters, where enabling as well as disabling can be done on any of the placements.
Monarch can be the best option for being considered as a paid social media sharing plugin for your WordPress account.  Apart from creating various social media sharing buttons they also assist in sharing. Sharing buttons can be added even in flights, where flyouts are prominent.
In order to download monarch one needs to get a license for elegant themes so that all their themes can be accessed and premium plugins can be obtained. The best part of Monarch is that sharing buttons can be added on mobile sites too where an enhanced number of shares can be obtained on mobiles.
Ultimate social deluxe – Removed:
The most wanted premium plugin is sold at codecanyon for just $14. The trendy and lavish look is what lures in more people to buy this plugin. Javascript and CSS are used to make the button visible. Quick page loading with iFrame is averted in this plugin. Approachable social sharing buttons are added by this plugin which is most wanted these days.
Widgets can also be added by which profiles of social media along with numbers can be seen. The ultimate social deluxe offers five placement options which can be top or bottom of the page or each post, and they can float too. Apart from this vertical and horizontal layout along with specified alignments can also be positioned.
Being the most famed social sharing plugin, jetpack sharing can add a number of feature to the blog. The main advantage of the plugin is that your blog can be added with social media sharing button. The sharing module, when activated can help you add these buttons.
 This famed plugin found in word press plugin directory helps link social media sharing to any blog. With abundant features, lazy loading is one which makes it clear that the sharing buttons do not drag the speed of the blog. With the many other options, Digg Digg can be a perfect choice for adding social media button.
Add to any is an advanced plugin for adding social media plugin. The main benefit here is that the plugins are available with a number of customization options.
Responsive sharing buttons can be added to the page which is a highlight of add to any. Nearly 100+ sharing buttons can be added which is advantageous in many ways.
The other fact is that placement options are numerous when to add to any is considered. Tracking of social media sharing can be accomplished with the help of Google Analytics.
External scripts or java scripts aren't loaded with DC simple share button plugin and so your blog is not slowed down. There are other few options also available with this plugin which can be learned in detail by running through its site.
The sharing buttons, as well as the sharing widgets, are developed on the sidebar. Any individual can start using it when a license for the same is available. There are a number of options and features to pick and play with social media sharing buttons.
The best feature of these buttons is that they are flexible and powerful and sync with the individual's requirements. There are numerous built-in options to pick and display.
Social fans – Removed:
Social fans are considered as an effective solution to act as social media plugins. The presentation of social fans is perfect and lures the visitor. It is presented as a responsive WordPress plugin and also quality retina ready which can be used to display for subscribers, social media fans and followers.
There are quite a lot of features and comes with 30 social networks for Twitter, Facebook, Pinterest, LinkedIn, and other social media sites.
Social buzz – Removed
For ones who desire for Mashable can opt for these social sharing plugins, this is because social sharing buttons can be placed like Mashable. Along with social share buttons, it also shares graphs.
By this way, the visitors are shared with a visual treat and get to know the reputation of the posts. The responsive social media plugin comes with three inbuilt styles.
CardZ social stream – Removed
This fascinating social media plugin helps you to gather all your social media activities at one place. If any of you desire to possess an interactive page then this plugin can be the right choice. It's simple to get hold of the plugin in just three steps. The plugin provides you with 15 gorgeous themes along with custom typography.
The social media stream looks clean with the help of the pagination feature where the animated effect can also be added to it. The other advantage is that the custom page and banner can also be added to it which makes your page look attractive when viewed on mobiles too.
Sossy – Removed
Sossy is another excellent social media plugin for WordPress, which offers a beneficial feature to develop boundless responsive social profiles as well as the social counter. This customizable social media plugin offers manageable display options. By this way the display can be changed by matching with the theme and also shortcodes are added to the profile.
Social share and locker pro – Removed
This is another latest plugin which is considered as a comprehensive solution for encouraging the contents on the various social media sites. Just a few clicks are vital enough which helps you place the plugins in the right place.
There are 10 predefined themes available for this social share and locker pro plugin which is developed with CSS3 and is retina ready with best fonts.
Word press social stream – no longer available:
The main objective of word press social stream is that the complete social network interactions are united into a single network stream which can also be a single stream for many social network profiles. This plugin does something more than just sharing your blog.
An enhanced and customizable social media plugin which can be developed customized and beautiful icons can be made for the profiles of social media. There are 12 categories of design sets from which can be picked or own icons can be uploaded too. Customizing them can be done, various effects can be added and in the same manner, the size can also be set along with tooltip and margins.
Share plus – Removed:
For a tidy and professional look, share plus can opt which five has pre-made themes. The power of CSS helps you customize the icons and is considered as the best user-friendly social media plugin for Word Press. It is simple and easy to get along with this plugin.
Word press social board supports 13 social networks and also possesses about 30 feed options. This plugin is similar to the social stream plugin where all social networking activities are combined into one social stream.
Exit through social share – Removed
This is considered as a powerful way to promote your content because a pop-up box pops up when the visitor clicks any outgoing links and need to like any social media page. This is considered as one of the most used social media plugins.
WP flat social profile blocks – Removed
To present your social media profiles in a flat pattern design WP flat social profile block can be opted. The flat icon can be customized and designed with the help of a drag-drop module. The admin interface is effective and anything can be adjusted.
Share this image – no longer available:
This is mentioned to be a simple and flexible image sharing plugin and offers enhanced flexibility to encourage the content to 11 social media sites. For ones who are looking for good quality and easy image sharing option can opt to share this image.
These are a few social media plugins and abundant more are available. Since social media is important for both online and offline business, gaining traffic towards any site is important too. Using any of the above said social media plugins can be of enhanced usage to divert traffic. There are a number of sites which offer detailed information about the usage of these social media plugins.