The relation between social media and SEO is a debatable topic in the content marketing industry. Social media SEO is a new part of the marketing strategy most content marketers adopt nowadays. It is the process of focusing on social media activities in order to boost search engine ranking.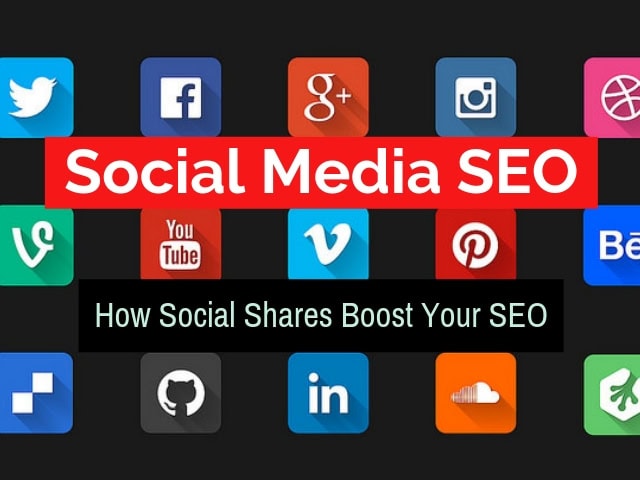 All marketers are trying to implement various SEO strategies in order to improve their website ranking and increase traffic towards it. The controversy arises because of Google's statement about social media and SEO. It says that social media signals are not a ranking factor of your website.
Most websites include social media icons within their contents and tell their readers to share it across various social media platform. It helps to increase the visibility of your content. More internet users will read this and the popularity of your content increases. But Google is not considering this social share as a ranking factor of your website.
So, we cannot actually say that by improving social shares you can improve the website ranking. There are many other factors which decide the ranking of your website. But no need to ignore the fact that various researches have been conducted on this topic. The final result says that social signals can indirectly help to improve the ranking of a website. We can discuss this topic further here
Does Social Media Impact SEO?
Google keeps its algorithm private and no one knows what factors they consider to rank your website. Google crawls every website and index it using its technology. Like any other website, Google crawls various social media channels and view the contents on them. But the main reason why Google ignores social media response as a ranking factor is that anyone can easily cheat the search engine to improve its ranking.
Google wants to offer quality contents to its users and won't allow any cheating in it. On various statements of Google, it says that social signal is not a direct ranking factor. But in 2016 Google said that even social links and shares are not a direct ranking factor but that doesn't mean that it is not impacting your website ranking.
So, we cannot ignore this comment from Google. Good contents that are published on the website can be shared across various social media platforms. As the number of likes and links increases, the ranking of your website will also improve. There is a chance that a good ranking is a result of social links and shares. So we can say that social media signals can play an indirect role in improving your brand visibility and sale.
The Importance of Social Media in SEO:
SEO is more about implementing some strategies to get more visibility for your contents. Social media marketing mainly aims to improve your content visibility to as many people as possible through social media networks. Both works to achieve the same goal even though the terms are different.
An effective social media strategy with the help of SEO can help to get your contents to the limelight. By increasing the traffic towards a website, you are making it more popular and thereby increasing the sale.
Here are some important points to know while working towards social media SEO
Can help to bring more quality inbound links:
Backlinks play an important role in building a website ranking. Quality of these links is very important as quantity. As social shares increase, your website content will be more popular among webmasters/bloggers. An increase in social shares means the quality of content is very good. There is a chance that these webmasters decide to links with your website by impressing in your content quality.
HubSpot research shows that there is a good connection between the number of social shares and backlinks. So, all you can do is to improve your content quality. Create informative and entertaining contents that can get shared across various social media platforms. Make sure to share the contents cross social media so that the right people see it and take a good decision to link with your website.
Can build more followers:
It is very important to build the number of followers. A quality website with good content will get enough followers from various sources. By using proper strategies while advertising your content on social media, can also help to increase the followers. Users support good contents and if you can give them then they will follow your website.
Using social media, you can connect with users and also get feedback from them about your contents instantly. Find your targeted audience and focus on promoting your contents on that platform more. This strategy can help you to get the feedback and number of followers for your website
Bring brand awareness:
Most businesses create contents to bring brand awareness to the audience. Grow your audience and build strong brand awareness using SEO based social media campaigns. Connect with your audience using social media and give them what they want. By offering social media updates and contents about your website on a regular basis, they can recognize your brand. Bringing brand awareness can help you to bring more improvement to your business.
Know your audience:
Social media helps you to connect with your audience directly and get instant feedback from them. Without a proper understanding of the audience, you cannot give the product to the customers as they want. That's why businesses do audience research before developing a marketing strategy.
With the strong support of the audience, your brand can bring more credibility among them. Through social media, you can communicate with your audience and know what they are expecting from your audience. This can help you to create contents as they want and thereby help the search engine to get what they are looking for
Social Media Practices that Boost SEO:
Now we know that social media indirectly helps to boost your search engine ranking. So, it is very useful to know the good practices you can follow in social media. It can eventually help you to boost your search engine ranking by boosting SEO.
Marketers are struggling to boost their SEO by adopting various SEO tactics. Try focusing on your social media posts and see the wonderful result. Here are some best social media practices that can help to improve your SEO
Optimize social media posts:
You may have heard about optimizing contents for search engines. Similarly, you can also optimize your social media posts. Posting regularly on social media is a good way to interact with your audience. To achieve this, you can use strong anchor text about your website. Use the keyword in your description which can lead to your website contents.
You can also use powerful keywords from your niche with hashtags while posting on social media platforms. Communicate with the audience and refer to your website contents whenever needed. These are some better ways to optimize your social media post and boost the website ranking
Encourage social sharing:
Embed various social media platform buttons within your content so that readers can share those contents across various social media platforms. This is a very common practice which can be used to increase the number of shares and visibility of content.
More people will read this content by sharing it on social media platforms and eventually organic traffic towards your website will also increase. As the number of visitors increases, your website will be ranked in a better position.
Create high-quality content:
Just by following all other strategies without quality content is of no use. You need to focus on creating high-quality content for your audience. They need to get a complete solution to your question by reading your content. Content should be fresh, creative and should have enough details about the topic.
No need to focus on stuffing keywords in your content. Give your focus on creating good quality content that can get shared by others. It can be possible by analyzing your targeted audience and knowing what they want from such contents.
Optimize images for both social and SEO:
Images are very important in the content. Sometimes an image can make people more attractive towards a content.
While uploading images, add a tag to it which includes your keyword. This will help the image to get listed easily when someone is searching for a related topic.
Locally optimized post:
Social media helps to develop the opportunity to create local engagement among local people. If your business is a small one and located on a specific location then the geo-targeting post can help you to get noticed easily. As the social media contents get popular, it can lead to popularity in search engine also and this may lead to an improved search engine traffic.
How to Improve SEO with a Smart Social Media Strategy?
With smart marketing social media strategies, you can improve your SEO. Creating an account and sharing it on various social media platform is not enough to improve your website traffic. Check out some effective strategies you can follow to make your content more popular
Increase online visibility of your content:
By implementing social media SEO, you can make your content more visible. Even after optimizing contents with keyword, it may not reach to your targeted audience through search engines. That's where social media can save your contents.
Social media platforms can give a new platform for your contents to get popular. More than 70% of people search on Facebook for interesting content. Just like Facebook, other platforms also offer your contents a chance to get popular among others. Links and social shares may not increase your website ranking but can improve the engagement rate of the audience for sure.
Implement a good link building strategy:
Quality and relevancy of links are very important when it comes to building backlinks. Social media is a good platform which marketers can use to build external backlinks. Brands are using social media as the best platform to interact with their audience.
If your content is more engaging it can get shared to various social media platforms. So, there is a chance to get your content more exposure among some influencers or webmasters. They always want to link their website to popular content. As a result, there is a chance to get high-quality relevant backlinks from the website with good authority.
Measure and optimize regularly:
Good analysis is essential to get a successful strategy. While implementing social media strategies you need to monitor the performance using a performance analysis tool. This can help you to get feedback about your strategies.
Also, you can change the strategy anytime if it is not working as you expected. As the number of social media response increases in the form of likes, shares, and comments, it indicates your content's relevancy and authority. Both of these factors are important from an SEO perspective.
Improve mobile usability and local presence:
Most users are now visiting a website through their mobile device. So, mobile usability is very important for a website to be successful. Google is also now focusing on mobile-first indexing. Page loadings speed, user experience, and many other factors decide your website ranking.
Optimize your website for mobile device and implement local presence. You can add your website or business to local listings which can help to get it listed under the local search result. This is also a good way to impress the search engine and get a good ranking
Conclusion:
We cannot say for sure that social media and SEO are directly connected to each other. But by implementing some social media strategy can indirectly help with your SEO efforts. Every stage of your SEO efforts will connect with social media directly or indirectly.
Try to implement the above strategies and see how it can bring a change to your website performance. Do you know any effective social media strategies that can help websites to improve SEO? With a clear idea of the impact of social media on SEO can help you to manage your campaign effectively.