Restaurants and food businesses use various ways to reach to their customers. Impressing customers with their business is their primary aim. It could be through social media, search engine, local listing websites, etc. But most restaurants incorporate social media as an integral part of their marketing strategy.
The reasons could be many such as an increase in customer engagement, business growth and many more. In today's world, people value online reviews and comments while trying a product.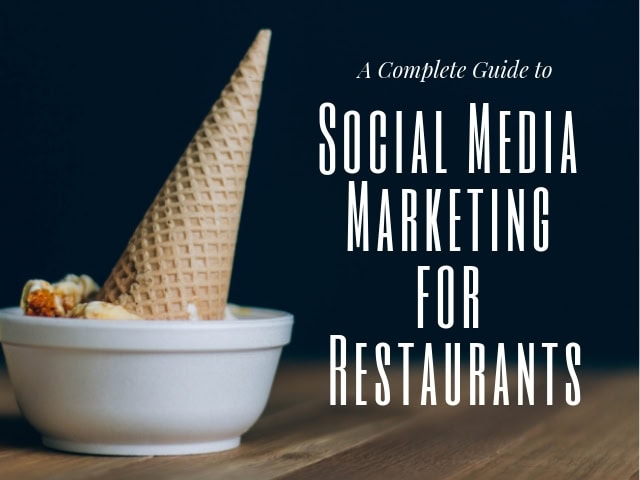 Having a good digital strategy is very important to restaurants. More than 88% of people believe in the reviews and comments provided by the customers, according to a survey. Restaurants use various social media platforms such as Instagram, Facebook, Twitter, etc. Most popular platform among all of them is Instagram because of the importance it gives to images. Images have the power to attract customers to a business.
Are you trying to find some new ways to expand your business?
Then you are in the right place. You will get a detailed idea about using social media platforms in your restaurant business promotion.
Why social media marketing for restaurants is important?
According to the Q3 Sprout Social index, more than 75% of people buy a product because they saw it online. So, this is something you cannot miss if you want to make your business more accessible to millions of people out there.
Social media platforms give business owners to showcase their menu, food images, videos, etc which can build a positive impression among the customers.
Who doesn't love to watch stunning pictures of food items right !!
Many restaurants make social media as a part of their marketing strategy to connect with their customers. With a good team to market and an effective strategy, social media can help you to build your business as well as earn more profit.
Strategy to Social Media Marketing for Restaurants:
This article mainly deals with some useful tips every restaurant business owner can try to expand their business. We compiled the opinions of popular marketing experts here to help you with your restaurant promotion.
If you haven't thought about implementing social media promotion as a part of your business marketing this is the right time to start. Here are some useful tips for your business promotion
1. Think from your audience perspective:
While using social media for promotion you should think about your audience first. Think from their perspective and start posting on social media. You should be aware of the type of audience you are communicating with and their preferences. Most foodies will follow restaurants and cooking blogs. So, post for that kind of audience. Think about your customer and think about why they want to visit your social media page. You can create a strategy based on it easily.
If you are targeting local people then posting in a neighborly manner can help your post in getting more response. You can operate various social media platforms to promote your website. Be consistent and active on all these platforms and interact with your audience to be successful. If you want to project the quality and variety of dishes on your menu then try to include such posts on your social media page. Keep your customers in mind when you plan a strategy to promote your business using various social media platforms.
2. Choose the platform:
When it comes to social media promotion, first you need to be clear about the platforms you want to use to promote your business. There are various social media channels available for your business promotion. Choose the most popular platforms among them and start to create an account
Instagram
Don't underestimate the power of Instagram in business promotion. Instagram is an image-based platform which helps you to post pictures of food items on your page. Power of images are very high and is considered as one of the best strategies, businesses can use for their promotion. A lot of people take pictures of the food before tasting it and spread it across the platform through their account. People always get attracted to good pictures with better clarity.
There are many ways to promote your restaurant business using Instagram. Here are some important features you can use while promoting your business through Instagram
Hashtag:
Hashtags are very popular nowadays. They can help your images fall into the right niche and also gives more exposure to your posts. There are different types of hashtags you can include with your images such as trendy hashtags, niche specific hashtags, and campaign-specific hashtags. A trendy hashtag can help your content to fall under trendy posts. Find the most trending hashtag from your niche and include it within your image to get it listed under that category.
The niche-specific hashtag will help you to fall under your own niche other than falling under millions of other posts. If you are running a campaign or contest, it is better to include a specific hashtag which helps your followers to engage with your post.
Track location:
If you turn on the GPS of your device there is a special feature on Instagram which gives you the exact location of the picture. You can get the details of the location where the image is taken using this feature. If someone posts the image of food items from your restaurant this image will get tagged to your business automatically. It can also help your business to be more popular.
Post images of your menu:
When it comes to restaurant business there are some limited things, they can post on social media platforms. If you think your restaurant has a special menu with a variety of dishes then try posting it on Instagram.
You can also post the special dishes of each day with their images to get more reach. You can also conduct photo contests where the customers of your business post the image where your restaurant or food items get featured.
You can offer a complimentary dinner or lunch for the winner of the contests. Engaging the users to interact with your social media page is a very good way to get more trust from them.
User-generated contents:
User-generated contents are very popular in social media platforms. Encourage your customers to take pictures and post it on their social media page by tagging it with your restaurant name. it can help to reach the images to more people other than your business followers. You can also engage your customers to give feedback while including new items in your menu.
Include employee appreciation:
Post pictures of your employees when they get a good opinion for the food they made. You can show the value you give to your employees by including such types of posts in your business feed.
Facebook:
For those who want to start social media promotion for their restaurant business, Facebook is a good option. It lets you post the images of your business and also lets your customers leave reviews about your business. On Facebook, customers can include their opinions, tag you in photos, view the menu, communicate with you in messenger and many more.
Include images:
Use Facebook as a medium to post a delicious image of food items from your menu. You can cover the customers with their permission and put those pictures in your Facebook post. Also, shoot small videos of making food with high quality which can be used to promote your business on Facebook. With images, you can include the name of the dishes too.
Create attracting Facebook tab:
A tab is something every user will see when they visit your website. Include some interesting food images, menu and the location of the restaurant in the first line to help customers. Give them the most useful information about your restaurant through these tabs.
Use your followers as your brand advocates:
Give exclusive deals for your current followers to share your page with their friend's group. Offer group deals and promo coupons for people who like and share your page. Offers are always useful to make people share and follow your Facebook page.
Facebook Ads:
Use geo-targeted Facebook Ads to promote your business to a specific location. There is no use in targeting whole people if you are running a business in a specific location. Use geo-specific ad features and promote your business in a designated area to get a more positive result.
Twitter:
Twitter is another source you can use to promote your business. Here you can share tweets with 140 characters long to get shared and spread to a large number of audiences. Here are some tips for you to use Twitter for your business promotion
Include menu links:
When you tweet on this platform it is the best way to include a link to your restaurant menu. It can help your followers to easily choose the food item they want from your menu directly from Twitter.
Images:
You can also share images via Twitter. Include images of your food items through Twitter to your followers. It can help to drive more traffic towards your business and can increase the number of followers too.
Coupons:
Social coupons are a very popular and effective way of promotion nowadays. You can use Twitter to give some special promotion and offer to your followers and encourage them to share it with their contacts. This can help to increase your business and number of followers at the same time.
Hashtags:
Like Instagram, you can also use Hashtag to make your tweets to fall under the right niche. But here you cannot use so many hashtags like Instagram. Limit the number of a hashtag in your tweet so that it can get shared to others and get as many @mentions as it could.
Geo-targeting:
Using Twitter you can promote your business through promoted Tweet feature. These tweets can be used to send to your targeted audience by paying. While using paid promotion make sure to turn on geo-targeting feature to make it more impactful. If you run your business in New York turn the geo-target feature on so that the tweet reaches to the audience who lives in the New York area.
Set time for your tweets:
You can set a specific time to send your tweets. Research well for the best time where your customers are active on twitter and set it as your time to tweet. This can ensure the maximum reach and response to your tweet.
3. Build followers:
After creating an account on social media platforms, the next step is to get as many followers as you could. There are various ways to get social media followers. One is targeted following and the other one is to create engagement within the audience.
Targeted following:
This is a good way to increase the number of followers you have on various social media platforms. Find your competitors and interact with their post so that they will do the same with your posts. This is a good way to get more followers to your page.
It can help to reach your posts to their followers when they interact with yours and will make them as your followers. See the number of likes, shares, and retweets a post gets and see the people who liked the post. Then you can start to follow them to get a good result.
Engaging posts:
While posting on the social media platforms, it should be engaging so that the audience responses to those posts. It could be likes, share, tweets or even subscription. Just with more followers, you cannot get the result you want. Make them interact with your post.
A small group with good interaction is better than a large group of silent followers. You can ask for their feedback, do debates, run a poll, and engage them to post pictures that feature your business. It can help bring a more positive response to your business automatically.
Conclusion:
Social media is a very useful tool to promote a business nowadays. Don't waste your time in those old traditional methods which can't bring any result to your business.
Start following new trendy ways to interact with your customers and make them believe in your business. It can help to bring brand awareness and more credibility equally for your business. Which social media marketing strategy worked best for your restaurants? We would love to receive your answers.