The Bookmarking concept is simple and everyone is familiar with social bookmarking.
Usually, people place sticky notes or cardboard pieces to a particular page in a book in order to remember that page. The same tradition has been passed out to browsers.
Users can store the links of web pages that they like or need, to access it whenever needed. Now people are headed towards social bookmarking.
Social Bookmarking Meaning: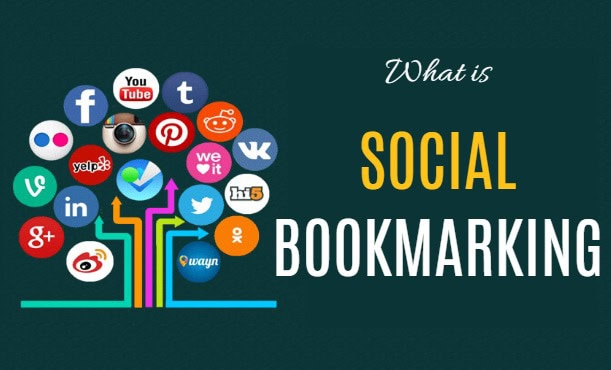 Social Bookmarking is similar to browser bookmarking. Here the links of the web pages are stored on a particular website. In other words, it is just tagging the links of the web pages using a web-based tool.
Usually, the links are stored in the browser but in social bookmarking, they are stored on the website instead of a browser. You can access them anywhere with an internet connection.
Why Social Bookmarking is Important?
Social bookmarking has many advantages compared to browser bookmarks. The web pages that have been tagged on social bookmarking can be accessed on other devices. You just have to log in to your account from other devices.
The social bookmarking pages not only store your links but also will provide you a list of web pages that have been tagged by other users. Categories like popular, recently added, shopping, blogging, politics, news, technology, sports, etc
You can even search the web pages by using the search tool. The fact is that these social bookmarking sites are used as intelligent search engines.
How to do Social Bookmarking step by step?
Social bookmarking is very easy and everyone can do it. Here is the step by step procedure of social bookmarking.
There are a lot of social bookmarking sites online. So select the best website from them which is more reliable.
After picking the website, create an account using your email ID or mobile number or you can log in using Facebook account.
Select and right-click on the link's address on your browser.
A menu appears, click on the Copy option.
Go to your social bookmarking site and right-click again.
Now select paste from the menu that appeared.
Click on the post or upload button.
It is better to link social media with bookmarking sites.
Tag the links with important keywords.
Social Bookmarking Examples:
There are many social bookmarking sites. Each site offers different features and it completely depends on the user's choice to pick the one that suits their requirements.
Delicious – Site Is Dead Now:
Delicious is the world's famous bookmarking service. Users can save, organize, and discover the links on the website.
It has a user-friendly interface that allows users to build a collection of links. This helps in creating its own search engine. It also provides an option to browse the links that have been shared by their friends
If the content present in a certain blog or website is great then getting listed on Delicious will drive huge traffic and makes the website one of the best.
Everyone would have heard the name Tumblr once on any social media website at least. It is one of the most popular micro-blogging sites.
It provides users with an option to create content in short blogs and post them with relevant tags (keywords). This enables others to access the blog easily.
Tumblr drives huge traffic globally and getting your site bookmarked on this website will gain a decent amount of traffic for the site.
This American social news and discussion websites are full of informative articles. Just submit the article link in the right category (Reddit is very particular about categories and links which are placed in irrelevant categories will be removed).
If your article gets upvoted then it will get a lot of traffic.
StumbleUpon is one of the best bookmarking websites where you can get huge traffic for your site.
In StumbleUpon, the website links are divided into categories. It also provides a group where you can share your website link publicly.
Submit your link and it drives the traffic immediately. The traffic driven by StumbleUpon is not only for one time but will exist for a lifetime if your website or blog is nice. It should be impressive as well as interesting.
It was founded in 2007 and gained immense popularity since then. People save their websites and interesting articles on this site.
This helps them in driving huge traffic as well as acquires backlinks also.
It is one of the best photo sharing websites with more than 100 million active users.
It is also used as a bookmarking website. It is having huge content and drives a lot of traffic. Pinterest consists of pins, repins, and following.
Upload your site or blog link and add relevant tags. You can observe the increase in the traffic of your blog or website very soon.
This is one of the best user-friendly sites. Signed up users can bookmark the pages and share it with their friends and colleagues. It drives a good amount of traffic for the website too.
Newsvine: – This is Shut down
It is an open-source website that allows users to create content and seed the links to external content.
It also allows users to participate in the discussions. It has over 40 million visitors a month and ranks in the seventh place in the Google page ranking.
The most voted content in the site will appear on the home page and the categories are divided into news, business, politics, art, and technology.
Hubpages is another interesting bookmarking site that allows users to share content, videos, pictures, or search answers for their questions.
It is the best revenue sharing website. It provides authors a platform to create original content about various topics and earn through many commission-based mediums such as Google AdSense.
It is a community-based platform to share infographics and data visualization. It is a place where publishers and researchers look for images.
They use keywords and tags to search the images so it is important to upload your images in their preferred categories.
It allows users to create profiles and publish various interesting insights. It drives relevant traffic to the sites.
It is one of the oldest blogging platforms with inbuilt tools. Customization, mobile blogging, photo album creation, multiple author support are additional features of TypePad.
It is paid service and gives four kinds of subscriptions for the users. The content can be promoted by authors on this site and measures the performance using tracking.
Organizer: – This was shut down
This is a simple bookmarking website where users can save links to their favorite websites in one place and can be accessed from anywhere. Using relevant tags for the links will increase the traffic.
The world's largest social networking site is also the best bookmarking site. It is a content-sharing platform with a large number of referrals every day. It provides the latest news, topics of discussion using keywords.
This helps brands to generate relevant content on Facebook bringing more shares or impressions. As people using this site are huge in number, it serves as a great option to bookmark the sites.
One of the best social sharing sites serves as a bookmarking website. Usually, more than 500 million tweets are generated on a daily basis.
Retweets, replies, and likes are the way to analyze the following and user interaction for a particular tweet.
Fresh and interesting content will always gain huge popularity on Twitter.
Google Plus: Shutting down
This Google-powered website will allow users to share their images, videos, content in various communities.
It allows users to find the sites in which they are interested. People can store and share links with like-minded individuals.
Benefits of Social bookmarking websites:
Eases the searching on the internet:
Usually, when you search on Google, a lot of search results will show up. Navigating through them and getting the right pages is not easy. But it is contrary to social bookmarking sites.
You can type the keywords in the search tool of the bookmarking website and you will get access to the pages that are relevant and saved by the users who used it earlier. This helps you to narrow down the results and makes it easy to access the websites.
Many social bookmarking sites display the web pages into various categories like recently added, popular. This helps you to keep up with the relevant and recent information.
If you search for a keyword you can see a precise number of articles with its votes. Obviously, you will concentrate on an article with more votes and get the information you want in some time only.
But the situation is different in search engines. You have to go through thousands of websites to get the right information which takes up more time and effort.
Helps in promoting websites:
For website managers and bloggers, these social bookmarking is the best way to promote their site links. There are various social bookmarking websites present online. Getting listed on one of the best websites will drive a lot of traffic to your site.
It is an easier way for the audience to reach your site as there will be very fewer listings. It is important for you to just use the relevant tags. Search engines often use the listings present in the social bookmarking sites, this will give you an extra opportunity.
People who use bookmarking sites will often use more than one site. If you feature your website on the website and gather the attention of a user, they may even tag you on other sites. This will increase a chance of featuring your link on a wider platform.
Sharing your content on social bookmarking sites will make it easy for users to share the articles on various platforms with their friends and in their community.
Social Bookmarking for Business:
Draws visitors
Brings in new clients
Builds relevant links
Gains popularity
Helps people to find the specific business
Draws traffic.
Best way to release press releases or promotions.
Social Bookmarking for SEO:
It is an effective and safe method to generate one-way links. Social bookmarking has a good impact on page rank and index rate. Most of the reliable social bookmarking sites have high page rank which helps to improve the ranking in SERPS and page ranks.
Tips for Effective Social Bookmarking:
There are some of the do's and don'ts for effective social bookmarking.
Dos:
Show variations in title, description, and in the text.
The quality of content is important. Focus on the quality of the article.
Use the relevant tags
Choose the perfect category for your article.
Use interesting titles.
Engage with more people. This will improve the traffic to your site.
Respond to the comments
Don'ts:
It is important to focus on don'ts when you are using social bookmarking.
Social bookmarking sites became the largest platforms for digital marketing. It is fine to promote your articles but don't flood the user's feed with articles to drive traffic. This is considered as spamming.
Don't troll or let others troll you on live debates on social bookmarking sites.
Don't choose irrelevant keywords for your articles.
Don't just bookmark one main page of the website.
Don't use any software to bookmark the links.
These are some of the things that you must avoid in social bookmarking.
Social bookmarking is a nice platform to search for any information or to get traffic for any site. It represents the site to the people who had done relevant searches globally. It helps the site managers to engage with the visitors and to know the feedback for the article.
For bloggers, it is the best way to promote their upcoming blogs and articles. Right tags and relevant keywords will help you to gain blog traffic.