There are various ways you can get your product and content get noticed online and one of the most popular ways is getting them shared through Snapchat influencers. It is a valuable platform for all business marketers, especially if your target market involves teens and youth.
When it comes to creating awareness among young minds, Snapchat outperforms Instagram, YouTube, and Facebook. So, don't you think you must check with a Snapchat influencer now to showcase your offerings among the mass?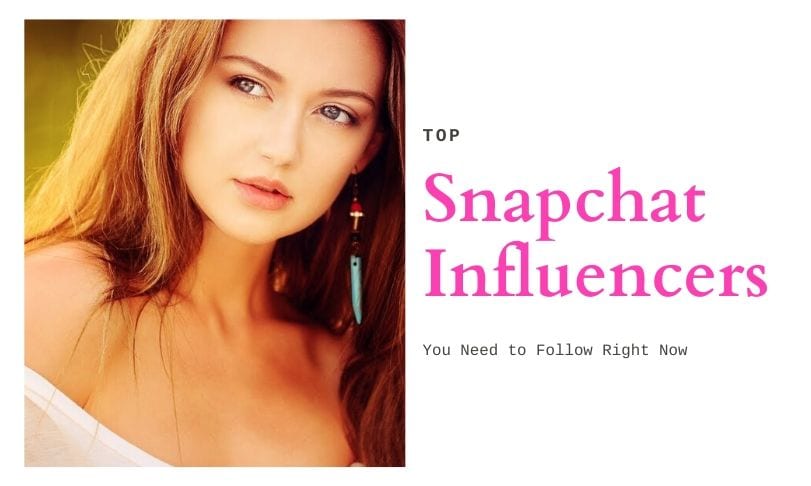 But which Snapchat influencer you must partner with?
Here we have compiled the list of best Snapchat Influencers, which can surely help your business going strong.
Best Snapchat Influencers Who Can Boost Your Reach:
1. Andrea Russett (@andwizzle):
Being a famous American actress, she holds a great fan following on Snapchat and YouTube. She became a teen sensation in 2009 with her contest entry getting viral during a contest to meet the heartthrob Justin Bieber.
She is popular among the mass after her buzzing announcement of being bisexual. Her free-spirit attitude makes her a hit among the youth.
2. DJ Khaled (@djkhaled305):
Another popular name in the Snapchat world, this influencer is famous as the 'King of Snapchat.' His innumerable posts on a daily basis highlight different aspects of his life and make him a top Snapchat influencer.
3. Jean-Serge Gagnon (@jeansergegagnon):
This Snapchat influencer is a Canadian based development expert who regularly posts about parenting, success tips for businesses, and family. His regular talks about his four daughters have developed a personal connection between him and the audience. A lot of people follow him not only for his advice but also to learn about the latest Snapchat marketing trends and content boosting productivity tips.
4. Kylie Jenner (@kylizzmynizzl):
She is one of the popular and youngest Snapchat's members who gained popularity overnight. She not only shares great stuff of tabloid fodder but is also famous on her Instagram account.
5. Elizabeth Koshy (@lizakoshysnaps):
This is YouTuber and American actress began her journey on the social platform and posted 6 seconds comic video, which went viral immediately and brought her fame. She is also a lead character in the comedy series on YouTube, Liza on Demand. She posts about serious societal problems with humor and is loved by a massive fan following.
6. Gigi Hadid (@itsgigihadid):
This fashion model is a big star on Snapchat. She regularly posts her snaps including photos with sister Bella, who is also a famous model. Her selfies and occasional pictures are loved by a lot of followers.
7. Chandler Riggs (@chandler.criggs):
Next, we have this popular American DJ and television actress who is famous for his award-winning roles in famous horror-drama series, The Walking Dead. He is a teen idol who performs as a DJ at Eclipse. He is a heartthrob among teen boys and girls and consistently posts snippets from his stage performances and shows.
8. Blac Chyna (@BlacChynaLA):
Undoubtedly, she is one of the best Snapchat influencers who are popular for his connection to the Kardashians. Along with her snaps, her followers love her posts with Kylie Jenner and her fiancé Rob Kardashian.
9. Baby Ariel (@arielxrebecca):
Popularly known as Baby Ariel among her fans, Ariel Martin got uplift in her social media career from short Tik Tok videos. With a fan base of around 29.9 million on her app, she is highly popular on Snapchat, Instagram, and Facebook.
People love her strong opinions on various issues like bullying and internet trolling. She has gained immense success as a singer and actress.
10. Chrissy Teigen (@chrissyteigen):
She is a supermodel and a famous personality on various social platforms including Snapchat, Instagram, and Twitter. Her snaps with her mom, her dog, her baby, and her food are appreciated and liked by thousands of followers.
11. Ricky Banks (@rickybanks):
He began his YouTube channel in 2011 as a vlogger and is famous for his alias, FaZe Banks. His short videos on trick shots and techniques for different video games keep him talking among the mass. His organization FaZe Banks regularly organizes video game tournaments. He also posts about his fellow members like Alissa Violet and Rice Gum, which is why his followers are always keen to check his next post.
12. Frankie Greek (@WTFRANKIE):
She loves being called as a Snapchat Journalist and is a top Snapchat influencer to check. She does everything seriously, including posting on her Snapchat account. She was the first personality to host a weekly talk show on Snapchat and has worked with various reputed brands.
13. Jordyn Jones (@jordynjones11):
This Snapchat influencer is from America and is a famous model, singer, and actress. Not only her Snapchat but also her YouTube channel holds millions of views and subscribers. Her singing career began with a Dance Camp. She has performed in numerous opening acts and has modeled for various top brands like Steve Madden and Guess.
14. Logan Paul (@LoganPaul):
Logan Paul is one of the former Vine users that migrated to Snapchat after Vine was shut down. His short, funny videos are followed by a lot of internet users. He is also famous for his merchandise brand.
15. Benji Krol (@benjikrol):
This Canadian YouTuber and photographers are a popular Tik Tok personality and also popular on Instagram for his comic expressions and funny videos. With more than millions of followers on Snapchat, Twitter, and YouTube he is also known for his bisexuality and is presently dating TikTok personality, Jorge Garay.
16. Amanda Cerny (@AmandaCerny):
This is another start from Vine who gained followers and fame from Snapchat. She is not only famous on Instagram but is also popular on Instagram housing 15.8 million followers. She was a former playmate and is also holding a flourishing viable acting career.
17. Paul Darbos (@pauldsnap):
Belonging to France, Paul Darbos gained social fame from Twitter by posting impressionable quotes and posts. He presently has more than 376.3 K followers on his account. Also, he is popular on other social platforms including Snapchat and Instagram. He is also a popular YouTuber and has launched his own channel on this platform. Most of his posts are in French.
18. Cyrene Quiamcoa (@Cyreneq):
This artist and popular graphic designer label herself as one of the top Snapchat influencers. Her sketches and drawings of various celebrities like Bruno Mars and Ellen Degeneres got her immense attention on Snapchat. Till now, she has worked with various top brands including Pixar, Burger King, and Opi Nail Polish.
19. Hailey Orona (@mrs.werido3005):
She is another popular Snapchat Influencer, who is adored and admired by large teen boys and girls across the world. She is famous for her lifestyle videos and regularly enthralls audiences with her glamorous outfits and attractive selfies. A lot of her Snapchat posts showcase her dancing and syncing to famous albums. With her net worth of around $400 million, she is a buzz on this platform.
20. Christian Collins (@Weekly-Chris):
By regularly posting videos with rich content on a weekly basis, Christian Collins became famous not only Snapchat but also on other social platforms. He is an aspiring musician and a leading Snapchat influencer. Recently, he has launched a new music video on Snapchat, which is getting a lot of following and appreciation.
21. Nicol Concilio (@nicolconcilio):
With a high number of impressive follower count on Snapchat and YouTube, Nicol Concilio is a famous social media personality. Even her Instagram account is highly famous with 1.2 million followers. Professionally she is a makeup artist and hence regularly posts vlogs and tutorials for her fans. She has also been thrice nominated by Star Central magazine as the YouTube artist of the Month. Followers love her videos for original content and attractive presentation. She is also fond of signing and is now a full-time Snapchatter and vlogger.
22. Sam Sheffer (@samsheffer):
This technology enthusiast is popular for his creative content and tech videos on Snapchat, Instagram, and YouTube. He is a creative producer at popular platform Mashable and has worked with various brands like Engadget and Verge. He now works independently. He is a technology freak from within and claims to be deeply obsessed with gizmos and gadgets. He is also fond of computers, mobile phones, and video games and often share videos of cruising around boosted board through New York's suburbs.
23. Geir Ove Pedersen (@geeohsnap):
He is famous for not only her sizzling appearance but for showing off a goofy side of Snapchat. His claim to fame takes pictures of unsuspecting, random people while enhancing pictures with drawings. She showcases his talent for distinct brands like Air France and Gucci.
24. Carlos Gil (@thecarlosgil):
He is an acclaimed social media expert, international keynote speaker, and published author. His Snapchat account is filled with influential digital stories on distinct topics. His innovative marketing and storytelling skills have earned him awesome followers on various social platforms. He is a popular Snapchat influencer who partnered with Latino roots. His content holds penetration and huge reach among American teens. Intricate concepts are simplified by him with appealing video content and captions.
25. Brittany Furlan (@brittanyjfurlan):
Until 2015, he was one of the most followed female followers on Vine. She joined Snapchat in 2014 and soon earned the tag of a top Snapchat influencer. She is liked for posting funny videos.
26. Belle Delphine (@Undisclosed):
She became a famous personality on Instagram and is popular on Snapchat for her kitten and baby doll costumes. Young females love and follow their experimental looks. She even sells her Gamer Girl Bath Water for $30 per bottle. She gained enormous fame in July 2019 with 4.5 million followers on her Instagram account. However, she was shut down for posting inappropriate content. Also, she was trolled when she promised to post content in the adults-only sites where her pictures crossed 1 million.
27. Jerome Jarre (@JeromeJarre):
This famous French entrepreneur was a former Vine star who transitioned to top Snapchat Influencer. He has performed well on the website and share engaging and funny stories and creating snaps that feature the CEO and founder of the platform.
28. Krishna De (@krishnade):
She is one of the reputed creators on social media in Europe. She regularly hosts podcasts to teach her followers how to perform live streaming and promote content on social media. The shares hacks and tips on Snapchat marketing in weekly live shows called the Live Stream Insiders have earned big popularity. She not only suggests top Snapchat tools for online marketers but also posts actionable insights into digital communication. Her creative delivery techniques for social media practices and fun-filled and visually appealing content have brought her great reputation on Snapchat.
29. Jenna Marbles (@Jennakermarbles):
She became a YouTube sensation by posting really funny and real content. She holds huge following on Snapchat though she was not praised initially.
30. Vanessa Workman (@IslandDrum):
This blogger is born and brought up in Florida and is a true nature lover and author. Her famous blog, the Island Drum talks about numerous exotic destinations in Malaysia. Her Snapchat account is famous for featuring custom, local events, and nuances of Malaysian Island, Langkawi. She has hosted a huge following for her original and offbeat content. Most of her Snapchat stories are related to jungle safaris, sights, and cuisines of south-eastern locations of Asia, where she is presently residing.
31. King Bach (@kingbach):
Another top Snapchat Influencer is King Bach who was a top follower on Vine. He is known for his rich short-form videos and is presently exploring his acting career.
32. Christine Mi (@Miologie):
This Snapchat Influencer became popular for her art. She started on Snapchat in 2015 and now holds a full-time career on this platform.
33. Shaun McBride (@Shonduras):
With a massive fan following on Snapchat, he is popular for the finger drawings that also helped him gain a lot of brand partnerships.
34. Evan Garber (@emgarber):
He is another famous Snapchat Influencer holding a full-time career into this platform and famous for his intricate drawing patterns. He is presently focused on re-creating the video game Goldeneye on Snapchat.
Summing up:
While there are numerous other Snapchat Influencers around the world, but we have listed the top among all. No matter what kind of business you own. If you wish to bring Snapchat benefits to your business, partner with your favorite Snapchat influencer from the above-mentioned list.