Are you looking for a top-notch hosting provider for WordPress? One such popular and secured solution for the WordPress community is SiteGround.
Offering great speed and exceptional security, it can make your website secured and fast. The high popularity of Site Ground owes to its 24 x 7 support solution. But this is not the only reason why you must use SiteGround.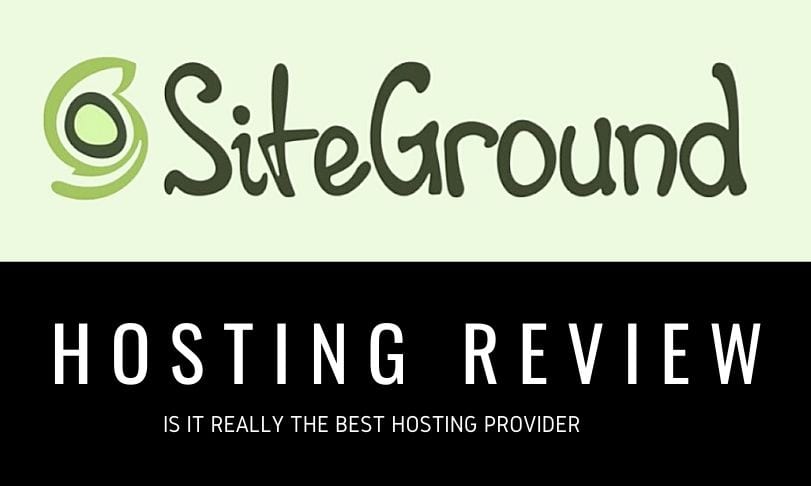 In this post, we will review SiteGround, considering its features, pros, cons, and more other aspects to let you take a well-defined decision of whether to go with or not.
SiteGround Hosting Review:
SiteGround is a highly reputed WordPress hosting company, famous for offering reliable customer support and trusted hosting plans. The WordPress hosting plan offered by it includes a range of features, which are needed to design and expand a successful blog.
About the Company:
The company was established in 2004 but three students from the same university in Sofia, Bulgaria. Tenko Nikolov is the main founder of this system who began working as technical support at the company in 2004 as a student, and presently, is the company's CEO.
There are more than 400 employers in the company hosting more than 1.6 million domains globally. The ownership of SiteGround is private and it is one of the trusted platforms to go for.
Now, before we talk about the features offered by SiteGround in detail, let us first highlight some of its pros and cons to give you have a brief overview of it.
Pros of SiteGround Hosting:
Among the various benefits offered by SiteGround, the prominent ones are:
Ultra-fast servers – The servers of SiteGround are fully optimized to deliver high speed. These servers are integrated with advanced hardware such as SSD drives as well as custom software, which ensure your website performs super-fast.
SSL and CDN Offered for Free – There is immediate setup offered by SiteGround of free SSL from Let's Encrypt and CDN from Cloudflare.
Excellent Customer Support – One of the best things about SiteGround is its excellent customer support. They offer live chat, ticket-based, and 24 x 7 Support to all its customers.
Numerous Server Locations – There are multiple data centers of SiteGround on three continents. It is therefore easy to select the location as per your preference.
Cons of SiteGround Hosting:
Though SiteGround is a really trusted platform, there are a few limitations to it.
Additional Setup Fee – If you want to pay the bills on a monthly basis you have to pay an additional setup fee in advance. However, if you are using SiteGround for longer, you will get a bigger discount without the need to pay a setup fee. There is also a 30-day money-back guarantee offered, which is useful for longer billing cycles.
Limited Storage – There is limited storage associated with every plan. But the storage is big enough and if you are starting out the blog, you will never find this storage less.
Features of SiteGround:
SiteGround is a highly reliable and qualitative web hosting platform that offers a range of services, which can be designed as per the specific needs of individual clients.
1. Tailor-Made Hosting Solutions:
Web host selects hardware, crafts server architecture, and develop tailor-made software solutions, which are innovative. It is one of the top-notch developers in the gaming industry in web hosting. Hence, if you don't want to use any costly web hosting platform but still want to avail of the finest solutions, you can go with SiteGround.
2. Control Panel:
The cPanel of SiteGround is available for use for most of the hosting plans. The best thing about the control panel is that it is very convenient to use. It is a tabbed interface that enables you to gain billing and technical support and makes it easier to manage the account.
Even if you are a beginner, cPanel is very easy to use.
There is an option included in the control panel named a Softaculous. It is a single click tool for installation that offers access to more than 400 applications that can be conveniently integrated to your site for better functionality.
Also, you can install or begin a Joomla, Drupal, or WordPress site in just a single click.
3. Uptime and Performance:
Low server downtime can damage the performance of any business. It is because when the website is down even for 30 minutes, you tend to lose the trust of visitors, lose the interest of potential clients, and hence, experience reduced SEO ranking.
The good thing about SiteGround is that it guarantees 99% uptime on a monthly basis. If in case you are unable to reach to 99% uptime, the company always compensates customers.
4. Real-time Monitoring:
Another great feature of SiteGround is that it practices real-time monitoring. There are numerous server problems identified as soon as they occur and are fixed at a quicker pace. The real-time monitoring combined with the innovative technology of the server offers reduced downtime.
5. Response Time and Performance:
Uptime is the time duration where a server is available while the response time is the duration it takes the server for sending out a webpage. Along with unmatched uptime, SiteGround offers a great response time.
It is because this platform utilizes advanced technology in all the server hardware. The user accounts move on an occasional basis from old hardware to novel faster, upgraded servers to offer incredible performance for the hosted sites at all times.
6. Quick Load Time for Website:
SiteGround is one of the quickest web hosts available that offers a load time speed of almost 20 milliseconds to a second.
The speed technologies used by SiteGround are:
Supercacher – It lets you select between dynamic or static caching. You can also select Memcached, which is a robust open-source system for caching.
Cloudflare CDN, a promising content delivery network.
NGINX – It is a web server technology, which accelerates the loading time of the website.
SSDs – It stands for solid-state drives, which is applicable on all accounts. They offer better reliability and speed in comparison to hard-disk drives.
PHP 7 – One of the famous server-side scripting languages is PHP 7, which is useful for creating dynamic site content. This PHP version is tested by Zend and is expected to enhance speed on a considerable note.
HTTP 2 enabled servers – It is a novel network protocol that contributes to better speed.
It is essential that your webpage offers high speed because the PageSpeed is a measure of the response time by Google. Even if your website's speed is great on desktop but low on mobile phones or tablets, Google can penalize your website for low page speed. Using SiteGround can help you gain the finest PageSpeed on all platforms.
7. Site Backups and Server Security:
There is a sophisticated intrusion prevention and detection system deployed by SiteGround that regularly scan for malware and viruses, and block the same.
They come in proprietary systems that allow fixing problems instantly and foresee issues to take proactive actions. Alternatively, there are other web hosting platforms that perform a scan once a week or once a day.
8. AI Use Against Bots:
In 2017 April, there was an AI program launched by SiteGround that blocks malicious bots. These bots engage in force attacks, which used massive server resources for hacking the login to a site.
Right after the launch of AI, the SiteGround's Hristo stated that we are already checking amazing results from the system's operation. Each hour it blocked between 500,000 and 2 million force attempts across the servers.
9. Safeguarding Against Hacking:
There is an innovative isolation system practiced by SiteGround that safeguards the website from getting hacked when someone else's website on the server is compromised.
The SiteGround managed WordPress hosting manages plugins and offer core updates. Outdated plugins are prone to hacks. Hence, this service is highly beneficial.
10. Automated Backups on a Daily Basis for Free:
The SiteGround plan offers free of cost backups and restores the previous version of your site. Most importantly, you receive free updated backups on an automated basis and 30 automated backup copies on a daily basis.
It is easier to restore the previous version of your website and is possible in just one click. You get instant restorations and backups for free on all the plans. Also, you can schedule backups to happen at a particular time.
11. Instant Backups On-Demand:
Additionally, you can select creating an on-demand backup at any point in time. It is a great option available for free on the SiteGround's GrowBig plans and above.
Chances, where this may be handy, are before publishing significant alterations to your site. When an on-demand backup is created, you gain the option to backup specific folders, email, files, or the complete account.
12. Hack Alerts and Datacenter Security:
It is the responsibility of your web host to maintain server security. But to maintain the security of your application or website, you hold the sole responsibility. Poor coding can invite hackers. For this, SiteGround offers the Hack Alert, which is an early warning technique introduced by GlobalSign. The Hack Alert informs you of hidden malware on the website before the malware gets activated.
The datacenter by SiteGround includes:
Video surveillance
Bulletproof lobbies
Control over man taps
Biometric points access
24 x 7 monitoring of humans for servers
Uninterrupted electrical supply, power generators, and numerous power feeds
SiteGround ensures replacing components for the server parts to ensure the performance runs uninterruptedly for long.
13. Customer Help and Support:
This is another great strength of SiteGround. It offers high-quality support to customers. Their support is friendly, fast, and professional.
The company offers rich customer service on each shift for ensuring your issues and queries are addressed fast whether you select the path of email, live chat, phone support, or tickets.
14. Well-Staffed Support Team:
SiteGround houses over-staffed customer support team, which ensures you receive instantly reply to live chat and phone calls queries while submitted support tickets get a response in not more than 10 minutes.
Also, there is a wide assortment of webinars and tutorials in the customer support group. This feature is useful to gain basic as well as technical information about various web hosting aspects.
15. Advanced Priority Support:
This is a premium feature of SiteGround that prioritizes the service request above others and assign it to the experienced members of the team.
This feature was introduced in March 2019 and is available for those who have access to GoGeek plans and above.
16. Money-Back Guarantee:
There is a 30-day money-back guarantee offered by SiteGround. When the plan is canceled in 30 days of joining, you will get a 100% refund.
The add-ons, admin fees, and domain names are non-refundable. Most of the web hosting platforms offer some kind of credit similar to the fee paid to SiteGround. You can apply the credit to the account or a complete refund back to the credit card.
But if you wish to cancel the plan after 30 days, you will only get a pro-rate rate for the remaining term.
Hosting Plans of SiteGround:
There are various hosting plans offered by SiteGround such as:
WordPress Hosting – This plan is optimized for WordPress users and houses WordPress optimizations to boost the site's performance.
Shared Hosting – This plan is suggested for new beginners and websites and is ideal for sites with low traffic. It allows you to share resources with other sites hosted on the server.
Dedicated Servers – This plan offers you a comprehensive server for your site. It is slightly expensive and offers more power. The limitation is that you need to manage the server yourself.
Cloud Hosting – This is a flexible plan that can be upgraded to share hosting. It enables you to utilize resources of various servers on the cloud architecture. It is ideal for famous blogs, businesses, or expanding websites.
Enterprise Hosting – It is a perfect plan for big businesses and sites with high traffic. You can get in touch with their team and they will generate a personalized plan suitable as per your requirements.
The shared hosting plan by SiteGround is available in three levels, designed as per different budgets –
Startups – Ideal for one website and offers 10GB disk space and ideal for sites receiving 10,000 monthly visitors.
GrowBig – It allows hosting unlimited sites offering 20GB disk space and perfect for site receiving 25,000 monthly visitors.
GoGeek – It is ideal for small eCommerce websites receiving 1, 00,000 visitors monthly.
On a Final Note:
SiteGround is an exceptional and affordable web hosting platform offering excellent support, great uptime, high security, and fast speed. It also offers tons of rich features. Just check the plan suitable for you. Also, you can check the various bonuses, coupons, and discount deals offered by SiteGround to get the best bet