If you are into the eCommerce business, you must have heard about Shopify. And why not, it is one of the best platforms available today.
Shopify is an excellent and robust platform to develop an online store, even when you lack web designing or coding skills. With numerous premium reusable design templates available, it can let you design a fully-functional shopping website online.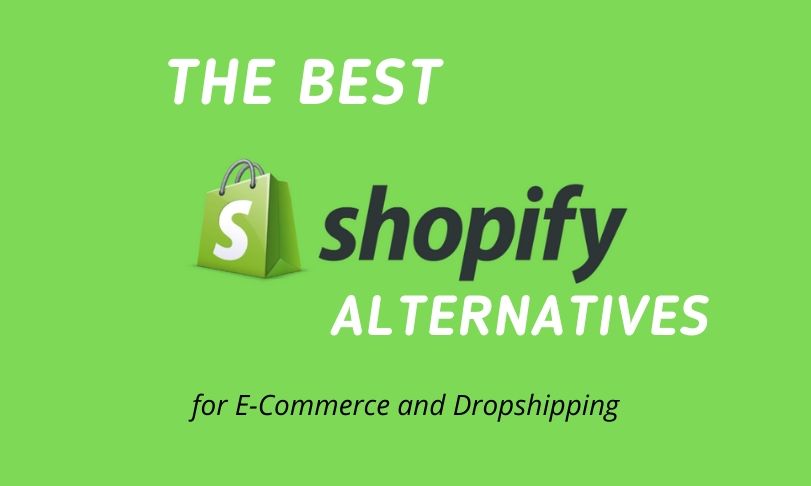 Additionally, Shopify is highly flexible and those with a little technical sound can update the CSS and HTML templates and alter the feel and look of their sites. Its third-party integrations are quite cheaper than a self-hosted platform.
The best thing is that Shopify is a hosted solution, and hence, you don't have to purchase a hosting space for your site. All you have to do is pay a budgeted rental to Shopify for your website hosting and maintenance.
Considering all these aspects make Shopify an excellent solution provider for eCommerce vendors. However, in order to access its rich features and avail of custom solutions and gift cards, you have to buy yearly plans, which can be an expensive deal.
For this reason, though Shopify being highly robust and efficient still is not preferred by many business owners. Hence, here we list some of the best Shopify Alternatives that can help you build efficient and top-notch online stores.
Best Shopify Alternatives:
1. WooCommerce:
WooCommerce is a simple plug-in packed with multiple awesome features. In order to use it, you need to install WordPress, and once installed you would love using it. The great deal is that you can access most of the WooCommerce's features without spending huge money every month.
This platform is scalable and customizable and lets you add plugins to your platform thereby offering you a robust solution. It comes with rich segmentation options designed exclusively for administrator accounts and customer logins.
You can select among a wide range of premium and free design templates and customize them as per your requirement. But don't expect any official support from this platform.
2. BigCommerce:
Established in Texas, BigCommerce is loaded with multiple rich features. You will even find more product variants than Shopify such as numerous payment options, abandoned carts, and more. It serves all you need to build a massive online store.
With more than 600 product variants, BigCommerce is an honest solution that lets you sell without any transaction fees. It is an SEO optimized platform and an ideal solution to increase your eCommerce website's search engine rankings.
BigCommerce is perfect for big stores as it efficiently handles product management. Therefore, it is worth giving a try!
3. Magento:
Magento is a highly popular platform because of tons of features and functionalities it offers. It was brought by eBay in 2011 and was then by Adobe in 2018. With a change of ownership on a regular basis, there have been numerous changes introduced in this platform. But presently, it is one of the finest open-source platforms focusing on selling products and designing an efficient website.
Magento may not serve new startups optimally, but it is a great solution provider for established stores. Though it is available for absolutely free, you need to pay for themes, plugins and hosting. Also, it offers cloud-based services at reasonable pricing.
You may select this platform if you breathe and live Adobe cloud.
4. Weebly:
When you will use Weebly you will feel like entering into someone else's space. But you will soon find everything you need to serve your website. This makes it a highly intuitive platform.
One of the best things about Weebly is that it is very easy to use and makes it extremely simple to integrate products and edit the same. However, Weebly better serves small online stores rather than big enterprises. It is because it lacks features as offered by other dedicated eCommerce platforms.
Weebly caters to most of the requirements of beginners and does not charge any extra money for the security of your website.
5. Jimdo:
With more than 200,000 eCommerce website owners using it, Jimdo is popular for building flawless websites easily. It is the main reason why this platform is so popular among online store creators. Also, it is available for free and hence serves as a perfect solution for beginners who are looking for fast, simple to use, and efficient eCommerce solution provider.
Using Jimdo is a three-step process, which means you can use it even when you don't have any technical knowledge. It offers great value to your store and even let you sell for free without charging any transaction fees.
6. 3DCart:
This is another rich alternative to Shopify that was developed primarily for private use. But it was released for public use in 2001, and since then has to turn out to be a promising solution for all kinds of eCommerce stores.
It was accolade highly by Amazon when it announced that 3DCart is their preferred eCommerce platform fulfilling most of their requirements.
When talking about features, you get a host of it including the ease to bundle product, gift certificates, and live chat. Even it is available at a lower price and let you sell unlimited products without incurring any transaction fee.
It is an ideal choice is you are looking for something in a budget and if you are using Amazon fulfillment for product delivery across the world.
7. Volusion:
Volusion is another great solution to eCommerce stores established in Texas. It is almost 20 years old and promises to deliver a high number of sales, which ensures you stay ahead of a competitor if you are using Volusion.
This platform comes with great ease of use. It incorporates tons of rich features such as upselling, listing, or marketing. It offers great deals on a daily basis that allow direct users to land to an exclusive landing page.
Using Volusion allows you to make multiple sales without charging transaction fees.
8. PinnacleCart:
Next, we have PinnacleCart, which is into business for more than 15 years. It has already served more than 30,000 online stores and can help you host the online store easily. Moreover, you can buy its perpetual license and host it with your preferred hosting service ensuring you match their technical requirements.
It comes with more than 12 eCommerce templates, which are available for free use. All these templates are responsive, which means your store will look impressive on all devices and platforms. Further, it is very easy to add products and use other backend services.
This platform also comes with third-party integrations with a few external apps like Mailchimp, Facebook, or Avalara, but it is not as centered and varied as Shopify integrations.
They offer impressive payment gateways like 2Checkout, PayPal, Authorize, Stripe, and more.
9. Squarespace:
This is a rich Shopify alternative catering to most of the requirements of mid and small-sized sellers. It is not precisely an eCommerce platform but is a frontrunner in the industry of web design. It offers numerous vital capabilities and tools that one requires for building a fully-functional and efficient online store.
Squarespace is also popular for its powerful blogging functionality, which can let you boost your organic reach of the store through the way of content marketing. With the help of their blog section, it is possible for you to publish monthly newsletters, useful resources, and a wide range of exclusive product reviews to please your customers.
It comes with numerous built-in features and tools that let you optimize your website for search engines. However, it does not support or facilitate an application store that could drastically affect the revenue and reach of your eCommerce portal.
10. Big Cartel:
Using Big Cartel is a great solution for serving and meeting the needs of your eCommerce platform. It is an excellent alternative to Shopify because it is featured with various readymade templates perfect for creating different kinds of websites. Moreover, these templates are designed by their unique artist community, and hence, you don't have to spend money to purchase it.
For up to 5 products, it allows you creating your online store without charging any fee. But if you want to add more products and want to create a big store, you have to pay a fee amount for using Big Cartel.
There are great features and functionalities offered by Big Cartel such as building your website, checking your website statistics, and collaborating with other online markers. It is a great platform for those who deal with DIY or artistic stuff.
The free plan is available for use for up to 5 products only. Their pricing plan begins from $9.99 for a month without separate transaction or listing fees. Even at this budgeted price, you get access to various customizable tools and themes as well as Google Analytics for your site.
11. PrestaShop:
The next Shopify alternative is PrestaShop, which is again a robust and free tool. This platform comes with open-source nature and needs you to pay fee amount only for things you use such as themes, plugins, hosting, and add-ons. If you are not willing to purchase these things, you can enjoy using PrestaShop for absolutely free.
This platform makes product management super easy. It allows you to upload images of products and design product packs. Most importantly, you can filter and sort your website for distinct parameters. One unique aspect of PrestaShop is that it enriches product descriptions by linking technical specifications.
The platform is replete with various eCommerce features like payment methods and shipping. But it is quite different from WooCommerce as it enables subscribers to avail technical support on the basis of payment.
12. Simvoly:
Simvoly was established in 2016 in Bulgaria and claims to possess more than 13,000 active users. Though it is a small number than Shopify it is ideal for young start-ups.
They have an editor that has some scope for improvement as some of its features are not still implemented such as not multiple integrations. Moreover, some of its eCommerce options are quite too simple such as taxes and shipping.
They have a unique approach as they are emphasized on conversion rate optimization. It also integrates funnel optimization and A/B testing feature. As compared to Shopify, Simvoly offers more control over the layout and design of your website. But their eCommerce feature is quite limited such as payment methods and shipping taxes.
13. Wix:
It regularly ranks on top of the list of our preferred website builders. However, it is quite robust in the eCommerce field. The best thing is that it offers ease of use with a web builder and comes with great design options and offers access to the awesome App market.
You will love using the eCommerce section of Wix and as compared to Shopify some features are missing such as export and import features that can make it difficult to be a strong competition to Shopify.
In addition to ease of use, it offers the best value for online stores. Wix also offers free add-ons from its app market.
14. Ecwid:
Undoubtedly, Ecwid is not just a robust eCommerce platform but is an intelligent plugin, which can be added to any site to integrate an online store. This tool is available for free but the main benefit is that you don't require any additional WordPress installation.
Ecwid is not only great to use but surprisingly it can alter any site into a completely functional online store and at a competitive price. However, it comes with a downside where it lacks flexibility and design options. Besides this, every feature offered by this platform is quite strong.
It is a good approach for website owners who don't wish to migrate as it could be integrated conveniently in a day or so.
On a Concluding Note:
With so many Shopify alternatives available, it is quite difficult to pick the correct one. The best way out is to pick a solution that meets your priorities. Pick an alternative depending on the scale and size of your store, budget option and depending on the technical expertise you possess.
Try a Shopify competitor and create an eCommerce store that is impeccable on all parameters.