You must have heard about creating high-quality content, unique content, and even SEO-optimized content, but if you want your business to make a mark in 2019, then you must learn to create shareable content.
As customers become more aware and informed, businesses are competing online to grab their attention. Though the competition will continue to grow intense, practicing the right strategies and techniques can help your business gain online success.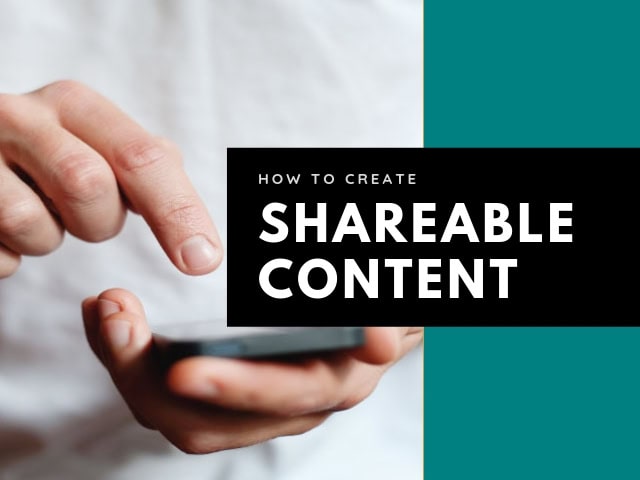 Among the various techniques to attract and engage customers, one of the finest ways is offering them shareable content.
In simple terms, shareable content is one that people prefer liking, engaging, and sharing among the masses. In fact, for this reason, you may see a piece of content that becomes viral on the web in even less than a day.
To make sure your next piece of content gets endless likes and shares and to get the needed traction, you have to create shareable content. This post explores some amazing and effective ways to create shareable content. Read this post to explore all of these!
18 Best Ways to Create Engaging and Shareable Content:
1. Research Well Your Competitors
An easy way to create shareable content is to conduct competitive research.
Hence, closely peep on your competitors!
Find out the techniques that your competitors are practicing and how their target audience is reacting to the same. This is an excellent way to get insights on content which your audience wishes to see.
Some of the key elements that you may follow in order to track your competitors are:
Find out about all platforms that your competitors are using to attract customers. If they are on the same platforms as your website is then this means you are competing directly with them.
Next, track their last 6 months content. Whether it is blogs, videos, video blogs, articles, or other things, you must know about all sorts of content.
Identify contents that have got high engagement on each platform. Also, learn about their specifics.
In addition to these, you have to create your own conceptions and use them to let your audience know that you are the best option.
2. Identify Trending Topics:
Trending content or topics is one that everyone is talking about. It is likely that you have to share the content as per its relevance.
When you create content on current topics, it increases the chances to generate more shares. There are various websites that can help you know about the different trending topics. You can check the trending section of these websites to know the content that is being shared fast.
Twitter, as well as Facebook, has a trending section within the sidebar, enabling you to know about the hot topics. Such topics usually create a buzz.
3. Generate Content that Leads to Emotional Reaction:
A content that sparks an emotional reaction can boost emotional reaction to a great extent. It is essential that you create content that connects well with the audience.
In order to create content that evokes emotion, you need to be a tough editor. Regularly ask what content you are creating, watching, and reading. Only then users will find it worth sharing.
But if your content evokes negative emotions then still it will receive more shares however it can intervene with your brand's identity.
4. Create a Content Narrating a Story:
Storytelling content is the one that gets more shares. Storytelling is an essential part of preparing shareable content as it enables your audience to see themselves in a specific situation. As a result, they are able to connect well with the content.
Make sure your content has a well-defined beginning, middle section, and an ending. Once you are done with it, figure out whether your content was able to relate to the audience or not.
When telling a story, your content must address any one or more problems of your audience and must be engaging.
5. Make it Valuable:
No matter what kind of content you create, be it a blog, video, or anything else, it must offer some value to your existing and new customers.
This value can be in the form of anything. It can be making them laugh, or taking actionable steps, and more. Ultimately, your content must aim to improve the lives of your audiences. It is the nature of humans to share things or content that is helpful to others.
Do proper research to find out content that is helpful to your audience and in reward they will share your content.
6. Validate the Opinion of Your Audience
Furthermore, it is essential to validate the opinions of your audience. A content reinforcing the audience's views are likely to get more shares. It is because the users have proof that they are receiving content from a reliable source.
For this, you must create content specific to your target audience. You must search for:
Audience's Demographic
Things that they care about
Their opinions and viewpoints
Check for contents that have received opinions from your audiences. Check for content pieces that have obtained position reaction from your customers. Remember, you can increase social shares of your content only if you reaffirm the goals, opinions, values, and beliefs of your audiences.
7. Involve With Your Community:
Staying involved and engaged with your online community will let you discover what matters the most to them. There might be some questions that are burning within them and you can find out all of it only by staying in touch with them.
There are various ways to interact with your community including conversation thread, blog comments, Quora, social media chats, and answering emails received directly by them. With an active online community, it is possible to share your ideas and get to know about their beliefs. If no one is interested in commenting the content created by you then your content is unable to keep them engaged and hence needs revision.
8. If Possible, then Use Controversy:
You must be thinking that whether creating controversy with your content is a great idea or not. This is something that you might not want to do. But actually, it can work great to make your content shareable.
In this situation, you have to exercise your content in a way that is absolutely different from the previous actions. Just see to which side the views of your audiences align, and then reintroduce the other side to increase shares.
9. Use Memes and Pop Culture:
One thing that you have to agree is that memes and pop up culture and drive a large volume of shares. This can be achieved if you tactfully use the memes and culture in your content.
Definitely, you have to be careful while using. It is because if you don't use it wisely then your entire post will become a waste.
10. Incorporate the Power of SEO:
You can include the power of SEO to create shareable content. Researching keywords will ensure that you get informative and useful content for your users. You can consider using tools like SEMRush, Ahrefs, and Moz to determine appropriate keywords.
Also, look at the topics which are of interest to your audience and that people are searching for. With all such information in hand, you can create more powerful content. Also, having such information can help you create content that is engaging to the users as well as easy for the search engines to discover.
11. Offer Incentives for Content Sharing:
Every individual is fond of free stuff. The free stuff can be in any form, if it's free then it more and more people would like to try it.
Additionally, people love getting rewards for anything they do. You can boost the shareability of your content by offering incentives to your audience who take the desired action. But make sure you offer something that is liked or preferred by your audience.
In order to find out the preferences of your audience, you must take a look at the giveaways offered in the past. If your audience has responded well to it, then this means your offerings are working.
You can offer incentives for your content by:
Deciding the incentive or giveaway exactly as per the preferences of your customers.
Set a time and date at which the sharing has to be done.
As compared to Facebook, tracking shares on Twitter is quite easy as you just have to count the retweets.
Once your announced deadline has passed, review the content and select a winner.
Send out a post to let your audiences know about the winner. This will encourage others to share your content the next time.
12. Design Readable and Simple Content:
Another important tip to create shareable content is to maintain its simplicity and readability. The content must be formatted in a way that let your audience have an idea of the article without reading the entire thing.
In most of the cases, your audience has a short time and to capture their attention within this time, you must create simple and easy to read content. No one sits with a dictionary to read content online.
One of the best formats to follow is:
Introduce the current problem of your audience
Let them know that there is a better procedure to fix the issue
Include sub-headings and bulleted list
Summarize the content
Include two to three sentences in each paragraph
If necessary, use Infographics or images
13. Establish Credibility and Trust Within Your Content:
If the content establishes credibility and trust, that it is likely to get more shares. Content backed by credible sources seems more reliable and trustworthy.
You can create trustworthy content by considering the following aspects:
Try backing up your content with credible research. Supporting your content with facts or data from trusted sources can support your claims and would everyone believe it.
Also, check the domain authority of the website you are linking to. Most of the authoritative websites create content that is reliable and worth sharing. You can use the Moz SEO toolbar in order to identify the domain authority of a website.
Finally, back up your claims with data to create buzzing social media posts.
14. Create Content in Harmony to the Experiences of Your Audiences:
You can use the experiences of your audiences in order to connect with them. Position your content in a way that your audience can easily relate to it. This will help them relate better to your company.
15. Create Content that can be Easily Digested:
The key here is to avoid overloading your content with lots of information. Even if you are creating video content, break it down into shorter segments that are easier for your audience to digest and share.
It is best to break up textual content into shorter paragraphs. This way, the content becomes more skimmable and easy to read. Include multiple sub-headings and titles and write short sentences to enhance the readability of your content.
16. Add Shareable Images and Videos:
Images and videos are important because they are visual treats to customers. So, they can easily attract customers. But you must incorporate natural looking videos and images in your content.
For this, include images that are relevant to your textual content. Also, support your content with statistics and quotes that can be easily translated into videos or images. This will encourage audiences to click through the content.
17. Let Your Content Inspire Your Audience:
You can encourage more people to share your content by making it a piece of great inspiration. Go through Instagram feed and you will find an inspirational quote that can be included in your content.
Inspiration must come naturally and include quotes that are relevant to your textual content.
18. Add Sharing Buttons at Visible Places:
People would share your content if it is easy for them. Include this button in every piece of content. Sharing must be a one-click process.
With all these tips in hand, you can now easily create shareable content. If there is a need then you can always take external support to organize your content and publish it faster. By following a proper schedule, you will be able to create content that gets more likes and more shares.