An ongoing debate in the SEO industry is, which among the two is the best choice – Subdomains vs Subfolders
SEO experts are always looking out for an answer that whether it is ideal to host a blog on a subdomain or a subfolder is an ideal choice, and why. In order to make things clear to developers, Google has made some generalized statements.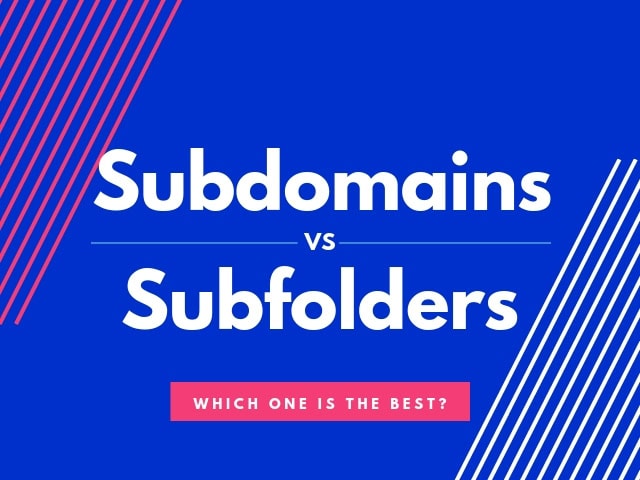 So, read this post to know what Google answers about this question and which one you must go for!
What is a Subdomain?
A subdomain is a section of a site that operated as an independent entity online. It is different from the entire website and usually has an address at the left of the URL.
https://blog.trello.com/ and https://blog.hubspot.com/ are some of the examples of subdomains. These are usually used when a part of a site needs its own server.
In the initial days of the internet, the memory cost and server space were expensive than the present scenario. As a result, server domains would create subdomains for allocating resources across the machines they possessed capacity on.
With the maturity of the web, users started using subdomains to host numerous versions of a website.
For beginners, if you don't wish the webpages in your new website to be indexed along with the pages in your SLD then a subdomain is an ideal choice. Placing such pages in a subfolder implies that it will be indexed as coming from the one or same website.
A large number of global companies use subdomains to host their foreign language version of the website or promote heavy things such as downloadable resources and blogs.
What is a Subfolder?
As compared to subdomains, creating subfolders is easier. It is a simple site structure to establish and understand as they are similar to setting up any other kind of folder on a site.
A subdomain and subfolder have a few things in common and one is that it enables you to prepare categories of content, however, they are established differently on the servers.
They are different from subdomains as there is no server partitioning involved within the subfolders. Rather, a subfolder is placed on the same server and its link juice directs back to the domain. https://www.impactbnd.com/blog is an example of the subfolder.
Subfolders vs SubDomains – The Differences
Though subfolders and subdomains are similar in lots of ways, however, they both have a few dissimilarities as well. Both of them are file locations within the 'home' directory of a server, and the home directory can also be a URL.
A subfolder is also known as a child directory, which is a folder underneath the other folder that houses within a parent or Home directory.
However, there is a slight difference that comes into play.
Both of them are content repositories, the subdomains are also the URLs that imply it is possible to access them easily as you would access a regular website.
While subfolders are a path, subdomains are not the path in a domain.
This is a major difference that affects the ability of your website to gather as well as rank keywords.
Let's glance at some of the prominent benefits of the two as this will help you know how they both impact SEO.
Benefits of SEO for Subdomains:
Subdomains may sound excellent for organizations, but what benefits it offers to the marketers.
1. SEO Ranking
With a subdomain, it is possible to gather keywords independently from your URL. This implies that your domain has its own set of keywords, which are separate from the main domain.
So, if you are trying to rank for a keyword for a page hosted on your subdomain then your main domain may not get same rankings for it, and vice versa.
2. Audience Segmentation
Another benefit of subdomains is that they are great for audience segmentation. Each business has very different audiences, even if they have the same theme.
With the help of subdomains, you can keep your business related keywords separate from the online store keywords that you wish to rank.
3. Clarity:
If you plan your subdomains strategically, then they are clear and specific, which overall improves the user experience. They tell users exactly what to expect when clicking a link.
For this reason, subdomains are even highly useful for a franchise business. Since, the address, phone number, as well as content of each franchise is unique, so it can be easily displayed and shared on a subdomain. It also helps users know what content they are viewing and is it relevant to them or not.
Benefits of SEO for Subfolders
Just like subdomains, even subfolders too offer rich benefits to the marketers.
1. Keyword Density:
One of the prominent benefits of subfolders is related to keyword density.
As we have already discussed above, the keywords within a subfolder are owned and collected beneath the main domain that makes them an ideal choice if you wish all the keywords on such pages to link to the main URL.
For example, consider the case of SEMRush.
Within this tool, you have to enter the domain name and this tool will compare all the phrases for which the site ranks to offer you an estimated traffic volume.
In most of the situations, this is something that you want. So, all your keywords will be there in the same goodie. It is because the phrases and words that have been used across the webpages of your site send signals to search engines that let users know what your website is all about.
Subdomains vs. Subfolders – Google Remarks!
An official announcement made by Google is that they treat subfolders and subdomains equally.
This is true!
Google indexes, crawls, and rank subdomains as well as subfolders exactly the same manner. You have equal opportunities and ability to get your subfolder ranked as you can get a subdomain ranked.
Why SEO Experts Don't Treat Both in the Same Way?
Despite Google confirming of treating both these platforms in the same way, a large number of SEO experts don't agree on it.
Why?
It is because of the level of efforts involved in both the processes.
It's true that you can get ranked for both subfolders as well as subdomains, but the efforts involved in ranking with a subdomain are much higher than its counterpart.
Here, check a basic explanation that supports this reality.
A top-quality or topmost domain such as example.com is brought from a registrar.
The registrar offers all the rights to the domain.
To host a site on the domain, you need to pay a certain sum of money to the web hosting company. Alternatively, you have to work as your own host so that the domain is connected to an FTP server that includes the content, which you wish to show on that specific website.
If we get into the details of this explanation, then here are some aspects that you will be able to explore, such as:
Once you link the domain to the content on a server, you will be offered with a choice:
You have to choose whether you have to display the content on a subdomain, such as www.example.com, or you want to display the content into the top-level domain, for instance, example.com.
If you go for the first way, which is the way that most websites practice, then your content is displayed on the subdomain.
It is because some of the websites select to place widespread content on various subdomains, Google treats each of these separate subdomains as a unique entity.
Reasons to Select a Subdomain over a Subfolder
An excellent example of why you must select a subdomain over a subfolder is Disney.
This brand has various subdomains such as videos.disney.com, cars.disney.com, princess.disney.com, disneyparks.disney.com, and more. Each one of the domain serves a distinct purpose.
Each of the subdomains is marketed exclusively by Disney in order to obtain relevant links to each of the entity separately.
Though some of the external links may link to all the subdomains, most of them will link just to one or two of the external links.
Each subdomain functions as a unique 'business,' but have complete harmony with each other.
When the subdomains are used this way, they are highly successful and are able to fetch great rankings. The best part is that each subdomain has its own identity and may or may not be connected to the main entity or domain.
So, you see, these subdomains are extremely important and are one of the biggest factors in selecting to use a subdomain over a subfolder.
If the content available on your subdomain functions as a different and unique entity then it has its own link value. In this case, it is fine and in some situations even preferable to have the content on subdomains.
It is because one of the subdomains can talk all about the related topic and does not dilute the focus on other aspects of the brand like entertainment, theme parks, shopping, and more.
Reasons to Select a Subfolder over a Subdomain:
If you have a business that is faceted as Disney then it is better you go with subdomain and not with subfolders. However, if this is not the case then you must plan for the other way round, which is using subfolders over subdomains.
Most of the websites emphasize on two main aspects.
A good example in this situation is an attorney website.
Consider the example and suppose that the attorney website focuses on personal injury, family, liability law, and other legal issues.
One way out is that the website can break such areas into separate subdomains like liabilitylaw.site.com, familylaw.site.com, and more. This way, Google will treat all the domains in the same way. The website will now have to obtain the links to each specific subdomain, which are topically focused.
Here, you have to assume that each of the links is equal. This would never occur in reality. However, if it happens then each website would have some links directing towards it.
If you practice a good job of internally linking subdomains then there can be some shared and overlap value.
But, if you begin with a single main domain and then connect the links to subfolders, all parts of the same website, you will have innumerable links pointing to the main domain or subdomain that you have selected to use.
In both the examples explained above, it is exactly up to the site owner on how they want to design, develop, as well as maintain the website.
The subfolder approach is ideal until there is a persuasive reason to have separate business units. It is because this approach involves less work and you are more likely to maintain it properly. This will eventually translate you into better rankings.
With so many differences of opinions available, it is difficult to reach a viable solution to this debate. As per Moz, SEO can gain more benefit with sub-folders. It is because of the different metrics being redirected by numerous search engines. It just advocates using the subdomain for a foreign language variant for the main website, if required.
However, subdomains are excellent if you possess content, which is thematically quite different from the rest of the content on your website.
If you are not using any marketing software having its own analytics then subdomains are ideal to store landing pages as well as call-to-action when you want to track metrics through UTM tags or Google Analytics.
Key Takeaway:
If you wish to create different entity profiles as well as link value for numerous subdomains, then you may go with it. The truth is that Google is hardly bothered about whether they must rank for subfolders or for subdomains.
However, if you have reached a level where you have completely optimized a single domain, the let alone numerous domains, then it is best to go with subfolders. So, based on your requirements and preferences, you can select between a subfolder vs subdomain.