SEO is around everywhere. Every industry, business, sector, niche, and almost everything online is familiar with SEO.
Undoubtedly, SEO is huge. It means it involves numerous concepts and aspects to remember and follow.
But does this mean that it is difficult to learn and successfully run an SEO business?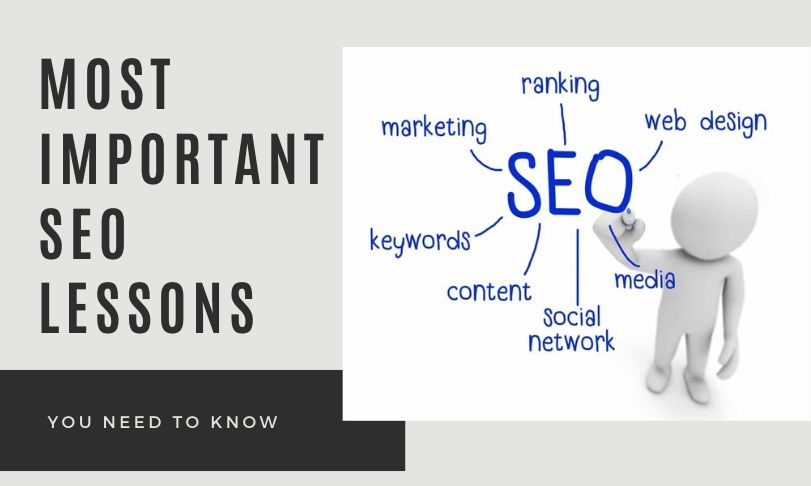 Businesses competing online soon find that it is not possible to win over others if they are not able to deliver a feasible SEO strategy. It is because only an effective and practical SEO strategy can let your business rank on search engines and therefore attract customers, increases sales, boosts profits, and win over their competitors.
This holds true even for SEO business and that's how most of us actually get into SEO.
So, if you are in a similar situation and want to take your SEO practice or business to the next level, there are some vital SEO lessons, which you must take into consideration.
Biggest SEO Lessons for all Webmasters:
1. You Can Become an SEO Expert If You Do It Right:
Most of the people are scared of SEO because it is uncertain. It's true that Google is not simple and straightforward. The same holds true even for SEO. There are numerous Google Algorithms and updates that have to be considered while SEO optimizing any website.
When people compare PPC to SEO, they find PPC a safer bet. Sure, PPC can deliver a quality score. But there is more confusion involved when it comes to SEO. This makes it difficult to approach.
However, if you are handling small or medium websites, SEO is not that much difficult. Websites separating pages for each offering can be easily optimized using title creation and keyword research.
SEO is complicated when you are managing group SEOs or work of digital marketing agencies. Here you have to check keyword stuffing, spammy backlinks, and many other traits.
In fact, if you do SEO of big eCommerce sites with hundreds of pages, things can be more complex. However, the basics are the same, which focus on making a website indexable, optimized for keywords, filled with rich backlinks, and loaded with valuable content.
2. SEO Requires High-Quality Outsourcing Platform:
When you want to move ahead in SEO, you must take help from quality outsourcing. It works as a backup for servers, coding, and web design.
While doing SEO, clients can come up with other issues like bad website design, low-quality content, and more. In such a situation it is best to have someone already that can offer such with such services.
Though you must look for experts in every industry, having good writers is of utmost importance. Good content is needed not by clients but also for SEO. It is better to look for writers in advance.
3. SEO Requires Time:
Whether you have a big website or a small one, SEO starts delivering results only after some time. Even if you have content ready with you, it takes time for validation, editing, and publishing. Hence, it can be quite long especially if you are handling everything alone.
It is best to move ahead slowly with SEO so that you can provide consistent results for a long period of time. It is because if a website performs well during initial months but fails to deliver after a couple of months, it can pose questions on your efficiency.
Moreover, it is best to give a realistic and achievable estimation of goals and time needed to the clients. This builds credibility and makes sure your contracts run well.
4. Avoid Working for Clients that Don't Fit Your Working Model:
Lots of requests can come from spammy websites or businesses. Some of them may be from websites providing illegal services. Though the website niche is not of much importance, you must work with clients that fit well in your working model.
Might be you are able to make more money through such websites, however, it may also lead to negative SEO attacks, SPAMs, and Black Hat SEO techniques. Even, there can be clients who may ask you to create videos or are too pushy.
If there is any client you don't really feel comfortable with or you don't like, it is best to stop working for it at once. You may find it difficult to make money on an initial stage, but ultimately it will be less stressful and you will feel better.
5. Don't Expect Timely Deliveries from Clients:
No matter how good your client is, you must not rely on or expect timely delivery of information and details from them. It is, therefore, best to ask for information ahead of the requirement.
Alternatively, if there is a sudden need, you must set a meeting for the same and get all your queries answered right there, or, you can remind them again and again.
6. Leverage Work by Allowing Owners to Do Some of It:
Clients know their industry and business the best. Only they can provide you with the correct details. Hence, try to make them write the content if they have enough time. If it's a small client, he may have some time to write down the content.
Even if they jot down some bits and bullets, you have the keyword research as well as analysis of the content gap done. Also, it gives an outline of the content that the client is looking for and provides inspiration sources to the writer.
Most importantly, make everything clear to your client in advance and implement things only after receiving approval.
7. UX and User Intent are Important in SEO:
As soon as your client's website starts to appear on top rankings, you can make small changes in user intent and see what impacts it creates. Good changes always create a positive impact. Also, consider the conversion rate.
Check what the searchers are looking for. Are they looking for images or bigger fonts? Also, keep a check on whether visitors are clicking on your objects or not.
If you are unable to understand where to begin, it is always best to have a look at your competitor's website. You will see that along with SEO, your competitor to work on UX and User intent as these can really bring you sales and rankings.
8. Create a Monthly Schedule for Practices and Estimate:
This does not mean that you have to strictly follow a pattern. However, it is good to create a checklist of best SEO practices you follow for all clients. Also, it is wise to develop a monthly budget estimate for each client.
Define the number of blog posts you will publish, the time you will launch outreaches, buy nofollow backlinks, and other SEO practices.
Defining your practices in advance will help to offer an estimate at the month-end. Also, it adds to transparency and lets you track your work progress.
9. Keep Your Focus on Vital Tasks:
Most of the time, clients, especially those who don't have any knowledge about SEO, keep asking about minor things, like background color and more.
But if you think that such features are not going to add much value to your SEO efforts, you must convey the same to the clients. It is important to focus on vital SEO tasks first like optimizing pages, securing backlinks, and publishing blogs.
If you fail to do so, your SEO efforts will not reap the desired results in the specified time duration.
10. It's Ok to Fail:
You become a perfectionist only with experience. And what all you learn comes from mistakes. This does not mean you must work like a fool but it is good to be cautious.
It's ok to fail sometimes. Constant supervision and over-thinking may not always reap good results every time.
11. Links Still Hold Significance:
It is always best to consider technical aspects first such as analysis of the content gap, conducting keyword research, and more. Next, you may move on with the process of content optimization.
But in order to take your efforts to the next level, you must have quality links. Since there is a tough competition, so there is no space for even the smallest mistake.
Hence, think of websites that can provide you with quality links.
12. Remember, Links Can be Obtained Naturally:
This means that it is possible to obtain links for free. It holds true even for small sites belonging to uninteresting sectors. However, links don't come easily.
You need to promote your post in order to gain links. Promotion can be done organically through direct email or through Facebook ads.
In order to gain more success, you must first gain the trust of others and then outreach what you exactly want. When beginning with email outreach, you must outreach to people who want to collaborate with you. Do proper research and your chances to succeed will increase.
Moreover, you can write posts about outreaching to gain more success.
13. Conduct Paid SEO Audit for Better Results:
Avoid copy-pasting from a free tool while doing an SEO audit. There are always chances that your client may test you. This can hurt your reputation in the long-term as well as short-term. Hence, focus on vital things like keyword research, content creation, Meta description, indexability, UX, and more.
If a client signs services for months, you may offer them free audits while charging the cost for the same in monthly service. This way, you can save your clients money by offering the service at low prices and for you it would not be free at all.
14. SEO Tools are Useful and Can Save Time:
There are plenty of SEO tools available, most of which can not only deliver you the best results but also save uptime. From technical audits to backlinks, a lot can be done easily using these tools.
Such tools can also help to boost the optimization process. Just make sure you select the correct one. For beginners who are just starting out and don't have much budget can consider using free tools.
15. Links can be Expensive:
The best way to avail links is to pay money for them. However, there are some links, which are extremely expensive.
But using cheap links can hamper the overall image of your SEO campaign, and hence, they are not worth it. It is because they belong to sketchy sites, which are low in quality.
16. Maintain a Work Schedule and Inform Clients Upfront:
Many new SEO marketers try to offer immediate services to their clients. But this can affect them both professionally and personally. Even if you are an entrepreneur or work from home, there must be a limit on the volume of work you do.
It is best to inform your clients upfront about your preferred mode of communication and your work timings.
17. Grab Good Clients Offering Decent Pay:
Most of the time, people offering you more money will stress you the most. And those who don't have much money upfront always postpone payments for varying reasons.
Usually, people who have money to pay have a better understanding of how they want things to work. It is best to sign up a long-term contract with decent pay, which is less stressful. It is best to work with clients that are focused on final results and not on how you will achieve it.
18. Maintain Smooth Communication:
Having smooth communication between you and your client is vital. You need to be clear about what you require and how they can help you. Communication must be two-sided. It is vital that your client understand your efforts.
When you want to make any big change, you must have a written consent signed with the client through social media, email or SMS so that things don't get messed up later on.
19. Transparency Is Vital:
Handle clients with honesty, calmness, and transparency. Promise them what you can offer the best and serve them the same.
20. Learn Handling Weird Platforms:
Many times, people looking out for SEO services to have their websites on weird platforms. In order to become an expert, you must learn to handle them efficiently.
To Sum Up:
SEO is simple and logical only if done in the right way. It is best to avail of SEO training as it will help you gain more knowledge about this topic. The thing is you must make website rank, but only by using the best SEO practices.