Whenever we need information about a lawyer near us, we depend on search engines.
We click on the given results to know more about him.
Search engine optimization is very important here for any business or services, who are looking to get clients via online media.
If you have a law firm and want to increase your business, then you need to appear at the top of search engine result.
Most users click on the first five results and choose one from it. So, if lawyers can optimize webpage well, it will help to expand their client base.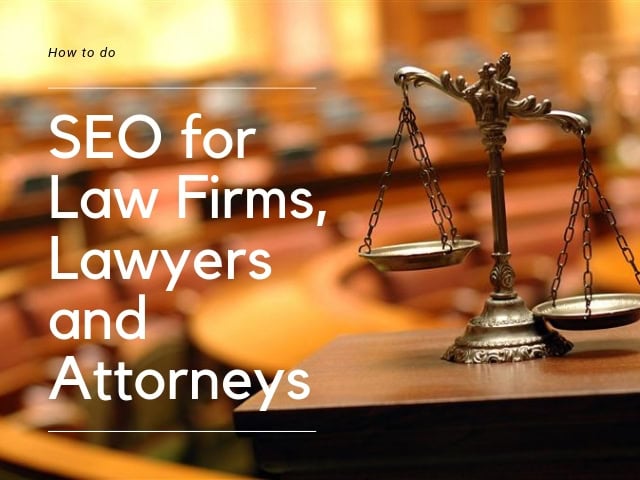 Most law firms don't do content marketing directly. They have an association with any marketing companies that can produce great content about their firm and publish it.
These companies are responsible for SEO and everything related to the content. If you are looking for a guide on how to optimize content for a law firm, you are in the right place.
This guide will give you a clear idea about various optimization aspects when you need to check while working for lawyers and law firms.
Some important points are there to know when you work for a law firm. They mainly deal with a variety of cases.
If you want to optimize their content, then first you need to know the existing online track record of the firm. From it, you need to develop the idea of important points you can outline as a specialty of the firm and how to implement it.
If you can successfully implement them on their website, it will bring more benefits to the firm. Get greater visibility, more customers and potential growth after optimizing your online content well.
Are you ready to optimize your site? Make sure to check all points given below
SEO for Law Firms – Factors to check while optimizing:
Don't connect SEO always with keyword optimization. Other than using proper keywords, there is always more to it.
It is essential to know more details when you want to optimize a website for a law firm. Some important points are
Website optimization:
Website optimization is a wider concept where you need to improve everything related to your page.
From titles to loading time everything should be considered when we want to optimize a site.
First, you need to make the site attractive to users. Design a good UI and this may help to get you more followers.
Create proper title tags, meta description, etc to give an overall quality to your site.
Site structure:
Site structure is very important to consider when we need to optimize a site.
A site with proper navigation will make Google crawler's job easy. They can easily crawl onto your sites and index its content well.
If you can design a site with easy navigation, it will also help to get more followers to your firm and also when users search for something, they can easily find it on your site.
Also, check analytics while optimizing the site. If visitors to your site bounce back, it means there are some issues with your site design.
Quality contents:
Quality content is absolutely a deciding factor for visitors whether to choose your firm or not.
When you publish contents related to your firm make sure to update it well. This can help to get more visitors to your site.
Content should be informative and up to date while publishing. Search for relevant keywords you can use in your content. Use it properly and get listed under the search engine result.
Content length should also be more than 600 words. Search engine always prefers quality content with useful information on it.
Links:
Links are very important to a site when it comes to SEO. When the search engine crawls a website and finds a link to your site, the search engine will send crawlers to your site.
This can improve your site rank automatically. The search engine will think that your site has some important information and this increases its demand. There are many types of links like backlinks, internal links, and external links.
Backlinks:
When an external site links to your account it is called backlink.
This is an indicator of your site quality. But when your site gets backlinks, make sure that the links are genuine.
If you found any weak backlinks, you need to disavow it first to maintain site quality.
 Internal links:
Internal links are links to contents on your websites. If you can navigate to other content from one this can improve the reachability of the email of your content.
External links:
External links are links you can include in your site about the source from where you got the content.
Google provides more value to sites with outbound links. This will help you to rank your page on the top of the list.
Conduct a site audit:
Auditing your site is a very important factor. You must ensure to audit your website more often.
Any issues like slow loading time, error pages, etc can happen anytime. To give the user a better experience, these are some important factors you need to consider.
Sometimes there will be broken links or 404 error pages on your site. To make your site better, you need to remove those bad influences from your site. There are tools you can use, to make sure everything on your site works properly. Try them to make your optimization easy.
These are some general points you need to consider when it comes to optimization of your content. There are more factors to consider when it comes to optimization.
ON-page and Off-page SEO:
There are two types of optimization for every website. On-page optimization is the elements you consider to optimize on your website and off-page optimization will happen outside your page.
First, we can check some important elements to consider when it comes to on-page optimization.
On-site optimization elements:
The main elements to consider when it comes to on-page optimization are
Keyword research:
Keywords are essential to get a place under SERP. For that, you need to get the most popular keywords, everyone searches to get content based on your niche.
You can choose the most relevant keywords and include them in your content to get ranked better. The keyword density should be 5% of the entire word count.
Use tools like Google keyword planner to get more idea about relevant keyword selection related to your topic.
Design a better website structure:
The structure of your site is very important to get more followers. Arrange your contents well to help your users to find everything easily.
Remove irrelevant contents from your site and make it attractive for your prospective customers.
Headings and title tags:
Headings are very important for all your content. If you can choose a catchy title, that can help to attract more users.
Try to include any keywords in your title to get easy under the search result. Make sure not to overstuff keywords on your heading because it can cause negatives more than positives.
Title tags give a small description of the content. You also need to include keywords in it.
Meta description:
A meta description is a small description you can give about the content under the title. It must be around 160-word length. You can include keywords in it to get into SERP.
Site structure:
This is one of the important on-page optimizations you need to do while creating a site.
This will help the search engine to find all your contents easily. There are tools available, you can use them to create a proper site structure to your site.
Page loading speed:
Website loading speed is very important now. Every user wants the site to load faster and if it is not happening they will leave the site.
Nobody wants to wait more than 3 sec. You can use tools to check the loading time of your site. If it is more than 3 secs, then you need to modify your site and make it faster.
Include call to Action:
CTAs give life to your site. We need sites that are more active and search engine also prefers it.
So, in order to make your site more active, you can include any tempting call to action where you can encourage your audience to participate. This is a better way to get listed under the top position of search result.
Make your site secure:
Site security is very important when it comes to SEO. In a law-related site, your clients may ask questions and you should send a reply.
While doing this, make sure not to harm their system with any attacks. Keep all malware and attacks away from your website by implementing a proper security plan.
Do proper analysis:
Analytical data is also crucial to SEO. Get every detail related to your site performance and find options to strengthen the weak areas of your site. You can use Google analytics tool for this purpose.
Off-page SEO:
When we consider various off-page SEO factors, most of them vary according to the type of business.
Advertising is very important to popularize every site, here are some popular off-page SEO elements you can do to optimize sites of law firms.
Reviews:
Reviews are very effective SEO method that can convert leads into clients. Now, most people search for reviews before finalizing a product or service.
Recent research shows that more than 80% of customers trust these reviews. Here are some options that you can use to get reviews
Create a list of your satisfied customers
You can call them and ask about your service. You can conduct a survey among them by sending emails also
After getting a reply from them you can use them as a review on your site
This can help to get more clients and attracts search engine easily. There are tools out there which you can use to collect reviews and present them well. You can depend on those sites to make your work easy.
Local Listing:
You can list your business under local directories. Google My Business can play a huge roll in your SEO. This will show you under local business.
There are many sites like Apple maps, Yelp, Bing places, etc. Claim your listing, wait for them to verify your business and get good reviews from your customers.
When somebody checks for a law firm near them this listing will help to show your firm in the result. If you got good reviews from users there is a chance to get a new client for you.
Social shares:
Social media advertising is also important when it comes to off-page optimization. This is a site related to law, so you can promote it on legal forums, Google legal forums, etc.
Another possibility is sites like Quora and Reddit, both are Q&A sites. When somebody asks a question related to your service or for any legal advice you can use this platform to answer it.
If they find our answer useful they will search your site and approach you for any legal clarification.
Facebook, Twitter, Instagram, LinkedIn, etc are also useful for promoting your site. Do guest posting and use local press to improve your reach.
It is difficult to handle all of them together. Most law firms leave the marketing part of their business to any external agencies. But when you find someone to do this job, make sure they have enough experience in handling this.
As a person who knows the law well, you need to make sure that all your site communication must be done by an authorized lawyer only.
Don't put irrelevant answers when somebody asks a question. It is a matter of your firm's credibility. Handle this well and get more business at the same time.
Final words:
SEO is a long-lasting process that you need to do until there is a website for your firm. The market is changing continuously and it is essential to implement new strategies according to the change. Then only your site can stand out among all other competitors.
Now, most users depend on the search engine to find a suitable product/service for themselves. If they can find your site useful and good reviews about your service there is a chance to get more clients.
This is a very competitive profession. So, work hard and attract search engine and users at the same time to boost your site reach and client base.