SEO is a very popular word in content marketing. It is the factor that can make a website acceptable for the search engine. Google is one of the most popular search engines and it wants to give the best answers for its users. As a part of improving its quality, Google implements some guidelines to choose the best website. Using search engine optimization, you can fulfill all of them.
If a website can design and develop a website according to SEO guidelines you can make it SEO friendly. It can help your website to get indexed properly which can be beneficial for its ranking also. SEO friendly websites can be on the top of SERP and can get as much organic traffic as possible.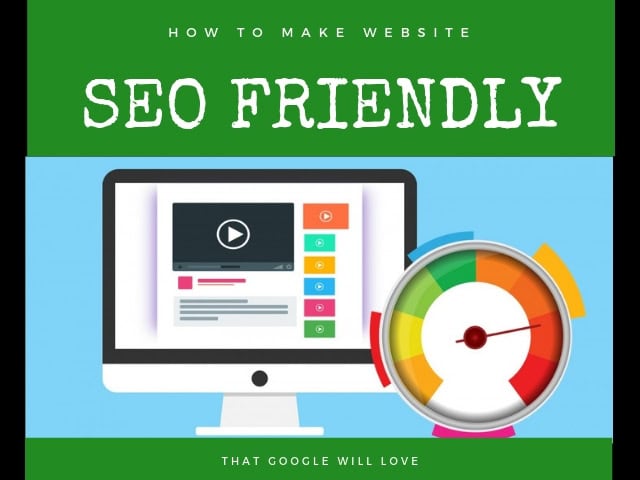 More than 90% of users find what they want from the first page of search engine result page. Nobody goes to the second page to find what they are looking for. By designing your website SEO friendly can help you to get a place on the first page of search engine result page.
You need to focus on each stage of web designing and make sure to implement proper SEO strategies to make it successful. You may have done various SEO factors on your website and cannot see any improvement in ranking. For those who are struggling to rank their website higher, this article can be useful.
Benefits of using SEO Friendly Website:
If you don't have an idea about the benefits your website will get, if it is designed as an SEO-friendly one, then here are some of the advantages,
An SEO friendly website can help to improve the organic traffic of your website. If you can bring your website on the first page of SERP it can improve your website visibility
By creating an SEO-friendly website you can make your website user-friendly. SEO mainly focus on improving the quality of web contents and it automatically provides better user-experience
SEO-friendly websites can bring more credibility to your business/ website
SEO-friendly website is economical because if your website has to be on the top position sometimes you may have to invest money for advertisement.
You can connect with customers using an SEO friendly website. You will get to know what they want from your website and adjust it accordingly
Can help with your mobile optimization. It is a very important ranking factor and all website have to make their website optimized for the mobile device if they want to rank it higher.
On-page SEO:
On-page SEO deals with the factors in a webpage. it consists of various factors such as link building, quality contents, keyword optimization, page loading, site architecture and many more. We can start by choosing a good domain name of your website
Website domain:
You can concentrate on designing your website from naming to deployment. A good domain name should be short and should have a name related to your website content. The domain name is like the name of your website and it should actually reflect your website content also. When you choose a keyword, avoid overstuffing them in your domain name. it should be simple, easy to pronounce, easily rememberable and devoid of any spelling repetition. Here are some important points to keep in your mind while choosing a domain name
Overstuffing of keywords:
You should avoid overstuffing of keywords in your domain name. it will only affect your website usability. Using a domain name by arranging so many keywords in the domain name to show the purpose of your website is not advisable. For example, if the domain name is like
1. www.bestdealcouponsonline.com
2. www.californiabestdentist.com
such website domain name will cause you negative impact more than positive impacts. No one will also believe in your website credibility if you use such domain names.
Using hyphens:
You can avoid hyphens in the domain name to improve its credibility among users. A search engine considers this as a bad sign. You can avoid such low-quality website domain name
1. www.sports-news-live.com
2. www.cheap-dress.com
Users also don't believe in such websites. Avoid hyphens and numbers in your website domain name.
Bad TLDs:
Top level domain (TLD) is the second part of a website address. If your website name is www.example.com then the .com part is known as TLD. Most popular TLDs are.com, .org, .net etc. But everyone wants to get .com domains for their website. But it is not possible always. If the name you are looking for is taken, you might have to go for another TLD name. Otherwise, it may cause legal issues. Make sure to not choose bad TLDs such as .biz, .tv, .gd etc. Some of them are considered as corrupted TLDs. Avoid websites with these types of TLDs
1. www.sportsnew.biz
2. www.entertainmentnews.gd
Website planning:
Next step of website optimization is website planning. You can keep SEO in your mind while optimizing your website.
Keyword research:
While creating contents you should focus on keyword optimization. Keywords are those specific words which can be included in your content to get it listed in the top search result. You can use tools such as Google keyword planner, SEMrush and others to find suitable keywords. This can aid you in improving your content visibility among millions of other contents on Google. Create a good keyword strategy and implement it on your website to see better performance.
Use site architecture:
Google crawls a website and index its content while ranking. To aid with indexing, you can create an XML map of your website. It can help the search engine crawlers to easily find all contents in your website and index them properly. It is also important that if a page is not indexed in your website, it will not appear in search engine result page. Also, URL should be generated such as it should be optimized for the search engine as well as for users. Include keywords in your website URL to help it for ranking better.
Use image alt tag, title tag and meta description
If your website contains images then you can use the image alt tag to make it more optimized. Images are a good source of organic traffic and if you can give a suitable title tag for your website image then it can help to bring more users to your website. It can also help a visually impaired person to depict the images of your website easily. It should be added naturally so that people can read it properly.
The title tag is the like the header of the page. It is the HTML representation of the heading of the page. The title tag is the heading of the contents and in most cases, it appears as the title of the content too. The title tag is very important to let the people know the ingredients of your website. It is an important SEO ranking factor every website should focus on improving according to their ranking
The meta description is the small description you can see below a website name. it simply describes the content of your website. You can add an appropriate keyword in the meta description and make it simple. Users click on a website by seeing the title and meta description of that page. Keep that point in your mind while creating meta description.
Include multiple content types:
If your website wants to attract more traffic towards it you must have to focus on including multiple types of contents. Try using images, infographics, videos and many other forms that can attract more users towards your website.
Quality contents:
Fresh good quality content is very important for the success of every website. You can provide a better user experience by offering good quality contents to your users. You should always know what type of content your users want and publish them accordingly. Avoid content duplication and copied contents on your website. All of these factors can affect your website's reputation and rank at the same time.
Internal links:
Links are important for every website. But while creating contents you should focus on improving quality so that other website links their content to yours. You can also focus on the internal linking structure of your page. While you link your content to other websites search engine should be able to follow the right path towards that site.
Never use more flash elements:
While designing your page, make sure to avoid many flash elements in it. Too many flash elements can distract users from the contents can affect their engagement. Less engagement from website users can lead to a low ranking of your website. So, be careful to use flash elements within the limit.
Off-page SEO:
Off-page, SEO deals with other factors related to the marketing of a website. Content marketing is a very complicated process which can help you to earn more quality links, business, and sales. By earning more links social mention can improve your website ranking and traffic
Competitive analysis:
When you want to implement good strategies to promote contents you can do competitive analysis. It is always useful to look at your competitor websites for their strategies and type of content they are offering for their users. It can help you to provide better contents and strategies for your users. Various tools are available for competitive analysis. SEMrush, SimilarWeb, Google Advanced search operators are some popular tools for this purpose.
Keywords in link anchor text:
When you include clickable hyperlinks on your website, make sure to have suitable keywords in it. By clicking on this link, you can take users to another website where they can find more information about it. Keywords in anchor text are one of the popular signals, the search engine uses to find the topic of your website. You can get ranked for those keywords in the anchor text of your link
Get quality links:
Link building is a very important SEO strategy every website should focus on. Quality of link is very important than a number of links you get from another website. It can be achieved by publishing quality content and advertising them well. The number of links you get will depend on the organic traffic you get on your website. You can check the links authority and quality by auditing links and also should disavow a low-quality website. With links from an authoritative website can help to earn a good ranking position for your website.
Local Listings:
If you are running a local business then a local listing can help to bring your website to the top position of search engine result page. There are many local listing sites and directories such as Google My business to register your website. You can check if your website listed on any of local listing by checking Getlisted.org.
Beta invites:
If your website is like a web application or something you can invite reviewers and influencers to market your product. Writing more about your business can help to get the popularity it needs and will also get many quality links from your website.
Conclusion:
Websites need to focus on improving their search engine optimization if they want to be successful. Every webmaster implements various factors to improve their website ranking and to get more site traffic. It is not about implementing these factors. If you want to get a good result out of it, you need to implement it properly. You may have seen many contents which says that SEO is dead. It is not true. It is still alive and will be active as long as Google exists. It wants to provide better content to its users and for that Google uses various techniques.
Implement proper SEO techniques to your website content as given above and wait for results. It will not happen overnight. You may have to wait longer to see a slight difference in your website performance. See how an SEO-friendly website can bring good ranking to your website by implementing the above techniques.