SEO web design and development is the process of developing and designing websites to make them search engine friendly. A site is considered SEO friendly when the search engines are able to crawl or index its every page efficiently, analyze the content effectively, and index them in their database. Once the website is indexed, it can serve customers the most valuable and relevant web pages based on the topics searched by them.
The better SEO strategies are, the higher chances are that a website would be able to perform well on the search engines. It is because better SEO strategies are able to offer higher chances of indexation and ranking on the initial page of the search results.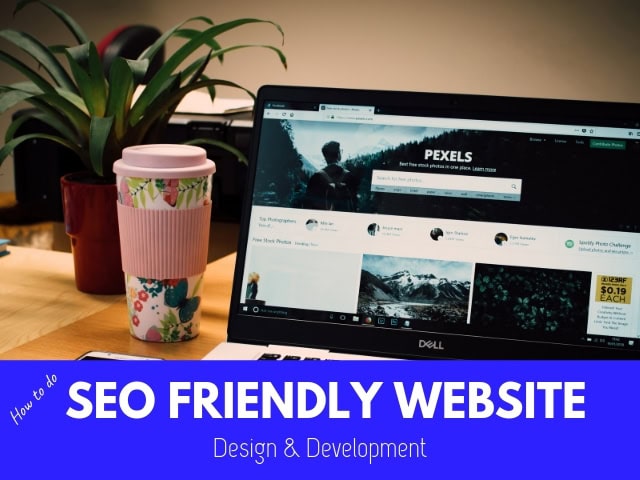 Since billions of people use search engines on a daily basis, less than 5% navigate through the first page of the search engine page results. For this one reason, it is vital to design and develop a website that is friendly to SEO and can increase organic traffic as well as help you earn a position in the rankings on the first page.
This post will give you a basic outline on optimizing a new website for search engines.
What is an SEO Friendly Website?
An SEO-friendly website is one that has features and configurations, which is easy for search engines to crawl or read and comprehend what that site is all about.
Here check some of the important aspects of an SEO friendly website.
Unique Descriptions and Titles for Each Page:
Every single page of the website, including its home page, must have a unique description and title. While the description is around 160 characters, the titles are between 60-65 characters. The descriptions and titles must describe precisely everything about the page without being stuffed with keywords.
Well-structured URLs:
The URL is the permanent online link of a webpage. It must be descriptive, unique, and most importantly must be well-formatted. The URL must be separated from dashes and lower case so that it offers excellent readability.
Web pages with Fast Loading Speed
Neither the users and nor search engines want sites that have slow loading speed. On the other hand, web pages with fast loading speed are SEO-friendly. This implies that have the chance of ranking high in algorithms over other sites that are slower. This can generate better user interactions like newsletter signups, interactions, contact form submissions, and more.
Unique Content:
Another major attribute of an SEO-friendly site is its content. The content of a site must not be available anywhere else on the web. The web pages must have useful and unique content. This implies that the content of the website will not be SEO friendly if it is copied from other sites.
SEO Optimized Images
Search engines always prefer text, which is not copied and genuine. But along with this, you have to focus on the images too. Images can make your content more interesting, shareable, convenient to read, and more.
When you include images in your content, make sure you optimize it. For this, you can always use free plugins like smushit. It can help you reduce the image file size without losing its quality. Also, you must establish an appropriate ALT text and a relevant image filename.
Meaningful Structure of the Webpage:
The overall structure of the website must also be optimized. Every webpage must include certain elements:
Menu
Header
Well-structured text where the text is divided into numerous short paragraphs with subheadings
Page title, which is an H1 tag
Author's information
Footer
Now, let's focus on each aspect of an SEO friendly website individually!
Tips to Write SEO Friendly Content:
You can get higher search engine rankings and at the same time serve your customers, by writing an SEO friendly content. Some of the tips to write SEO friendly content are as follows:
Keep Your Content Original:
Original and unique content is not something that has been never said or proposed before. It implies that your text must not be an exact copy of content or text available on any other site or online source.
Google easily identifies duplicate content and does not give a higher ranking to sites with copied content. An important thing to note is that adding a backlink to original source does not make the content of your page original.
Write Unique and Well-structured Post Titles:
The titles of your post must be well-structured and easily understandable by the search engines. It must be related to something that users are searching for.
In this context, you must do keyword research first to find out what people are searching for. The next step is to decide a basic structure of your title including anyone keyword and then outline a proper title that is simple to read and understand.
Focus on the Introductory Paragraph:
When a search engine crawls a webpage they need to understand what the entire page is all about. Hence, you must include one keyword in the introductory paragraph and make sure that it helps Google understand what you are going to tell in the post.
Maintain a Proper Body Structure:
It is important to focus on the body of the webpage. This implies that you must give attention to the description and title of your page. Try to include keywords naturally in the body text.
Go For Interlinking:
You can use internal linking in your pages and articles to ease user navigations for your site.
Tips to Write SEO Friendly URL Structure:
A URL structure is an address for documents online. They are greatly valued for search engines as search engines display URLs in search results. Hence, your site's URL has a direct impact on its click-through rate and visibility.
URLs can make a great appearance in the web browser's address bar. A poor URL structure can, therefore, result in negative user experience and lower rankings in the search engine results. But you can definitely write a proper URL for your website by following these tips.
Use Empathy:
Consider yourself in the place of users and then write a URL. If you are easily able to find the content that you are searching then your URL is perfectly descriptive. But if it's not, then you need to work on. No need to include every single detail in the URL, but at least a rough idea about the page.
Keep it Short:
Though a descriptive URL is vital, the minimum length and trail slashes will make your URL easy to copy and paste into text messages, blog posts, emails, and more. Also, it will be completely visible in the search engine results.
Avoid Overusing Keywords:
Make sure your URL is not keyword stuffed. You can always target a specific phrase or term, but don't use multiple keywords just to get better SEO results. Overusing keywords can lead to less usable URLs and can result in spam filters.
Be Static:
A URL is considered best if it is readable by the users and free from lots of parameters, symbols, and numbers. Using technological solutions like ISAPI_rewrite and mod_rewrite, it is possible to transform your URL into a readable and stable version. It is because even a single dynamic parameter in URL can lead to lower indexing and overall ranking.
Separate Words Using Hyphens:
It is of utmost importance to precisely using separators such as plus signs, underscores, spaces, hyphens, or more. The best way to separate words in a URL is by using a hyphen. This maintains the readability of the URL.
Tips to Create SEO Friendly Web design:
The next aspect of your site, which can greatly impact its SEO ranking, is its design. A website with a properly structured and professional looking design does not imply that you will receive a high volume of traffic. You can get benefits from your website design only if it is SEO optimized.
So, here are some important SEO techniques, which you can include in your website design to create an SEO friendly website design.
SEO Optimized Images:
Almost every page these days has images. But it is essential to optimize the images in order to boost the search engine rank of your website. When you select an image for your site, make sure it is not too big. Moreover, your images must have good resolution.
Too big images can lead to negative results, like reduced uploading speed. Also, use a keyword in the alt text section of the image as this will improve the overall SEO of the website. Finally, place relevant images where needed.
Use JavaScript Wisely:
Most of the websites use JavaScript to design their entire website. But if your site uses JavaScript throughout then the search engine crawlers will find it difficult to read the site. Also, JavaScript may not perform well on mobile devices. Hence, keep your website's design simple and convenient for search engines to read. Also, make it user-friendly for your visitors.
Use Keywords Across Your Website:
If you are using keywords only at your homepage or some of the pages of your site, then your website design may not be efficient enough to earn a ranking in the first page of search engines. So, avoid doing this practice and rather use keywords across the entire website. You can use them in H1 tags, title tag, meta descriptions, navigation, bullet points, H3 tags, URL's, internal links, file names, footer links, folder names, and at other places. 
Browser Compatibility:
This is again very important. Your website design must hold compatibility with almost all browsers. This will ensure that your visitors are able to access your site from any platform as per their ease. Also, your site's loading speed must be fast. Hence, your site must be compatible with all the browsers, and the loading time should also be less.
Avoid Using Too Much Flash:
This technique is followed by most of the site designers, but it can be highly distracting to your visitors. It can even impact your search engine rankings as too much flash makes it difficult for search engines to search your site. It is because flash is now devalued by the search engines. Flash is not going to add any SEO value to your site. So, try to avoid using it or use it very less.
Tips to Create SEO Friendly Homepage:
Navigation and Logo:
You definitely have to include your company's logo in order to let people about your brand, but at the same time make sure the navigation is sequential and moves in the correct flow.
You definitely have to include your company's logo in order to let people about your brand, but at the same time make sure the navigation is sequential and moves in the correct flow.
Explain About Your Company:
Your homepage must explain to Google and users what your company does. Offer crystal clear view of your company to visitors. Additionally, enhance and talk quickly about your company's USP or Unique Selling Point.
Incorporate Keywords:
It is not necessary that you must brand yourself for specific or multiple keywords. Simply include keywords that are relevant and that you want to rank for. It is best to use only a handful of keywords on the homepage. Most importantly, use them in a natural way.
Take Advantage of Headers:
Headers play a crucial role in SEO. Hence, you must take advantage of it. But use only one H1 tag at the top and it must be perfectly relevant to your brand and business. From there, you can move on using H2, H3s, H4s, and more as per your requirement.
Use Visuals:
Users respond better to visuals. Hence, include a few SEO optimized images on your homepage.
Conclusion:
Creating an SEO friendly website design and development might seem simple, but actually, it is a vast process, which has to be done meticulously. You need to ensure that every aspect of your site is SEO optimized. From images, meta tags, URL, web pages, to content, link structure, keyword usage, and more, you need to pay attention to each and every attribute. These are some of the tips for SEO friendly design and development. Hope they are useful!