Search engine optimization is one of the most important processes every website has to go through. But, there is a question existing in everyone's mind that, is SEO dead or not? and what's working currently in the SEO industry and whether you can invest your time and money on it.
Is SEO Not Dead or Still Alive?
There is a misconception that says SEO is dead and there is no need to follow those SEO practices anymore.
But experts say that SEO is dead in some areas and evolving in some other areas.
Search engine changes its algorithm frequently to give users a better experience. Search engine optimization will also change to meet algorithmic changes. This is where we can say that SEO is not dead yet.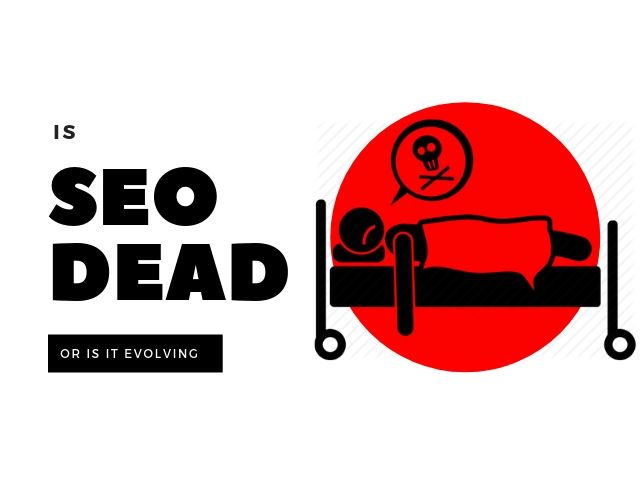 There are many instances where websites cannot survive without optimizing their search contents for search engine.
Some of the old beliefs about SEO got changed and they are not valid anymore. Every webmaster should be aware of new changes that happen in the SEO field because it is very important to their website existence.
Users won't check any other pages of search result other than a 1st page. If they get what they want from the 1st page itself, they won't go to another search results.
In order to appear on the 1st page, you should put some effort, and this is done through following SEO practices.
If you are seeking an answer to this question don't believe those unnecessary statements. SEO is not dead, it is evolving to new practices and procedures.
The changes depend on search engine algorithmic changes and one should follow this well to get his website listed under the top search result.
As users depend on search engines to get answers for all their queries, these search engine will try to give the most accurate result for them. This is only possible if one could optimize their page for the search engine.
The process involves some changes that a webpage has to go through, to make the search engine believe that your website is relevant for what users search for.
Best Proofs that show SEO is not dead yet?
70% of users only click on organic search results and only 30% of link clicks go to non-organic links
There is a 15% close rate for SEO leads and only 2% for outbound leads
More than 80% of business thinks that blogs are very important to grow their business
82% of internet users depend on search engines to know about something
All the above statistics prove that SEO is not dead yet. There is a chance to make a website popular with the help of SEO practices.
Here I am going to explain some dead SEO practices and changing SEO strategies. These are the best proof for the statement that SEO is alive even now.
Dead SEO Strategies:
There are many misconceptions about search engine optimization and many websites may mislead you by saying unnecessary things.
By following them you can optimize your webpage for search engine and it won't cause any benefit to your website.
So, before applying any SEO practice you should check whether it is valuable to your website or not. Check out some SEO practices you should not need to follow anymore.
1. Link building:
Link building is very important even now and Google also agrees with that.
But one point to be noted while following this practice is that only by building a lot of links your website can't flourish.
The quantity of links doesn't have anything to do with your website ranking. Quality is what matters to Google.
There are many ways you can get links to your website. But when you get links, check its quality and relevancy first. No need to go behind building so many links for your website.
Just focus on building quality and relevant links and avoid spamming your site with those irrelevant and low-quality links.
2. No need to compete for No 1 spot:
Most of the websites fight for the first spot. But now when you search for something the first few results will be advertisements and featured snippets that directly answers users question. Then only you can see the organic search result.
So, the main thing is no need to fight for the first spot anymore. Users only want to click on organic search results. So, all you have to do is focus on getting more CTR to your webpage.
Catchy headlines and meta description can increase your click-through rate. If you can answer users question directly, there is a chance to get features on the snippet box.
3. Give importance to users:
Webmasters compete to impress search engine to rank the page higher. The search engine wants to improve user experience and they change the algorithm more often for it.
But when a webmaster goes behind those SEO practices, he should not compromise content quality.
The search engine wants to give relevant results to users. So, if you can focus on your content quality, you will get benefit out of it.
Give users relevant and quality content. This can reduce bounce rate and can engage your users well.
4. Over-focusing on keywords:
Keywords are important even now. But, no need to over-focus on keywords and stuff your content with them, Overstuffing keywords can make your content spammy.
This can also lead to losing your content quality. As I said above, no need to focus on pleasing the search engine. Just concentrate on content quality and use relevant keywords in the required frequency.
Make your content readable and give the solution for user queries. Just use the right keywords with high search volume in appropriate places.
It will also work if you can post natural content without stuffing keywords into it. If it answers the user's question, it will appear on the search result because of its relevancy and quality.
5. Making your site with a lot of posts:
No need to make your website bigger to get noticed. This is the wrong SEO tactics a lot of people follow.
To make it bigger, webmasters post so many contents which may be relevant or irrelevant topics.
Don't just post irrelevant contents for the sake of making your site active. Only concentrate on creating contents that give valuable information to users.
It could be lengthy or short contents, but make sure to include the answer to the question they ask for.
Evolving SEO Practices:
Get rid of those old traditional SEO practices like links building and keyword stuffing.
Just concentrate on new things that can make your content notable among all other competitors. This is where SEO can help you.
If you can give more focus to SEO practices without affecting the quality, it can take your site to the next level. Here are some evolving SEO practices you must know about
1. Give importance to content quality:
There was a time where a website can easily get noticed if they included keywords and increase the number of backlinks.
But, it is not possible right now. Content quality is what you can concentrate on, to make your website popular and worthy of notice to search engine.
Search engines are getting more accurate and they want to provide the best and accurate results to users.
Create contents useful to your audience without losing its quality. Good websites with better contents will always get first place in the search result page
2. Don't ignore social media:
No need to ignore social media and give full concentration on your website. This is a misunderstanding that happens to all webmasters.
If you want to make new followers and improve the reach of your website and its content, social media is the best way. You can share all your new contents with social media and integrate it with your website.
User engagement is also an important factor according to the search engine. More user engagement means more valuable content. This will help you to reach the top position
3. Find out new ways to increase click-through rate:
CTR is very important when we consider page traffic and popularity. There are many ways to improve CTR by adding more keywords, giving catchy titles, clear meta description, etc.
All of them should be done by seeing those users of yours in your mind. There was a statement on SEO practices when Mathew Barby said it is a very simple thing.
This page was on the 3rd page of the search result. To take it to the top, he did an experiment by gathering 300 volunteers and told them to click on his page and stay in it for some time.
They turned on Wi-Fi and used device data to enter to that page. After some time, his page got the 3rd place on the first page. So, we can conclude that CTR can bring a significant change in your Page ranking
4. Google Authorship is a new way:
When you create content, you can verify its authenticity using Google Authorship. This is a tool for writers from Google to prove their content honesty.
After verifying you can share the link through your Google + page. This link shows that your contents are genuine, and Google gives an extra point to genuine contents when they rank pages.
Copied content is always useless and considered as a low-quality one.
5. Infographics and media files:
Infographics and media files also play a very good role in increasing your website popularity. This is based on a simple concept that the audience likes to see the visual representation of written content.
You can also include keywords to make them appear on the search result. Link other popular videos with your content and this can mutually help you and vlogger equally to improve CTR.
6. Relaunch old contents after modification:
There will be some old posts that are very relevant to the current situation. You can take suitable changes to it and repost the content after suitable optimization. This can also help to make your website active even though you haven't posted new contents.
While doing this, make sure to check its relevancy and you need to make it optimized to get noted easily. This will improve your site traffic and make your website more active.
7. SEO for people:
As voice search became popular, users won't have to type words. They can speak what they want easily.
So, concentrating on long-tail keywords can bring you benefits. If you can read the user's mind and write for what they want, no need to optimize your webpage for the search engine.
Your page will automatically come to the top of the search result. As long as there is an internet user's SEO can't be dead. What websites need to focus is to leave the effort to please the machine and focus on real users.
8. Schema markup is the new evolution:
This is a new technology from Google which is to provide users with the most accurate result.
When users want to know about something this schema markup will show the exact answer to that particular query above all search results.
After reading this, they will get an answer to the question and can click on the page to know more about it.
Schema markup combines with sitemaps and understands the context of your content. If you can concentrate on getting featured in schema mark up, it can increase your web traffic and reputation of your website.
Final Words:
For those who believe that SEO is dead, there is only one answer to say as long as people depend on the internet for searches, SEO will be there.
It can take various shades and changes. But without optimization, it is very hard for content to appear on the top search result. The strength of SEO is increasing day by day as people depends on search engines.
So, don't stop your efforts to make your page visible to the search engine. Don't spoil your time on irrelevant SEO efforts that are already dead. Concentrate on new changes and grow with changing SEO practices.