SEO conferences are said to be invaluable resources for ones who desire to develop their exposure and brand reputation. These conferences bring like minds under one roof and they share their experiences.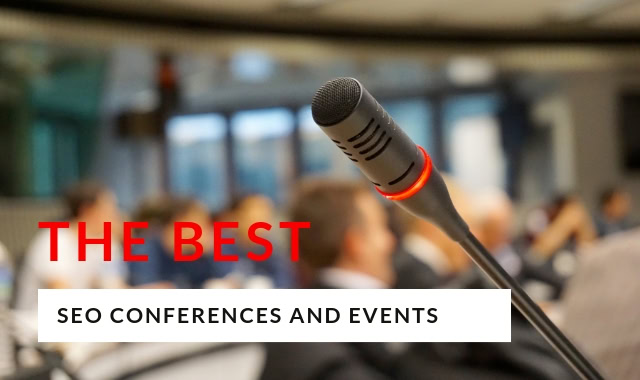 By attending SEO conferences, you can get to know your competitors, gain chances to build your network, obtain new content ideas etc. SEO conferences are opportunities to gain exposure and learn about the industry.
What is the reason to attend conferences?
Through conferences you get an opportunity for unique learning out of your comfort zone. These conferences can also offer you great career building opportunities . Hence conferences are mandatory to be attended.
Why should you attend SEO conferences?
An SEO conference is one of the best ways to obtain exposure, knowledge, and networking in the online marketing industry. The knowledge obtained in this field is crucial without a doubt.
The changes in information in SEO field is quick, the aspects right today may be tagged wrong tomorrow. Hence the industry moves very quickly. Thus in an SEO event, you can get to know the changes observed by others.
Top SEO Conferences to Attend:
Brighton SEO April 26-27 in Brighton UK
This is considered as one of the largest SEO conference held in England, UK. Participants can get to know actionable steps, solid and practical advice required for enhancing SEO performances in reality. After attending the conference, you feel rejuvenated while handling your own SEO strategies.
The Advanced search February 13, 2019, London
The conference would be represented with 21 directors and heads of search and SEO along with BBC, Google, rightmove.co.uk, and Premier Inn etc. Participants can get to know the idea behind advanced search strategies for boosted SEO, optimized rankings and paid performance.
You can explore ways to enhance your business through voice search, new technologies, mobile first, technical SEO, link building, next level content, and site speed.
Mozcon July 15-17, 2019 in Seattle, Washington
This conference takes place for three days and is said to be a tactical SEO, forward-thinking, and larger media strategy. Participants gain a chance to access every advice and tool to develop an exceptional broader media strategy and SEO.
AI and Big data expo conference, November 28-29 2019, Santa Clara, California
This is one of the best techy marketing summits. The highlight is that SEO tools are partnering with AI & Big data expo 2019 conference. Participants can avail a discount of 20% for this conference. By attending this conference, participants can get to know artificial intelligence, next-generation technologies, and big data strategies.
Few sessions in this conference would be making sense of unstructured data, development, and the establishment of highly competitive data sciences team, digital assistant and their link with customers, data and analytics with a story, and more thought-provoking stuff.
The biggest area in digital marketing is search marketing. To gain a clear idea, do attend the conference. SMX has been a great event for many SEM and SEO professionals. This conference has assisted thousands of marketing professionals successfully with workshops, tactics and learning sessions.
About 60+sessions are to be held with strategies and success stories about PPC, SEO, SEA, online marketing, social media and more. Few great speakers in the conference would be Mike King-iPull Rank, Rand Fishkin-Spark Toro, Purna Virji-Microsoft and many more.
For this conference about 6000 digital marketers would gather for performance marketing industry's premier global event. There would be a number of high-level decision makers from media owners, online publishers, influencers, advertisers, traffic sources, technology, network, global brands, agencies and more.
They come from across 80 countries looking for innovative visions, new links, and cutting-edge technology and get to know about the best business solutions. The three-day event has a lot to offer and hence participants can grab more information.
This is one of the world's largest retail expo and conference. The conference is filled with the largest global audience and also has an exhibitor base from NRF. This conference can be a place for relationships and ideas.
Participants can gain experience and learn a lot from biggest players. There are more than 99 countries participating in the event, with 700+ exhibitors, 37K attendees, and 16K retailers.
SMX West January 30-31, 2019, CA, San Diego
Search Marketing Expo SMX is one of the biggest as well as powerful forms of digital marketing. This conference has assisted a number of SEM and SEO professionals for over a decade.
SMX West has helped thousands of search marketers across the globe to raise their values, boost conversations, achieve their aim and enhance awareness. A brand new redesigned program is about to be revealed in SMX west this time.
Super week January 28-February 1, 2019, Budapest Hungary
The super week conference would be an informative and exciting one with five days of analytics. This conference has a lot to offer as many digital marketing professionals gather along with thought leaders and analyst in the measurement industry. The five days would cover up a lot of beneficial data.
This is a one-day single-track event that gathers in world's leading marketing experts. The conference mainly focuses on providing tactical sessions on conversation optimization, SEO, content marketing, analytics and more. Apart from the usual sit and listen to format, you can have a chat directly with the speaker, facilitate networking, and your challenges can be addressed.
There would be 50 spots for non- Traffic think tank members with about 150 attendees. They make sure if you have the chance to link with community, speakers, team and more.
Accelerate January 24-25, 2019, CA, Los Gatos
Accelerate conference is interesting as they follow a new style of providing 10 tips in 20 minutes. Accelarate has only experts and quality speakers in their conference. They also offer world-class training by partners at Analytics Demystified. The conference is available for $299 USD per person and along with the training it costs $999 USD.
Japan IT week: Web & Digital marketing Expo, January 23-25, 2019, Osaka, Japan
This conference is considered West Japan's largest IT trade show and they cover a large category of IT fields with about eight specialized exhibitions. They are,
AI & business automation expo
Web & digital marketing expo
Store & retail IT solutions Expo
Mobile solutions expo
Embedded systems expo
Cloud computing Expo Japan
Information security expo
IoT/M2M expo.
 
The conference would gather about 30,000 IT professionals, and 350 exhibitors and is a must attend show.
Namescon Global January 27-30, 2019, NV Las Vegas
This conference is the largest annual domain industry conference. This conference grabs in professionals from all across the globe. Attendees get a chance to enjoy compelling keynotes, hands-on workshop by industry experts, and informative panels. Participants also get a chance for personal connection through structured business networking opportunities and social events.
All aspects of domain industry like registries, attorneys, domain name investors, affiliate marketing companies, financial service providers, individual end users and more can be connected.
The hosting and domain conference is a world's top conference as they initiate to discuss the latest happenings in web technologies. The main discussions here are about the domain, hosting, web technologies, and blogging. There are quality speakers from eminent companies who speak about data security, analytics, SEO, blogging, right hosting, and domains.
Savant Ecommerce, February 5-6, 2019, Berlin, Germany
To remain competitive and updated, organizations need to attend Savant Ecommerce conference. You will be benefited with 13 hours of packed content, 90 and more pure play retailer brands & leading Omnichannel, more than 8 hours of networking sessions along with think tank formats.
The main topics to be covered are predictions for AI and voice interface future, digital culture and transformation, data-driven decision making and more.
The London Affiliate conference at Excel attracts about 5200 delegates to London for about four days of learning and networking. Participants can expect tailor-made conference content, exhibitors and sponsors, non-stop networking, free admission for all affiliates and new brokers.
YoastCon, February 7-8, 2019, Nijmegen, Netherlands
YoastCon is an interactive conference focused on SEO and they discuss in deeper about SEO. It's a 2-day conference with multiple experts from all across the globe and shares their SEO thoughts. Participants can get a chance to meet world-class experts, gain instant SEO knowledge, probe questions about sites, and meet tons of interesting sites.
Digital Summit, March 5-6, 2019, Salt lake city
It would be beneficial to attend the digital summit as it represents about 45+ speakers and sessions, 2 days of the conference, 1000 and more attendees, 1300 minutes of content, and 4 -6x less than similar events.
The content of the conference is brilliant with trend-forward digital marketing sessions, practical takeaways, workshops and ideas to get ahead in the digital world.
DX3 Canada March 6-7, 2019, Toronto, Canada
DX3 is considered the largest conference in Canada for marketers. There are a lot of aspects the conference has to offer. You can get an opportunity to learn more about a particular area such as marketing, or technology. There are hottest topics discussed and intimate sessions also take place.
The sponsors and exhibitors offer more ideas and knowledge to handle present days marketer challenges.
This is the top social media marketing event for senior-level marketing professionals. This conference needs to be attended as there are a number of beneficial aspects. As a participant, you can learn the nuts and bolts of social media strategy to position your success. Your tool can be cultivated for connection and resources.
You can gain an experience by gathering with senior-level and cross-industry marketers, your present social media initiatives can be assessed and audited. This conference helps you to speed up your career and role within the organization.
Podfest is a combination of three aspects of world-class education, inspiration and ideas, community and networking. Conference is best for ones who are launching their podcast or ones who like to find out the latest, data-driven success strategies.
Speakers from all across the globe participate in this conference and share ideas. There are many workshops which inspires innovative ideas, creativity, audience growth, content creation and more.
Atomicon March 8, 2019, New Castle UK
Atomicon is UK's best digital marketing conference that helps you to know more about sales and leads. The conference focuses in depth on a variety of digital marketing topics followed by plans for implementation.
There are many topics to be covered and they are webinars, live video conference, social media strategy, Facebook ads, video marketing, messenger bots, idea generation, sales tactics and plenty more.
Attending conferences is the perfect way to be updated about the latest SEO trends, strategies, tips and tools. Another beneficial factor of attending SEO conferences is that you can enlarge your professional network and get associated with more number of clients.
When you need assistance, help, or inspiration from SEO experts then there are numerous SEO conferences to opt from. Mentioned are a few SEO conferences but there are a lot more to be researched and attended.
There are a number of SEO conferences being held across the globe. Participants who are interested can run through the sites and get to know more details. They can also register and make arrangements for the trip. Boost your business and gain the latest knowledge in the digital world by attending such excellent conferences. Your social circle with technical people is enlarged and your connection can be maintained for a number of productive activities.