For every business, investing in SEO is vital. SEO is the procedure of optimizing websites to maximize the volume of organic traffic from search engines. YouTube, Yahoo, Google, and Bing are important to search engines that bring traffic to websites with an effective SEO strategy.
Leveraging SEO to your business can offer it with innumerable benefits. If you are not optimizing your website for SEO, you are losing traffic and money.
But this is not the only reason to SEO optimize your online business's website.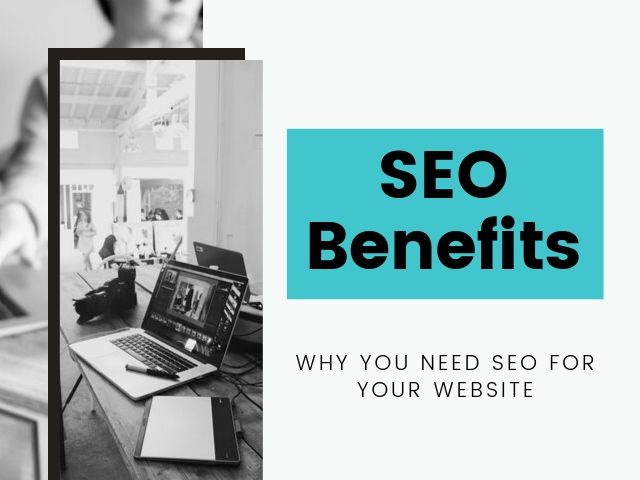 Here, check all reasons that confirm the need for SEO for every business, be it any scale, industry, or type.
Why You Need SEO For Your Business:
1. Avail Long-Lasting Results for Your Business with SEO:
SEO is a strategy for long-term that can bring you long-lasting benefits. It creates a major impact on the business. You may have heard about it or have asked about how long it takes to get ranked on top for keywords?
Lots of businesses and companies do search engine optimization and after a couple of months, they see that SEO is not working. We did not achieve the results we required to justify the cost.
If you begin a new website, it is vital to understand that you see results in around 6 to 12 months. It may appear a big-time duration, but if done precisely, it will keep the site on SERP and results you achieve can last for years. This way, it leads to high SEO significance for small businesses, which are finding it difficult to succeed.
No matter what your business it, it is vital to maintain the portfolio and generate conversions. Search visibility is a vital asset for achieving desired results. It can help you with enhanced visibility in SERP and afterward with great monetary results. However, you need to invest money and time.
There are innumerable factors that must be taken into account for SEO.  You must possess the expertise and an adequate plan to gain SEO success. In this concern, SEO is a good investment for online business.
2. It Offers Higher ROI:
SEO can bring you a high return on investment if you possess a healthy budget in an on-going process. Avoid setting unrealistic expectations. Moreover, paying for just a couple of months would not bring you any results.
As per BrightEdge, around 40% revenue is earned by organic traffic and it is best to optimize the website for maximizing organic searches. More than this, around 18% of local searches lead to a purchase within a day.
So, if you are investing in SEO, you can earn a higher ROI in the future. SEO brings 15 times more clicks as compared to PPC advertising.
Though it is difficult to estimate the analytics, you can but evaluate and track your goals.
3. Search Engines is Full of People Searching for your Services or Products:
There are approximately 2 billion people online. 90% of activities online begin on a search engine. Around 40,000 searches are made every second and 3.6 billion searches are made every day.
This offers millions of opportunities for your business to get found on search engines. One of the vital benefits of SEO is that your customer uses search engines on a daily basis.
4. Traffic Received from SEO is More Likely to Convert:
As compared to other sources of traffic, the one received from SEO is more likely to convert. Even, search traffic holds the best conversion rate for most of the websites.
You must position yourself on search engines in order to bring more traffic and conversions.
5. SEO Drives High-Quality Traffic:
Traffic driven from search engines is the best. It is because those are real people who are actually looking out for a solution to a problem. You can fetch traffic to your business.
There is no need to post advertisements to attract people. People searching for your services or products are already looking out for them. Hence, it is worth investing in SEO industry.
6. Decrease the Cost per Acquisition with SEO:
Another reason to use SEO in your business is that this service is available for free. It is the least expensive form of advertising to attract customers. You only have to pay for the cost to hire the best SEO Company.
Moreover, if you have the desired knowledge and experience in Google algorithms and website coding, your SEO agency or firm can grow to rankings and reap immense benefits.
7. SEO Can Help to Increase Leads and Sales:
SEO is real. It can help to increase your sales and leads if you are offering a viable service or product. Even a small business generated for millions of dollars is worth of SEO results in only a few months.
But to make sure you avail highest leads and sales, it is vital to invest in the best SEO strategy. Using an award-winning SEO campaign, you can gain higher conversions for your business.
8. SEO is Cheaper as Compared to Paid Search Techniques:
SEO is cheap if you go for a 6-month or a yearly plan. SEO requires a huge investment on an initial basis. As compared to other paid search techniques, where you have to pay on a monthly basis to keep getting traffic.
Paid search campaigns involve shorter conversion returning time as compared to SEO. However, your business must invest to see results. You will get results as long as you are paying for them, which is not the case in SEO.
It's true that SEM has more speed, but SEO converts more efficaciously. Search engine marketing includes a distinct form of paid advertising for the business. A lot of people avoid investing in search engine optimization as it is expensive initially. Hence, they go for cheaper alternatives. But unfortunately, they don't offer stability and continuity.
SEO can lead to enhances the visibility of your website on the search engine at a cheaper price than SEM.
9. SEO Offer Quantifiable Results:
SEO provides a lot of analytics data for the website. They only challenge you will experience is pulling data yourself and make decisions to improve results. It can be quite difficult to understand the data and you need to put more efforts into it before you take any actions. A good SEO practitioner is one that starts by finding raw data from a big pile, which must not be a major challenge.
There are numerous online tools that you can use to keep a track of the performance of your website. One such tool is Google Search Console that offers data about pages having the best performance, indexability, and mobile issues related to your website content.
Google Analytics offers all kind of data regarding the third-party apps and website. You can see details about:
Traffic sources as well as other platforms to collect users like paid ads, social, paid search, websites, and more.
Audience such as what they like, do, and more.
Behavioral actions, viewed content on the website like specific events most clicked pages, and more.
Most importantly, there are opt-ins available for SEO tools, which shows lots of features like competition ranking, on-site errors, authority pages, slow page speed, duplicate content, lack of friendliness to mobiles, content marketing gaps, and more.
Traffic received from mobiles has witnessed high growth in past years. You must not forget about such elements that SEO offers as they are extremely vital if you wish to grow your business.
10. SEO Rankings Offer Promotion 24×7:
SEO offer services 24×7. It is active throughout. Moreover, the rankings achieved through SEO last longer and do not disappear overnight.
It is possible to increase the traffic on your website all day and every day. Once you are able to rank top in search engines, they promote your business even when you are not online.
11. SEO Offers More Information to Your Customers:
Customers who are interested in your services or product use search engines for researching. They use the findings to let your customers make well-informed decisions.
Top SEO rankings enable businesses to educate potential customers about them. Indirectly, they build trust. Most importantly, customers taking well-informed decisions are happy to purchase with you.
12. SEO can Influence Buying Decisions:
SEO influences buying decisions to a significant extent. It is because SEO helps to develop credibility and trust among your customers. Using SEO can improve website conversions by significantly affecting the buying decisions of those online.
13. SEO is Great to Enhance Brand Equity and Awareness:
If we keep the conversions aside, SEO works great to build the equity of your brand. In simple terms, SEO helps people to gain knowledge about your brand.
It increases brand awareness as the visitors of your website may not always be willing to make a purchase. By being aware of the offerings, they may buy in the coming future.
14. Attribution Rate can be Increased Using SEO:
With your brand awareness increasing, SEO simultaneously increases the attribution points for customers. Attribution rate is the amount of time that the audience sees your brand.
When people see your brand for more amount of time, the more likely they are willing to make a purchase from your business. Robust SEO rankings can help you drastically increase the attribution rate and let your business have more potential buyers.
15. It is Possible to Boost Website Referrals Using SEO:
One major benefit of SEO is that it increases website referrals to a great extent. It lets you gain more referrals for your website from search engines.
Moreover, the visitors to your website are likely to refer the website to your friends. With a robust SEO presence, it is possible to grow referrals easily and literally.
16. With Growing Voice Search, You Can Higher Visibility with SEO:
Over the years, there has been a tremendous increase in voice search. Studies reveal that voice search queries are 35 times bigger than they were when they were launched.
Undoubtedly, voice search offers an accelerate growth and can become bigger in 2019. Lots of brands introduce voice search technologies for assistant apps which listen to the users and offer audio results on the basis of queries.
The four common categories for voice search are:
General information including news, web search, publications, and similar media
Entertainment and fun including searching movies, listening and buying music, TV series, and more
Personal assistance including schedules meetings, to-do-lists, and other events like calling, texting, and more
Local details like searching for hotels, restaurants, nearby places, and more
17. Influence Your Audience with the Right Form of Content in SEO:
SEO starts at the top of the funnel. It may correlate with food as it is where your audience is. You must attract a big part of the user's right from the beginning and then push the audience down the funnel through the middle and bottom by using other strategies.
In the initial phase, the user lands on your webpage and you need to maintain the same by offering useful and valuable information. Hence, the process of SEO begins with the understanding audience, beginning with adequate keywords, and learning their language.
The other technical elements to take into account are lossless images, rich loading speed, mobile-friendly site, and un-broken pages.
18. SEO Offers Your Business with New Opportunities:
Using SEO lets you gain new opportunities for your business and build a better and bigger brand or business. Not only it improves the business, but can also make it shine online.
With a high-quality SEO optimization process, it is possible to let people understand your brand. This makes it easier to reach out to them.
Once you become a well-known and reputed brand, customers will search for you. Also, it demonstrates empathy and commitment to the audience.
19. SEO Gives Smaller Businesses an Edge Over Bigger Ones:
Small businesses find it difficult to compete with bigger businesses. An effective SEO strategy lets you achieve higher rankings. Since bigger companies are using it, you must rely on the SEO strategy to compete with them.
20. Your Entire Online Marketing Activities can be Integrated Using SEO:
From content marketing, web design, to social media marketing, all such services can be integrated under one platform of SEO. Ultimately, it leads to higher SEO rankings.
To Sum Up:
No matter what kind and size of business you have, SEO is an integral part of your inbound marketing strategy. It helps to find people and share content. Hence, if you wish to achieve the desired results, SEO is the key to go.